Savoring the tastes of Jamaica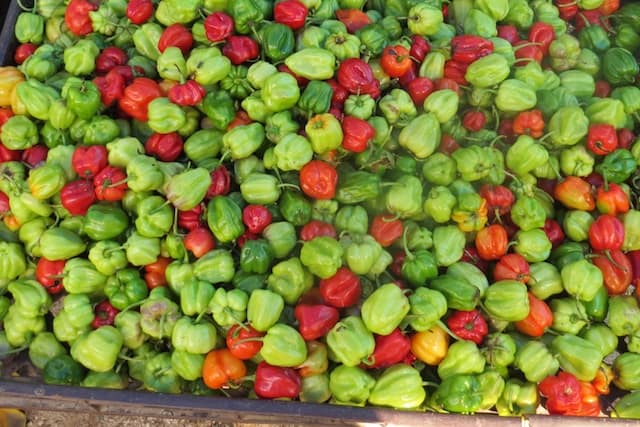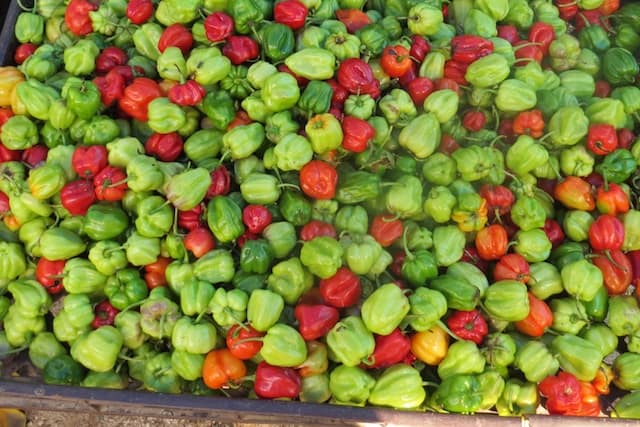 The unique tastes of Jamaica wait to be discovered by visitors.
OCHO RIOS, Jamaica — An older woman's white plastic patio chair is tightly wedged next to a large table piled high with fruits and vegetables. Straggly black cornrows frame her dark, chubby face; her floppy hat is adorned with yellow flowers printed on fuchsia canvas. When she spots us, her eyes light up. My husband and I are at Jamaica's Ocho Rios market, where competition is keen.
"I'm Miss Lynn," she says, standing to greet us.
"How long have you been working here?" I ask.
We can't understand her dialect, so she takes a pencil, writing Aug. 6, 1962, on a small pad. She remembers the date precisely. That's when Jamaica gained independence from the British Commonwealth.
"You have been at this table for more than 50 years?" She nods yes, smiling again.
"How old are you?" we ask. She writes the number 74 on the same page. Then she offers us a taste of diminutive honey bananas, sweeter than any banana we have ever eaten. We buy some and set out to explore the rest of the market.
A market visit
Tourists visiting Jamaica generally stay at all-inclusive resorts, American Plan hotels or villas, many of which include all meals, usually prepared to please an international palate. On this day, we've gone "off the reservation" to visit the vast outdoor market, where 99 percent of the shoppers are locals.
The market occupies a sprawling unpaved lot, shielded from the hot sun by blue construction tarps after a storm blew off its roof. Cars are parked everywhere at awkward angles, with heaps of new and old clothes, as well as food, displayed out of open trunks.
We wind our way past makeshift tables holding haphazardly arranged produce, meat and personal items. At the market proper, vendors operate in rented spaces, but an informal gray market, almost equal in size, operates simultaneously around its perimeter. This is the antithesis of the pristine Boqueria market in Barcelona, Spain.
We stick out among the locals shopping here, so we feel a bit self-conscious. Friendly but very persistent vendors call out to us: "Taste this delicious coconut." "Try my apple."
We stop to buy a plate of aromatic spiced chicken that has been stewing in a big cast-iron pot over an open flame. It's delicious.
Our taxi driver, who agreed to wait for us in the parking lot, had primed us for this experience. "When someone tries to sell you something, don't ignore them," he warned. "To a Jamaican, that means 'Maybe.' If you want to end the conversation, just say 'No.'" His advice couldn't have been more helpful when we were invited to sample some ganja (marijuana) behind one of the stalls.
A history of fusion
Like its diverse people and culture, Jamaican cuisine reflects successive waves of conquerors and immigrants who arrived after the indigenous Arawaks: first Europeans (Spanish and English), then Africans, Asians, Indians, Middle Easterners and others.
"Jamaica's national dish, ackee and saltfish (cod), is just one illustration of the fusion of ingredients and techniques," said Ignazio Podda, executive chef of Grand Lido Negril Resort & Spa.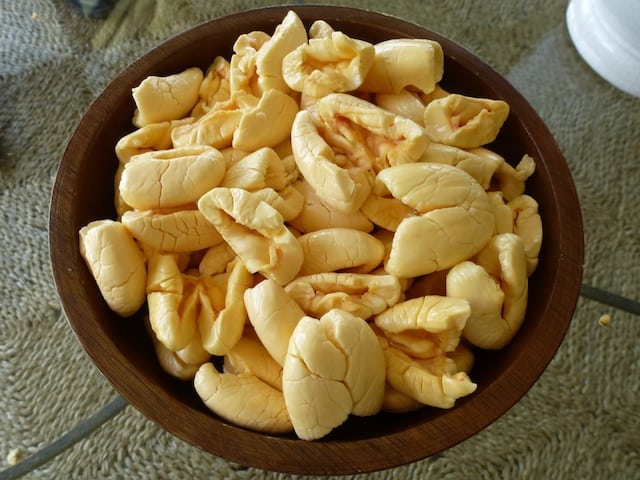 In the 18th century, the fish came from North Atlantic waters in exchange for rum; now it's likely to be imported from Norway. Ackee (a red fruit that can be poisonous if eaten uncooked) was brought over by West African slaves in the form of seeds. Another example: The tradition of curried chicken and goat derives from indentured laborers from India and China who came in after slavery ended.
With fertile soil and a tropical climate, it's not surprising that small farms thrive behind the island's lush foliage, growing produce that is likely to be unfamiliar to tourists. Fruits include jackfruit, naseberry (also called sapodilla or chikoo), otaheite apples and guinep (also called Spanish lime), in addition to bananas, papaya, pineapples and avocados. So many varieties of mangos are grown that they are numbered rather than named. Popular vegetables include breadfruit, cassava (yuca), okra, chocho, corn, red peas (kidney beans) and callaloo (a variety of spinach that is steamed or used in soups).
Home-style traditions
The traditional meal eaten by most Jamaicans consists of some type of protein, often in the form of a stew, served with a starchy side such as boiled green bananas, fried cornmeal dumplings (called festival) or fried flour-based dumplings (called johnnycakes), Podda said.
But aside from its iconic Red Stripe Beer, Appleton Rum, Blue Mountain coffee and Jamaican patties (empanada-like pastries stuffed with fillings), the country probably is best known for its "jerked" foods, which have migrated to menus around the world.
Jerk is a combination of spices and seasonings (including pimento, hot Scotch bonnet peppers and thyme) used either as a dry-rub or wet marinade; it was once used by the Arawaks to preserve meats. (Scotchies, a small chain of open-air roadside eateries, is a popular place to sample jerked pork, chicken or fish.)
Across Jamaica, chefs at hotels and resorts are placing increased emphasis on the use of fresh, local ingredients. Record producer and hotelier Chris Blackwell, owner of three Island Outpost properties (Goldeneye, Strawberry Hill and The Caves), has introduced organic farm-to-table dinners for guests. Similarly, many restaurants are upgrading menus and service to attract culinary tourists.
Established in 2007, the nonprofit Culinary Federation of Jamaica (culinaryfederationja.org), chaired by chef Dennis McIntosh, is leading the way in promoting menus that reflect the island's rich multicultural traditions and agricultural bounty. It also sponsors an annual Taste of Jamaica Festival.
The Jamaican Tourism Board has designed a Jerk Trail, stretching from Negril to Port Antonio, where tourists can stop at 22 registered jerk restaurants and food stalls along the route for an authentic taste of Jamaica.
"Tourists should get out at least once or twice to see what is going on," Podda said. "It would be a shame to see it solely through the polished glasses of a five-star resort."
---
IF YOU GO
For more information on Jamaica, see the website of the Jamaica Tourism Board.
---
[This article appeared in the Sunday Travel Section of the Chicago Tribune on September 15, 2013.]
---
Also on More Time To Travel: Three post vacation villas in Jamaica
Linking this week with Travel Photo Mondays organized by Noel Morata and Foodie Tuesdays sponsored by Marcia Maynes.