An overnight staycation at The Pierre, a Taj Hotel
An overnight staycation at The Pierre, a Taj Hotel in New York City, is a special indulgence.
On summer weekends, most New Yorkers are finding ways to get out of the city: They travel east to the Hamptons, north to the Hudson Valley, or south to the Jersey Shore. But we live in Chappaqua, a leafy Westchester County hamlet about 30 miles north of Manhattan, so it seemed eminently sensible to head in the opposite direction. After all, the annual summer migration of city denizens is a perfect opportunity for the rest of us to enjoy New York City with fewer crowds and hassles than usual.
We celebrated my husband's birthday in style by splurging on an overnight staycation at The Pierre, a Taj hotel and a New York institution. The hotel is located on Fifth Avenue between 60th and 61st streets, a lovely residential neighborhood convenient to restaurants, galleries, museums, shops, Central Park—and perfect for aimless wandering from this Upper East Side base.
Backstory
One of the most iconic properties in New York, The Pierre has a fabled history. Coco Channel and the Kennedys have stayed there; Elizabeth Taylor and Yves St. Laurent lived there; Mary Tyler Moore and Barbara Walters had their weddings at The Pierre. The tango scene of Scent of a Woman with Al Pacino was filmed there, as were several episodes of the TV series, CSI. Literary greats such as Dashiell Hammett, Lilian Hellman, and John Grisham have also slept at the hotel.
*See the tango scene at The Pierre from Scent of a Woman

When the then 700-room property opened in 1930, it cost some $15 million to build. However, earlier this year (March 2013), the asking price for the triplex apartment alone, which occupies the 41st to 43rd floor of the hotel and offers 360-degree views of Manhattan, was reported to be a staggering $125 million. This spectacular apartment, once owned by J. Paul Getty, is featured in a New York Times slideshow.
In 2005, Taj Hotel Resorts & Palaces purchased The Pierre, making it the U.S. flagship property of the chain. The hotel is also a member of the Leading Hotels of the World.
A peek inside
From the elegant chandeliers to the striking black-and-white-checked marble floor, entering the elegant lobby of The Pierre makes you feel as if you have stepped back in time. We were whisked up to our room in public elevators that have operators on duty 24/7.
The hotel underwent a $100 million top-to-bottom renovation and overhaul when it was purchased by Taj but has retained the character and fine patina that comes with age. Now the building holds just 140 guest rooms and 49 sumptuous suites adding to its boutique ambiance. With a friendly doorman at each entrance (on Fifth Avenue and on 61st Street), we felt safe and secure.
Our room had high ceilings, textured wallpapers, and lovely brocaded drapes. Fabrics, pillows, and throws in relaxing neutral colors complemented the rich wood furnishings. Large windows offered striking city and park views with plenty of natural light but the room was so perfectly insulated and noise-proofed that we never heard a sound outside—a real rarity in Manhattan.
Every detail and convenience was so carefully thought through we felt as if we were staying in a private residence rather than a hotel. The ultra-comfortable bed with a leather headboard as well as light darkening shades made for a night's sleep that was better than home. We are techies so we appreciated the flat-screen TV, Bose home theater system, and convenient iPod dock and desk with power and data ports. Honestly, I fantasized moving in and relying entirely on 24-hour room service for sustenance.
As part of the renovation, the bathrooms were also redesigned with lots of marble and contemporary fixtures. The floor-to-ceiling glass showers had oversize rainshower heads. There was plenty of counter space, luxurious Molton Brown toiletries and stacks of plush towels. Guests staying in the hotel's suites can utilize the service of trained Taj Royal Attachés, butlers who help them pack, unpack and coordinate the details of their stay.
Dining at Siro
We had a remarkable dinner at Sirio Ristorante, the restaurant taken over by Tuscan restaurateur Sirio Maccioni in 2012. The setting was relaxed but the service was as attentive and personalized as in the hotel. The extensive menu offered many choices and no dish was disappointing. The pastas were perfectly cooked; the sea bass with artichokes was the best I've ever tasted. The three-course summer tasting menu at $40 per person is a bargain; a five-course tasting menu is available for $85 per person. A $35 fixed-price brunch menu is available on Saturdays and Sundays.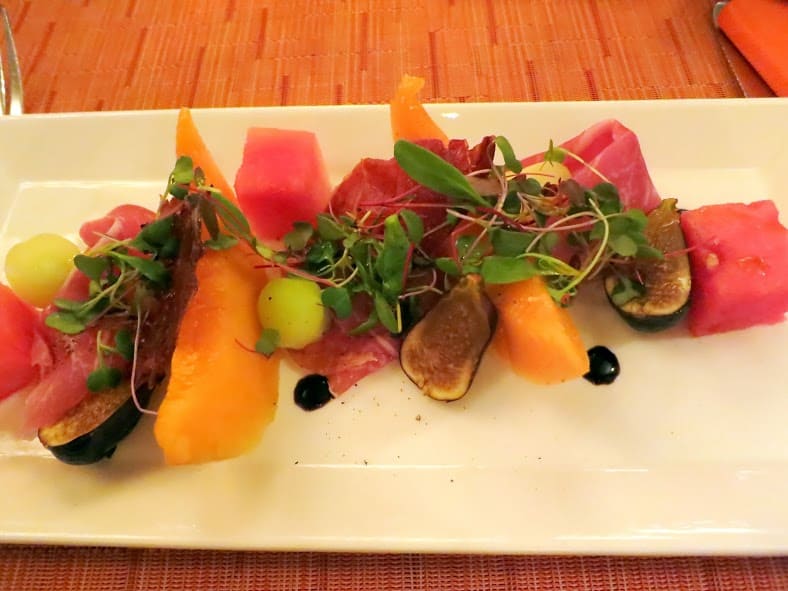 Bottom Line:
A staycation at the Pierre, a Taj Hotel in New York, is an expensive but enjoyable and memorable indulgence. The hotel couples a storied history, classical elegance, and pampered service—with an unbeatable location across the street from Central Park. A special birthday or anniversary is the perfect excuse to visit if you need one.
---
IF YOU GO
Additional information and rates for The Pierre, a Taj Hotel
Tip: The hotel has some special summer offers; when booking a staycation at The Pierre, ask about Third Night Free, Weekend Rates, Exclusive Sunday Offer, and Suite Celebrations rates.
---
*Also on More Time To Travel: 6 Tips for planning a perfect overnight staycation
This post offers some of the lessons we learned from our stay at The Pierre.