A stay at the Pritikin Longevity Center & Spa in Miami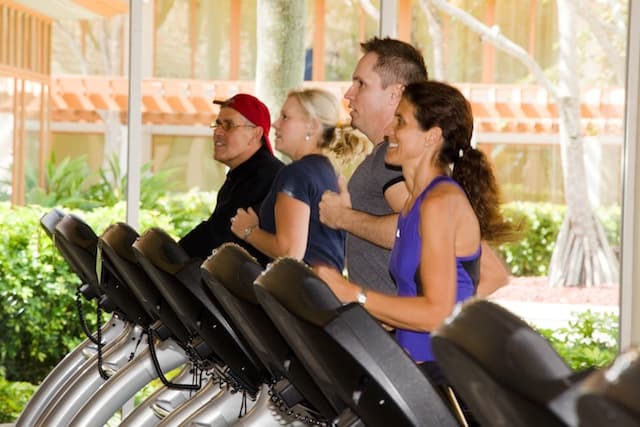 Based on 30 years of scientific research and validated in more than 100 clinical studies, the Pritikin Program can provide dramatic results, often in just two weeks.
I'm working my way through the maze at Miami International airport after a relatively quick flight from New York, looking for baggage claim, where I can retrieve my suitcase packed with workout gear and sun block. The airport is buzzing with people running in all directions. Crying babies command their parent's attention. The sugary smell of cinnamon buns wafts through the air. Announcements of delays penetrate the clamor of the airport.
I needed more than a vacation when I planned my trip last winter to the Pritikin Longevity Center and Spa; I needed a body detox. The holidays rendered me exhausted from too many parties and too much rich food. I was hoping Pritikin would set me on the right track. I was ready to hand myself over to the experts.
Backstory
It is said that out of adversity comes opportunity, and the Pritikin Center and Spa came about from just that. About 50 years ago, at the young age of 41, Nathan Pritikin was diagnosed with heart disease and was frustrated at the advice of his doctors: rest, forgo exercise, and continue to eat his usual diet full of steak, butter and ice cream.
Pritikin, an inventor and engineer began his research. The most heart-healthy populations, he found, exercised daily and ate diets rich in unrefined and unprocessed whole foods, legumes, whole grains, lean meat and seafood and less saturated fats and little, if no, salt. After adopting a similarly healthy lifestyle, in time, Pritkin's medical tests showed no evidence of heart disease. The Pritikin diet and its healthy lifestyle approach against coronary heart disease was born.
Today, both the American Heart Association and medical professions recommend it. More than 100 studies in prestigious medical journals have documented the program's amazing success in helping people improve their health and reducing major diseases like heart disease, type 2 diabetes, hypertension, and obesity. The program has also been documented to improve cholesterol profiles and lower blood sugars and has a loyal following; its participants not only lose a good deal of weight, but many times get off their blood pressure and diabetic medications and see dramatic improvements in their cholesterol and blood sugar levels.
The Spa & Longevity Center
The Pritikin Longevity Center and Spa actually started in a somewhat simple and innocent way: After embracing this new way of life, Pritikin invited a couple of guests to stay in his home and introduced them to this new lifestyle of nutritious eating and exercise. As his guests began to see the success and to embrace the program, Pritikin eventually opened a center in Santa Monica, California.
After several location changes, Pritikin Longevity Center & Spa is now located at the Trump National in Miami, Florida, formerly known as the Doral Golf Resort and Spa. The property is currently undergoing a major renovation, set to be completed by spring of 2014.
Who It's For
The array of guests varies. While some people attend the program on the advice of their physicians as a way to manage various health conditions including diabetes, obesity or high blood pressure, others attend simply to relax in a comfortable, supportive setting and look forward to learning new and innovative ways to eat, manage stress and weight and keeping themselves healthy and fit once back home.
The minimum stay is one week, although the core program is two weeks, which is the average stay of most guests (although some guests stay one month or longer). The lectures are given on a two-week rotation, so if you only stay one week, you only receive the benefit of half the lectures.
I met several people all under the age of 50, whose aim was to get away, relax and lose a few pounds while doing so. Most people go home anywhere from 2-20 pounds lighter (depending on the length of their stay, of course); many are also able to stay off their blood pressure and other medications by adopting the healthier lifestyle learned at Pritikin. I also met more than one well-known celebrity (my lips are sealed!), who visits twice a year to get away, relax and eat healthy meals. Their privacy was well respected and they blended into the program along with everyone else.
I found everyone to be extremely friendly and pleasant; a sort-off we're-all-in-this-together atmosphere pervaded. Meals may be eaten alone if you wish, but most people, if they weren't traveling with a friend or spouse, preferred being seated at one of the many community tables. While I'm normally a loner when traveling alone, I only ate by myself on the first night, as I found the other guests to be compelling, fun and great meal companions.
A Day at Pritikin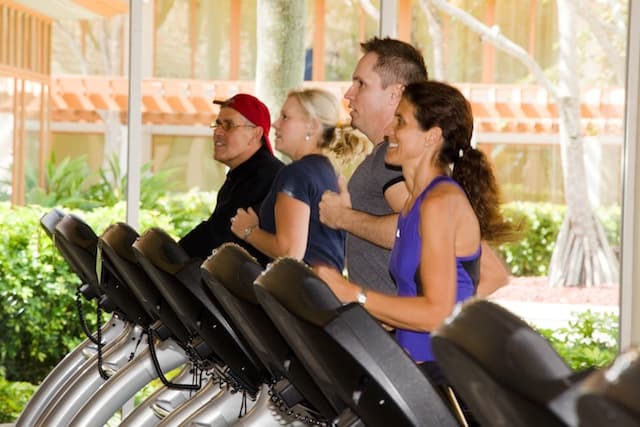 A typical day includes exercise classes (based on your personal fitness prescription), stress management workshops, one-on-one counseling with physicians and superb education classes led by nutritionists, scientists and lifestyle counselors who are both knowledgeable and down to earth and present the material in an interesting, compelling manner. Learning about nutrition, exercise and other lifestyle management techniques was fun and always a learning experience, even for this seasoned health writer.
Your day might begin at 7:00 AM with a Sunrise Stretch followed by breakfast, which is served from 6:30 to 8:00 AM. Then it's off to a small exercise class (stretching, cardiovascular conditioning and strength development are among the offerings) under the watchful eye of the inspiring and caring staff of exercise physiologists.
From there, you can enjoy a morning snack, which varies each day. Selections include soups (the spring vegetable soup was generously filled with chunks of plump veggies), platters of fresh, crunchy vegetables, or tasty salads like dill and cucumber.
The remainder of the day includes more exercise (yoga, zumba, tai chi or aquatics are among the offerings), followed by lunch.
After lunch, guests are treated to a series of health enhancement lectures on topics like nutrition, heart health, diabetes management and the facts on fat, and nutrition workshops and seminars.
Should you still be hungry for learning (or more food), later in the day you can join a cooking class to learn techniques for healthy food preparation and taste the goodies that you make in class.
From 4:30 to 5:30, more classes, like stress management and are offered, followed by dinner between 6 and 7:30.
Following dinner, choices abound. You might be pleasantly worn out from the full day and choose to relax back in your room; attend evening lectures and field trips (like a visit to a local grocery store with a Pritikin's dietitian for a fun lesson in nutrition and label-reading), watch a movie or go off on your own to nearby South Beach.
The Food
With a focus on whole (unprocessed) or minimally processed foods…I must admit that with all this talk of no salt, disease management and weight loss, I was skeptical of the food – until I actually ate it. The food was not only delicious; it was apparent that it was carefully and lovingly prepared with flavor and satiety in mind.
Everything was fresh and plentiful and I never, ever went hungry or felt deprived– even though I managed to lose three pounds in just one week.
Breakfast choices include hot and cold cereals, fresh fruit, egg white omelets, fresh yogurt and fresh fruit sauces (kiwi and raspberry were among my faves).
Lunchtime was my favorite, offering a hearty low-calorie but filling menu including a salad buffet to rival any other (it boasts a selection of 24 freshly-cut vegetables and fruits), plus several soup and entrée selections like Scandinavian split pea soup, herb crepes filled with ricotta and sundried tomatoes. There's even dessert. The mango parfait and the cappuccino (made with a coffee substitute) were heavenly and felt decadent (only it wasn't!).
A typical dinner menu includes panzanella salad with fresh herbs and vegetables, orange saffron tomato soup, pepper-crusted seared tuna with saffron polenta in a sweet potato salsa, spiced tofu and eggplant with tomato salsa and red bliss potatoes, and fruit pie. The week I visited, there was a barbeque dinner set up on the lovely patio serving an assortment of salads, vegetables and grilled meats (that night it was bison) and fish.
Lean protein portions are limited to four ounces. However, guests who would like more can request the (still-healthy) "First Step" menu. Served daily, it includes a little more chicken and seafood – and a tad more sodium.
Each morning and afternoon a snack is served. Selections include soups (the spring vegetable soup was generously filled with chunks of plump fresh veggies), platters of fresh, crunchy vegetables, or tasty salads like dill and cucumber.
Although there is no salt in any preparation, the food is not at all bland. The chefs make up for this by using fresh herbs and spices (the gift shop even sells some of Pritikin's special dried blends). A bottle of top-grade balsamic vinegar sits at each table; I use it to drizzle over soups, as a salad dressing and even to top my baked potato. It imparts a flavor somewhat akin to salt, but richer, more flavorful and much better.
What's Included
A comprehensive medical health evaluation and fitness assessment upon arrival, administered by the excellent staff of board-certified physicians, including blood pressure screening, medication review, dietary analysis, and weight-loss planning
Two 1-hour, personal consultations with your personal board-certified staff physician to closely track fitness, weight loss, and health progress
Cardio metabolic stress test
Two state-of-the-art blood panels, including inflammatory markers, comprehensive cholesterol analysis, and insulin and blood sugar sensitivity
Personalized exercise prescription for use at Pritikin and at home.
Wrap-up of health and fitness status, including written report to share with home physician
Education classes, small-group workshops, and personalized counseling offered daily, taught by physicians, nutritionists, psychologists, and exercise physiologists.
Accommodations
Standard resort rooms, comfortable but not posh, are included in your stay; they're a short walk from the main facilities. Most include balconies or lanais with either golf or garden views. Rooms are available with either one king or two double beds; bathrooms with marble accents feature shower/tub combinations. Among room amenities are high-speed Internet access, flat-screen TVs and an in-room safe. For the more discerning traveler, a few suite upgrades are available.
Major renovations will be completed by spring of 2014 and will include remodeled guest rooms, a revamped main building, lobby and fitness center.
What I Learned
When I arrived at Pritikin, I was taking blood pressure medication but was instructed by one of the physicians to stop taking it immediately. With all the exercise and the absence of salt in all their foods, he said, my blood pressure would be at an acceptable level after one day. Though doubtful, I heeded his advice – and was pleasingly surprised to see that he was right. I remained off my medication for a long while following my visit, as I enthusiastically adopted the "Pritikin way" at home. In talking to other guests, I found that they, too, were successful in not only staying off their medications but also in maintaining a healthier lifestyle after their visits.
Although I did not come to Pritikin to specifically lose weight, manage a chronic health condition nor to re-learn my way of eating, I came away not only lighter in pounds, but healthier and much better informed about some of my health habits. The saltshaker is a thing of the past for me; now, my pantry houses a steady supply of the same vinegar I learned about at Pritikin. I no longer eat more than 4-5 ounces of protein – I find it unnecessary – and fill the bulk of my plate, instead, with fresh greens and assorted vegetables and whole grains. And since my visit, I've lost another 5 pounds – and have kept it off.
As a guest of Pritikin, you can continue your education long after you leave with their complimentary 100+ page Pritikin Guidebook and Cookbook and subscription to Pritikin Perspective Newsletter.
In short: The program is truly a life-changer if you are open to it. Pritikin's influence has reached way beyond my initial visit and is apparent to me on a daily level, whether it be the way I approach exercise, read food labels or think about what I'm putting on my plate.
---
For more information
Check the Pritikin website for seasonal specials. In addition to their traditional program, Pritikin offers shorter stays (a three-day health retreat featuring highlights of their traditional seven-day program), corporate retreats, executive physicals, a diabetes control program and metabolic syndrome treatment.
In 2013, Pritikin won seven awards from SpaFinder, an online resource for spa and wellness locations, including Best for Weight Loss, Best for Healthy Spa Cuisine, Best Nutrition Program and Best for Going Solo.
Disclosure: This trip was hosted by Pritikin but any opinions expressed in this post are strictly my own. No information provided here or elsewhere on this blog is intended as medical advice.
---
About the author:
Sheryl Kraft writes about health, nutrition, fitness, lifestyle and healthy travel for a variety of major magazines,websites and blogs. She also blogs at My So-Called Midlife and is a regular contributor to HealthyWomen.org/ You can follow her on Twitter @SherylKraft.