French Lick Resort: Two Grand Hotels with a Storied Past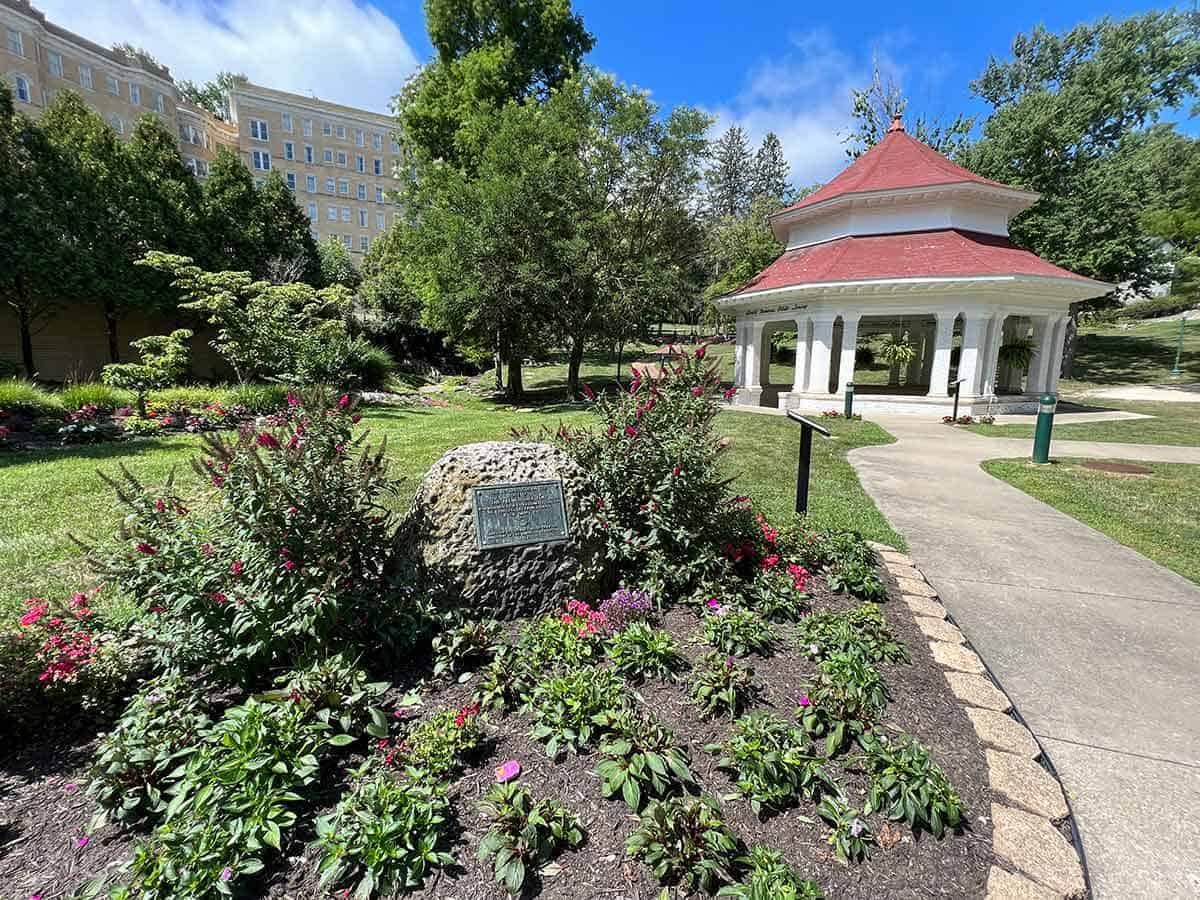 Contributor Debbra Dunning Brouillette shares her experience visiting French Lick Resort, a short road trip from her home in Evansville, Indiana. Smitten with the tropics and blue waters, this award-winning writer blogs at Tropical Travel Girl.
At first, the lure of natural mineral springs drew guests to French Lick, a small town in southern Indiana, in the mid-1800s. Despite the bitter taste and foul smell of sulfur, visitors bathed in and drank the water, thought to cure a plethora of ailments, from constipation to stomach, kidney, and liver ailments. It had a strong laxative effect, thanks to its high native sodium and magnesium sulfate content.
To accommodate the growing number of wealthy visitors, politicians, and celebrities arriving to "take to the waters," two hotels opened within a mile of each other. The first was the French Lick Springs Hotel, in 1845, followed in 1855 by the Mile Lick Inn (so named for the salt licks in the area visited by deer and buffalo).
Lee W. Sinclair assumed ownership in 1888, renaming it the West Baden Springs Hotel after Baden-Baden, the great mineral spa of Europe. Tourist traffic grew even more after the Chicago, Indianapolis, and Louisville Railway established an extension of its line called the Monon Railroad to both hotels.
When a fire destroyed the original wooden structure of the West Baden Springs Hotel in 1901, it was rebuilt as the hotel of Sinclair's dreams in less than a year. Upon its re-opening in 1902, it was hailed as the "Eighth Wonder of the World" with a circular atrium topped by a 200-foot free-span dome, constructed of steel and glass. It was the largest in the world until the opening of the Houston Astrodome in 1965.
Both hotels began to bottle and sell their own brand of water taken from the mineral springs. French Lick Springs Hotel's was marketed as Pluto Water, named for the God of the Underworld, while West Baden Springs had its brand called Sprudel Water (from the German "Sprudelwasser," the term for carbonated water) with a gnome serving as a mascot.
In 1971 when lithium, another of its mineral ingredients, became a controlled substance, sales were halted. However, spas at both French Lick Resort hotels still offer native mineral spring baths from the healing waters that made them famous.
Gazebos covering the original mineral springs—Pluto Spring and Apollo: Spring No. 3—are focal points of formal gardens at both hotels.
Two historic hotels join to become French Lick Resort
After operating as competitors for decades, the Cook Group became the sole owner of the West Baden Springs Hotel in 2005, joining the French Lick Springs Hotel to form the new French Lick Resort, including the French Lick Casino.
Since then, both historic hotels have undergone major renovations, restoring them to their former glory. In 2006, the French Lick Springs Hotel reopened. At the same time, the French Lick Casino held its grand opening, becoming the first land-based casino in Indiana. The West Baden Springs Hotel reopened the following year, in 2007.
Both hotels are members of Historic Hotels of America® and Historic Hotels Worldwide.®
West Baden Springs Resort: Still a wonder to behold
Although I live less than 90 minutes from French Lick and West Baden, I hadn't visited the area other than a brief stay at the French Lick Springs Hotel in the early 1990s. Several friends had spent weekends at West Baden Springs Resort and raved about it. So, when my husband and I were invited by Visit French Lick West Baden's tourism office for a two-night stay, I readily accepted.
As we turned into the long driveway leading up to the hotel, we passed under a stone archway proclaiming the West Baden Springs Hotel as the Carlsbad of America. I later learned the reference is to a spa city in the Czech Republic.
We got our first close-up view of the much-lauded dome as we walked the span of the Atrium to reach the Check-in Desk. It was, indeed, a "wow" moment!
After settling into our large, well-appointed guest room on the fourth floor, we walked onto our balcony that overlooks the circular Atrium. It was a wonderful vantage point to monitor the activity below and the changing colors of the dome lights. Only 40 of the hotel's total 243 guest rooms have balconies; many more have Atrium views; the rest have countryside views. (You can request a room with an Atrium view when you book.)
A unique setting captured in literature and cinema
West Baden and French Lick served as the setting for the novel, So Cold the River, a dark, supernatural thriller by bestselling author Michael Koryta.
A movie version of So Cold the River was filmed entirely on location at both hotels and is available to watch on many streaming services.
Musical entertainment, tours, and special events at French Lick Resort
Live music
Every night from 5-9 p.m., guests can enjoy live music in the Atrium. On weekends, The Library is transformed into a Late Night Jazz Club. A jazz combo played when we were there as part of a special Jazz-focused weekend.
Historical tours
Historical tours of both hotels are available Tuesdays through Saturdays. We joined a group of other guests for a guided historical tour soon after checking in on Friday afternoon. I would consider this a "must-do!"
I learned so much about the many owners and ways the hotel had been utilized over the years, including as an Army hospital, a Jesuit seminary, and later as a private college before once again gaining new life as a grand hotel.
Interested in learning more before you visit? Here's a link to French Lick Resort History. If you miss out on a guided tour, be sure to visit the museum within the hotel, where artifacts and highlights of some of the hotel's storied history are on display. Trolley tours, historical walking tours, and other specialty tours are also offered.
Special events
From Afternoon Tea in the Atrium to Murder Mystery Weekends, Musical Entertainment, and Culinary Events, there is something for everyone on the Calendar of Events (which covers both hotels). Concerts by both up-and-coming and legendary entertainers are held throughout the year at the French Lick Springs Hotel.
Dining options at French Lick Resort Hotels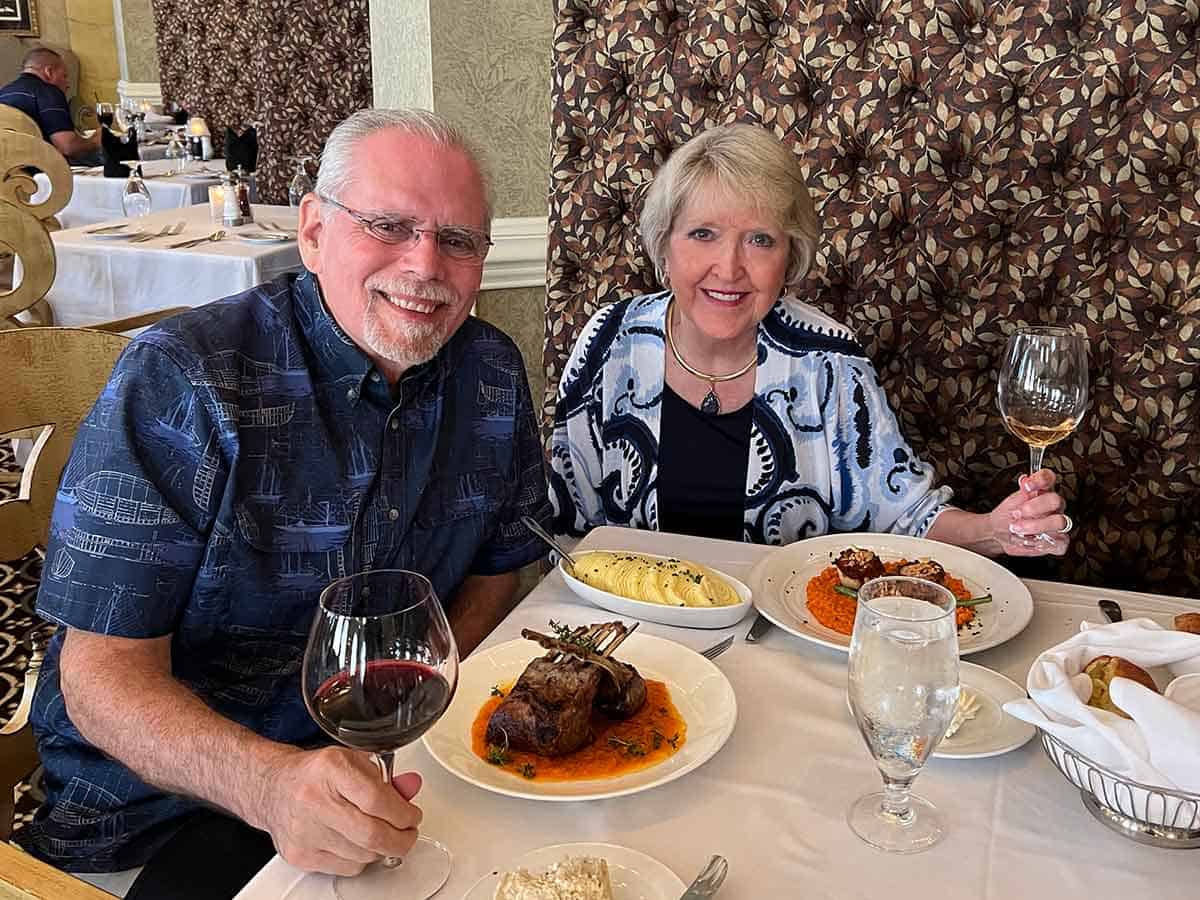 Both hotels have multiple dining options, from fine dining to casual and grab-and-go. Before our arrival, we made a reservation for an evening meal at Sinclair's, the fine dining restaurant at West Baden Springs Hotel (open Thursday-Saturday). Breakfast is served in the same space daily. Later in the weekend, we enjoyed lunch at Ballard's in the Atrium under the dome (Daily hours 11 am-10 pm).
The French Lick Springs Hotel's signature fine dining restaurant, 1875: The Steakhouse, overlooks the gardens and Pluto Water gazebo. I plan to try it on our next visit to French Lick.
French Lick Springs Hotel
After checking out of the West Baden Springs Hotel on Sunday morning, we toured the French Lick Springs Hotel on our own. As soon as you enter the lobby, you will be in awe of the ceiling murals, mosaic tile floors, and gilded touches throughout. Presidents, politicians, movie stars, musicians, and other famous guests have visited the hotel over the decades. There are 443 guest rooms and suites.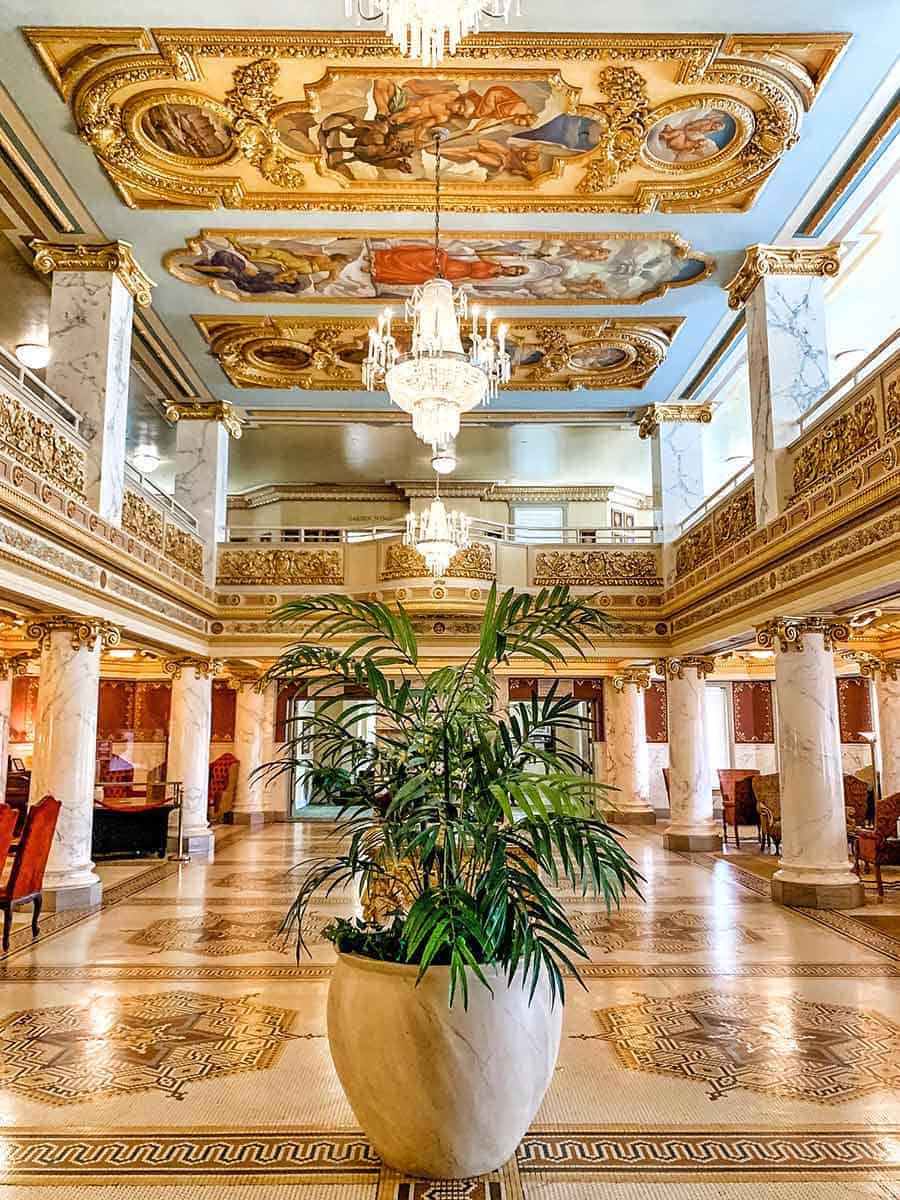 French Lick Casino, a 50,000 square-foot Vegas-style gaming facility is Indiana's only fully non-smoking casino, open 24/7. It opened in 2006 and can be accessed through a walkway from the French Lick Springs Hotel. The six-story 71-room Valley Tower Hotel was opened adjacent to the Casino in 2019.
French Lick Resort Activities
The wide variety of activities available to guests of both hotels include:
Golfers

will find two championship 18-hole courses, plus a nine-hole family-friendly course (free for kids 12 and younger)
Spa services

(

including native mineral spring baths from the healing waters that made them famous in the 1800s)
Bowling alley and arcade (at French Lick Springs Hotel)
Bicycle and surrey cart rentals
Electric vehicle charging stations
Beyond the Resort: What to see and do
Even though guests can easily spend a weekend (or longer) without leaving the French Lick Resort grounds, there is so much to see and do beyond the resort!
French Lick West Baden Museum
Don't miss visiting the French Lick West Baden Museum in downtown French Lick. Before our eye-opening visit, I had no idea the former West Baden Springs Hotel owner, Ed Ballard, also owned the Hagenbeck-Wallace Circus in the early part of the 20th Century. At its peak, it was the second-largest circus in America, and French Lick was its winter quarters. (The West Baden Springs Hotel's Atrium was even the site of some circus performances.)
Other exhibits cover French Lick's illegal gambling/casino history; West Baden's famous son, NBA basketball star Larry Bird; the history of Pluto water; and much more.
French Lick Winery
The French Lick Winery opened in 1995 and has grown to offer more than 30 wine varietals. All grapes are estate-grown on Heaven's View vineyard, a fifth-generation women-owned family farm.
An on-site restaurant, Rishi's, offers American and Caribbean-inspired dining. The winery owners also operate Spirits of French Lick, an artisan distillery.
Patoka Lake Winery
Patoka Lake Winery's rustic tasting room is near Patoka Lake, the second-largest reservoir in Indiana. A total of 27 wines are available for tasting. We left with a bottle of the winery's best seller, Biker's Black & Blue, a blend of blackberry and blueberry wines. Return for a weekend stay in the Winery Suites above the Tasting Room), or Silo Suites (in converted grain silos attached to the winery).
Wilstem Wildlife Park
Wilstem Wildlife Park, a drive-through wildlife safari park, is only 15-20 minutes from the hotel. View more than 50 species of animals from the comfort of your vehicle. Or book an "up-close-and-personal" encounter with elephants, giraffes, otters, or a two-toed sloth.
---
French Lick Resort Overview on YouTube
---
All photo credits: ©Debbra Dunning Brouillette (unless otherwise noted)
---
IF YOU GO

After we arrived, there was no need to use our vehicle until we were ready to leave.
Train and trolley service make getting around the expansive resort convenient and take advantage of activities throughout the complex, which covers over 3,000 acres.
Complimentary shuttle service offered on a trolley bus transports guests throughout the resort and even into the town of French Lick, 24 hours a day, 7 days a week, running every 15 minutes. You can also choose to ride the rails from one hotel to the other — a distance of just over one mile — on "the shortest trolley line in the world." The free rail trolley operates Wednesday-Sunday, noon to 8 p.m.
---
Disclosure: The Brouillettes were guests of Visit French Lick West Baden but any opinions expressed in this post are their own.
---
Save to Pinterest!!