Four Seasons Hotel Ritz Lisbon: Classic luxury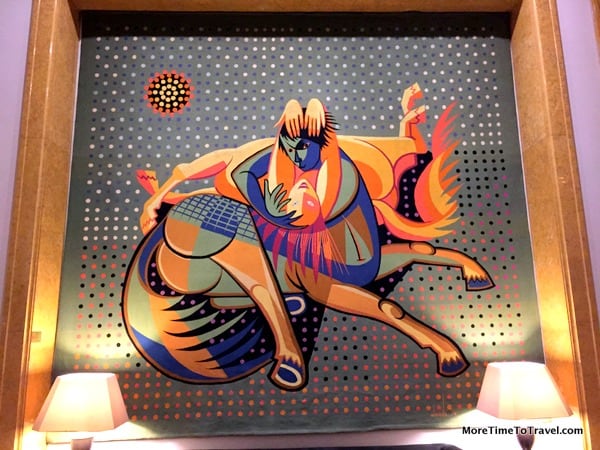 Arrangements of fresh and dried flowers are so abundant in the elegant modernist lobby of the Four Season Hotel Ritz Lisbon that it feels as if you've entered a botanical garden. So many spectacular paintings, sculptures, and tapestries line the hallways and public spaces the hotel has the feel of a museum of contemporary art.
(In fact, there is so much art around the hotel that a free iPad art app was recently created to enable guests to take a self-guided historical and cultural walk through the impressive decorative art collection.)
The lobby in bloom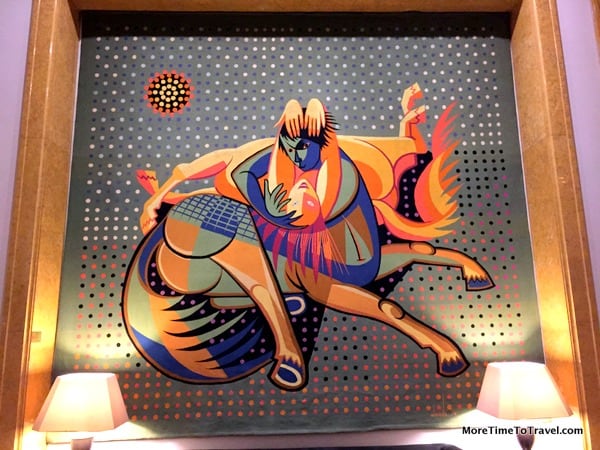 Backstory
Inspired by a consortium of ten Portuguese entrepreneurs who sought to build a hotel to meet the demands of surging international tourism after World War II, the Four Seasons Hotel Ritz Lisbon was expressly designed to be a show-stopper. No expense was spared to achieve that lofty goal. Rare marbles were used to create the facades, interior walls and floors.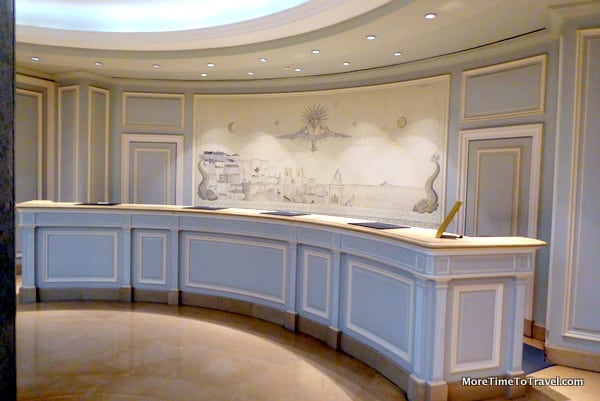 A French interior designer, Henri Samuel, was tasked with creating a sophisticated ambiance that blends Louis XVI style furnishings with art deco architectural details.
One of the visionaries involved in building the hotel remarked that the hotel "through its existence, should provide luxury and comfort, dignify the city and, above all, honor the nation."
The rooftop (as well as many guest rooms and suites) offers extraordinary views of Eduardo VII Park, St. George's Castle, the Old Town, the Tagus River and the iconic 25th of April Bridge.
Our room
The classic style and design of the oversized rooms evoke images of the 1960s, an era when movie stars like Clark Gable, Marilyn Monroe or Sophia Loren might have chosen to stay at a romantic luxury hotel like this.
Our room, Room 1029 was spacious, well-appointed and beautifully maintained with a comfortable king size bed, desk and sofa. There was plenty of space to stow our belongings with large armoires on one wall as well as two luggage racks (a rarity most of the time). Almost all guest rooms and suites have private terraces.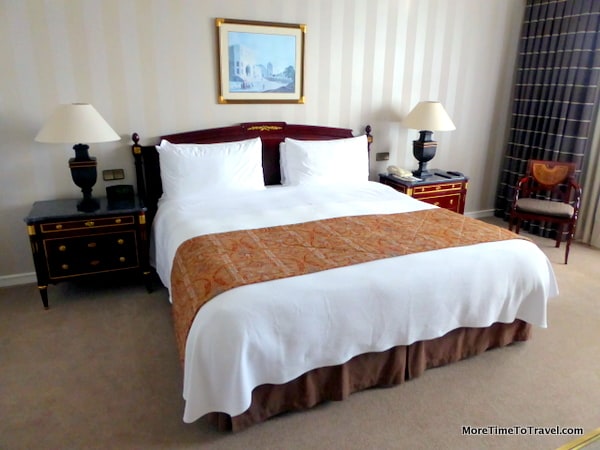 The bathroom walls were covered in black and pink marble. Twin pedestal sinks under a huge mirror had convenient towel bars on each side. Fluffy towels hung over the electric towel warmer in the bath. In addition to the tub, the bathroom had a walk-in shower and separate lavatory with bidet.
The retro medicine cabinet with a glass door was not only attractive but also extremely useful. Finding L'Occitane toiletries at a hotel is always a treat!
Service, public spaces and amenities
Service throughout our three-day was flawless. We had room service breakfasts each morning, and our orders were always delivered accurately and on-time. Twice-daily housekeeping was efficient and unobtrusive. Each time we walked in and out of the building, a doorman was one step ahead of us opening the door.
Instead of being relegated to a windowless basement or interior space (as happens in most hotels), the inviting and well-equipped gym occupied the top floor of the building with panoramic views of the adjacent park. The outdoor running track served as an excellent perch to stargaze and see the city lights at night. The hotel also had a large, indoor lap pool (also with views) located in the Spa area, that we didn't have time to use.
Sunday Brunch at the Varanda Restaurant in the hotel is not-to-be-missed.
Bottom line
Although the property is a lengthy walk from the historic area of the city, taxis were always available and relatively inexpensive (compared to New York City). After returning from touring different areas of the city each day and having dinner at some of its fine restaurants, we appreciated the hotel's quiet location in a residential neighborhood.
The Four Seasons Hotel Ritz Lisbon is a classic that lives up to its five-star rating and the high standards associated with the Four Seasons. It offers a perfect base for tourists to explore all the riches of this great European city.
---
IF YOU GO
Four Seasons Hotel Ritz Lisbon
Rua Rodrigo da Fonseca, 88, Lisbon

Previously on More Time to Travel:
Sunday Brunch at Four Seasons Hotel Ritz Lisbon
---
Disclosure: We were guests of the Four Seasons Hotel Ritz Lisbon but any opinions expressed in this article are our own.