Things to Do in Westchester: Autumn Leaf-Peeping and More
There is no shortage of things to do in Westchester County in autumn.
Although the county is a four-season destination, the splendid canvas of fall foliage usually peaks between the last week of September and the third week of October. And temperate weather, with average highs between the 50s and 70s, can be near perfect.
The timing is perfect for a getaway that showcases nature's seasonal bounty.
How close is Westchester County to New York City?
Westchester County (dubbed the Golden Apple) is located just north of New York City in southeastern New York State. This virtually places its location in the Big Apple's backyard.
The county is bounded on the east by Connecticut, on the west by the Hudson River, and touches upon Long Island Sound at its southeast border.
Is Westchester upstate?
It depends on whom you ask. Most people living in Westchester consider the county a suburb of New York City. But most city denizens call Westchester "upstate" because it's outside the geographic boundaries of New York City. Probably more importantly, the county's density and feel are distinctly different from that of the boroughs.
The actual distance between NYC and Westchester is only 30 miles. In comparison, the distance from NYC to the Canadian border (at the northernmost tip of the state) is about 300 miles, which is approximately 6 hours by car).
An article in the Times Union pondered the perennial controversy of where upstate New York begins reaching no clear consensus, even among New Yorkers. "There is no precise or legal definition as far as I know," said Bruce Dearstyne, a historian and author who lives in Guilderland (Albany County, New York).
More likely, upstate is a state of mind.
Westchester's proximity to the city and lure of fresher air, green space, and old stone walls make the county an ideal destination for a road trip or close-to-home weekend getaway, especially in Autumn.
The best things to do in Westchester in autumn
Westchester County Tourism and Film (the county's official tourism bureau) has compiled a list of seasonal festivities that will appeal to visitors of all ages. These include:
Visit Sleepy Hollow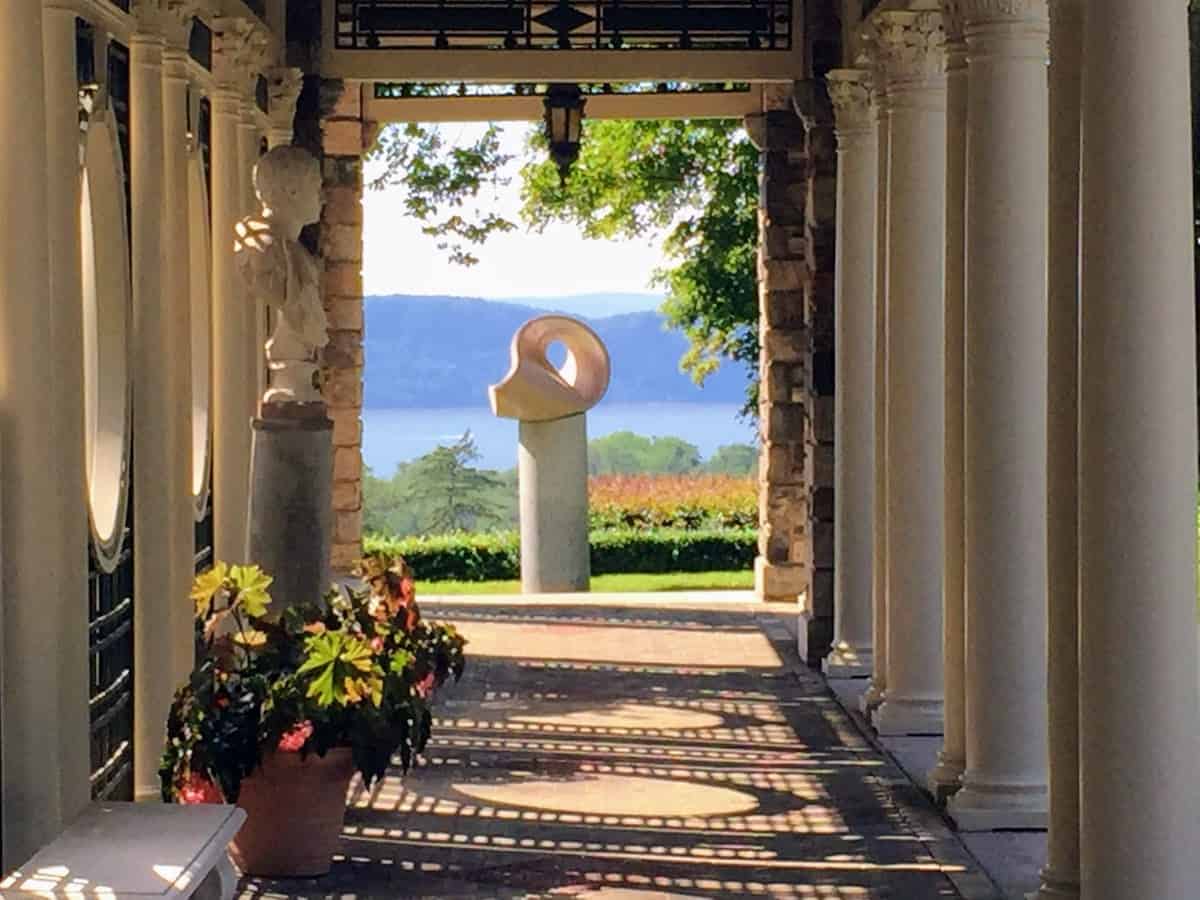 Westchester is made up of big cities as well as small towns. But one of the most recognizable villages has to be Sleepy Hollow, immortalized by author Washington Irving in The Legend of Sleepy Hollow, penned in 1820.
Old Dutch Church and courtyard
Visitors can explore the Old Dutch Church and churchyard, which is said to be the burying ground of Irving's Headless Horseman. The church is the second oldest extant church and the 15th oldest extant building in the state of New York.
Sleepy Hollow Cemetery
Nearby are a number of historic graves at Sleepy Hollow Cemetery, where Washington Irving and other luminaries like William Avery Rockefeller, Walter Percy Chrysler, Elizabeth Arden and Andrew Carnegie are buried.
Sleepy Hollow Cemetery (credit: Jerome Levine)
Spirits of Sleepy Hollow Country
On select dates from late September through October, the Spirits of Sleepy Hollow Country come alive with performances and immersive experiences led by master illusionists at Philipsburg Manor, a historical landmark where an enslaved community labored for generations, also in Sleepy Hollow.
Visit Tarrytown
Tarrytown is just south of Sleepy Hollow. In fact, Sleepy Hollow once was called North Tarrytown before it was "rebranded" to reflect its rich literary legacy.
Sunnyside
Washington Irving's home, Sunnyside, is a picturesque Dutch stone house on ten landscaped acres overlooking the Hudson River. House tours enable visitors to learn about the author and his characters while they visit the whimsical house museum.
During select days in October, guests can attend ticketed performances of Irving's Legend, a dramatic al fresco presentation with live music and storytelling. It includes the appearance of the Headless Horseman.
Lyndhurst Mansion
Lyndhurst Mansion is a magnificent Gothic-style estate that was designed in 1838 and opened as a museum in 1965. More recently, this 67-acre property served as one of the film locations for The Gilded Age TV series.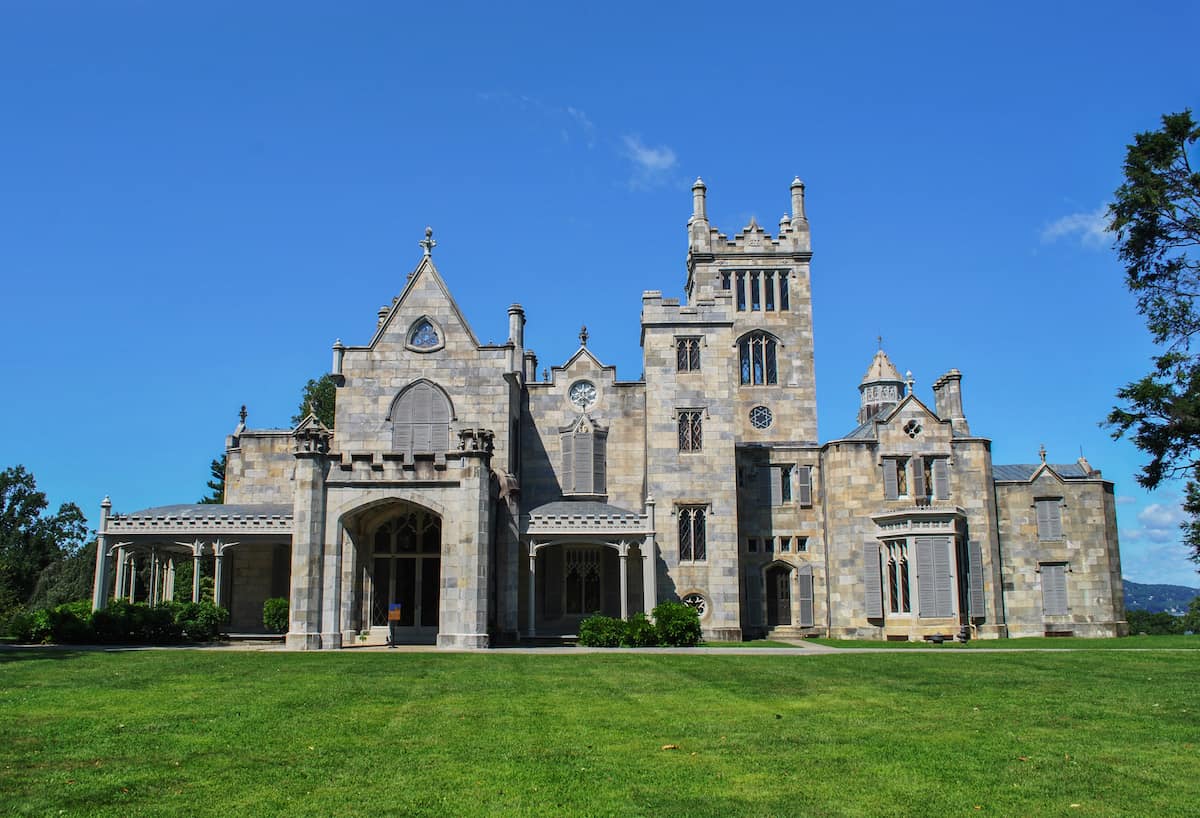 A Lyndhurst After Dark evening tour of the mansion takes place over two weekends in October, revealing some of the darkest aspects of the mansion's history. Guests have the chance to visit when the mansion is draped in Victorian lore and candlelight.
Tarrytown Music Hall
During the month of October, Tarrytown Music Hall offers guided. immersive Ghost Tours. Visitors get to explore the haunted history of this Queen Anne-style theater that is listed in the National Register of Historic Places. The building is an official site of the Haunted History Trail of New York. There are also opportunities to catch ticketed performances ranging from music to theater to film and comedy.
Visit Croton-on-Hudson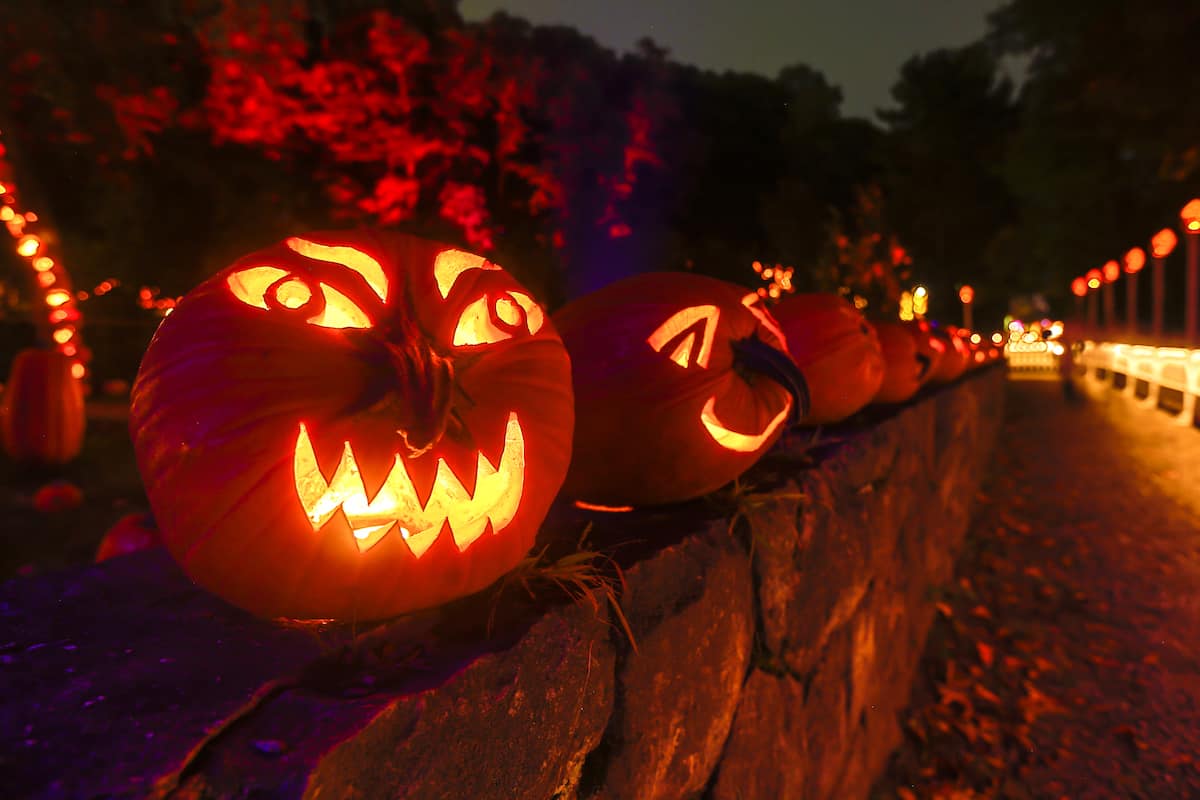 Great Jack O'Lantern Blaze
About 10 miles farther north of Sleepy Hollow, the village of Croton-on-Hudson offers the county's Halloween pièce de résistance, the Great Jack O'Lantern Blaze on select nights from September to November.
Some 7,000 hand-carved jack lanterns are on display with synchronized lighting and an original soundtrack. Because of the event's popularity, advance ticketing (and advance planning) is required (no tickets are sold on-site).
"It's unique. It's an art experience. It's outside. It's like a perfect autumnal Halloween experience," artistic director Michael Natiello told CBS News. "People come from as far as Japan, Europe … it's gained, like, worldwide popularity or notoriety," he added.
Apple picking and leaf-peeping in Westchester
Apples are the official state fruit of New York State and the Hudson Valley offers some great farms and orchards to pick your own apples, a popular tradition in autumn.
See my previous article on Apple Season in New York with some excellent suggestions of where to pick your own in Westchester County.
Of course, your visit to Westchester County promises views of nature in its autumn glory.
Some serene places to immerse yourself in nature and see the changing colors of the trees include:
Rockefeller State Park Preserve
Rockefeller State Park Preserve in Pleasantville offers a variety of different trails including 45 miles of scenic carriage roads that are easy to walk. One of our favorite fall destinations is the circuit around the 22-acre Swan Lake. Don't miss the art gallery at the entrance to the park.
Other parks and trails in Westchester
The Pocantico Center Gardens and Grounds
On October 3rd, 2023, The Pocantico Center Gardens and Grounds in Tarrytown offer their Fall Foliage Tour led by an arborist who explains the histories and life cycles of the beautiful beechnut, cherry, Japanese maple and wisteria trees on the grounds.
Mianus River Gorge Preserve
The Mianus River Gorge Preserve in Bedford offers a trail that sits 40 feet above the 22-mile Mianus River that spans five towns in two states.
Teatown Nature Preserve
On October 28th, 2023, Teatown Nature Preserve, a 1000-acre nature preserve in Ossining, creates its Enchanted Forest, a family-friendly event featuring a cast of characters and forest friends, many in costumes. The preserve offers 15 miles of hiking trails and a two-acre island refuge with over 230,000 species of native flowers.
IF YOU GO
This post just skims the surface of all there is to do and explore in Westchester County.
For additional information visit the website of Westchester County Tourism & Film. You can also order a free Visitors Guide.
Depending on your destination, Metro-North Railroad transports commuters from NYC to Westchester on three main lines, all on the east side of the Hudson River.
Our suggestion for maximum flexibility during your visit would be to rent a car for the day (and enjoy the wonderful scenery along the way or to take the Hudson line to the Tarrytown station. The ride takes between 37 and 51 minutes.
Note: Be sure to confirm the hours and availabilty of tickets at these popular attractions.
---
Save to Pinterest!!
---