Lounge Review: Sala Joan Miro in Terminal 1 at Barcelona Airport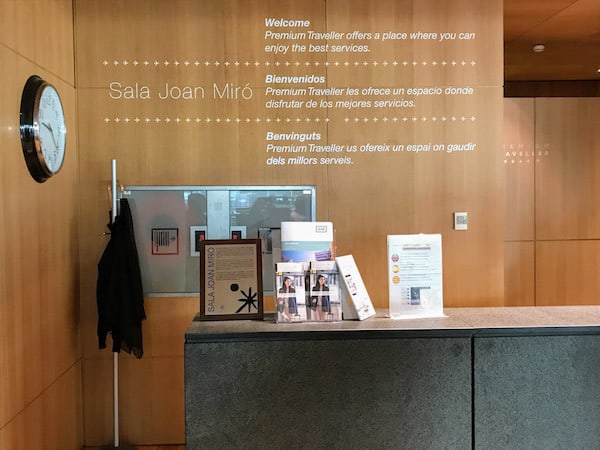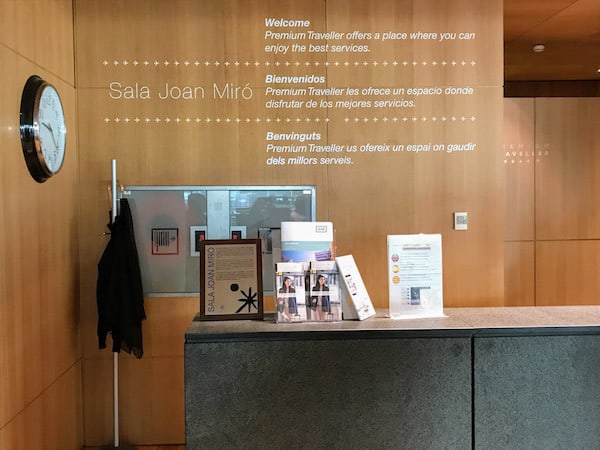 Both my husband and I have access to Priority Pass lounges—mine through an American Express Platinum Card and my husband's through his Chase Sapphire Card. In general, these lounges have been decent but pretty lackluster.
The Barcelona-El Prat Airport (BCN) has a third-party VIP lounge that's shared by many airlines as well as Priority Pass. Based on past experience, we almost skipped this one but thought we would take a look.
The Sala Joan Miro in Terminal 1 at Barcelona is located near McDonald's after Passport Control. Its location is a plus and a minus: Visitors can proceed directly to their gates from the lounge but it's virtually impossible to go back to the lovely airport shops without going through security and passport control a second time.
What do people look for in lounges?

—Generally, food, booze, a solid Internet connection, restroom facilities and comfortable place to relax.
This Priority Pass lounge certainly offers all of these:
The setting
The lounge is light with contemporary furnishings and spacious glass walls that overlook the shopping level you can no longer get to. Check-in at 9:30 on a Saturday morning was fairly efficient with a friendly receptionist and short line that moved quickly.
But when we looked for a seat, few were to be had. A couple rose to leave and like Musical Chairs, we rushed to grab theirs. The seats in the lounge are oversized, black faux leather (a little bit like a Barcelona chair) with arms so huge and flat they can (and do) substitute for tables.
On the one hand, because of their breadth, you're not on top of the person next to you and they give the room an airy feel. On the other hand, each one takes up a great deal of real estate. Although still comfortable, they look well-used. You'll find yourself sinking into the deep seat wondering if you'll ever be able to get out.
The room is subdivided into various areas (called zones) providing a meeting space, food and beverages, Internet/working space and the general "living room."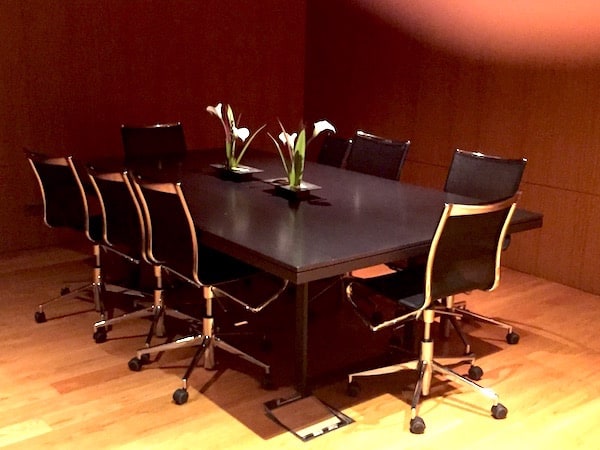 There is also a rest area with six beds for very weary travelers.
On our way out, we noticed a glass enclosed quiet sitting area (to the left of the buffet table), where we'll head to next time we return.
Food & beverage
We appreciated that the light snacks offered conveyed a sense of the city we were leaving rather than generic airport fare. A small buffet table had typical meats and cheese, breads and pastries. Another area near the alcoholic drinks had fresh whole fruit, chips, olives, and nuts. The mini-croissants were our favorite.
Do not leave this lounge without tasting the chocolate mini-croissants, filled with a smooth, rich, melt-in-your-mouth chocolate.
When in Spain, you might opt for the sparkling Cava (this one was a bit acidic for our taste) or the local red and white wines.
There was also a refrigerator stocked with sodas, beer, juices and bottled water as well as a serve-yourself Nespresso machine. (Unfortunately, we are Nespresso-illiterate and couldn't discern the different coffee strengths by their monikers so wound up with very bitter coffee!)
All in all, you won't go hungry in this lounge although what we experienced in the morning is bound to change throughout the day.
Restroom facilities
When I arrived at the ladies room, there was also a line there and only three stalls for this very large lounge. A matron was in the midst of cleaning the room, a good sign. Since I was the first one to visit after her, it was squeaky clean. I noticed that there was also a separate restroom for mothers with infants.
Getting charged and connected
Getting on the Internet was free and no password was required. Not the fastest connection in the world but the Internet worked fairly well.
Although we couldn't find any electrical outlets, there was a "bank" at the entrance with safe deposit-like boxes where you could charge your phone and not worry about it going AWOL.
Bottom line
This was one of the most comfortable Priority Lounges we have visited. Both the décor and grub had an interesting "sense of place," something not often found in airport lounges.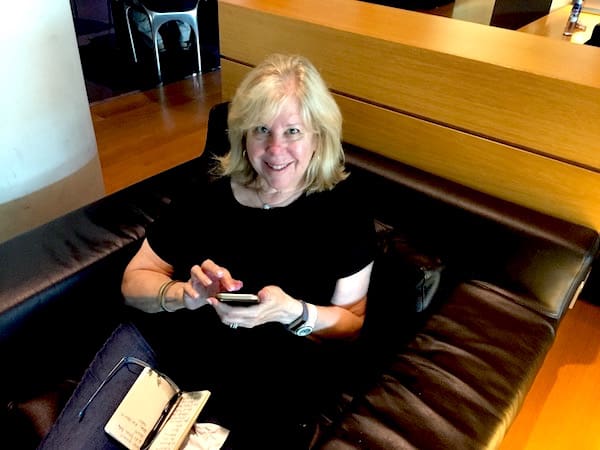 The lounge is a third-party lounge that also serves British Airways and Star Alliance passengers. If you have free access, it's a great place to escape the gates where seating is even tighter. On the other hand, if you don't have access either through your airline or credit card, the 26€ charge for entry may make you think twice.
---
IF YOU GO
Joan Miro VIP Lounge in Terminal 1 at BCN
To reach the lounge, make a left after Passport Control on the second level (just past McDonald's) and take the elevator down one floor.
Previously on More Time To Travel: