Lounge Review: Airspace Lounge at JFK Terminal 5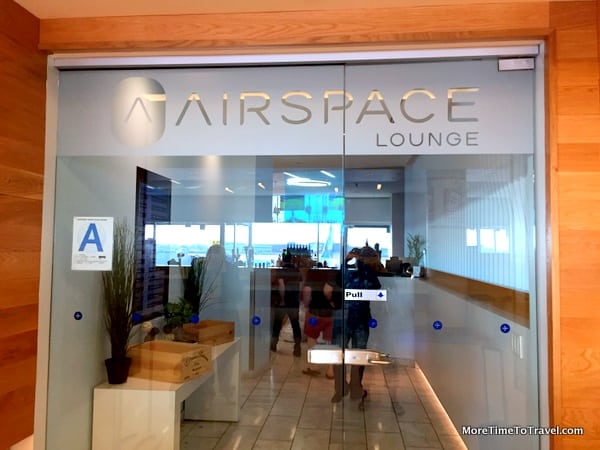 ***UPDATE: This lounge closed on August 31, 2018.
Peek inside the Airspace Lounge at Terminal 5 at JFK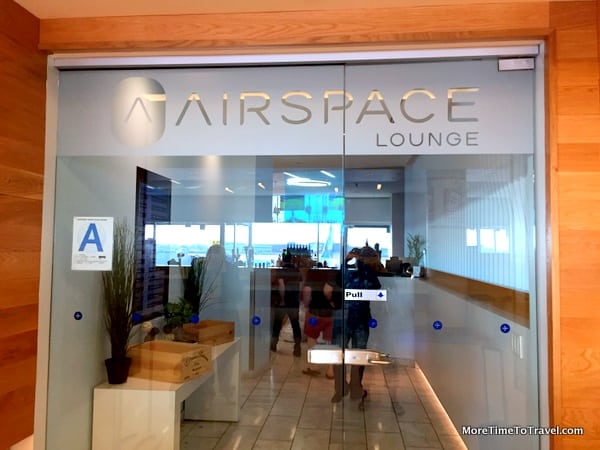 You have to look hard to find the Airspace Lounge at JFK airport in NYC. The only lounge in Terminal 5 is tucked in a space at its far end, across from Gates 24 and 25, after you go through TSA Security.
Although it is independently-owned and operated by Swissport (rather than airline-operated), travelers often refer to it as the JetBlue Lounge because the airline dominates departures and arrivals in the terminal (However, Hawaiian Air, which has a partnership with JetBlue, and Aer Lingus also operate flights out of the same terminal.)
Space
Compared to most airline lounges this bi-level one is quite small. It offers a luncheonette-type counter bar with seats, two fairly comfortable seating areas, an open work station, and a separate glass-enclosed seating area with a TV. Depending on when you visit, the lounge can be quite busy (and noisy, because it's essentially one big room) but it's a definite step up from the seating areas at the gates outside its doors.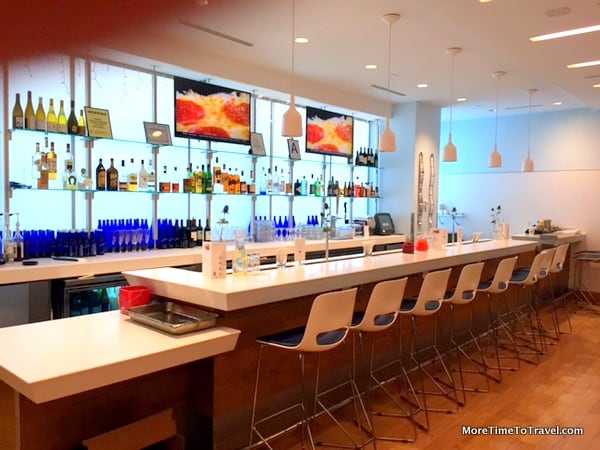 Since the terminal was only built a couple of years ago, the lounge is contemporary in design but there is nothing memorable about the functional although windowless space.
We arrived quite early in the morning (about 7AM) this time and seating was adequate although the lounge can get very crowded during peak travel periods or when there are cancellations or flight delays.
Getting in
Entry requirements are less restrictive and not as expensive as most. There are no restrictions based on airline flown or class of service but due to TSA regulations, access is limited to passengers flying out of Terminal 5.
Pricing is dynamic (varying based on how busy the lounge is at a particular time and day). It starts at $20 and can go as high as $35 but usually costs around $25 per person. Access is free for American Express Platinum and Centurion Card members and up to two of their guests, who are entitled to the same lounge privileges. It is also open to Aer Lingus Gold Visa card holders and one guest or Aer Lingus Business Class flyers without guests.
Upon showing same-day boarding pass and eligible credit card—or by paying the daily rate—entrants receive a $10 per person Airspace credit card that can be redeemed for food or beverages.
Food and beverage offerings
Soft drinks, Peet's coffee and tea, espresso/cappuccino and Chex-mix are complimentary throughout the day. The morning we visited, there were also individually wrapped apples and apricots available in a fruit bowl on the serve-yourself coffee counter.
But the food menu is quite basic, mostly frozen, microwavable foods. For breakfast, we both used our credit to order two English muffins with egg and cheese (forgoing sausage). Bellying up to the full-service bar can use up your credit in an instant; you'll definitely have to start a tab if you are planning on a second drink.
We've been to the Airspace Lounge at JFK at least three times before and each time, it always looks like it desperately needs to be cleaned. Even early in the morning, tabletops had the sticky remnants of the last visitors. The one lovely, very hard-working person on duty when we arrived was stretched far too thin: She checked us in, prepared the egg sandwiches, handled the bar and cash register, and ran around trying to pick up used dishes when she could.
Other amenities
Toto toilets with heated seats are always high on my list; the one unisex bathroom (that sometimes requires a wait) has one of them (maybe that's why users linger and stay so long). There is also a shower room in the lounge available upon request.
Electrical outlets were plentiful and the unsecured wireless internet connection is complimentary. Although people have complained about connection speeds, we found it lightening fast, faster than our hi-speed internet connection at home. A MacAir laptop and printer/scanner machine was also available for free use and a small private meeting space can be booked in advance.
Bottom line
The Airspace Lounge at JFK doesn't meet the standards of most major airline lounges and certainly falls well below those of American Express Centurion Lounges. Terminal 5 happens to offer a range of fresh food options (from sushi to Cibo Express to Melissa's Cupcakes) but the prices are high and wait lines are often long.
Despite its drawbacks, it's better than nothing. If you have an eligible card to use it for free, or anticipate a long layover or departure wait, the lounge can offer a haven from the busy waiting areas outside.
---
IF YOU GO
Airspace Lounge at JFK
The lounge opens at 4:30AM (convenient for early morning flights) and closes at 11PM.
Another nice perk: Purchased food and beverages can be packaged for takeout.
Swissport also operates Airspace Lounges in Cleveland (CLE), Baltimore (BWI), and San Diego (SAN).
---
Previously on More Time To Travel: