Sweet hotel turndown gifts
From whimsical to elegant, these hotel turndown gifts make for sweet dreams…
Turndown service is a sweet luxury, especially when accompanied with a surprise on your pillow. To wow guests, hotels and resorts are offering locally inspired turndown amenities infused with history, culture and whimsy.
Guests at the Caldwell House Bed & Breakfast (Salisbury Mills, New York) receive homemade miniature fruit pies with locally sourced fillings. "Anyone can do a boring mint," says co-owner Dena Finneran. "We wanted something fun and delicious when pie season is in full swing."
At Farmhouse Inn (Sonoma, California) guests find s'mores kits: house-made marshmallows, Vahlrona chocolate and crunch grahams, perfect for toasting over in-room fireplaces.
Guests at the Mandarin Oriental, New York (New York City) receive "Sweet Dreams" packages of spice bread cookies with ganache filling from Bouchon Bakery.
At The Inn at Leola Village (Lancaster, Pennsylvania), guests receive "whoopee pies," traditional Amish desserts in stamped gift boxes reading: "Enjoy a little whoopee tonight."
Holiday guests at The Inn at Shaker Village of Pleasant Hill (Harrodsburg, Kentucky) receive simple rosemary sprigs (for remembrance) and "thank you" tags tied with red-and-white twine.
At La Cantera Hill Country Resort (San Antonio, Texas), tiny "worry dolls" in hand-painted cases come with a suggestion to place them beneath the pillow for worry-free sleep.
Native American-owned Hotel Santa Fe, The Hacienda and Spa (Santa Fe, New Mexico) offers Native American Wisdom Story Cards along with Kachina dolls made by Hopi and Zuni people.
Belmond Charleston Place (Charleston, South Carolina) honors the area's roots with a Lowcountry favorite, Benne Wafers. Sesame seeds (used for the cookies) were brought from West Africa before being planted extensively throughout the South.
Guests at the spa and wellness-themed The Bungalows at Terranea (Rancho Palos Verdes, California) receive pillow gifts of bath bombs, cooling eye masks and scented massage oils.
The boutique RiverPlace Hotel (Portland, Oregon) delivers an evening cognac "nightcap" with a snifter and elegant card.
Chocolate never goes out of style: At the Fairmont Sonoma Mission Inn & Spa (Sonoma, California), VIP guests receive wine-infused dark chocolate truffles.
Newly restored La Playa Carmel by the Sea (Carmel, California) dates back to 1905 when an artist built the mansion as a gift for his wife, a member of the Ghirardelli Chocolate family. To maintain the historical link, turndown includes homemade chocolate chip cookies with milk, as well as the famous chocolates.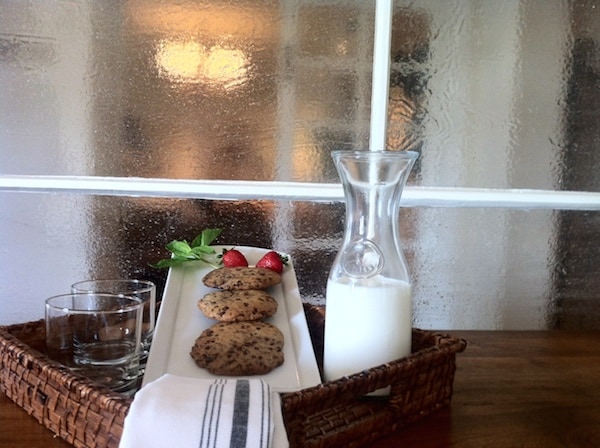 Guests who stay at the MSC Yacht Club, the ship-within-a-ship on the only privately owned Italian cruise line, find highly addictive Venchi gourmet chocolates (made in Turin since 1878) in their cabins each night.
---
IF YOU GO
Have you ever been pleasantly surprised by a unique hotel turndown gift?
---
[A version of this article was published the Chicago Tribune Travel Section on October 12, 2014 and in the Orlando Sentinel.]