Paris gets a little more chic with hotel openings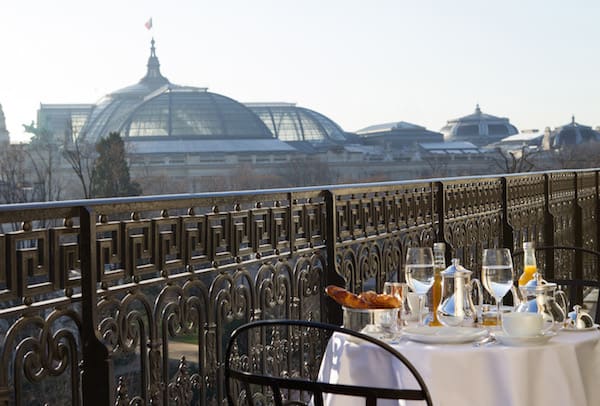 Watch for these new luxury hotel openings and makeovers in Paris.
For those planning a Paris getaway in 2015, there will be more luxury hotel rooms to choose from over the coming year, including a much-anticipated opening and two makeovers.
The new La Réserve Paris Hotel and Spa, located in a Haussmann mansion previously owned by designer Pierre Cardin, opened in January. The ultra-posh property has only 26 suites and 14 rooms, each with personal butler service and luxurious Belle Époque-inspired antique furnishings and fabrics. Some guestrooms offer sweeping views of the Eiffel Tower, Grand Palais, Pantheon and Luxor Obelisk.
Chef Jérome Banctel, formerly with the two-Michelin-starred Senderens, oversees the on-site restaurant, Le Gabriel. While intimate in size, the property offers 24-hour room service; a full-service spa with a gym, sauna and 52-foot indoor pool; and lovely public spaces including The Bar (a cocktail lounge) and The Library (a relaxation area). The inviting courtyard garden has orange trees, shrubs, and greenery that changes with the seasons.
Perfect for romance or special celebrations, La Reserve Hotel and Spa is located in the 8th Arrondissement, on Avenue Gabriel off the Champs-Elysées. Room rates start at 750 euros ($855) per night.
Re-opened in January after a $50 million renovation, the Hilton Paris Opera unveiled its contemporary redesign and rebranding of the former Concorde Paris Opéra. The landmark building first opened in 1889.
Business or leisure guests can mingle at Le Grand Salon, the historic centerpiece of this iconic hotel, or dine at the hotel's informal brasserie. Located in the 8th Arrondissement in the heart of the Right Bank Opera district, the property has updated and redesigned all 268 guest rooms and suites. Rates start at 249 euros ($284) per night.
Though the precise timing is still uncertain, the reopening of the 125-room Hotel de Crillon on Place de la Concorde is also slated for 2015, under the management of Rosewood Hotels & Resorts.
---
[This article by Irene S. Levine was previously published in the Chicago Tribune, Orlando Sentinel, Hartford Courant, and Miami Sun-Sentinel on March 4, 2015.]