Bologna in winter?
Conventional wisdom holds that the best time to visit northern Italy is in spring or autumn when the weather isn't either too hot or too cold. We have been to Bologna—the capital of the Emilia Romagna region—many times in shoulder seasons, always enjoying our visits so much that we find another reason to return.
But during our first off-season visit to the city in late February, we discovered there are many reasons to visit Bologna in winter. Not only are there plenty of things to do but there are also distinct advantages to spending a few days or even weeks in Bologna in winter.
SOME THINGS TO DO IN WINTER
1. Walk under the porticoes
The stunning porticoes (portici, in Italian)—totaling some 25 miles in length—are one of the city's most characteristic and iconic architectural features. In summer, these covered walkways provide protection from the sun and rain but in winter, they're equally useful: They offer protection from snow and winds.
Providing overhead shelter as you walk from place to place, they encourage pedestrians to stop and leisurely glance at the historic buildings or attractive shop displays along their route.
2. Savor comfort foods
Many of the foods for which Bologna is known throughout the world are best enjoyed in winter because they tend to be rich and hearty.
It's the perfect time and place to enjoy a steaming bowl of tortellini in brodo (tortellini in broth), or a plate of tagliatelle al ragù (ribbons of pasta in meat sauce) or gramigna with salsiccia (curled pasta with sausage). If you like carciofi (artichokes), they are plentiful in winter—served steamed, in salads, or used as stuffing in ravioli.
Compared to summer (especially August), when many Italians take their vacations, restaurants, trattorias, and food stores are all open in winter, welcoming visitors. (Conversely, we've found to our dismay that many restaurant owners in southern Italy, especially in beach towns, close up shop during the winter months.)
And in case you have ever tasted the gelato at Cremeria Funivia (one of our favorite warm weather destinations), you'll be reassured to know that this Bologna institution remains open throughout the year.
3. Take a cooking class
A bastion of good food and culinary traditions, Bologna hosts an array of opportunities for visitors to learn how to cook and acquire new skills to take home. For example, at CIBO (the Culinary Institute of Bologna), food lovers can learn how to make pasta from scratch or whip up a tasty ragù of their own working close to the heat of an oven.
Through an organization called Le Cesarine, food enthusiasts can arrange an in-home cooking class with a local who opens her home to visitors to share the traditions of his/her forebearers.
4. Step indoors
There are plenty of things to do indoors, too—many of them free. In a region richly laden with history and culture, someone could spend weeks (or many months) to visit all of the 50 museums in the city alone. Two of our favorites are Bologna's Modern Art Gallery (MAMbo), and the Museum of the History of Bologna.
There are also changing temporary exhibitions at locations across the city. We were fortunate to walk by the territorial office of the government of Bologna, where a free exhibit, "Il Genio Marcono" (the genius Marconi) was running. Through films, photos and displays of artifacts, it tells the history of one of Bologna's most famous citizens, Guglielmo Marconi, and his seminal role in the development of wireless communication. (With civic pride, Bologna's airport is named after Marconi.) The exhibit is housed in a Renaissance-style palace whose interior, with Murano glass chandeliers and painted ceilings, was simply dazzling, well worth a visit on its own.
In an underground passageway of the Piazza Re Enzo, we found Bologna Fotografata (Bologna photographed). Through film, photographs and text, this fascinating exhibit captures three centuries of the city and its people, including a look at the devastation wrought by World War II.
Visitors can also slip into one of the centuries-old churches in the city to immerse themselves in art, architecture and history.
5. Save a buck or two
While Bologna is generally considered to be one of the more economical cities of Italy, rates for lodging are even less from November to March than in they are in peak tourist seasons. In Bologna in winter, many shops are getting ready for their spring lines after the Christmas holidays and thus, offer substantial discounts on winter wear. It's a great time for shopaholics.
6. Don't believe us? Well, ask a local
We did. We spoke to many people who reminded us that summers in Bologna can be hot and humid. The site of the oldest university in Europe, Bologna is a "college town" where students comprise approximately one-third of the population. When July comes around, many of these students return home for the season to other parts of Italy and other countries around the globe.
In winter, regardless of the weather, the city is at the peak of its vibrancy. Everybody is here! In early evenings, the streets and outdoor bars are filled with people taking a passeggiata (evening walk) or sipping an aperitivo at an outdoor café. The Piazza Maggiore, the city's virtual living room, is always filled with life and people taking photographs.
7. Visit FICO EATALY WORLD
One of Bologna's newest attractions for foodies is mostly indoors! Pay a visit to FICO EATALY WORLD, the world's largest agri-park, a theme park of sorts for food lovers. Most of the restaurants, shops and exhibits are indoors, so you won't be hampered by the weather. Let it snow!
8.  Ensure your good luck for the coming year
With a dusting of snow, the city of Bologna is no more beautiful than it is around the holidays. The historical buildings in Piazza Maggiore and many of the surrounding streets are beautifully lit. You can visit the Christmas tree on the small piazza next to Piazza Maggiore that houses the statue of Neptune. The shop windows are shimmering.
At midnight on New Year's Eve, the city observes the ancient tradition of the Vecchione. A large paper mache puppet (the Vecchione) designed by artists is set ablaze in a bonfire in the main square. Residents and visitors crowd the square for lights, music, dancing and most importantly, the opportunity to see all their worries burn to ashes with the promise of good things for the coming year.
Each year, new features are added to the big party on Piazza Maggiore and they spread to more areas outside the historic center. These typically include innovative additions of dance, music and lights. See my article in Forbes about the additions for 2019.
Updated information about holiday festivities in Bologna can be found on the Bologna Welcome website.
The bottom line
During every season, including winter, visitors to Bologna will experience the special warmth and hospitality of a progressive, liberal city that truly welcomes and captivates the hearts of outsiders.
---
Piazza Maggiore on a snowy winter evening – February 2018
---
For more information:
---
Also see: Summer in Bologna? 17 Ways To Beat The Heat
---
Save to Pinterest!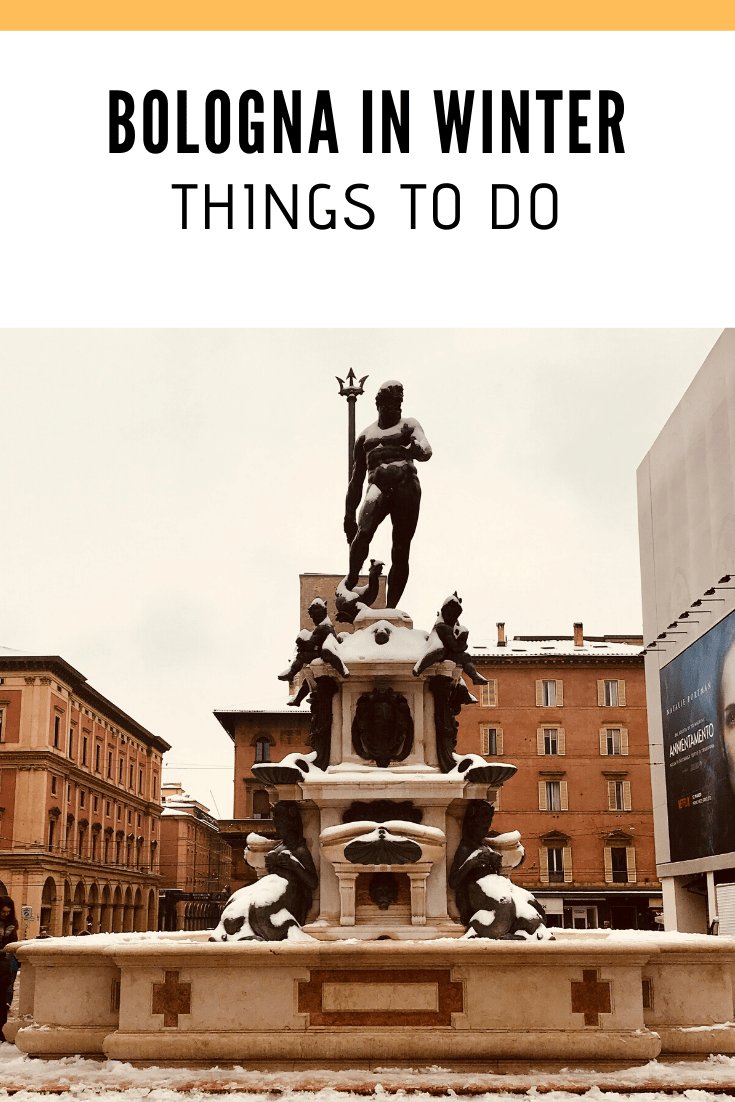 ---
Originally published 2/18; Updated and revised 12/6/19