Summer in Bologna? 15 Ways to Beat the Heat
Bologna is one of our favorite places in Italy because it is filled with art, history, jaw-dropping architecture, world-class foods and wines, and a warm citizenry that welcomes tourists.
However, I can't promise that Bologna will offer a respite from the oppressive heat that has been plaguing Europe this year. In the last week of June, temperatures in much of Italy surpassed 104 degrees Fahrenheit. Most Italian cities, including Bologna, were placed under a red (intense heat) alert by the Ministry of Health.
In general, summer in Bologna can be hot, with average highs in the mid-80s during the months of July and August. The good news is that humidity tends to be lower in summer compared to the rest of the year.
But wherever you travel in Italy in summer, you'll need to find ways to avoid the punishing heat. However, there any many opportunities to beat the heat of summer in Bologna. Here are a few of them:
1- Watch movies under the stars
On summer evenings until August 14th, attend Sotto le Stelle del Cinema, which allows locals and visitors the opportunity to watch free movies under the stars on Europe's largest outdoor screen. Screenings, accompanied by live music, are held in the magnificent Piazza Maggiore.
2- Cool off with gelato
In Italy, gelato is synonymous with summer. In addition to its abundance of wonderful gelaterias throughout the city, Bologna is home to the Carpigiani Gelato Museum, where visitors can learn about the history of this cool dessert and participate in tastings. There are guided tours and worships dedicated to the social and technological history of this Made in Italy food product.
3- Swim with locals
In summer in Bologna, taking a dip outdoors is another way to cool off. Piscina Sterlino is an Olympic-size swimming pool with umbrellas and beach chairs that is open to the public. In summer, it is outdoors and it is covered in winter.
4- Experience a one-of-a-kind theme park
Bologna is home to FICO Eataly World, the world's largest theme park centered around food. Food enthusiasts visiting this air-conditioned, indoor agri-park learn about the relationship between food and the earth. There are ample opportunities to sample and purchase Italian specialty foods from different regions at retail markets and sample them at the eateries in the park.
5- Head to the hills
Compared to the city, the hills around Bologna (called the Colli Bolognesi) tend to be cooler, especially when you stop at one of the many small rivers. A short drive from Bologna, be sure to check out the local tourist office website for ideas of things to see and do.
6- Stop into one of the churches
Interiors of churches are always cool places filled with art and history. Wikipedia lists no less than 43 churches in Bologna. We have been to a number of them and were never disappointed.
7- Visit one or more climate-controlled palaces
While many palazzi (palaces) are private, you can step inside the Palazzo Pepoli (Museum of the History of Bologna), the Palazzo Fava (a museum with 17th-century frescoes) or Palazzo Poggi (the headquarters of the University of Bologna).
8- Spend time in the park
You can bask in the shade of a tree or find a nice spot beside a fountain at some of the parks in town or nearby, such as Giardini Margherita, (the largest and most popular park in the city), whose landscape design was inspired by a romantic English garden. Also, check out: Parco Talon, Villa di Villa Ghigi, Parco Cavaioni (just outside of town).
9- Hit the beach
A lot of Bolognesi go to the Lido di Casalecchio, a seaside resort with a beach that's close to Bologna, where the Reno river flows.
10- Eat light
Yes, eating light while eating well is possible in a city known for its fabulous foods. You probably won't be interested in a steamy bowl of tortellini en brodo on a hot summer day. Instead, order melon with prosciutto di Parma or pasta fredda (cold pasta) with cherry tomatoes. You won't be disappointed!
11- Visit a chilly underground site
The Conserva di Valverde (also called the Bagno di Mario) is a truly unique historical site. The cistern was built during the Renaissance to bring water to Bologna's famous statue of Neptune. Guided tours can be arranged through the tourism office, Bologna Welcome.
12- Head to an underground crypt
Take a guided tour of the Crypts of Bologna to explore and learn about three underground crypts that have been made accessible to the public.
13- Relax at a spa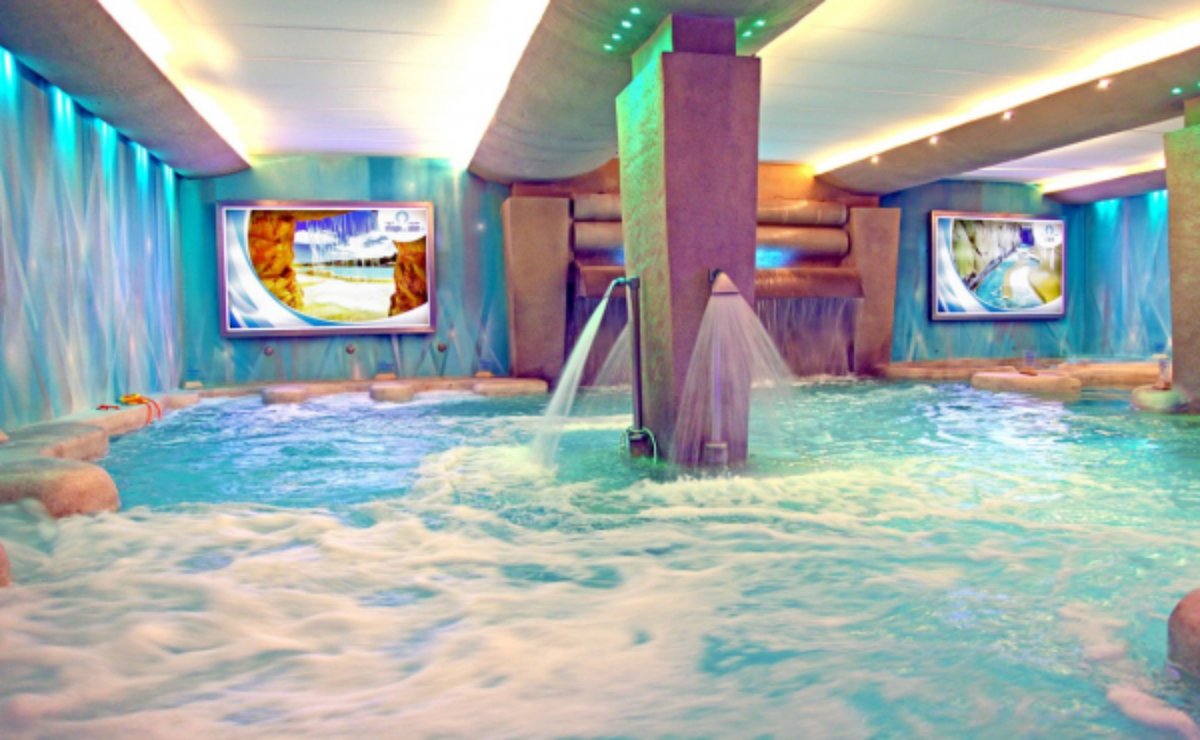 Known for its mineral waters, the Terme Di San Petronio is the only health spa in Italy located in the historic center of a city. Another alternative: The Terme Felsinee Spa Centre, located in the foothills of the San Luca Basilica, is a favorite of health and fitness enthusiasts.
Some of the luxury hotels in town, like the Grand Hotel Majestic Baglioni, have in-house spas where you can wile away the day in comfort.
14- Spend your time in shops
In summer in Bologna, an escape into a shop always offers a respite from the heat. Visit L'Angolo della Freschezza (aptly called the corner of freshness), a cheese shop in nearby Cadriano or La Caramella, the famous pastry shop created by award-winning Chef Gino Fabbri who is famous in Italy and abroad. Here you can sample some of the specialty foods for which Bologna is known around the world.
15- Pause for a chilled aperitivo
Get off your feet and order a cool drink at one of the bars in Bologna. You might even find a nice spot under the shade of a portico.
---
Summer in Bologna: What is Ferragosto?
One other caution for summer travelers throughout Italy:
August 15th is Ferragosto, a public holiday that celebrates the Catholic Feast of the Assumption of Mary. Some Italians treat it as a long weekend; for others, it represents the start of the summer vacation extending throughout the month until September 1. On that weekend, traffic may be particularly heavy on the autostradas (highways).
While most museums and cultural institutions remain open, many family-owned businesses (e.g. restaurants and other shops) close up so owners and workers can head to the beach or visit relatives in other parts of Italy. It's important to check whether these and other attractions are open if you are traveling to Bologna (or elsewhere in Italy) in the second half of August.
---
Note of appreciation: Thank you to Laura Bizzari, an Italian teacher who is passionate about her home (Bologna), where she teaches both English and Italian to foreigners. She and her students came up with some these great ideas to beat the heat in Bologna.
---
IF YOU GO
FOR MORE INFORMATION
---
Also on MoreTimeToTravel:
Bologna in Winter? Six Reasons We Say YES!
---
Save to Pinterest!!