Moving to Italy for Love: A Real-Life Romance Story
Many of us dream of moving to Italy but Sheryl Ness decided to live out her dream. She ended up marrying a charming Italian chef in the process.
The Backstory: I recently published an article about new Italian hotels on this blog, with a captionless photo at the top. It was a picture of San Gusme, one of the most charming small towns in Tuscany we had ever visited.
Soon after I hit "publish," I received a note on LinkedIn from Sheryl Ness, an American woman from Minnesota, who not only recognized the picture of this teeny, tiny, relatively obscure town but told me she had lived there for six years.
She sent me a copy of the book she had written about moving to Italy and finding her heart in San Gusme. Love in a Tuscan Kitchen is beautifully written and illustrated.
It is a story of romance infused with keen insights into Tuscan traditions and culture. An added bonus: It also contains a treasure trove of recipes.
Sheryl graciously contributed the inspiring essay below.
---
You might say that a girlfriend getaway spawned a life-changing adventure. Six months before I turned 40, I planned a girlfriend trip to Italy to celebrate my milestone birthday. Something I couldn't explain was drawing me to Italy.
I had traveled to Italy a few years earlier on a hiking trip through Tuscany (again with a girlfriend) and fell in love with the beauty of the land, the openness and welcoming spirit of the people, and of course, the pure delight of eating the incredible food and wine while I was there. We traveled through Chianti and the little hill towns for an 8-day experience that I will never forget.
Finding my heart in San Gusme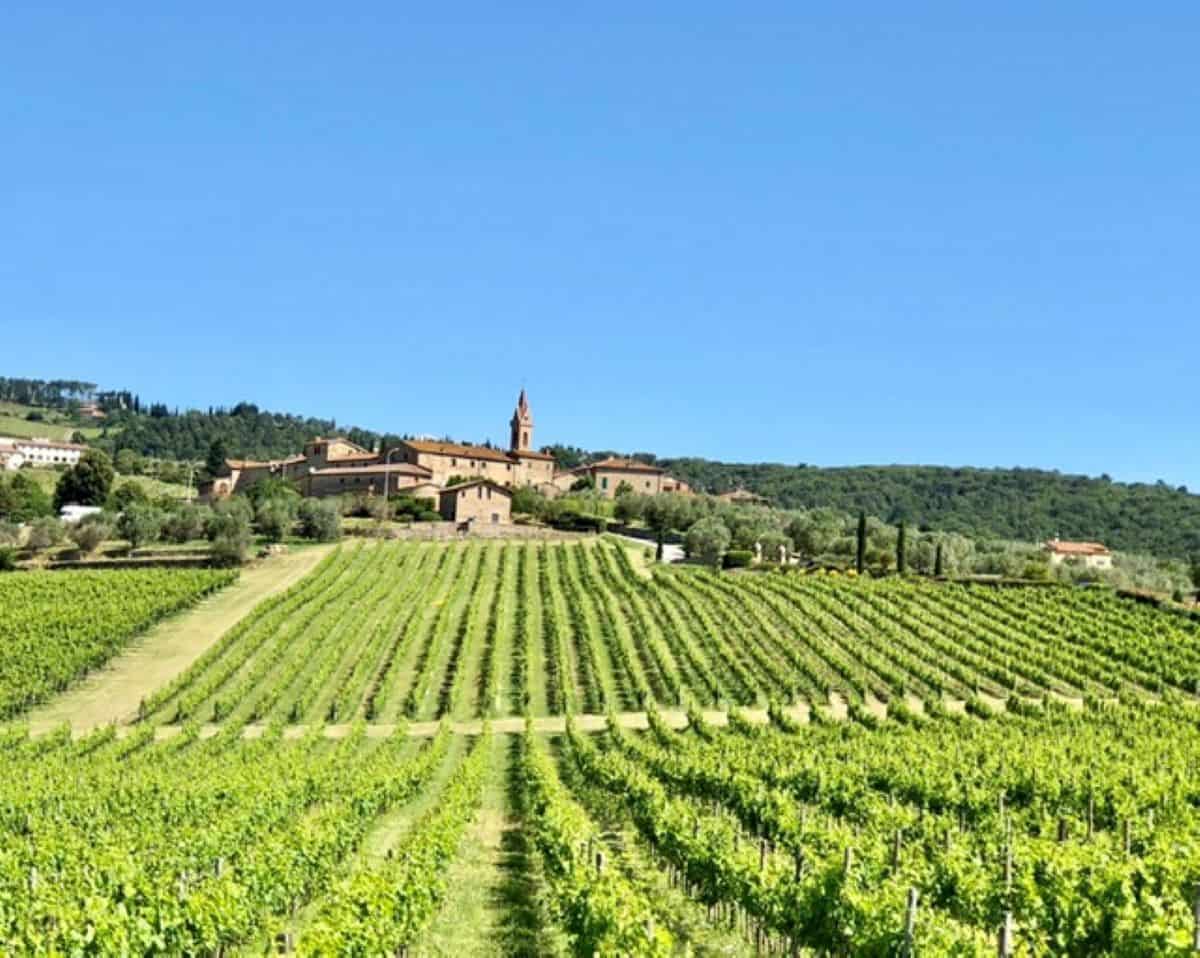 On one of our last evenings together, my friend and I were in the village of San Gusme and had dinner at a beautiful restaurant in the heart of the main piazza.
As I was eating my dinner that evening, I had the feeling I had been there before, like it was familiar. But I knew I hadn't. I remember feeling this beautiful summer breeze from the open doors and windows of the restaurant swirling around me as if to say, "You are home."
It was such a powerful experience. I knew at that moment; This is a special place and a compelling moment in my life. I felt like Italy was my secret love, and I couldn't wait to get back.
Moving to Italy from the US…in small steps
After this experience, I started to consider how I could return to Italy again. Within a few months, I had an opportunity to be back in San Gusme to study and work. I had stayed connected with Pam Mercer, who owned the travel company, Tuscany Tours, which organized the incredible immersion travel experience I had a few months earlier.
I took a chance and asked for a sabbatical in Italy from my job at the time. Trained and working as a nurse, I had plans to study for an exam I had wanted to take and write my thesis (finally). In Italy, I would serve as a part-time nanny and travel assistant for Pam.
A six-month sabbatical in Italy to start
I packed my bags and headed off again to my secret love. As I settled into my new life in San Gusme, the adjustment was a bit more difficult than I had anticipated. I was learning Italian, but it was not easy.
Most people in the village didn't speak one word of English. And, as an outsider among only 200 people, I felt quite out of place, even if I did have my friends and a purpose for being there. I also became a second mom to two girls, Pam's daughters, who stole my heart immediately. But I had my doubts on days.
I gradually opened up and let Italy have my entire heart. By the time my six-month sabbatical was over, I was sad to think I had to leave this place that I had come to adore.
A place where you eat what is in season, are active every day out of necessity, where the people are open and welcoming, and with a horizon so full of beauty from every angle that it takes your breath away every minute.
Finding my "personal" chef
One day during the last two weeks of my sabbatical in Italy, I was back eating at the same beautiful restaurant where I had experienced the familiar summer breeze the year prior. As I was finishing my dessert that evening, I asked if I could have the recipe for the hot chocolate cake I was eating. I had eaten it many times during my time there.
The maître d' walked me back and into the kitchen to meet the chef – Vincenzo. He looked up from what he was doing and greeted me with the warmest smile and big brown eyes. I instantly knew I was home.
---
Recipe for Tortino di Cioccolato Hot Chocolate "Love" Cake
Yield: 8-10 cakes
Hot Chocolate Love Cake
The sweet dessert from San Gusme that brought Sheryl and Vincenzo together
Ingredients
6 ounces dark chocolate, chopped (use 60-70 percent chocolate)
10 tablespoons unsalted butter
3 large eggs
½ cup sugar
1 cup all-purpose flour
1 tablespoon cocoa powder
1 tsp. baking powder
½ tsp. salt
Instructions
Preheat oven to 375 degrees.
Melt together the butter and chocolate in bowl over a water bath. You can create a water bath by placing a glass or metal bowl above a medium saucepan filled with water (half full).
Warm the water over medium heat. The water should not be touching the bottom of the bowl. Set aside the melted chocolate to cool slightly. You can also use the microwave on 50 percent power for 1 to 2 minutes to melt the chocolate and butter together in a glass bowl.
Beat the eggs and sugar together well with a hand or stand mixer on medium until the mixture is creamy and light yellow—around 3 to 4 minutes. Slowly add the melted chocolate mixture (a little at a time) to the egg/sugar mixture.
Next add the dry ingredients: flour, cocoa powder, baking powder, and salt. Mix by hand with a whisk for 1 to 2 minutes until the mixture is smooth.
Spray ten individual ramekins (4-6 oz. size) with spray oil or coat the inside well with butter. Pour the chocolate mixture into the ramekins, filling about ¾ full.
Bake cakes at 375 degrees for 12 to 14 minutes (it's better to undercook than overcook these, the middle should remain a bit melted). Turn the ramekins upside down on a small plate to turn out each individual cake. Serve warm with vanilla ice cream and berries.
Notes
Recipe from the book "Love in a Tuscan Kitchen: Savoring Life Through the Romance, Recipes, and Traditions of Italy.
---
Vincenzo was the reason that Italy had called me back over and over again. Vincenzo had been patiently waiting for me. After that evening, we had a whirlwind romance that lasted only a few weeks. I resisted at first, but it was like I couldn't stop falling in love with him.
Making the move to Italy permanent
I had to return to my job and my life in the States, but I couldn't get Vincenzo and Italy out of my mind. A year passed and I made the decision to move to Italy for good. I submitted my resignation and packed my bags for Italy again.
I found an apartment in San Gusme, where Vincenzo had his restaurant and my friends still lived. I came back to find out more about Vincenzo and his passion for cooking (and me) and to also continue to be a backup mom to the two girls who also had won a big piece of my heart.
Tuscan traditions that changed my life
I loved living in San Gusme for so many reasons.
The village traditions are centuries old, with lovely processionals during the religious holidays. I loved the way the people of the village accepted me as one of them after I fell in love with Vincenzo, their beloved chef. I learned to cook and eat items from the local markets that featured fresh fruits and vegetables in each season.
I loved my simple routine which included daily hikes and catching up with the locals. I made good friends that embraced me with all their hearts. I adored the pure beauty and depth of the landscape around me every day. I embraced all of this with my eyes wide open every moment.
It awakened a curiosity and respect for the people and culture of Italy that was truly life-changing.
Moving to Italy entails some challenges
Of course, moving to a foreign country always entails some learning and adjustments.
Some of the challenges I discovered when moving to Italy included:
Living in very small spaces,
Understanding the customs,
Driving (Italians are over the top crazy drivers),
Understanding the healthcare system,
Navigating the paperwork of getting permission to live in Italy (and getting married in Italy),
Paying bills (the post office is where this occurs),
Slow or no internet (at that time it was not great, but has since improved),
Doing laundry (no one can afford the electricity for a clothes dryer),
Getting used to Italian time (everyone is at least 30 minutes late for events),
Understanding the local language dialects, and
Feeling lost most of the time.
Finding Love in a Tuscan Kitchen
A year after I moved to Italy, Vincenzo and I were married in Tuscany on a hot summer day in July. We've been happily married for 13 years now.
It was an honor to live in Italy for six years during that period in my life. I have such fond memories and discovered new dimensions that I never expected to experience. I learned a new language, fell in love, and added a circle of friends and family that I treasure and adore.
I was able to work remotely as a medical writer from our apartment as internet service improved over time. I just had to adjust my schedule for meetings and time zones. I actually felt a better sense of work-life balance with the simpler pace of life in Italy. It's a model I still follow today.
We moved back to Minnesota a few years ago so that we could be closer to my parents as they aged. However, we hope to return to living in Italy part-time again one day soon. I'm so grateful that I asked for what I needed in life and followed my heart to Italy so many years ago now.
In 2018, I published a book about my experience called Love in a Tuscan Kitchen: Savoring Life Through the Romance, Recipes, and Traditions of Italy. The book chronicles my journey and describes my lived experience while living in our traditional Italian village in the heart of Chianti.
This was the time of my life, and a transformation that I never thought would happen to me. My hope is that I can inspire others to always listen to their hearts and ask for what they need – and to let life surprise you when you least expect it.
---
All photo credits: Sheryl Ness
---
N.B. This post may contain Amazon affiliate links. This means that I may receive compensation if you click a link, at no additional cost to you. However, I absolutely loved this book and purchased three copies for friends.
---
---
Also on More Time To Travel
San Gusme: Serendipitously Finding The Most Charming Small Town in Italy
---
---
Save to Pinterest!!