FICO Eataly World: What to Know Before You Go
As food enthusiasts, our visit to FICO Eataly World promised to be one of the highlights of our trip to Bologna. So you can imagine our disappointment to awake on the appointed morning of our visit and see the entire city blanketed in snow.
Moreover, the weather forecast was ominous: Expected record low temperatures and news reports were variously dubbing the Siberian winter storm the "Arctic invasion" or the "beast from the East."
Would our destination be open? Was FICO Eataly World literally an outdoor park? Would the grounds be plowed enough to walk around? How else might our visit be limited by the weather?
Adversity turns to opportunity
We discovered that, like New Yorkers, the Bolognese are a robust bunch. Public transportation was still running, albeit slowly. The car service we often had used in the past when visiting Bologna, Cosepuri, assured us that the park was operating and a driver could get us to FICO and back. (NB: Because there are many pedestrian-only streets in the historic district of Bologna, it's almost impossible for a visitor to use and/or park a rental car within the city center).
Although the roads were a bit treacherous, they were passable. Blinding snow obscured our view of the entrance, at first, but we trudged through the snow in our boots and arrived!
The blessing: Few other diehard foodies had made it to FICO that day. The place was virtually empty, except for staff and a very small number of visitors, which made it a perfect day for leisurely browsing, speaking to vendors and staff, and taking photos—without any lines or waits.
If you're thinking of visiting FICO Eataly World in Bologna, here are some of the things you should know before you go:
What is FICO Eataly World?
FICO Eataly World is billed as "the world's largest agri-park"—a one-stop location bringing together agriculture and food production, marketing and education.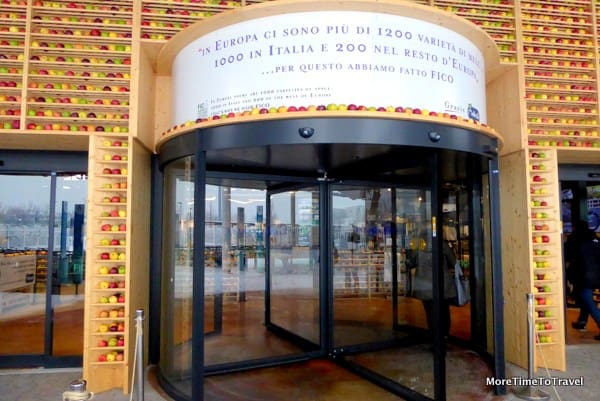 The acronym FICO actually stands for Fabbrica Italiana COntadina, loosely translated to mean Italian farmer/agricultural factory. The term is also a play on words; in Italian, FICO means "fig" or in slang, means "cool."
You might still wonder what it is. The concept of the park is hard to categorize because it is so unique. It shares some common elements with other theme parks like Graceland, Dollywood and Disney Parks, which are meccas for visitors with common interests.
In terms of its emphasis on local, sustainable foods, it bears resemblance to mega-food purveyors like Whole Foods and Trader Joe. It also could be viewed as the world's largest food court. But in terms of its comprehensive scope and number of items, you might call it an Amazon of Everything Italian: food and culture.
While the commercial component sometimes overwhelms visitors, FICO Eataly World is also focused on educating consumers about the link between the earth and the foods they eat, and it takes that mission seriously.
What's inside FICO Eataly World?
Given the weather, it was great to find out that most of the park was located indoors, under roof.
The building is enormous, filled with natural light and greenery, and visually appealing with great graphics in Italian and English.
The park includes:
45 eateries "called eating points" –restaurants, trattorias, bistros and kiosks featuring street foods to Michelin-starred meals.
40 processing factories where visitors can see how food is made— from cured meats to pasta, to cheese, to panettoni and truffles.
Almost 5 acres of open-air fields and stables with livestock so visitors can learn about crops and see regional animal breeds.
An almost 100,000 square-foot area called the Mercato boasting six large markets and a variety of smaller shops.
How much time should I plan on spending at FICO Eataly World?
Depending on one's appetite and interests in food and wine, we would recommend at least one-half day for a first-time visit and more realistically, most of a day to get a feel for all the park has to offer.
Although it may be tempting to overindulge, you'll probably want to narrow down your meals to one or two eateries for lunch and/or dinner.
What are some of the must-sees?
Our recommendation is to plan your visit in advance using the planner on the FICO website. That will help you determine what to see and do, and also help you stick to a reasonable budget (see costs below).
More than 30 events and 50 classes are scheduled each day. One-hour orientation/overview tours, guided by a "Biodiversity Ambassador" can be scheduled morning or afternoon, available either in English or Italian (if you want to practice your language skills).
Then perhaps, choose one or two hands-on courses: For example, a course on how to distinguish between the different types of balsamic vinegar or how to make authentic Italian biscotti. We took a delightful one-hour course called "Italian Language For Food-Lovers" to fine-tune ordering in Italian restaurants.
We were attracted to the inviting displays of some of our favorite Italian brands and products (Venchi chocolates, William Di Carlo confetti candy, Mortadella di Bologna and Urbani truffles) and spent time learning about them from producers.
Is it walkable?
Unlike the ancient markets of Bologna, you won't have to worry about traipsing over uneven (or snow-covered) cobblestone streets. Turns out that the venue is mostly indoors (except for the fields and stables), making it a wonderful inclement weather destination in the event of rain or snow.
You can walk at your own pace with plenty of opportunities to rest or sit down. If your legs tire, you can travel the bike lane on a special FICO-branded Bianchi tricycle.
Who should visit?
The park is designed to appeal to a wide audience of people of all ages. Parents and grandparents will enjoy watching wide-eyed children learn about foods and their connection to the earth through a wide variety of activities oriented to children. There are even play and sports areas for kids to tame excess energy.
Visitors from abroad and other parts of Italy can learn about all the special food products of Italy. Consummate cooks and shoppers are able to find every Italian fancy food product and ingredient imaginable from every region of Italy.
How much does it cost?
Entry is free but whether it's an aperitif, can of soda or slice of pizza, everything else comes at a cost. (Even a paper map of the park sells for 1 euro.) And upscale specialty food products can be costly, even in Italy.
There is a charge to enter any of the six multi-media educational "carousels" (enclosed circular exhibits) where visitors have the opportunity to learn about man and fire, man and earth, man: from soil to bottle, man and animals, man and sea, and man and future. Cost: 10 Euros for 6 carousels and 5 Euros for 3.
How do I get there?
The park entrance to FICO Eataly World is located about one-half hour by car or taxi from the historic center of Bologna, and about 20 minutes by bus from the Bologna train station.
Why is FICO Eataly World located in Bologna?
Bologna is probably the most conducive setting in the world for a theme park focused on food and food production.
Even Italians agree that the Emilia Romagna region is the source of some of the country's most precious food specialties in a food-centric country. Prosciutto di Parma, Mortadella, Parmigiano Reggiano, Extra Virgin Olive Oil, and Aceto Balsamico di Modena are a few examples of the rich food traditions of the region which, of course, also has a long, respected history of food production.
Moreover, Bologna offers a panoply of excellent restaurants and accommodations for visitors to see its many historic, art and cultural attractions. In addition, the city is centrally located to travel to other cities in the region and elsewhere in central Italy by train or car.
Should I go?
Of course! FICO Eataly World is unique in its scope and approach. This all-under-one-roof destination should be on the travel bucket list of anyone seriously interested in food, especially the foods of Italy.
The park offers unparalleled opportunities to taste and learn. It even has its own post office to mail foods, wines or souvenirs back home to friends and family.
---
IF YOU GO
---
TIPS FOR TRAVELERS
Definitely wear good walking shoes or sneakers; dress code is casual.
When the weather outside is inclement (rain or snow), this is a great largely-indoor venue. Also, it's perfectly temperature-controlled for warm weather (Bologna can get hot and humid in summer).
If you tend to be a big shopper, you'll want to hop on one of the FICO-branded Bianchi tricycles equipped with chill bags in back.
Eataly World is handicapped-accessible.
---