The Haven on Norwegian Prima: A Cut Above
We've just returned from an inaugural sail on The Haven on Norwegian Prima. The ship is the first of six new vessels to be built as part of Norwegian Cruise Line's (NCL) Prima Class.
By way of explanation, The Haven is the line's luxurious "ship-within-a-ship" concept that requires special keycard access to enter. The experience is somewhat akin to staying on the concierge floor of a luxury hotel.
Although available now on a number of other cruise lines, this innovation was first pioneered by NCL in 2005. Since that time, NCL has been offering this exclusive enclave on most of its ships, refining, improving and expanding this popular option over time. Some of the other major cruise lines that offer a similar option are MSC Cruises, Celebrity Cruises, Royal Caribbean, Cunard and Disney Cruise Line.
Our introduction to The Haven several years ago was on Norwegian Encore, the fourth and final ship in the Breakaway Class. Once a guest sails on The Haven, it's hard to consider sailing any other way. I am not alone in that sentiment. Earlier this year, requests for Haven Suites represented some 20 percent of first-day bookings on Prima. Anticipating this demand NCL doubled the proportion of Haven Suites from 3 to 6 percent of the total number of staterooms on the ship.
---
This post may contain affiliate links. This means that I may receive compensation if you click a link, at no additional cost to you. For more information, please read my privacy and disclosure policies at the end of this page.
---
Take a first look at our Haven Suite on Norwegian Prima on YouTube
Why stay in The Haven?
If you are looking for the ambiance and perks of small ship sailing—along with the bells and whistles of larger premium vessels—a stay in The Haven allows you to literally have your feet in both worlds. While you'll be lodged in this special all-suite enclave on the ship—and will never have to leave—you will have access to the full range of entertainment, activities, and dining venues on board.
Some of the advantages of a stay in The Haven include:
You'll be staying in one of the ship's most spacious and comfortable accommodations for the entire length of your cruise.
There are eight categories of Haven Suites ranging from the top-of-the-line Owner's Suites to the Haven Penthouse with Balcony. Of course, the size of the suite depends on how many people with whom you'll be traveling. The different categories accommodate from 2 or 3 to 8 people. Decks 10, 11, 12, 13, 14, and 15, all in the aft section of the ship, are home to the Haven suites. Deck 16 and 17 are reserved public spaces in The Haven.
We stayed in a 2-bedroom Family Villa that had 2 complete bathrooms (Stateroom 14314). It was a luxury to have two bathrooms but honestly, if you are only a couple, I loved the simple layout of the smaller (and less costly) Haven Penthouse Suite.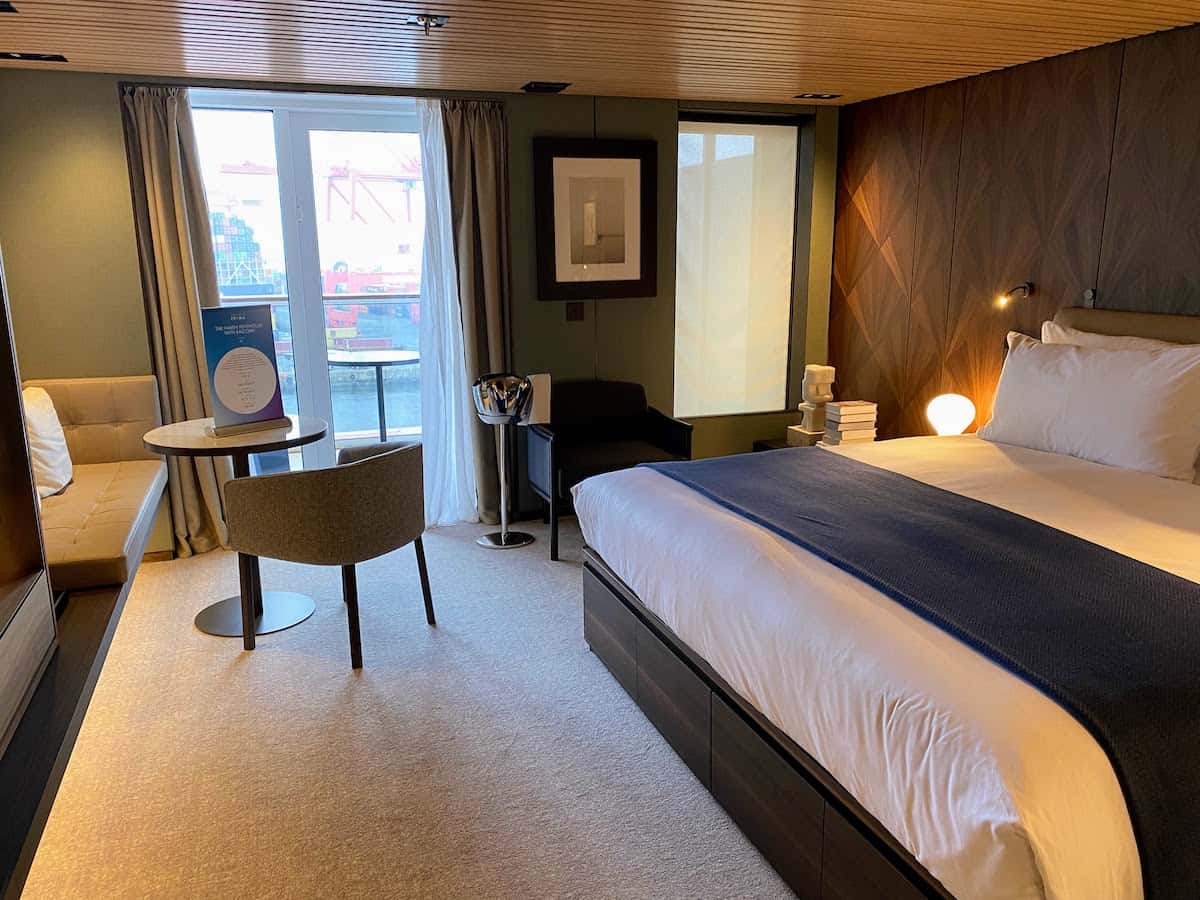 The rooms are beautifully decorated with neutral colors and contemporary furnishings. Oversized balconies with expansive ocean views and comfortable seating add to the spacious feeling of the Haven Suites. Bathrooms have trough double sinks, roomy jetted showers, L'Occitane toiletries and an abundance of fluffy white towels.
Other en suite amenities include a Nespresso coffee maker, a welcome bottle of champagne and fresh fruit upon arrival, and the nicest robes we've ever worn away from home. The bed was so comfortable that we ordered a new mattress after returning!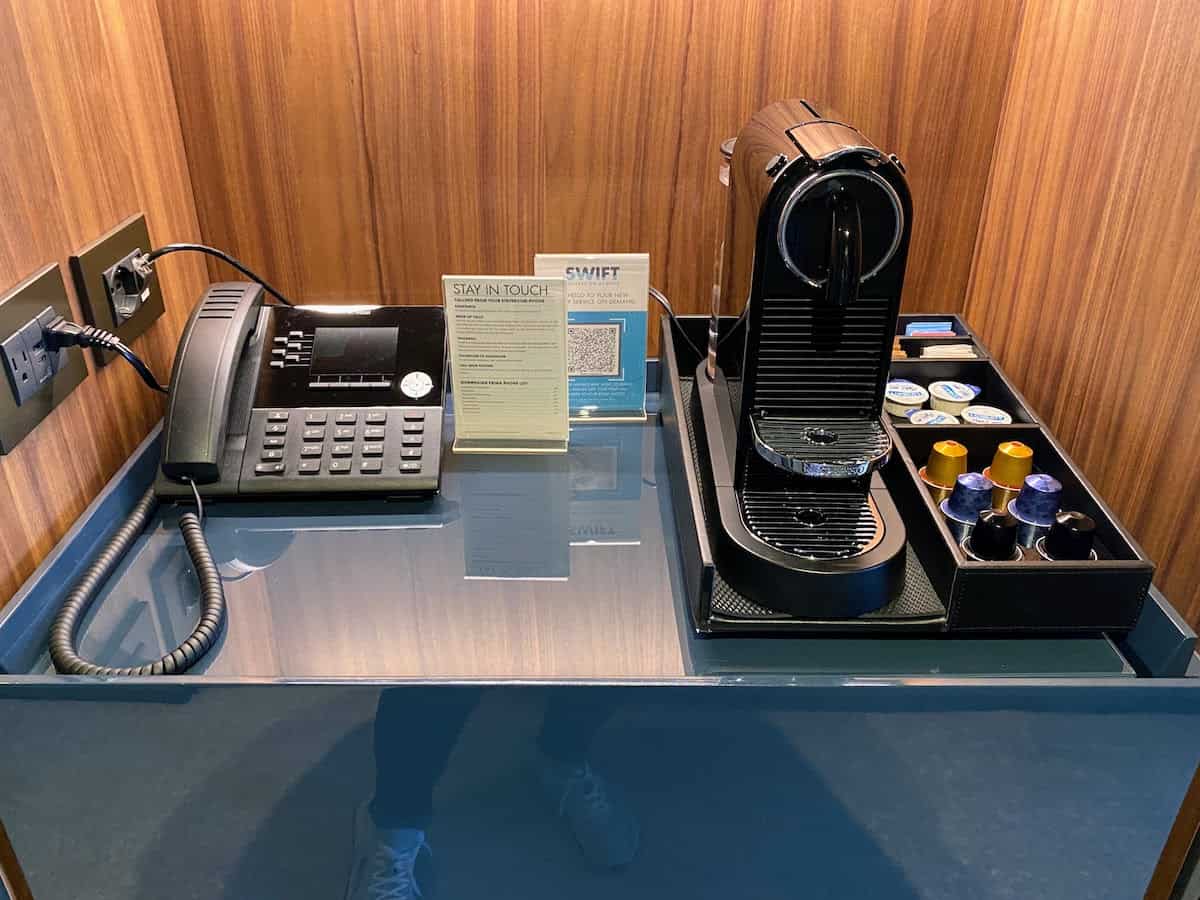 You'll have access to butler and concierge services.
When you're on any vacation, it's always nice to be pampered. We love the twice-a-day cabin service, especially the nightly turndown. The butler services a number of suites simultaneously but having a butler on call and access to a designated concierge makes life onboard so much easier.
The Concierge desk can make reservations for specialty dining and shows so you don't have to stand in queues or do it yourself. One evening, we were late for a show (because of the time change) and someone from the Concierge Desk walked us to the theater and made sure we could find seats.
You'll be able to eat breakfast, lunch and dinner at The Restaurant in The Haven.
We found that both the service and quality of the food was superior to that of other dining venues on the ship. Tables in this elegant dining room were nicely spaced and the waitstaff was well-trained. It didn't take long for the hostess to know our names or the waiter to know we didn't want extra pepper on our plates.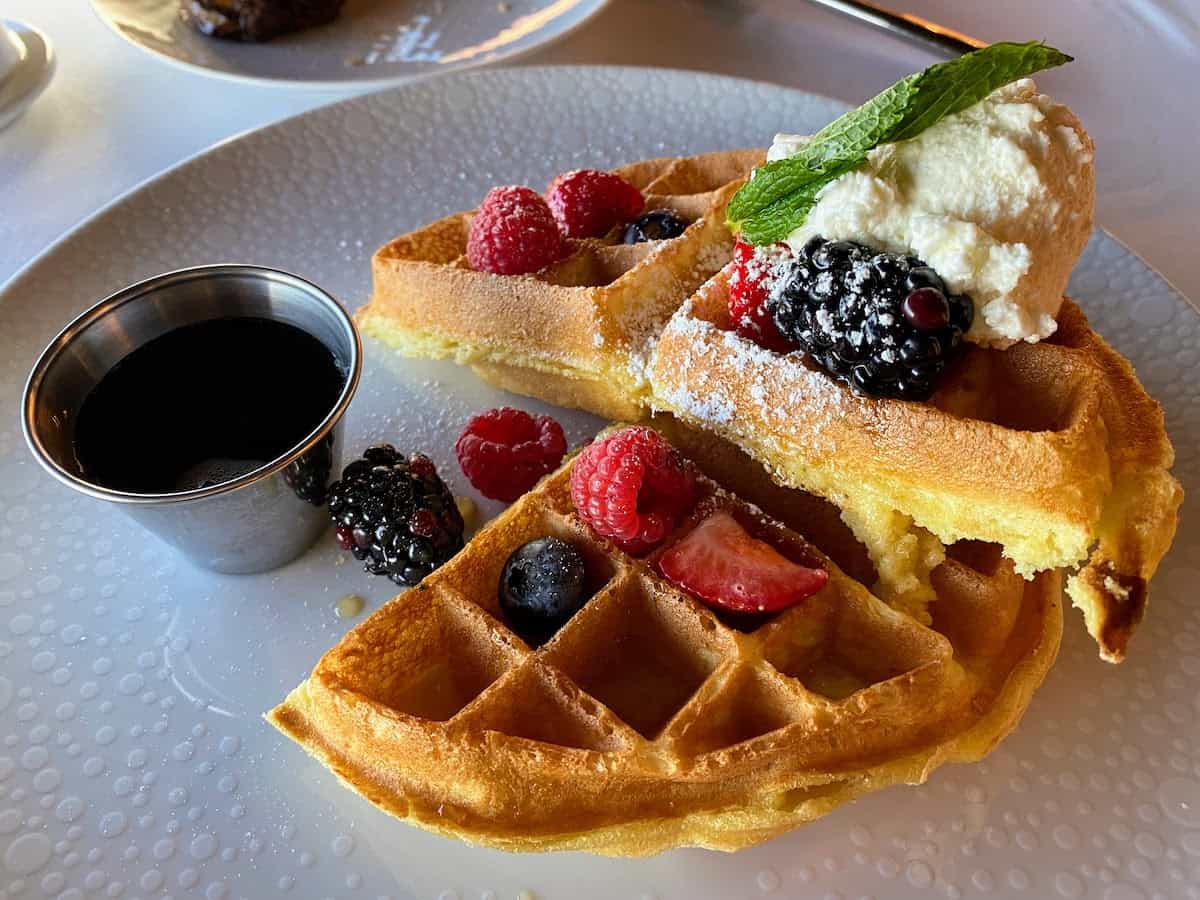 Those who want to arrange a private celebration with friends or relatives on The Haven can reserve the lovely windowed space off the main dining room.
The presentation of the food rivals that of fine dining establishments on land. Haven Suite guests can also take advantage of complimentary in-suite dining without any additional service fees.
The setting is more refined and less dense than elsewhere on the ship.
There's an air of exclusivity on The Haven that starts with access to the special Haven Lounge at the time of embarkation. Guests also have the opportunity to take advantage of priority boarding and disembarkation.
And if you still worry about COVID (as I do) or simply are crowd avoidant, you'll find that with only 107 Haven Suites, you're less likely to be thrown into close quarters with other people. Even at shows in the lovely Prima Theater, there is a reserved seating section for Haven guests.
The Haven even has its own elevator banks, so there is rarely a wait, and wonderful Lounge and Bar areas where the drinks are unlimited without any charge. It felt like the Haven bars (in the Lounge area and on the sundeck) were staffed by some of the most knowledgeable and friendly bartenders on the ship.
There's alway a place to relax on the uber-comfortable lounges on the reconceptualized Haven Sundeck that now has a new outdoor spa area with a glass-walled sauna and cold room. In essence, passing time in The Haven feels like a sea day when most other passengers have left the ship for shore excursions.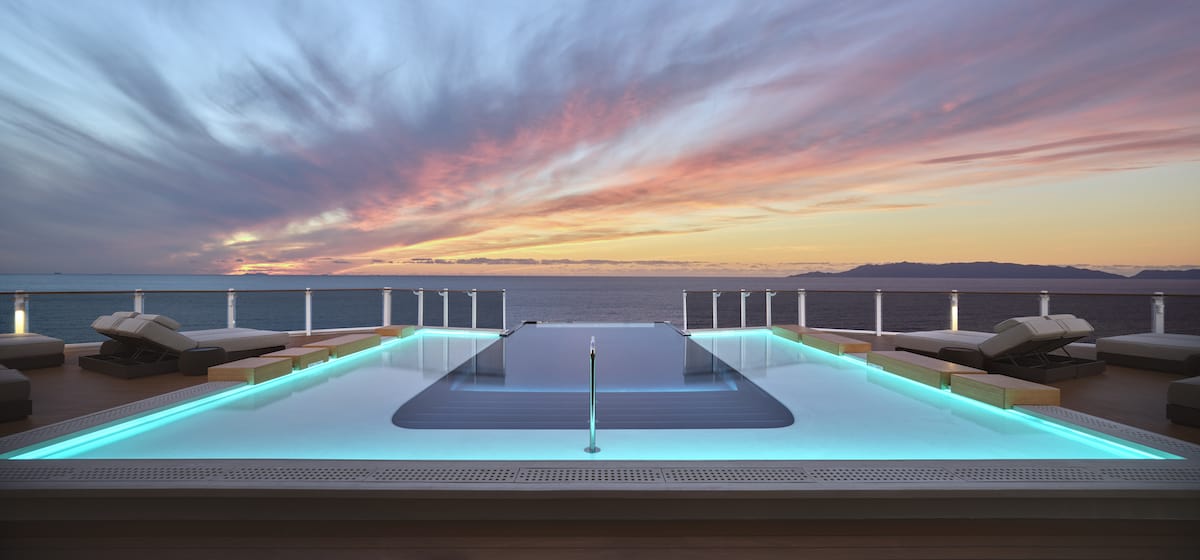 What were the misses?
No cruise ship or stateroom (or land-based hotel, for that matter) is ever perfect and we did identify a few minor misses that will probably be rectified in time. For example, the light switches in our stateroom weren't intuitive. To turn them on, some had to be turned up, others down. They also didn't immediately respond to touch with delays that made you wonder if you turned them in the correct position. It also wasn't clear which of the many switches controlled what and lighting overall was somewhat dim for older eyes.
While the decor and design of our stateroom was nothing short of jaw-dropping, it felt like the designers sometimes sacrificed function for form. There wasn't enough surface space in the bedrooms or bathrooms, especially around the beautiful trough sinks. There also weren't enough drawers and those that were there (under the bed and at the foot of the walk-in closet), were positioned just above the floor requiring awkward bending to reach.
And as an admitted hotel snob, I must admit that the toilet paper felt like newspaper and wasn't of the quality that should be available in a luxury stateroom.
Who should stay in The Haven?
Even with those very minor blemishes, as I wrote in my recent article published on Forbes, The Haven is a perfect compromise for multigenerational travelers.
Grandparents and/or parents can stay in this exclusive enclave while other family members have accommodations elsewhere on the ship. Different generations have different interests, activity levels and sleeping habits and having time together and time apart allows everyone to enjoy this spectacular ship in different ways.
Although children are not restricted from The Haven (except on the Haven Sundeck), there are usually very few children there. So empty-nesters who are less tolerant of other people's children and grandchildren (than their own) will find the tranquility of the haven to their liking.
The Haven also offers a unique getaway for couples who want a romantic and indulgent getaway that feels special. And lastly, a two-bedroom unit in The Haven might appeal to friends who don't want to share sleeping quarters but want to spend quality time together.
Bottom line
Highly recommend! Would sail again in a heartbeat!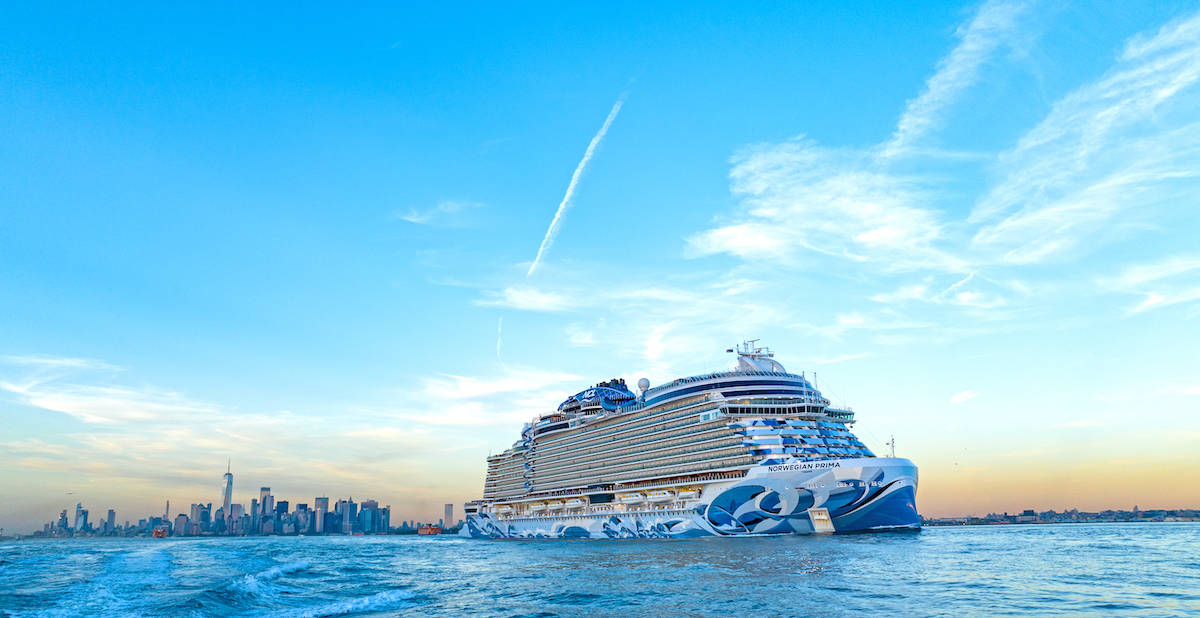 Learn more about The Haven on Norwegian and the other features of Norwegian Prima.
---
All photo credits: Jerome Levine, unless otherwise noted.
Disclosure: The author was a guest on an inaugural sailing hosting by NCL but any opinions expressed in this article are her own.
---
12/22 – Cruise Hive reported that NCL has increased gratuity charges for The Haven guests to $25 per person per day; they were previously $20 per person per day.
---
Previously on MoreTimeToTravel:
---
Save to Pinterest!!