The Haven on Norwegian Encore: Simply Heavenly
They must have made a typo when they named The Haven on Norwegian Encore. I think they left out an "e" and meant to call it Heaven.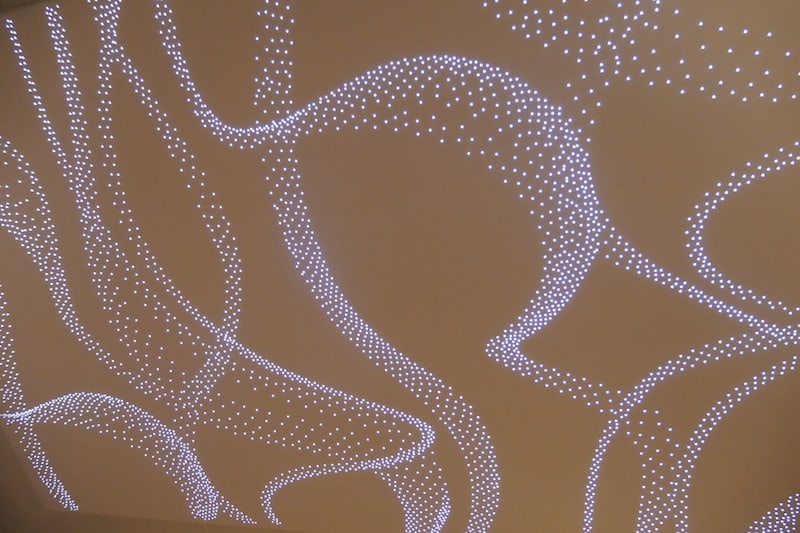 Along with travel agents and other media, we were recently invited to spend two "preview" days and nights on the ship when it was docked at Pier 88 in New York Harbor before the ship made its way to its christening in Miami. When we arrived at our stateroom (14880), we were thrilled to find out that we were assigned to a Category 6, aft-facing penthouse with a balcony in The Haven.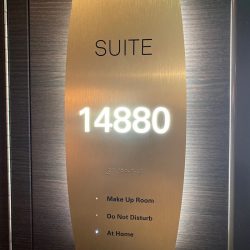 Soon after is launch in November 2019, Cruise Critic named the Norwegian Encore the best new ocean-going vessel in its Editor's Picks Awards. In 2020, Porthole Cruise Magazine named Norwegian Encore it Best Ocean Ship in the magazine's 2020 Reader's Choice Awards.
The ship is the newest Norwegian Cruise Line (NCL) ship, the fourth and final one to be built in the Breakaway Plus Class, which also includes Norwegian Escape, Norwegian Bliss and Norwegian Joy.
For anyone who loves cruising, staying in a stateroom in The Haven on Norwegian Encore is a pretty heavenly way to travel because it meets the needs of those who like big ships, those who like small ships, and those who have a hard time deciding which ship size they prefer.
That's because The Haven offers all the benefits of a mega-ship—which usually means more of everything—as well as the bespoke feel and special perks associated with a small, boutique ship.
Rather than offering a comprehensive review of all the ship has to offer, this review is primarily focused on The Haven experience on Norwegian Encore.
---
What is The Haven?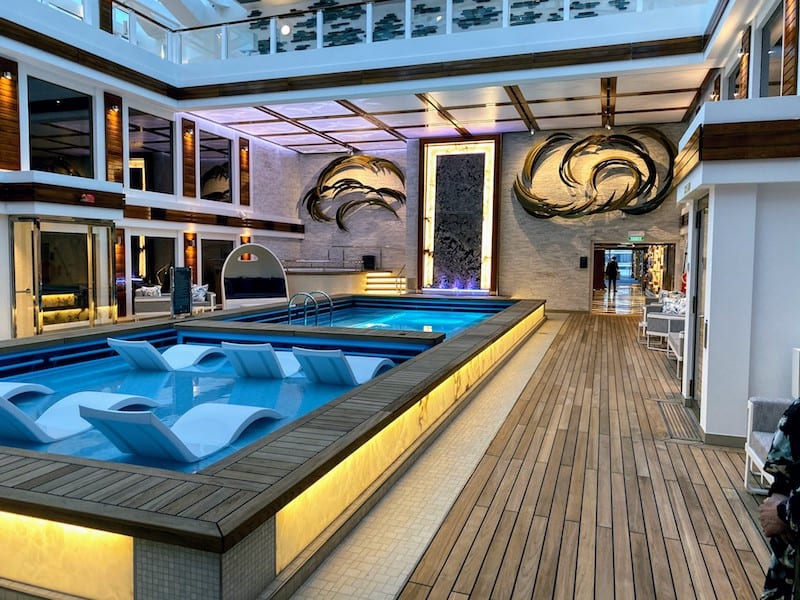 The Haven is an all-suite private enclave, a virtual ship within a ship, located on the upper decks of certain NCL ships. It offers upgraded accommodations, butler and concierge service, and exclusive access to a range of other special amenities and privileges (to be described below).
Which NCL ships offer The Haven?
The Haven is available on some of the cruise line's newer ships, including Norwegian Bliss, Norwegian Breakaway, Norwegian Encore, Norwegian Epic, Norwegian Escape, Norwegian Gem, Norwegian Getaway, Norwegian Jade, Norwegian Jewel and Norwegian Pearl.
What types of accommodations are offered at The Haven on Norwegian Encore?
The ship has a total of 80 all-suite Haven staterooms: The majority of them (50) are located in a two-story complex at the bow of the boat that spans both the 17th and 18th decks. That area feels much like a private residential neighborhood overlooking a central courtyard.
Another 30 Haven suites are scattered on Decks 10, 11, 12, 13, 14 and 15, most of them either aft- or forward-facing cabins, many with sweeping ocean views. On these balconies, you almost feel like you are alone on your private yacht.
Although all the suites have spacious balconies, the balcony of our suite on Deck 14 had expansive 180° views. About 200-square-feet in size, it had more than enough space for two lounge chairs as well as a table with chairs for al fresco room service (in warmer climates).
Haven suites come in seven different categories (H2-H9), ranging in size from 430 to 1458 square feet, with different room configurations and price points.
What amenities does the Haven offer?
Respite from the crowds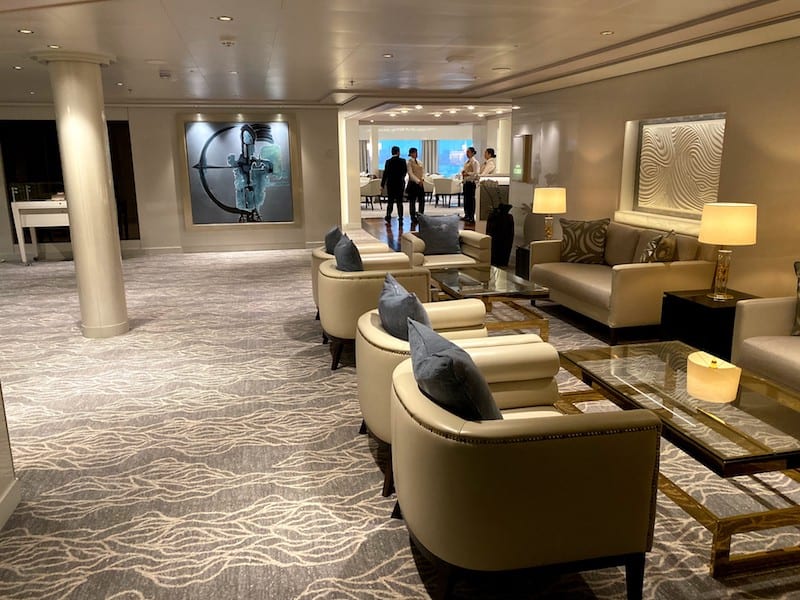 Although Norwegian Encore accommodates some 3900 passengers, it doesn't feel that way for guests in The Haven, where the ambiance is more like that of a luxury yacht: There are no crowds or queues to contend with, and entry is limited to those with a special electronic keycard.
Guests staying in one of the 50 Haven suites at the bow are probably most likely to forget they are on a mega-ship. While guests booking any of the 30 scattered Haven suites enjoy the same privileges, they have to walk the full length of the ship (the equivalent of three football fields) to get to the common spaces they share with other Haven guests (e.g. the sundeck, lounge, bar or restaurant).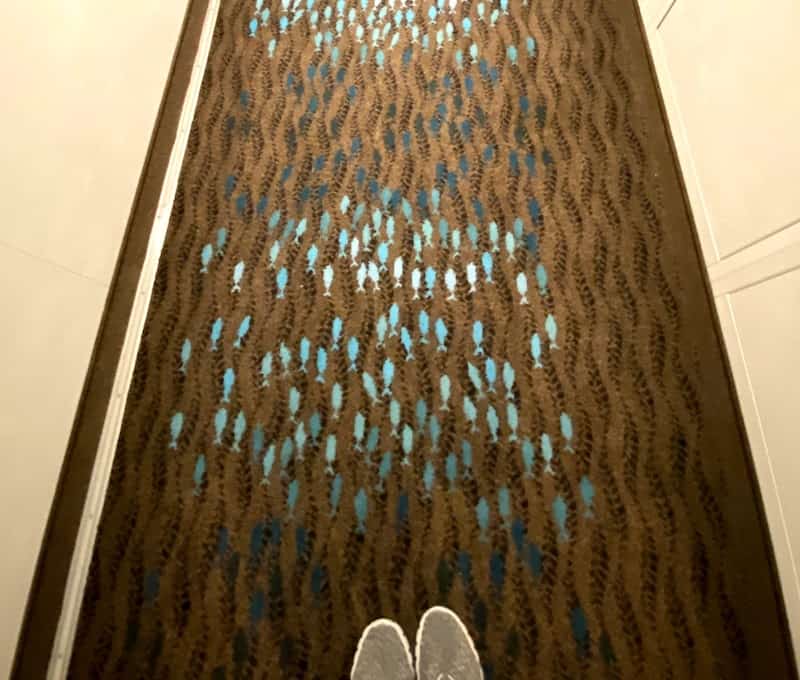 Personal service
Because the ship within a ship is small and exclusive, it doesn't take long for the crew to get to know everyone in The Haven by name, as well as their preferences.
The Haven provides 24-hour, trained butler service as well as a designated concierge desk to help guests with reservations for restaurants, shows, spa treatments, excursions and such.
Upgraded accommodations
All of the suites on Norwegian Encore are tastefully appointed with contemporary decor but those in the Haven are the most luxurious, comfortable and spacious.
Our H6 penthouse suite was about 600 square feet with a bedroom, living room with dining space, and two bathrooms—yes, two. The live-in master bath was striking with a double-vanity sink, separate commode area, stall shower and soaking tub with views of the water. No waiting when two people are dressing for an evening out at the same time: The second bathroom provides an additional shower.
Although there wasn't much space to spare on either side of the sleeping area, our King bed had an uber-comfortable mattress wrapped in fine linens. Bathroom appointments were equally lovely: Hans Grohe faucets, a floor-to-ceiling glass shower door, L'Occitane toiletries and oversized towels.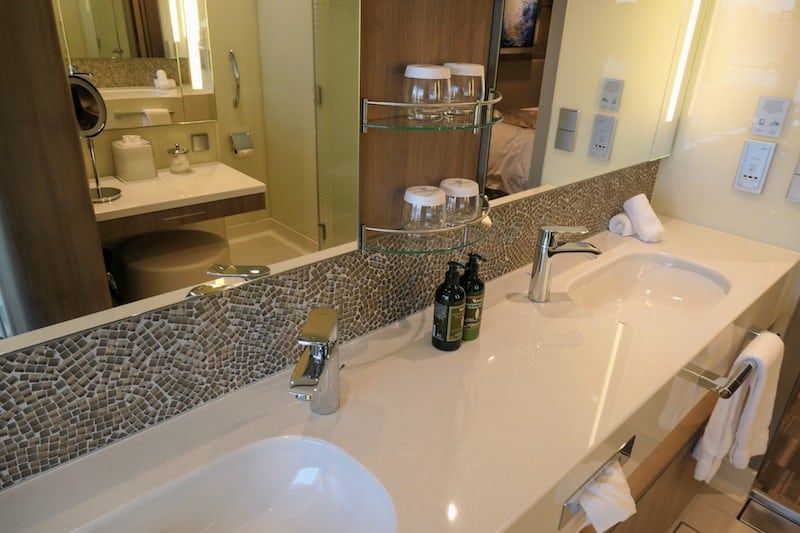 The cabin had flat-screen TVs in both the bedroom and sitting area, and a coffee bar with a Nespresso machine and a small refrigerator. We would have been comfortable curling up in this sybaritic cocoon for at least a week without leaving.
Gourmet dining
There are 29 eateries on board Norwegian Encore and like other guests, passengers in the Haven can't get bored trying the wide variety of cuisines and venues. During our two-day stay, we only got to sample a couple of them.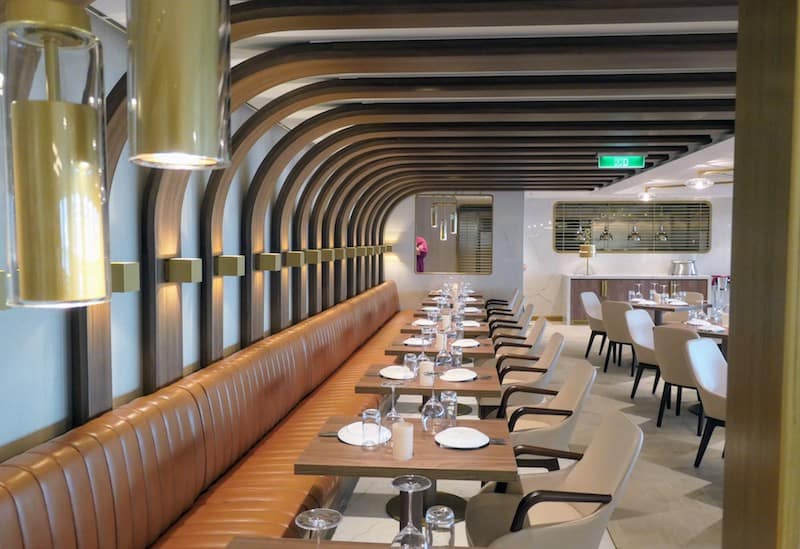 But after a meal in The Haven Restaurant, we decided that there was no reason to try any additional ones. While good, none could compare to The Haven Restaurant in terms of the quality of the food, beautiful plating and presentation, exclusivity and excellent service. In fact, it was more comparable to a land-based restaurant in Manhattan than any other we had experienced at sea.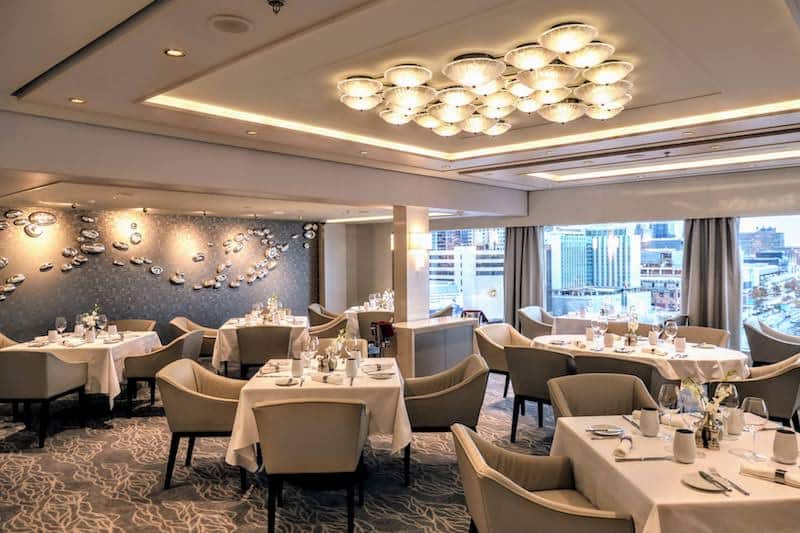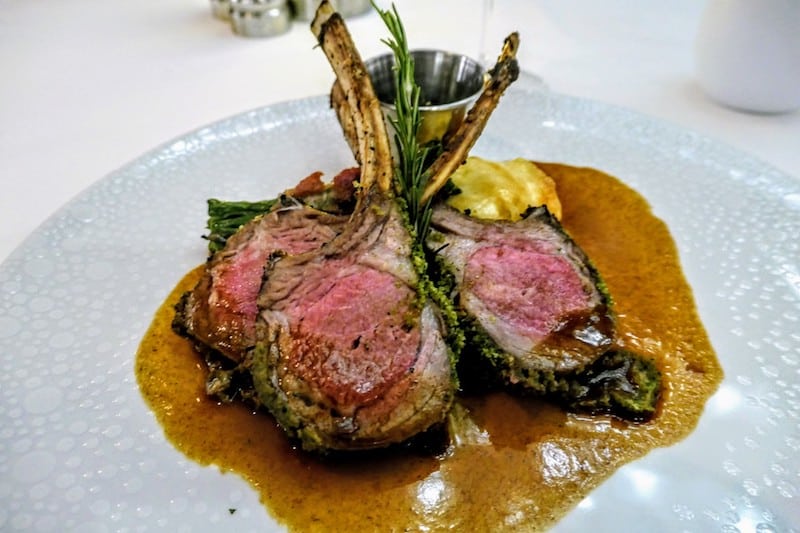 The light-filled restaurant feels intimate, seating no more than 100 people with additional space for 40 more on an outside deck. Open only to Haven guests, it serves breakfast, lunch and dinner.
Other highlights of The Haven on Norwegian Encore
The Haven Courtyard, which houses a sundeck, padded lounges, pool and Jacuzzis, is simply stunning. Restricted to Haven guests ages 16 and older, it has an all-weather retractable roof. With courtyard attendants to bring you fresh fruit, drinks or extra towels, this private sanctuary is a great place to read, relax or take a swim.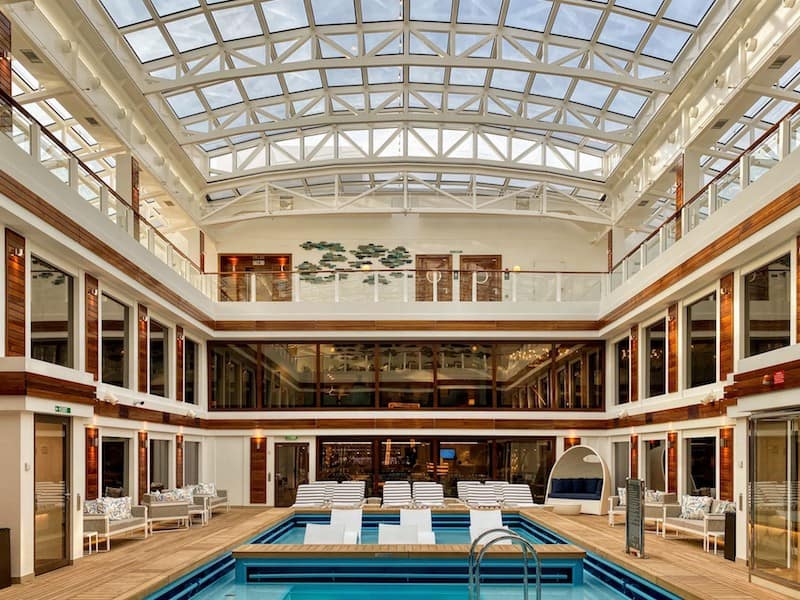 The Haven Horizon Lounge is a two-story private, observation lounge with comfortable seating and expansive views. The upstairs section houses a small library and downstairs, a circular buffet table is continually replenished with complimentary snacks and beverages throughout the day.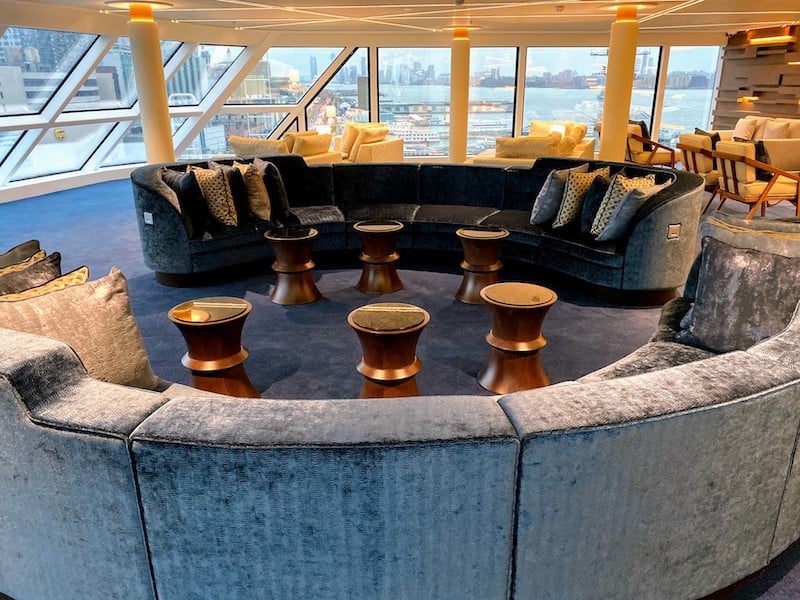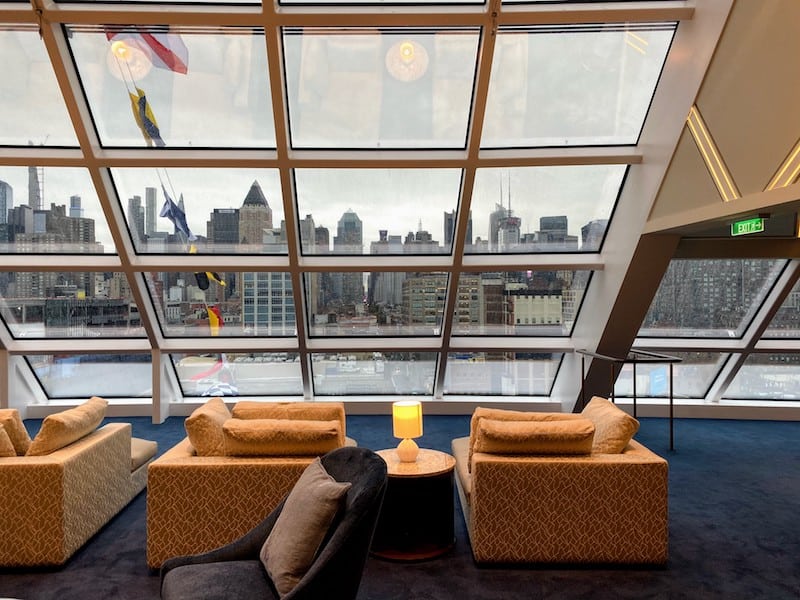 The Haven Lounge is a small, private bar, also exclusive to Haven guests. It is here that the very best mixologists on board can whip up almost any drink that's requested.
Additional Haven amenities include:
A welcome bottle of sparkling wine;

Personal escort for expedited embarkation and disembarkation;

Skip-the-line gangway access and escort at each port of call;

Priority dining reservations in specialty restaurants;

White tablecloth, in-suite room service;

Special reserved VIP theater seating; and

Free third or fourth persons (with Haven privileges) in a stateroom, on selected sailings.
Access to the offerings of a mega-ship
Think of it this way. Cruising in The Enclave on Norwegian Encore is like living in a tony suburb and having easy access to the theater, entertainment, restaurants and lounges, spa, casino and more that is available in Manhattan.
All you need to do is take the elevator to Decks 6, 7, and 8 where all the action happens.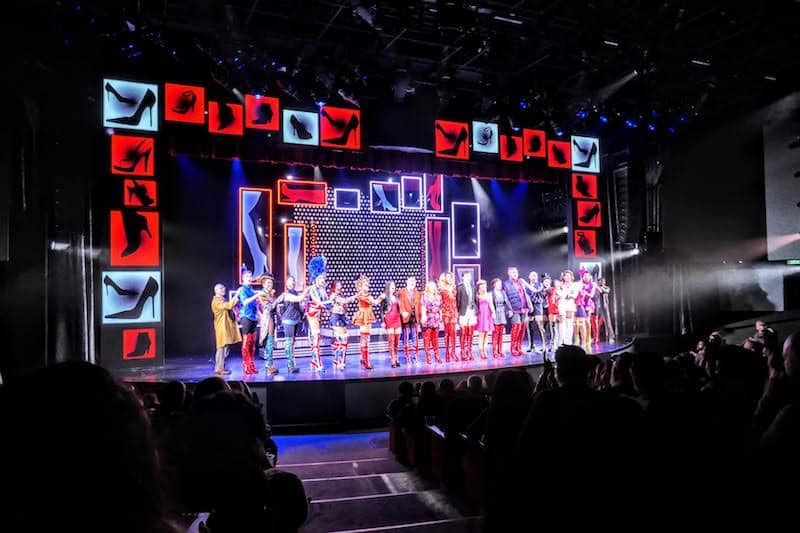 The Haven is a terrific option for multigenerational groups because it offers a relaxed setting for older travelers while younger family members can enjoy possibilities for camaraderie, adventure and excitement that await them on other parts of the ship.
Older kids, teens and the young at heart will enjoy go-kart racing on a bi-level Speedway; playing laser tag in an outdoor arena with a view; enjoying swimming pools and a waterpark; or taking simulator rides and playing virtual reality games in the Galaxy Pavilion. And I've not even mentioned shore excursions!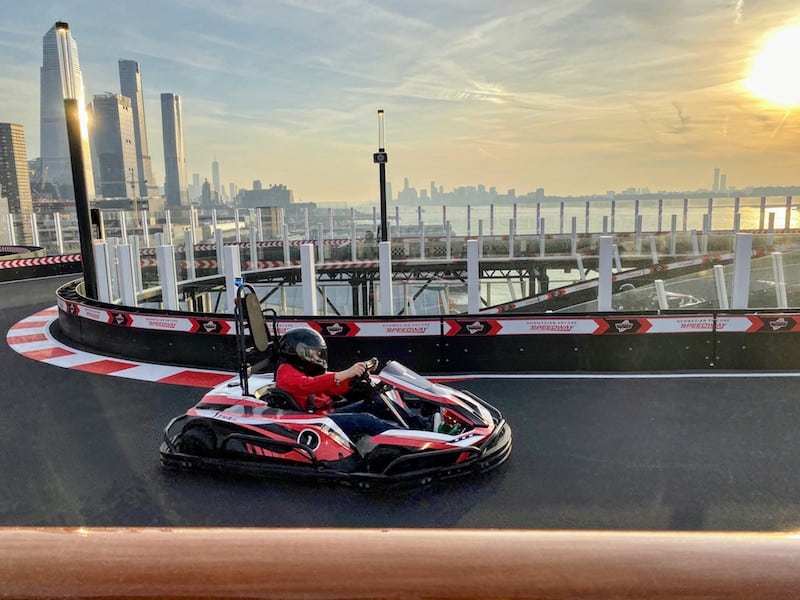 Tipping policies on Norwegian Encore
There are no required or recommended tipping policies on NCL ships. However, employees are permitted to accept cash when offered by guests.
Because the relationship with butlers, in particular, is so personal, we would suggest planning to tip your butler a minimum of between $10-15 per day; some travel experts suggest front-loading the gratuities at the beginning of the voyage.
COVID-19 update
Of course, since the pandemic, health and safety have been top of mind for both cruisers and the industry. On August 7, 2021 Norwegian Encore was the first NCL ship to set sail from a U.S. port of call since the start of the pandemic in March 2020.
NCL's Sail Safe page outline vaccine, testing, masking and shore excursion policies, which are continuously updated as governmental restrictions and infection rates change.
Wondering what to expect of post-pandemic cruising? Check out recent passenger posts and reviews on Cruise Critic.
Bottom line
While Norwegian Encore is no longer brand-new, it is NCL's newest ship, a cruise line known for having the newest fleet at sea. There is something to be said about sailing on a ship with all the high-tech bells and whistles, one that builds upon the line's prior successes and takes them to the next level.
From our experience, I know that the most difficult challenge of a hassle-free, luxury voyage in The Haven will be facing that morning of final disembarkation!
---
All photo credits: Jerome Levine
---
READ MORE ON THE HAVEN
Irene's article on Forbes: First Peek: The Haven on the new Norwegian Encore
---
READ BEFORE YOU GO: CRUISE HACKS
---
Disclosure: We were invited guests on this preview of Norwegian Encore but any opinions expressed in this post are our own.
---
IF YOU GO
Learn more about Norwegian Encore and find out about itineraries, fares and booking.
---
An introduction to the Haven on Norwegian Encore on YouTube
---
Save to Pinterest!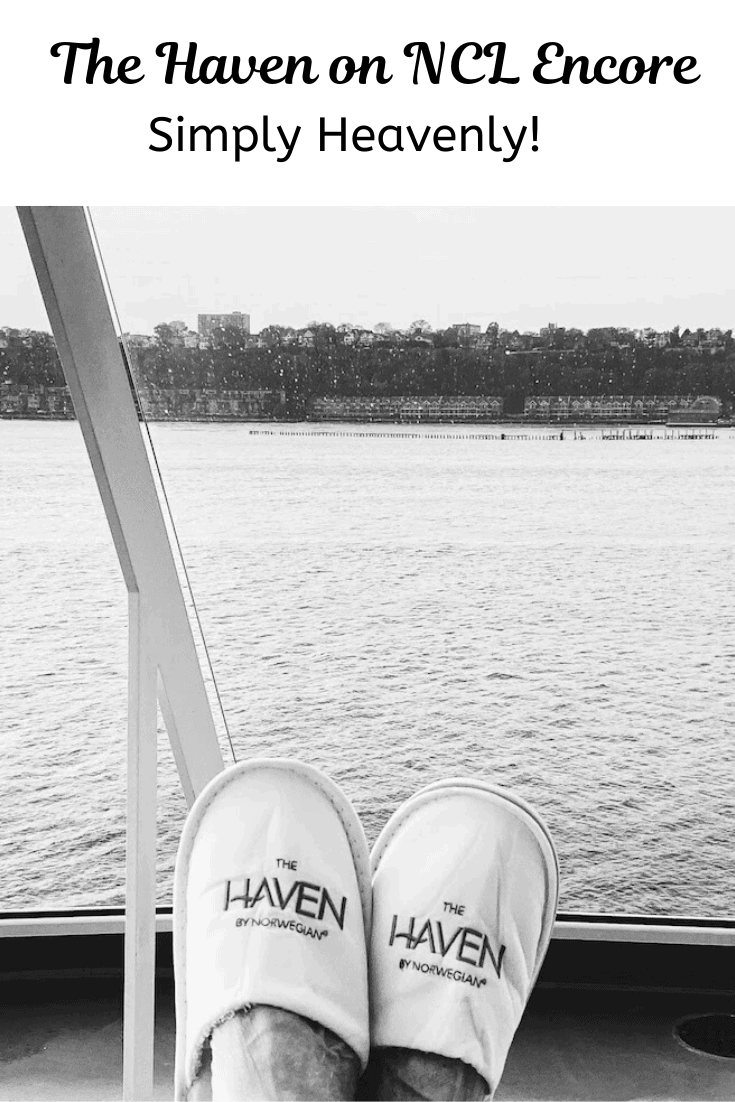 ---
Note: This page was reviewed and updated on February 20, 2022.