Tauck River Cruises: Small-Ship Luxury for Older Travelers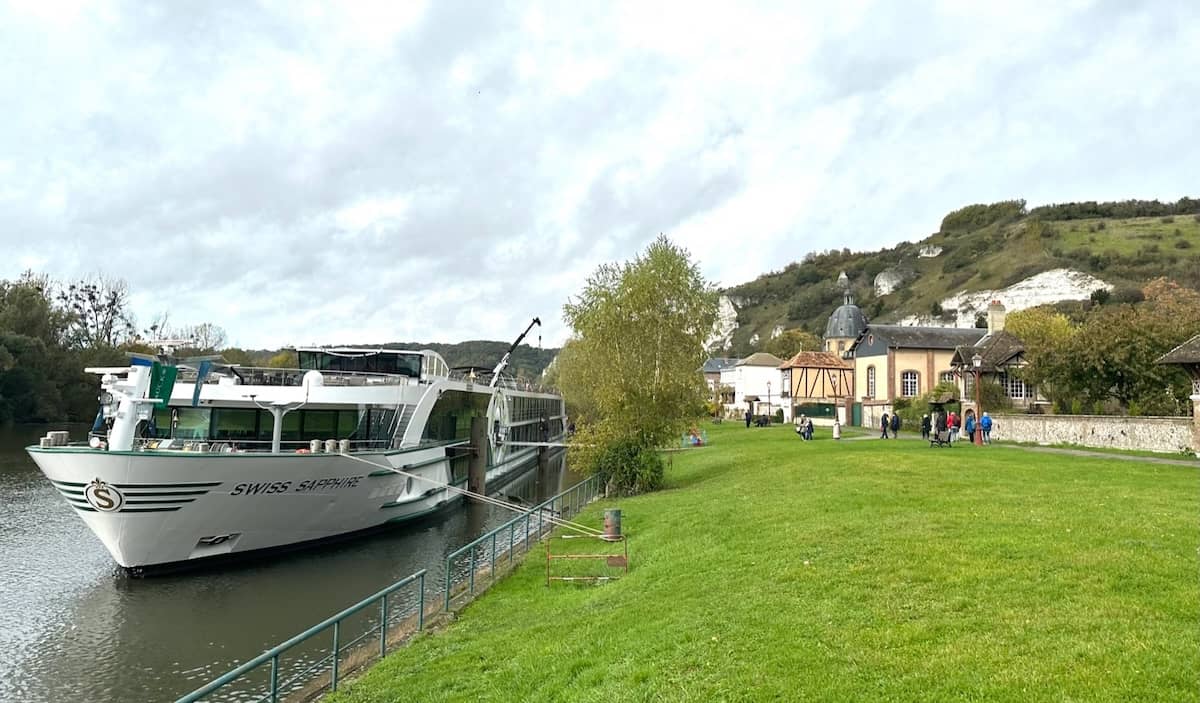 Contributing writers John and Sandra Nowlan describe a luxury cruise on the Seine with Tauck River Cruises.
Tauck River Cruises always offers a bespoke experience, one that is especially suited to sophisticated, older travelers.
The Connecticut-based touring company has been in business since 1925. So we knew we were in good hands for a cruise on the Seine River that we had hoped to take for years.
The Tauck "no worries" commitment
Tauck River Cruises arranged for a driver to meet us at the Charles de Gaulle Airport. He placed our luggage in the trunk of a BMW and drove us directly to MS Sapphire, our riverboat home, for a week of pampering, great food, and exclusive tours.
As Cruise Director Lindsey Burgess told us soon after boarding, "We want to share with guests an authentic and thorough local experience without any worries. You'll be taken care of. You'll be safe."
The company's "no worries" philosophy is unique in the industry. In addition to private airport transfers and excellent accommodation, all meals, drinks (alcoholic and non-alcoholic), gratuities, special events, and tours are included in the base fare.
On one walking tour, they even gave each guest 20 Euros for lunch. If pay toilets are needed (common in Europe), Tauck Directors provide the proper coins.
Getting to know our riverboat home
MS Sapphire is one of several riverboats owned and operated by Tauck's European partner, Scylla. This Switzerland-based company hires all the crew except the Tauck Cruise Director and the three Tauck Tour Directors.
The boat conforms to the required width and height to fit under bridges and through locks. But its public spaces are unusually generous because the ship holds a maximum of 98 passengers, mostly in 225- and 300-square-foot cabins with floor to ceiling windows that slide open to reveal French balconies. Our cruise had fewer than 80 guests.
Our room on Deck 2 had a king-size bed facing the windows, excellent lighting including bedside reading lights, great temperature control, fast Wi-Fi, a large TV with U.S. channels and good movie choices. It also had a fridge, coffee maker, and safe.
The large bathroom included a wide sink, L'Occitane toiletries, and a generous-sized shower with an overhead rain shower and traditional nozzles. Several guests said they missed a makeup mirror in their bathrooms, and a toilet flushing from the deck above us was occasionally quite loud.
Indulging in great food and wine
Great cuisine has always been a priority for Tauck, and we were very impressed by the high quality and creativity of the food coming from the small galley.
The Bulgarian-trained Executive Chef, Krasimir Marinov, and his team constantly delighted us with dishes like fresh scallops, smoked duck breast, Arctic halibut, and Surf & Turf (sauteed shrimps and beef tenderloin). The soups, salads, and desserts were always excellent. Complimentary French wines, at both lunch and dinner, were highly rated on our Vivino wine app.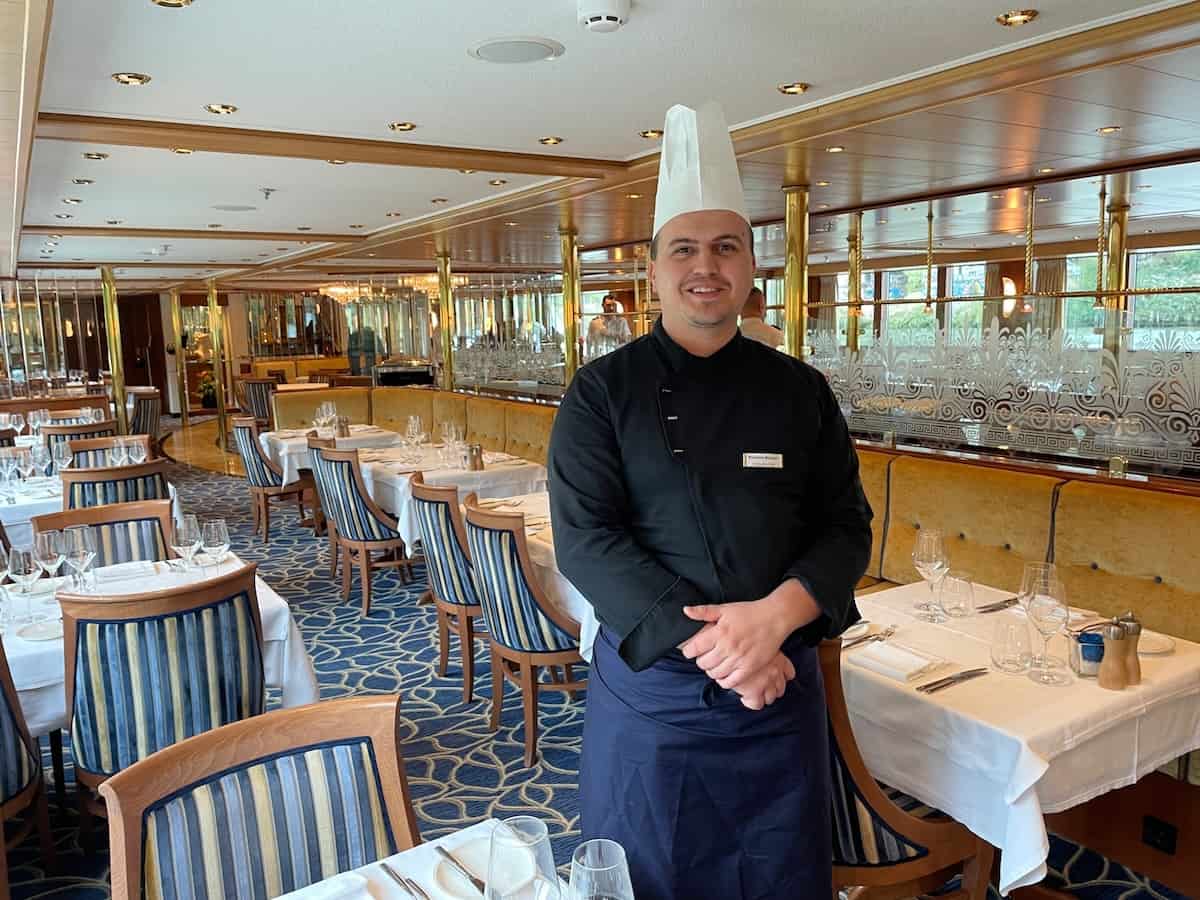 During several pre-dinner cocktail hours, the kitchen team also served small portions of local French specialties – oysters, snails, and frog legs. Plus, of course, marvelous local cheeses and charcuterie.
Tauck often includes a special, exclusive dinner on its European river cruises, and our unique treat along the Seine was an evening at the 16th-century Chateau du Taillis near Rouen. Lit only by candlelight, the charming dining room included classical music by a violin and cello duo as a sumptuous six-course meal was served.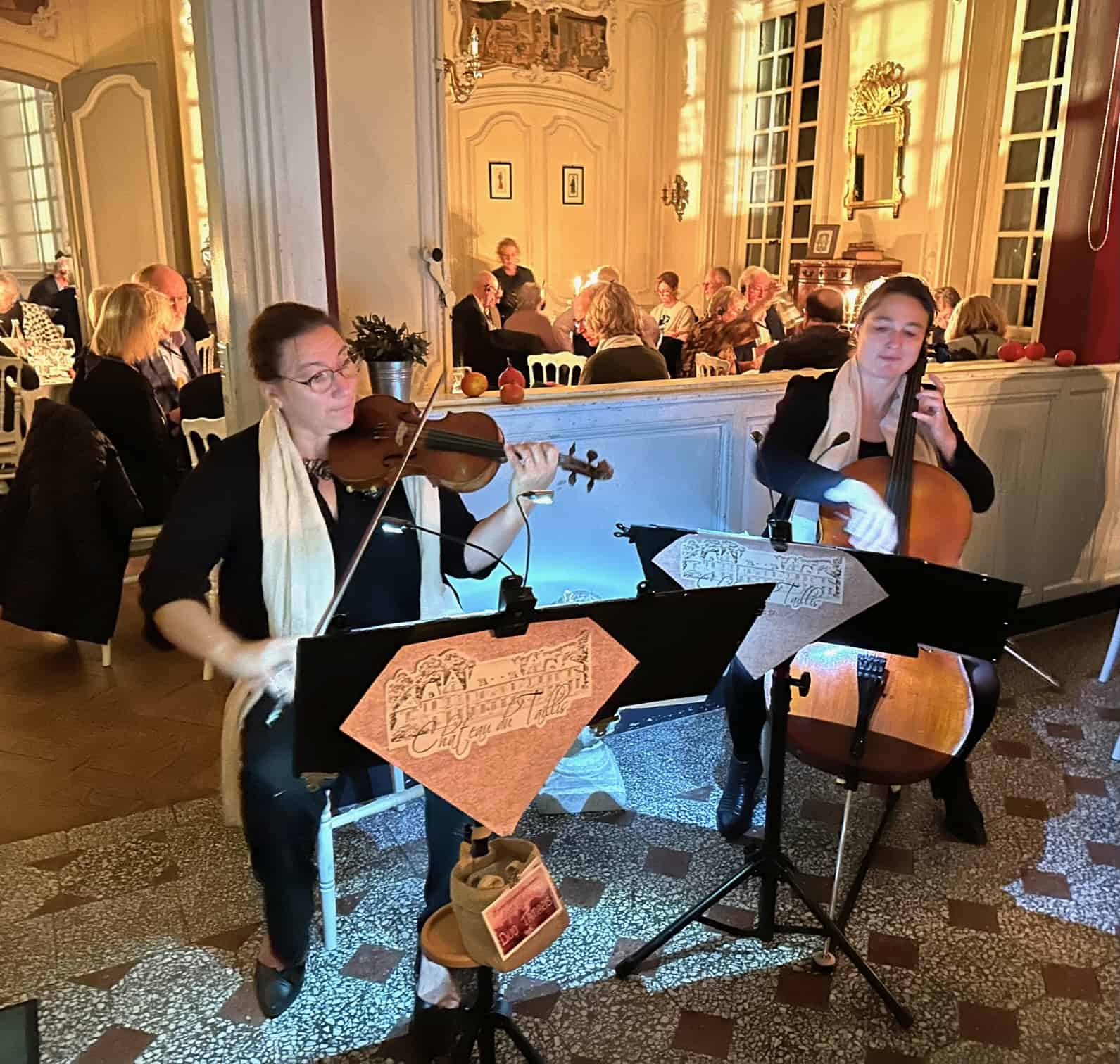 Our captivating itinerary on the Seine
Sailing north from Paris gave us a preview of what will be a busy year in France. The 2024 Summer Olympics will bring large crowds to the French capital, and with the 80th anniversary of D-Day next year, there will be special interest in the Beaches of Normandy.
Our tour began in Paris with Tauck's excellent guides showing us the Paris Opera House (no phantom sightings) as well as the ancient underground section of the Louvre. In spite of the crowds, we couldn't miss seeing the Louvre's special treasures, the Venus de Milo Greek sculpture and Leonardo da Vinci's small masterpiece, Mona Lisa.
As we traveled downstream from Paris, we stopped in Giverny, where Tauck arranged a private early-opening tour of impressionist painter Claude Monet's charming house and water garden with its famous Japanese bridge. Many of his paintings were produced here.
Another special touch: As we sailed on, a local artist provided guests with canvas, acrylic paints and guidance so we could create and take home their own impressionist "masterpieces."
Rouen is a historic, medieval community that, in spite of German bombing, retains its old-world streets and charm. The city center includes a large astronomical clock from 1527 and the 800-year-old Gothic Cathedral of Notre Dame.
They're in sharp contrast to the modern, imaginative Church of Saint Joan of Arc. Completed in 1979, it's located in the market square where Joan of Arc was burned at the stake for heresy in 1431.
A historic castle ruin was a highlight of our visit to Les Andelys. Chateau Gaillard was built in 1197 by King Richard the Lionheart of England. But the King of France, Philip II, laid siege and took it back in 1204. It fell into ruins in the 16th century. Afterward, we visited a local farm that produced fresh pressed cider and aged brandy. Samples were encouraged.
Traveling by comfortable bus from the mouth of the Seine to the D-Day beaches of Normandy took about 90 minutes.
On June 6, 1944, thousands of Allied troops—American, Canadian and British—stormed the heavily fortified beaches to begin the successful liberation of France from the Nazis. Numerous shell craters and the remains of Germany's heavily armed bunkers are still in evidence near the beaches as stark reminders of heavy casualties on both sides.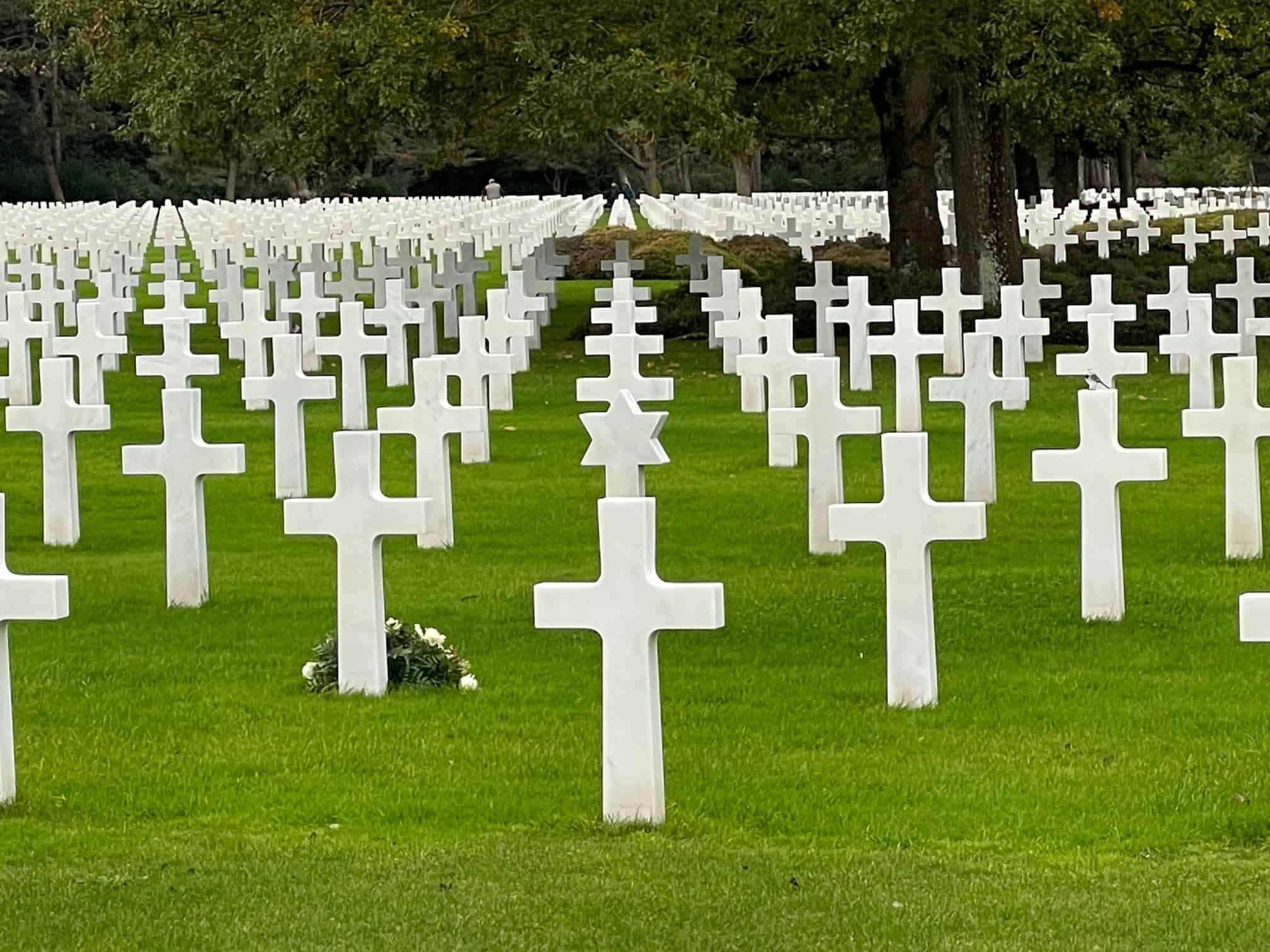 The tour concentrated on Omaha Beach, where US Army Rangers had to scale 30-meter cliffs to rout the enemy. Several poignant memorials are close by, including the 172-acre American Cemetery with the graves of more than 9,000 U.S. troops. It was an emotional day.
Ideal small-ship cruising
On the way back to our riverboat and return to Paris, Tauck River Cruises had a surprise treat for us—lunch at the 18th-century Chateau La Cheneviere. Its Michelin-starred restaurant, La Botaniste, served all guests a delightful three-course meal: a smoked salmon appetizer, a chicken entree, and caramelized apple cake for dessert.
We've toured with Tauck and been on other Tauck River Cruises and always found it an ideal choice for a history-rich, small-ship cruise like this.
With decades of experience, they know the local scene and, with their contacts, can provide the very best English-speaking guides. With four Tauck support staff on board and fewer than 100 guests, the company is unique and passionate about its mission.
---
All photo credits: Sandra and John Nowlan
---
Disclosure: The Nowlans were guests of Tauck River Cruises but any opinions expressed in this post are their own.
---
Save to Pinterest!!
---