Cruise Dining: Foodies Now Rule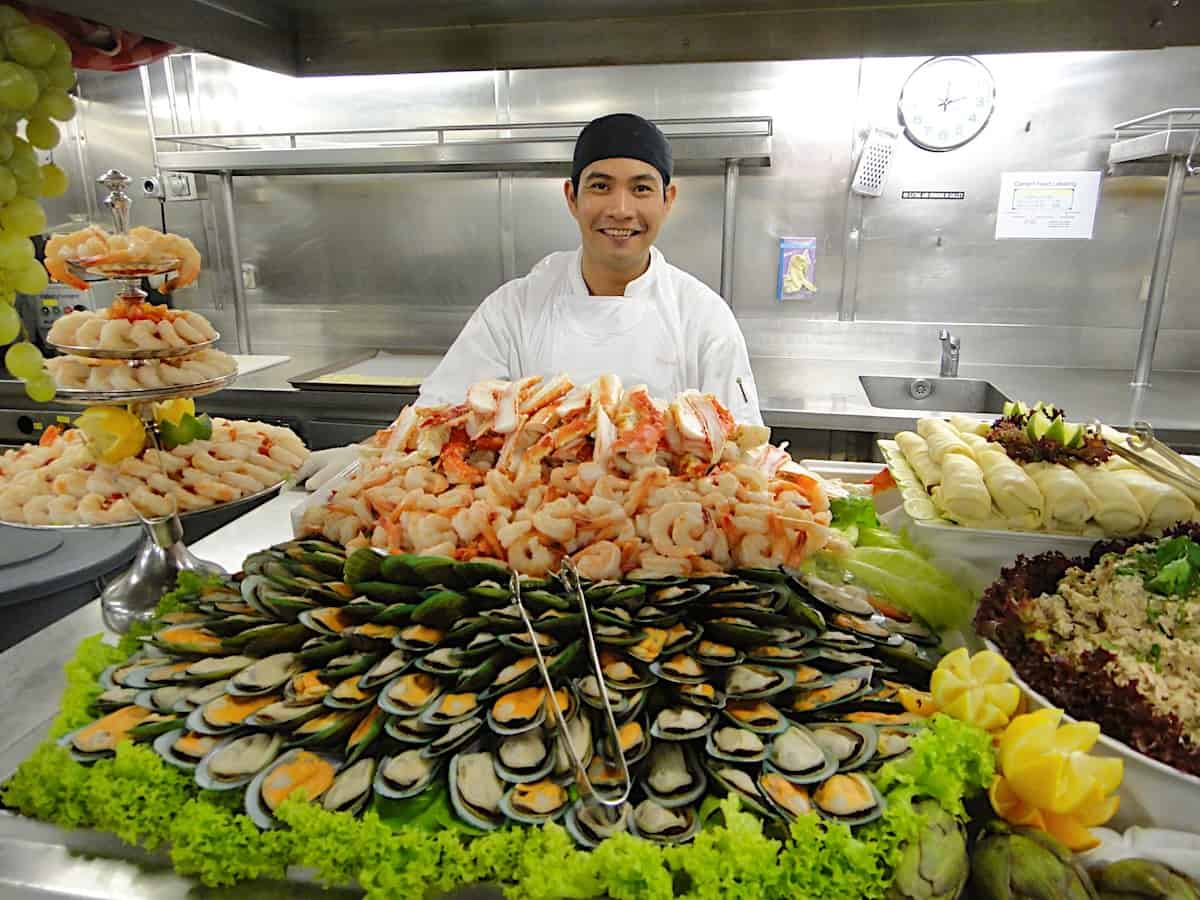 Foodies are redefining cruise dining.
Cruise dining once conjured up images of gluttons bellying up to the buffet.
Now gastronomy trumps gluttony: A more discerning generation of foodies is selecting ships and itineraries based on their culinary allure. In response, cruise lines — from mainstream to luxury — are going overboard to meet the more refined tastes of their passengers.
The number of food-themed cruises, food-based shore excursions, and food market and galley tours is growing. Presentation has been upgraded, too, with meals served on designer china, flanked by silver flatware and crystal, on tables sporting imported linens and fresh flowers.
"At every price point, cruising has never been as food-oriented," says Chuck Flagg, a frequent cruiser who owns a Cruise Holidays franchise outside Atlanta.
More cruise dining options
Once upon a time, there were two choices, either the main dining room or the informal, all-you-can-eat buffet.
That landscape has changed considerably. On virtually all lines, cruisers can opt for open or reserved seating. "You can pretty much choose when you want to dine, who you want to dine with, and how you want to dress for dinner," says Naomi Kraus, cruise editor for Frommer's.
"Food is so wrapped up in culture that it's an integral part of travel," says Bruce Good, Director of Public Relations for Seabourn. On Seabourn's 200-person sister ships — Pride, Spirit and Legend — 48-seat Restaurant 2 offers a "small plates" tasting menu at no additional charge. For those who prefer privacy, dinner can be delivered to your cabin piping hot, course-by-course.
On Queen Mary 2, and on the Oceania and Regent Seven Seas lines, guests can choose from a health-conscious menu designed by Canyon Ranch. Royal Caribbean added seven new food venues when it relauched the refurbished 2,500-passenger Radiance of the Seas.
Imagine eating a special meal hosted by the executive chef in the ship's galley during the busy dinner hours. One or two nights per cruise, up to 10 Princess passengers enjoy a multi-course chef's table menu paired with wines for $75 per person.
The 1,250-passenger Oceania Marina has two private dining rooms (with surcharges) among six gourmet restaurants. La Réserve is an intimate 24-seat venue offering food and wine pairings by Wine Spectator ($95 per person).
Privée, an ultra-contemporary small room, can be reserved for exclusive dinner parties with up to 10 people at $250 for the evening; guests can enjoy menus selected from the Polo Grill, Toscana, or a combination of both specialty restaurants.*
Cruise dining showcasing more personalized menus
Gone are the days when someone with food allergies or gluten intolerance had to avoid cruising.
Lines offer alternative menus for these guests and honor requests for kosher, low-sodium, low fat or low-sugar meals. Some even provide baby food.
The ice cream parlors on Crystal ships offer 30 different ice creams (including low-carb), 24 homemade sherbets and, for the diet-conscious, some 20 nonfat yogurts.
Cruise food with designer labels
Jacques Pépin, executive culinary director of the Oceania line, has a charming French bistro called Jacques on the Marina. He's one of a long list of celebrity chefs linked to various lines.
Cunard has a Todd English restaurant on two of its Queens; Seabourn's menus were designed by Charlie Palmer, and the menus of Nobuyuki "Nobu" Matsuhisa are served in Crystal's Sushi Bar and Silk Road.
When a celebrity name isn't associated with a ship, guest chefs join certain cruises or replicate award-winning menus onboard. On Regent Seven Seas, television chef Michael Lomonaco conducted demonstrations, gae talks and led a wine tasting on a 10-day cruise. Holland America had an exclusive agreement with Le Cirque to recreate the legendary eatery's whimsical experience on each of 15 ships in its fleet.
Food rituals
Lines are also tailoring menus to a ship's history, ports of call, and the calendar. On Holland America, you'll be served mid-morning iced tea in the Caribbean, hot chocolate on the deck on Alaskan itineraries and, once per cruise, indulge in an Indonesian afternoon tea and coffee ceremony.
Cunard is known for its daily English tea service accompanied by delicate finger sandwiches and freshly baked scones. In the Golden Lion Pub, passengers enjoy traditional UK dishes like fish and chips or shepherd's pie.
Hands-on experience
Passengers wanting to share new tastes, recipes and techniques with family and friends back home also have opportunities. In Oceania Marina's sparkling, 24-station Bon Appétit Culinary Center, overseen by a CIA-trained chef, guests take cooking lessons in single-or multi-session classes. Holland America partners with Food and Wine Magazine, to operate a culinary center (on select ships) that offers cooking lessons for kids and teens.
A look to the future
Do these changes signal a death knell for the buffet? "Buffets and specialty dining will continue to live side-by-side," says Frank Weber, VP of Food and Beverage Operations for Royal Caribbean. "The simplicity and casual nature of the buffet, the variety and choices and having food on display still appeals to guests."
"Although alternative restaurants may be the rage, they come at a price, sometimes a very high one," adds Kraus. "But for those with sophisticated palates, you generally get what you pay for."
Experts like Cruise Holiday's Flagg say the industry is in the midst of a sea change and food has become a major selling feature. "Dining at a chef's table is often the most memorable part of a cruise," he says. "Just like airbags began in luxury cars, they eventually trickled down to every model on the road."
---
[Previously in the Chicago Tribune]
---
Note: This article gives an historical look at the cruise dining trends of more than a decade ago. See some other posts on cruise dining: