Seder at Sea: Remaining Connected Far From Home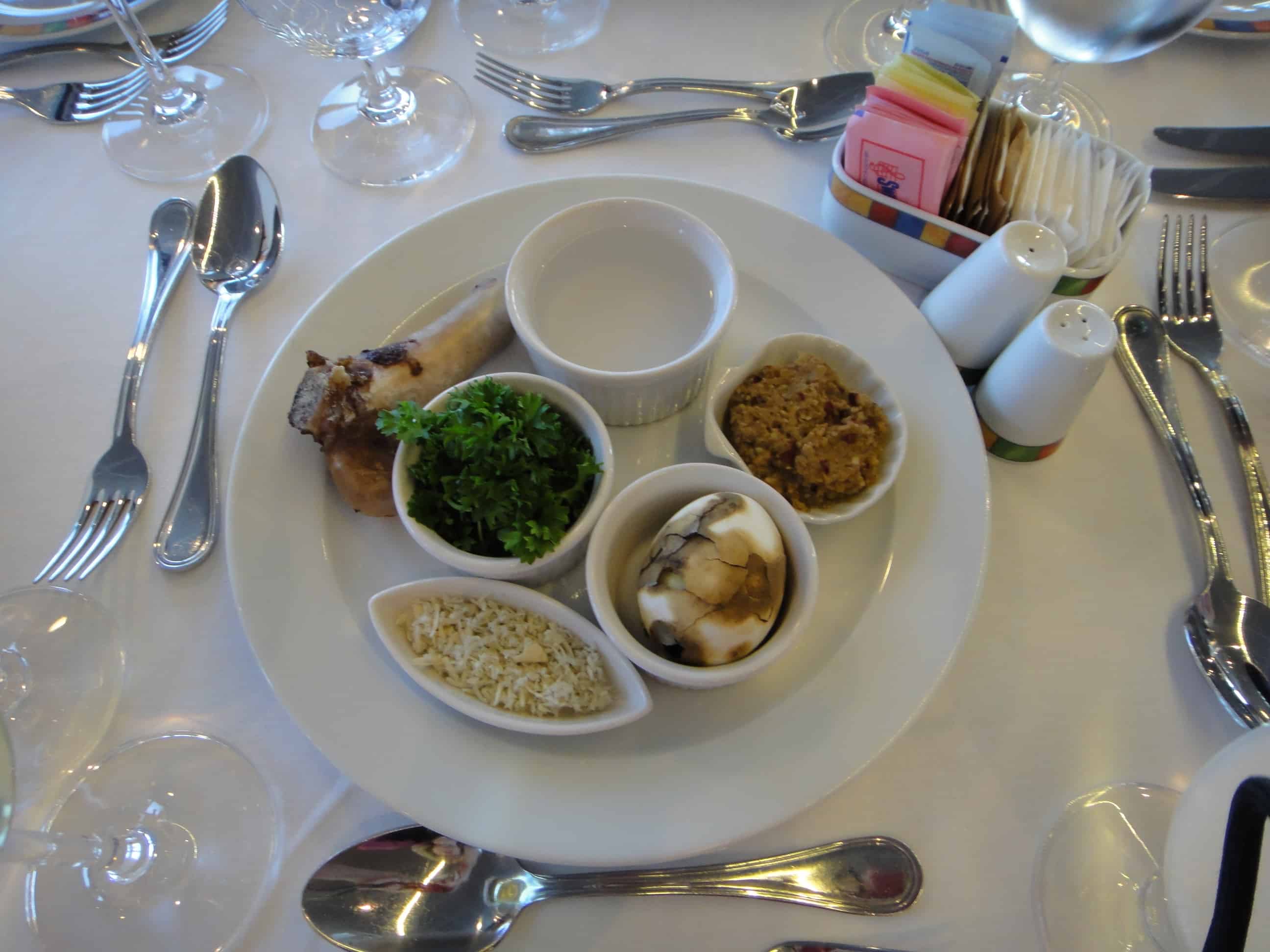 We were surprised to find out we would be enjoying a seder at sea on an Oceania cruise.
When my husband and I arrived for dinner at the Waves Grill on the 12th deck of the Oceania Marina, our table for two was set with colorful bone china and crystal wine glasses. But instead of flowers, the dinner table decor was quite different this night: Seder plates were arranged at the center of every table with the symbolic holiday foods of Passover: a lamb shank bone, hard-boiled egg, parsley, saltwater for dipping, bitter herbs and haroset (a mixture of apples, nuts and sweet red wine).
As secular Jews, we never missed a Passover celebration when our two sets of parents were alive. But one of the perils of becoming adult orphans is that along with the loss of caregiving responsibilities, your newfound freedom makes it easy to also lose sight of the traditions handed down by generations.
In the excitement of scheduling our 10-day Mediterranean cruise several months ago, we didn't even realize this would be our first Passover at sea — away from terra firma, family and friends. We were only reminded when the cruise director unexpectedly invited guests to a holiday seder, a meal traditionally observed on the first two evenings of the seven-day holiday that commemorates the Jews escape from slavery in Egypt.
The Seder Plate
After boarding the ship in Barcelona, we had already sampled two of the five specialty restaurants on board: the Italian-themed Toscana and Jacques, the signature French bistro named after Oceania's executive chef, Jacques Pepin. We never dreamed we would be canceling our reservation in Red Ginger, the Asian-fusion-themed restaurant (which sounded like the overwhelming passenger favorite according to the buzz on the sun deck) to participate in a ritual dinner on the third night of our 10-day Mediterranean cruise.
While the meal required no planning or cooking on my part, the cruise line had obviously put a great deal of thought into creating a meaningful experience for guests. Upon sitting down, a waiter handed each of us Haggadahs (the traditional book describing the stories and prayers recited during the Seder meal) and offered to pour merlot or sauvignon blanc kosher wines bottled by Baron Herzog.
A man, whom we initially mistook for a rabbi, welcomed the group of nearly 70 from among 1,250 passengers on the ship. After lighting candles and saying a prayer over the bread, he began reading, "Tonight we observe a colorful and joyous festival which our people have celebrated for two thousand years … May this Seder inspire us to light the torch of freedom for all the world."
Passover Dinner on the Oceania Marina
We learned that David Pasternak of Scarsdale, New York, was an ordinary passenger. Yet when he found out the cruise line had organized this special event for Jewish guests, he stepped up to lead the traditional responsive reading.
"I thought I would do a mitzvah (good deed)," he explained.
In the cordoned-off section of the buffet dining room, there was a mix of diners: multigenerational families celebrating the same way they did at home, guests sitting at shared tables with newly found friends and single couples like us probably feeling a tinge of loneliness. A few minutes into the service, Bari Garfield, a friendly woman from Shaker Heights came over and invited us to sit with her and her husband, Scott.
"After all, this holiday is about community," she said.
And so we moved our wine glasses to join our own faux family. Over dinner, we exchanged stories about travels, holidays and mishpucha (Yiddish for family).
The unofficial Rabbi at our seder at sea
A handsome Italian chef, Nicolai Pareti, who hailed from Rimini in the Emilia Romagna region of Italy, did an impressive job of preparing the new-to-him foods that were so familiar to his guests. His multinational crew of servers didn't know what to make of the chopped liver, gefilte fish with horseradish and matzo that preceded the main course of roasted chicken or baked cod with sweet carrots (tzimmes), green peas and potatoes.
The dinner ended with desserts of chocolate honey torte, carrot cake and macaroons. The delicious meal was so filled with warmth and bittersweet reminders of the past that I didn't have the chutzpah to tell the chef that his matzo balls were a bit heavy. (Even reform Jews are reluctant to share the secret of adding seltzer to the mix of matzo meal and rendered chicken fat to lighten them.)
In one of the last readings from the Haggadah, our mock rabbi read, "As we gathered together to celebrate this Seder tonight, may we be worthy to celebrate again in freedom next year."
Ironically, our ship was on its way from Valencia, Spain to the port at Marseille, France. In 1943, as part of Action Tiger during the Second World War, more than 4,000 Jews were held captive in detention camps here before they were sent to gas chambers in Poland, another stark reminder of why traditions like Passover can't be forgotten.
---
IF YOU GO
---
Also on More Time To Travel
---
[This article previously appeared in the Philadelphia Inquirer & The Huffington Post]