DoubleTree Chocolate Chip Cookie Recipe Revealed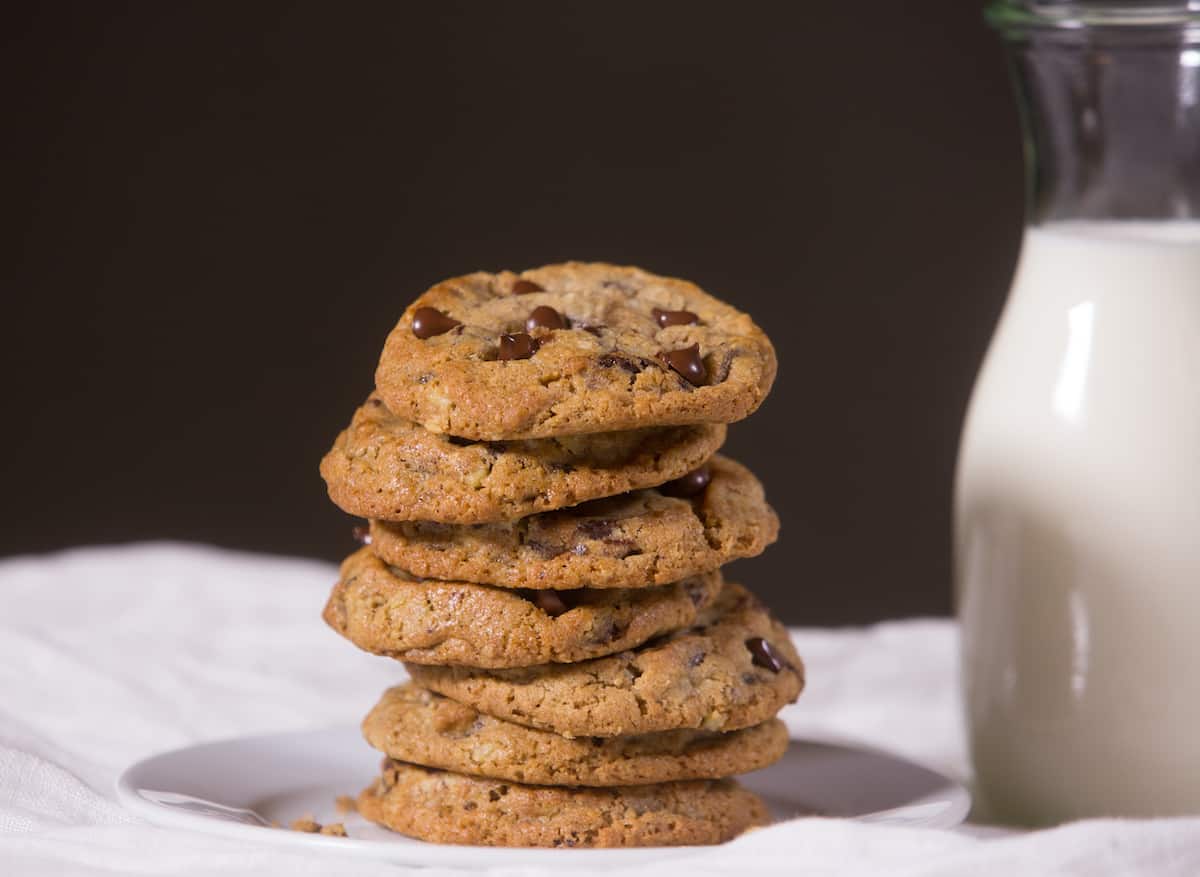 For the first time ever, Hilton has publicly revealed the recipe for its DoubleTree Chocolate Chip Cookies.
If you have ever stayed at a Hilton DoubleTree property, you may have found yourself lingering at the front desk after check-in waiting for a tray of the freshly-baked chocolate chip cookies to appear. After tasting one (or more), you may have returned for another—hoping no one noticed.
However, with the COVID-19 epidemic sweeping the globe, most of us have no plans to book a hotel stay any time soon. We're more likely to be hunkering down at home, perhaps, baking and eating comfort foods. In fact, last month, Hilton CEO Christopher Nassetta sadly announced that the company—which has a portfolio of some 6,000 hotels worldwide—expected occupancy at its global properties to fall to the 10% to 15% range within the next few days.
Before the Great Pause put the travel industry into a tailspin, Hilton DoubleTree passed out an estimated 65,000 of its signature chocolate chip cookies a day, more than 25,000,000 cookies a year. These soft, chewy indulgences became so popular that the company partnered with The Christie Cookie Company to sell them as gifts.They also made history as the first food to be baked in orbit during experiments aboard the International Space Station. Each of the cookies weighs at least two ounces, packing in an average of 20 chocolate chips.
Over the years, many home cooks have tried to replicate the recipe, which was a closely held secret. But now, DoubleTree is sharing the recipe with the public.
"We know this is an anxious time for everyone," said Shawn McAteer, senior vice president and global head, DoubleTree by Hilton. "A warm chocolate chip cookie can't solve everything, but it can bring a moment of comfort and happiness. We hope families enjoy the fun of baking together during their time at home, and we look forward to welcoming all our guests with a warm DoubleTree cookie when travel resumes."
---
The DoubleTree Signature Cookie Recipe
Makes 26 cookies
Ingredients:
½ pound butter, softened (2 sticks)

¾ cup + 1 tablespoon granulated sugar

¾ cup packed light brown sugar

2 large eggs

1-¼ teaspoons vanilla extract

¼ teaspoon freshly squeezed lemon juice

2-¼ cups flour

1/2 cup rolled oats

1 teaspoon baking soda

1 teaspoon salt

Pinch cinnamon

2-2/3 cups Nestle Tollhouse semi-sweet chocolate chips

1-3/4 cups chopped walnuts
Steps:
Cream butter, sugar and brown sugar in the bowl of a stand mixer on medium speed for about 2 minutes.
Add eggs, vanilla and lemon juice, blending with the mixer on low speed for 30 seconds, then medium speed for about 2 minutes, or until light and fluffy, scraping down the bowl.
With the mixer on low speed, add flour, oats, baking soda, salt and cinnamon, blending for about 45 seconds. Don't over-mix.
Remove bowl from mixer and stir in chocolate chips and walnuts.
Portion dough with a scoop (about 3 tablespoons) onto a baking sheet lined with parchment paper about 2 inches apart.
Preheat oven to 300°F. Bake for 20 to 23 minutes, or until edges are golden brown and center is still soft.
Remove from oven and cool on baking sheet for about 1 hour.
Cook's note: You can freeze the unbaked cookies, and there's no need to thaw. Preheat oven to 300°F and place frozen cookies on parchment paper-lined baking sheet about 2 inches apart. Bake until edges are golden brown and center is still soft.
---
The Official Recipe for DoubleTree Chocolate Chip Cookies on Vimeo
---