Visiting Jean Talon Market on a Rainy Day in Montreal
When we awoke at our pre-cruise hotel on a rainy day in Montreal at the end of October, the weather wasn't particularly welcoming—it turned out that our visit coincided with the first light snow of the season on Sunday morning.
Scheduled to board our Regent Seven Seas cruise ship at the nearby Port of Montreal that afternoon, we had a few spare hours in the morning to do as we pleased. The snow had turned to rain but given the chilly weather, we opted for an indoor, city experience.
A visit to Jean Talon Market checked off all the right boxes.
The oldest of the 15 public markets scattered around the city and one of the largest in North America, we had heard that the market was held indoors, was open on Sundays, and was only a short Uber ride from our hotel.
About Jean Talon
Jean Talon Market is located in Montreal's Little Italy neighborhood. When it first opened in 1933, it was called Marché du Nord. Thirty years later, it was renamed in honor of Jean Talon, an intendant (high-level administrator) in the colony of New France in the 1600s. With a keen interest in increasing the population and diversifying the economy, Talon started the first commercial brewery in Canada and encouraged agricultural production.
One of the main reasons we love visiting public markets as travelers is the opportunity to mingle with locals—both shopkeepers and shoppers.
With ethnic restaurants and shops, and growers, producers and customers reflecting this multiethnic city's cultural diversity, this neighborhood market was no exception. We savored cut-up fruit and veggie samples served by many vendors and asked questions about new-to-us products (like goldenberries). Because of the strong French influence in the province, the market had many products you might find in a market in France.
The vast, four-season market is beautifully kept with wide passageways and more than 70 vendors, many of them multilingual. Jean Talon is actually an indoor/outdoor market, we found out later.
After the season's first frost, walls (called the market's "winter coat") are erected around the stalls to shield shoppers from the chill. The temporary walls come down when the weather improves in spring. On the day we visited, we braved an alternating mix of rain, snow and sleet to take a peek at the many vendors who sell goods around the building perimeter and outside the walls.
What's inside the Jean Talon Market?
Even in the fall, after a frost, the photogenic market stands were bursting with fresh colorful produce, fish from the St. Lawrence, shellfish, meats, plants and flowers, and more. There were numerous sit-down and stand-up eateries, bakeries, coffee shops and cheese stores.
Some local items that visitors from elsewhere might not find at home included a wide array of maple products (including maple syrups, maple candies, maple teas, maple butter and even maple candles), ice wines and cider, French pastries, poutine and foie gras.
Although it currently ranks #12 on TripAdvisor's list of "376 Things To Do in Montreal," there were few tourists around the market on the day we visited.
Our photos (below) and throughout this post are the best way to convey what was inside the Jean Talon Market. For the tastes and aromas, you'll have to visit yourself!
---
PHOTO GALLERY – Jean Talon Market: On a rainy day in Montreal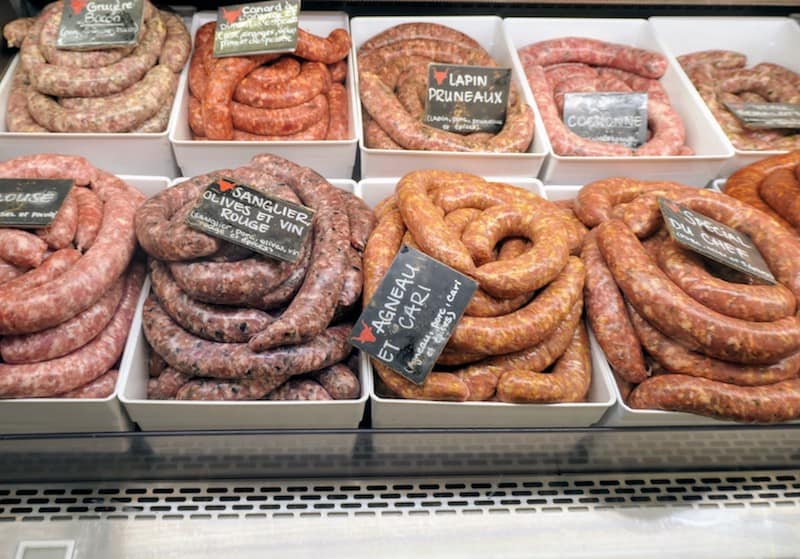 ---
IF YOU GO
Some market tips:
Although inclement weather turned out to be a blessing in our case (with fewer shoppers), go early in the morning to avoid crowds.
Make a point of visiting the surrounding streets with its many food shops. One of the best places to stop for coffee and a pastry is Première Moisson, right outside the back door of the market.
Remember to bring a reusable shopping bag and local currency.
If you come by car, a reasonably priced garage is underground.
Stay for lunch and try something new.
---
Previously on MoreTimeToTravel:
---
All photo credits: Jerome and Irene S. Levine
---
Save to Pinterest!
---