A Rock Star Italian Chef's World Tour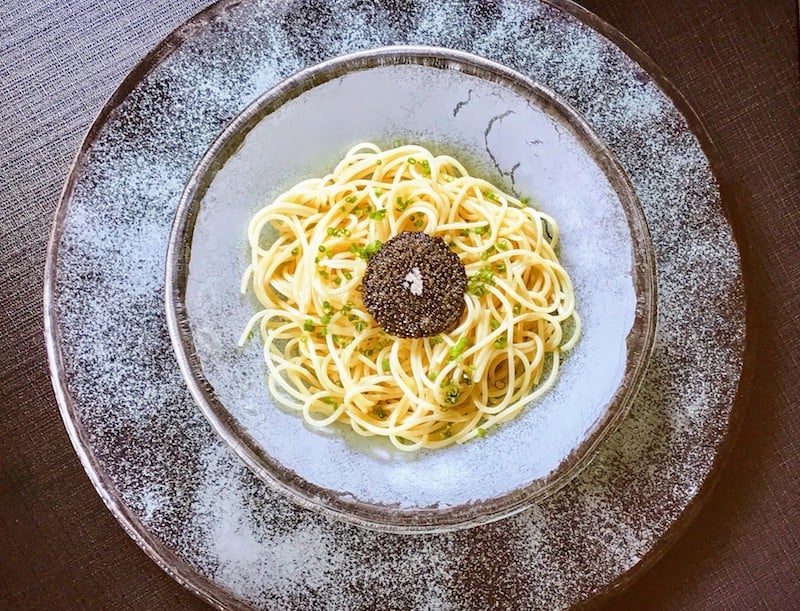 Most of us associate world tours with rock stars.
But once chefs began to come out of the kitchen, they began to achieve the same type of celebrity. Many credit French chef Paul Bocuse, the father of nouvelle cuisine, as being among the first to spend considerable time in "the front of the house" (as opposed to the kitchen), mingling with diners and creating a powerful public presence and brand.
With the growth of mass media and technology, great chefs came to be showcased in books, on television, and in movies, many reaching the status of being revered by the public—from Julia Childs to Jacques Pepin and Anthony Bourdain, to name a few. Now globally, entire TV networks pay homage to chefs, their techniques and recipes. In the age of the Internet, Pinterest and Instagram, a simple search with a chef's name can retrieve tens of thousands of photos of their respective dishes.
Gualtiero Marchesi World Tour: A remembrance
So it shouldn't be surprising that there might be a World Tour celebrating a chef who has had an extraordinary influence not just on his own national cuisine but also internationally, which continues even beyond his death.
The Gualtiero Marchesi & La Cucina Italiana World Tour (2018-2019) recognized the contributions of a legendary northern Italian chef who has been credited with introducing modern cuisine in Italy and raising the bar of Italian cuisine abroad.
The tour began in Chicago on November 2018 before arriving at the Italian Cultural Institute in New York. The tour wrapped up in Milan during March 2019, the city where Marchesi was born and first became interested in gastronomy. There were also stops in Hong Kong, Beijing, Tokyo, Paris, London, Berlin and Moscow.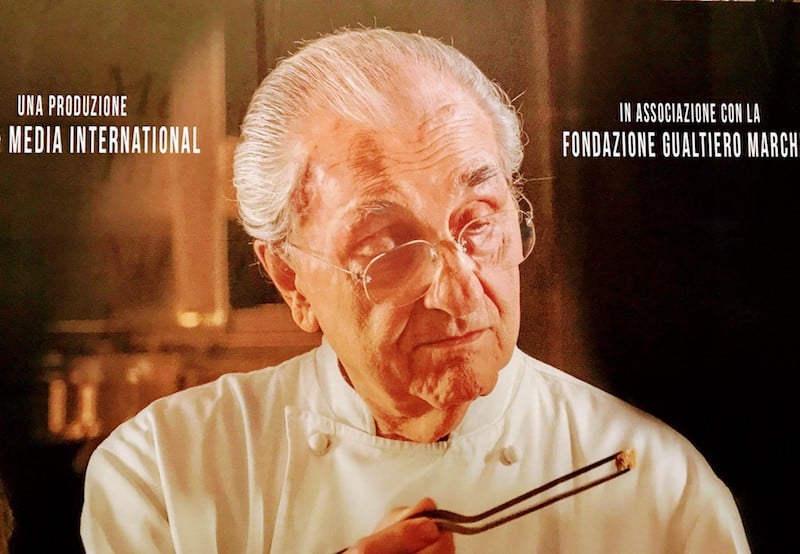 MoreTimeToTravel attended the New York segment of the tour (which happened to coincide with the third annual week of Italian Food in the World). The program included a showing of the powerful documentary, The Great Italian, which chronicles Chef Marchesi's life and achievements.
The film, which premiered at the Cannes Film Festival, was followed by commentary by Minister Francesco Genuardi, the Consul General of Italy in New York; Simone Marchesi Dandolo, Marchesi's daughter; Enrico Dandolo, CEO of the Foundazione Gulatiero Marchesi; and representatives of the Italian National Tourist Board.
Each stop along the tour included a presentation by one of the great chef's disciples. In New York, we heard from Pietro Leemann, a Swiss-born chef who owns the restaurant, Joia (a highly acclaimed vegetarian restaurant in Milan and the first vegetarian restaurant in Europe to garner a Michelin star).
The evening ended with a tasting at the Italian consulate next door, located in an impressive townhouse on Park Avenue that is landmarked as the Henry P. Davidson House.
The small plate tasting, paired with Italian wines, was curated by Chef Leemann and others, to reflect some of Chef Marchesi's most iconic dishes.
Call him Maestro
Gualtiero Marchesi died of cardiac arrest in 2018 at the age of 87. His obituary in the New York Times notes that he was the first Italian chef to earn three Michelin stars (in a system that was always said to be partial to French cuisine) and referred to him as the father of modern Italian cuisine.
Chef Marchesi has had such a profound influence in training and in inspiring a generation of Italian chefs that he is also known as the "Chef of Chefs."
The article notes that when Chef Marchesi received his third Michelin star in1985, he said the recognition not only accrued to him "but also to the renaissance of Italian cooking that has been in progress for the last 10 years."
No stranger to controversy, Chef Marchesi also made headlines worldwide when he repudiated the Michelin rating system and also when he created two special types of hamburgers and a dessert for the McDonald's restaurants in Italy.
Coming from a lineage of artists and musicians, the film portrays Marchesi as an artist as much as a chef. Each of his dishes is beautifully presented, a work of art that tells a story. His daughter said that he didn't even like the term "chef" and saw himself, instead, as an intellectual and man of the arts expressing himself through food.
Speaking to some Italian attendees over cocktails, we learned that most cooking in Italy before Marchesi was exclusively regional, comprised predominantly of imprecise recipes handed down from generation to generation.
A few important notes about Chef Marchesi's life's work:
His cooking relied on fresh, regional ingredients. He believed that each ingredient in a dish should be natural, simple and pure, and presented in a recognizable way.
Drawing upon his many years in France where he learned about classic cooking, he returned to Italy and raised the bar in terms of culinary techniques and presentation.
As an exacting mentor of chefs, he wanted to not only train his chefs to cook but also to think and innovate.
He was committed to the idea that food needs to be a representation of both a person (the cook) as well as of a place.
One of the chef's signature dishes, Riso, Oro e Zafferano (Risotto Milanese, made with saffron and topped with gold leaf) is emblematic of the way he "showed off" the best ingredients and made them into an art form.
Chef Marchesi was the Dean and a founding force behind the 2004 establishment of ALMA, the International School of Italian Cuisine (based in Parma, Emilia Romagna), which continues to train chefs, pastry chefs, sommeliers and food and beverage managers from around the world.
Towards the end of his book, The Marchesi Code, published in 2006) Marchesi writes, "As I never tire of repeating to my chefs, cuisine is culture, and we must not forget this."
Marchesi's words were echoed in comments made by Caterina Orlando of the Italian National Tourist Board, who noted that food and wine are the primary reasons why tourists visit Italy—stressing their significance in helping visitors "taste" and understand the culture that is uniquely Italian.
---
All photo credits unless otherwise noted: Jerome Levine
---