101 Tips for Women Travelers: Free book from Overseas Adventure Travel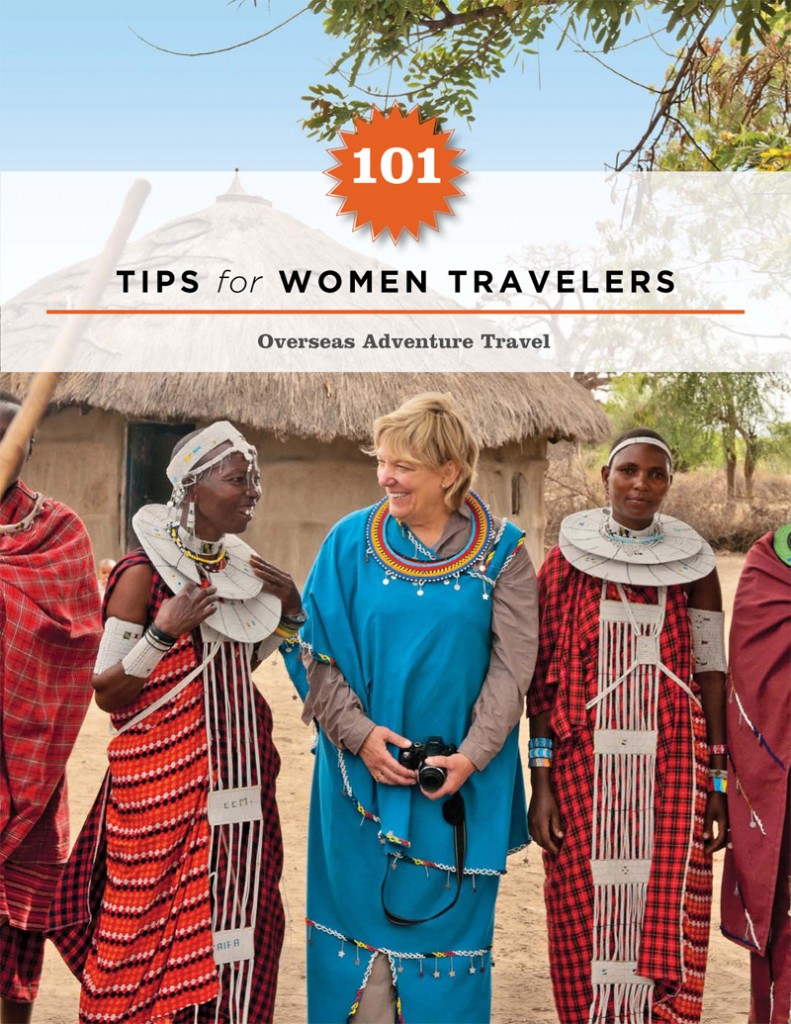 To introduce themselves to new travelers, Overseas Adventure Travel (OAT) is giving away a free, digital booklet with inspiring travel tips for women, 101 Tips for Women Travelers.
You can read the publication online or download it to your Kindle, iPad or other e-reader for free!
About the e-book
The 79-page booklet includes ten chapters with tips for women on trip preparation, packing, health & hygiene, safety, going solo, communications, digital photography and video, and more. Even if you learn one new thing, this breezy read is well worth your time.
The appendix includes information about digital resources, a packing list, clothing size chart, international time zone chart, foreign phrase list, book and film recommendations (organized by continent and country), and even an amusing list that explains 25 uses for a scarf.
Along with great photography of OATS trips and travelers, inspirational quotes and stories about some historic female travelers are interspersed throughout the text.
About the author
Harriet Lewis, vice chair of Grand Circle Corporation conceived the book (with her daughter Charlotte), collecting tips from her own travelers as well as from female colleagues, guides, and travelers. Then she compiled the ones she thought would be most valuable to readers.
Harriet writes in the foreward to the book:
To me, the most important tip of all is simply to keep an open mind. Let go of expectations and immerse yourself in the culture and heritage of the lands you are visiting.
About Grand Circle
Grand Circle Corporation is a global enterprise comprised of a family of international travel companies geared to Americans over the age of 50 that includes Overseas Adventure Travel, Grand Circle Cruise Line, and Grand Circle Travel, as well as a charitable Foundation.
In 1958, a retired California high school principal named Ethel Andrus founded a travel company to serve the members of the new organization she had just formed, the American Association of Retired Persons, or AARP. Alan and Harriet Lewis acquired that company, Grand Circle, in 1985 and have led it through almost three decades of enormous growth.