Say Cheese: Visiting a Cheese Bar in Lyon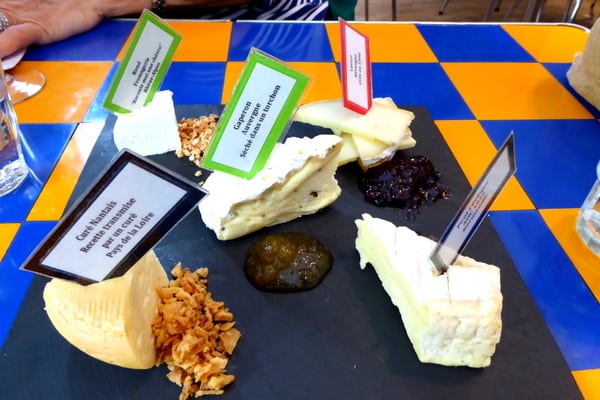 L'Instant Fromage is a cheese lover's Paradise
Every once in a while you wind up in a quaint spot you wish you could replicate closer to home. That was the way we felt after a casual lunch at L'Instant Fromage, a cheese bar in Lyon—actually, the only cheese bar in Lyon.
Lyon is known as the gastronomic capital of France for many reasons, but among them are its delicious cheeses. On our first evening in the city, Laur and Jacques, a local couple we had met at dinner in our hotel, graciously gave us a short list of their favorite restaurants. They highly recommended a cheese bar a few blocks away, which sounded like a nice change of pace after engaging in a series of very serious (and wonderful) meals.
Entering L'Instant Fromage, we were struck by its bright colors, whimsical décor and welcoming ambiance. There were mismatched oilcloth tablecloths with polka dots and checks on the tables, with hanging pendant lamps from the 70s overhead. A smattering of vintage antiques and collectibles were strategically placed around the room. Wherever I glanced, there was something that caught my fancy–from the cute blackboard diagram for making cheese choices posted over the bar to the loaves of French bread curiously stored in champagne crates.
In this tiny place, two young, English-speaking owner/chef/waiters create memorable cheese plates that kill! One entire wall was lined with slate boards listing all the cheeses available that day, organized under three categories: Les Brebis (sheep), Les Chèvres (goat) and Les Vaches (cow).
In classic Lyonnais fashion, we started by ordering Le Pot Lyonnais, a carafe of local wine (usually Beaujolais or Côtes-du-Rhône) that's served in a 46 cl. (roughly a pint) bottle with a weighted glass bottom. For light drinkers, it's inexpensive and totally right-sized.
There were some thirty different cheeses to chose from. For about $20 USD, we opted for a mixed plate with five different kinds. Since the only varieties we were familiar with were Comté (the most popular cheese in France that's even sold in Costco in the States) and Saint Marcellin (which seemed to be ubiquitous in Lyon), we were happy that our friendly and far more knowledgeable server offered to compose a cheese plate for us.
The cheeses arrived on a slate board with little toothpick flags identifying them. Each cheese was accompanied with by a different jam, jelly, or mound of nuts or fried onions. With big eyes, we also ordered the lunch special for about $15USD, a scrumptious tartine (an open-faced sandwich) with fresh greens, pesto, ham and melted Comte cheese.
It was so much fun to taste and compare the cheeses over our "Pot" of wine. Consistent with the theme, even the bill arrived in a cheese box.
Bottom line
L'Instant Fromage is a great concept, well-executed. It's a comfortable spot with heavenly cheeses, reasonable prices, and an excellent wine list (by the glass or by the bottle). Next time we're in Lyon, we would return in a heartbeat!
Since this was our first cheese bar, I checked to see if there were others in New York City and found one. Murray's Cheese Bar in the West Village of Manhattan is now on our list of destinations to try closer to home.
---
IF YOU GO
31 Rue St-Hélène (in the second arrondissement, close to Place Bellecour), Lyon, France; Open Tuesday through Saturday
---
TRAVELERS TIPS
Like many shops and restaurants in Lyon, L'Instant Fromage closes between lunch and dinner so be sure to check its opening hours.
Because seating is limited and the place is popular, reservations are usually necessary. We made ours online through the website.
When in Lyon, try "Le Pot Lyonnais" and local cheeses. This is a great place to sample them and choose your favorites.
---
Previously on More Time To Travel: