What do travel shoes for women over 50 look like?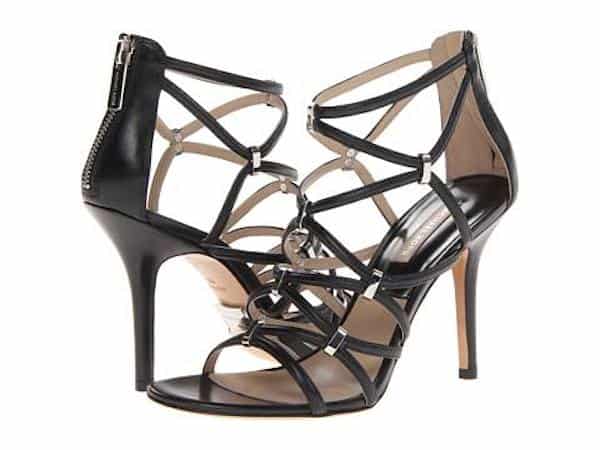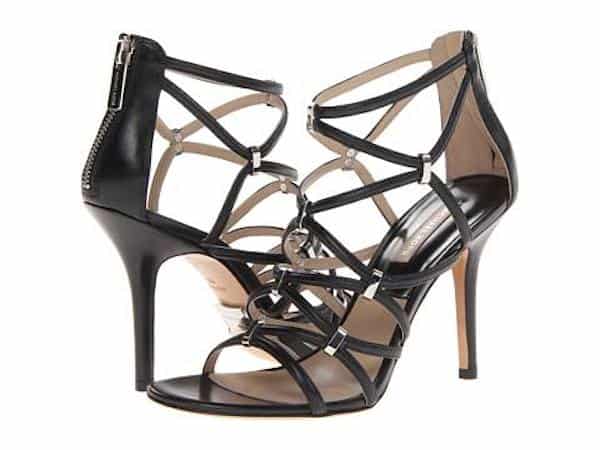 Figuring out which travel shoes to bring on a trip is a tough decision. Read (and see) how 10 travel writers define the best travel shoes for women over 50.
One of the biggest packing dilemmas faced by women of a certain age is figuring out which—and how many—pairs of shoes to take with them when they travel.
Most of us are wise enough to know that we need something far more practical than stilettos for city walks and country hikes. We also realize that traveling light is smarter so we try to limit what we pack. It can be challenging to figure out a mix that combines daytime comfort and looks with something that can transition into dinner.
Every once in a while, I'm reminded of the importance of taking care of your feet. Most recently, it was the coincidence of receiving a press release from Kaiser Permanente on the importance of foot care while I was nursing a blister on my left foot from wearing the wrong type of shoe for too many hours.
The press release with Tips for Healthy, Pain-Free Feet began:
It's easy to take our feet for granted, but consider this: there are 26 bones and 33 joints in the human foot, and those small bones must take us where we need to go every day.

By the time Americans reach the age of 50, they've logged 75,000 miles on their feet — that's three times around the planet…

Feet must last a lifetime, so it's important to practice good foot care.
Since I don't have very good answers to the travel shoes for women dilemma, I asked 10 of my fellow travel writers over 50 about the shoes they pack for trips and asked them to send photos:
---
1) Ruth Read
We travel VERY light so I only take two pairs. One is my hiking boots, which are worn most of the time. They are very comfortable and we hike A LOT. For hot days of relaxing or for wandering around towns on warm/hot days I wear a comfortable pair of sandals. We don't got out to fancy places very often but if we do and I need to dress up and my sandals wouldn't be appropriate then I would go out and buy a cheap pair of shoes and afterward I would leave them behind for someone who could use them.
---
2) Maria Michelle
Wandering and Searching Island Girl
I usually try to limit myself to four pairs of shoes total. Shoes weigh a lot. I take one pair of heels although I rarely wear them. I try to keep the colors neutral. I always take sneakers as I walk and hike A LOT. I have a pair of flat black boots for rainy weather and a cute (I think) pair of black flats with a bow on the front. They are comfortable and stylish – better than sneakers IMO.
---
3) Suzanne Fluhr
Boomeresque
I try to balance comfort and "looking good" or at least "looking good enough". On a recent month-long trip, I packed four pairs:
(1) Slip-on flats have been my "go to" airplane shoes for at least nine years. They're actually slightly big which is good for when my feet swell on a long flight. Unfortunately, they're not great for walking around too much when my feet aren't swollen.
(2) When traveling in the summer or to somewhere warm where I expect to do a lot of walking, I bring one of my two pairs of Clarke's old lady walking sandals.
(3) I packed sneakers, which I probably didn't need.
(4) I brought a pair of black strap shoes with two-inch heels because we ended our Southeast Asia trip with a 13-day cruise. I bought these a few years ago at the Walking Store. I can walk for about a mile in them and more importantly, I can dance the night away, at least the night up until 10:30 p.m. My dress up travel wardrobe consists of black slacks and a little black dress, so these shoes come in handy.
---
4) Billie Frank
Santa Fe Travelers
Depending on the season and where I'm going, I try to do two pairs. But if it's a rainy climate and/or colder weather, I may have two pairs of shoes and two pairs of boots. My favorites for travel are mules or an elastic pair called Vivanz that I think are made in Guadalajara, Mexico.
My mules are made by Acorn, the slipper people. They can go to dinner but aren't elegant. I tend not to dress up and so they work and I love walking in them. The other pair has elastic at the ankles, which is great for flying as my ankles want to swell and these control them. I've owned many pairs of these since I discovered them in 2007 and try to stay a year ahead in case they stop making them. They can go to dinner or anywhere else (as long as it's not a hike) because they're very comfortable.
---
5) Marilyn Jones
Travel with Marilyn
I have made the mistake of taking too many shoes and weighing myself down. Unless I am heading for snow, I just take season-appropriate shoes, usually a black pair of shoes and a lighter colored pair. Flip-flops, sandals and dress flats pack easiest…I always wear sneakers on the plane because they are the heaviest.
---
6) Carole Terwilliger Meyers
Until just recently, my very favorite traveling shoes were my Mary Jane-style Mephistos. What I liked was that the Velcro straps were easy on, easy off—perfect for airport security–and the crucial heel was totally adjustable with Velcro. Also, they were black and grey and looked good, even in business situations. I wore them for at least 10 years–until they died, and I was unable to replace them. I've ordered around 20 potential replacements from Nordstrom but had to send them all back.
Currently, I am back to some old grey suede Merrells that adjust with Velcro over the top of my very high instep–also no longer available, but fortunately mine still have some life in them. I don't like them as well because they aren't easy on, easy off, and after a few hours I start feeling discomfort in the heel.
I use good-looking grey felt Merrell slip-ons for air travel. They're easy-on, easy-off but not good for serious walking so I have yucky looking but comfortable white New Balance tennis/walking shoes for getting me around town.
Whenever the situation is right, I wear my fabulous Vasque hiking boots. In warm weather, I embrace my lightweight Teva Velcro-strap sandals—they go everywhere, but they do massage some skin off the bottom of my feet, though that doesn't hurt. For dress up, I discovered a wonderful pair of metallic Toms—they look great and they feel great and their purchase does great deeds. The search continues. On a weeklong trip, I take two or three pairs of getting-around shoes (so I can micro-adjust my comfort), plus flip-flops, hotel-style slippers, and a dressy pair if needed.
---
7) Suzanne Stavert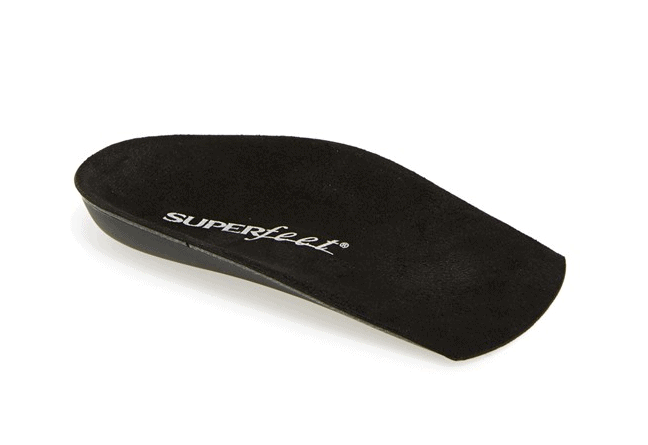 Although I want to be comfortable, I still like to be somewhat fashionable. For just a week, I try to stay with three pairs. It actually depends upon the time of year. Flats are easier to pack than boots, for example.
I wear a pair of ballet shoes that have great cushioning and are patent leather, which makes them water resistant too! If I need a high heel, I bring a wedge shoe. It can be worn with dresses or pants. In the winter I wear a pair of comfortable, yet stylish riding boots.
When I go to a rainy (winter) climate, I have a great pair of stylish, rubber rain boots I wear almost exclusively. They are actually super comfortable and with the correct socks are very warm.
I have very high arches and flat shoes can be very uncomfortable, however I have recently discovered Super Feet 'Delux" Insoles for my flat shoes at Nordstrom's. They also make them for high heels.
---
8) Sue Reddel
I'm always looking for shoes that are attractive and comfortable – emphasis on comfortable as I always do a lot of walking no matter where I go. I also have some back trouble so good support on the feet means my back will hold out for a much longer time.
My favorite brand is Rieker AntiStress, a German company that makes the most comfortable and attractive looking shoe. I've had several styles but my latest is the Doris. All feature European-styled looks. The Doris I chose is black leather with black patent leather accents. I've walked around town in it all day and wore them with skirts and pants for evening wear as well. These are great summer and spring shoes as there's plenty of ventilation to keep your feet nice and cool. These are also great to slip off at airport security. (Just be sure to have a pair of little socks on hand so you don't have to walk barefoot in the airport.)
For fall and winter, I like Keen's Toyah. They are super comfortable although not nearly as stylish as the Rieker's. They are water resistant which make them great for rainy and even snowy weather. I wore them traveling for a week of Christmas markets in Germany last December, and they held up really well and my feet and back never complained. They are a bit heavy and clunky but I quickly got used to them.
I also love the black patent leather loafer from Anne Klein these and the Keen Toyah's make a perfect match for travel.
I typically pack two pairs of shoes, one at bit more casual and one more dressy. I also always wear black shoes so they go with everything. If I think I'm going to be working out I'll also take my Brooks purple athletic shoes although they are also very comfortable I don't walk around in them while exploring. If I'm going to a spa or somewhere with a pool I have a black pair of Toms canvas shoes, which are comfortable, lightweight and pack easily not taking up much space.
---
9) Jo Castro
I travel with far too many shoes because I hate being uncomfortable. I have comfy shoes for walking, such as trainers. I add on a pair of boots if I'm going to be doing serious hiking. Then there's a pair of comfy sandals that will take me for long hours sightseeing and into restaurants if I'm in towns. I will possibly add a pair of crocs (argghhhh!) or a pair of flip-flops for beach wear, and then a pair of shoes I can wear out at night – such a small wedges. I have been known to travel with trainers and sandals… but only if pushed very, very hard.
Another favorite is the black pair that I take on my travels to wear at night to a restaurant. Low-ish heels go with jeans or dress and are comfy to wear.
---
10) Linda Fairbairn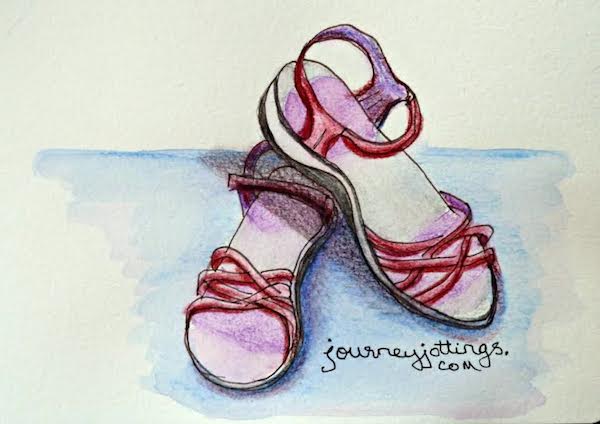 I take two pairs:
(1). A pair of strappy sandals that stay firmly attached to my feet and are comfortable (and suitable) for walking on rough tracks as well as being designed to get wet so I can wear them kayaking…and being strappy, they look OK with a skirt.
(2). Runners for more serious hiking and sightseeing.
---
TRAVEL SHOES FOR WOMEN OVER 50
The Take-Away Lessons
When traveling, comfort trumps fashion.
A comfortable pair of walking shoes is essential for active travel.
Stick with tried-and-true shoes rather than trying out new ones on a trip.
Be cognizant of the weather and season at your destination. It will impact footwear decisions. Don't presume every day will be sunny.
Try to avoid packing shoes you are unlikely to use.
Your feet may swell when you are traveling; bear that in mind when selecting shoes.
Velcro and elastic both offer easy-on and easy-off—and accommodate to size fluctuations.
Consider wearing your heaviest pair on the plane so you don't have to carry them.
Don't forget it's likely you'll have to take your shoes off to pass through airport security.
Neutral colors allow for more flexibility (and are also less conspicuous). When in doubt, opt for versatile black.
Strappy shoes provide an easy transition into the evening hours.
---
Other helpful resources on the web: