Guiltfree glamping in the Masai Mara
A luxury tented camp in the Masai Mara offers authenticity coupled with modern creature comforts
When I opened my eyes at 2:30AM, I couldn't see a thing. I blinked several more times and tugged on my husband, who was sound asleep beside me underneath the mosquito netting.
"Something's wrong," I cried out. "I can't see anything."
I was afraid I had lost my vision but my husband awoke and reassured me he couldn't see anything either. It was simply the darkness of night in the bush. Ignoring the rustling noises outside, I rolled over and slept for several more hours. We learned the next morning that electricity was turned off several hours each night at our tented camp to conserve power, one of many efforts made to preserve the spectacular, but fragile, ecosystem around us.
Visiting the Masai Mara
Olare Mara Kempinski is one of five tented camps within the 20,000-acre Olare Orok Conservancy in southwestern Kenya. The area borders the Masai Mara National Reserve, an uber-popular safari destination because of the density of its wildlife population, numbering more than two million animals—including big ones like elephants, giraffes, lions, and hippos.
The goal of the Conservancy–a partnership between the indigenous Masai people and tour operators–is to preserve this hallowed ground while providing visitors an authentic safari experience. Because only 94 beds are permitted across the five camps, visitors are assured they won't encounter hoards of tourists or lines of 4-wheel drive vehicles. Instead, there is one guest per 350 acres, and one game-viewing vehicle per 2100 acres. Masai tribesmen are employed as camp guides and guards along with other staff.
A stay at a tented camp
The moment after our small plane landed at the airstrip, we sighted an elephant a few yards away, even before we met our guide. When we recovered from the thrill, we were welcomed with an elegant flute of champagne before beginning the 45-minute journey to the Olare Mara camp. We traveled in a 4×4 through the vast, open grasslands of the game preserve scattered with acacia trees. Along the way, our driver pointed out birds, animals, and trees, and stopped so we could take photos.
We were there as one of the first stops on our African safari with our bespoke tour operator, Micato Safaris.
Opened in January 2013, Olare Mara Kempinski has 12 luxury tents that can accommodate up to 24 people. Although the rooms have canvas sides and zippered doors, they are more suite-like than tent-like. We settled into Tent #6.
Our tent had a king-size four-poster bed (magically draped with Out-of-Africa mosquito netting) covered with fine linens. At turndown, warm hot water bottles were placed under the blanket on each side of the bed for additional warmth from the cool evening breezes. Small metal sculptures, beaded baskets and rugs made by Kenyan artisans were scattered throughout, providing a local flavor, and soft lighting added to the homey feel.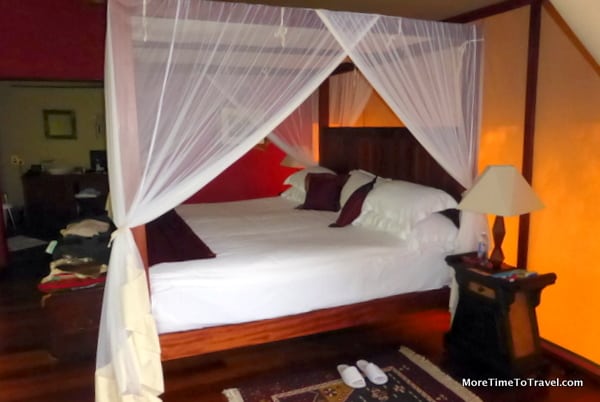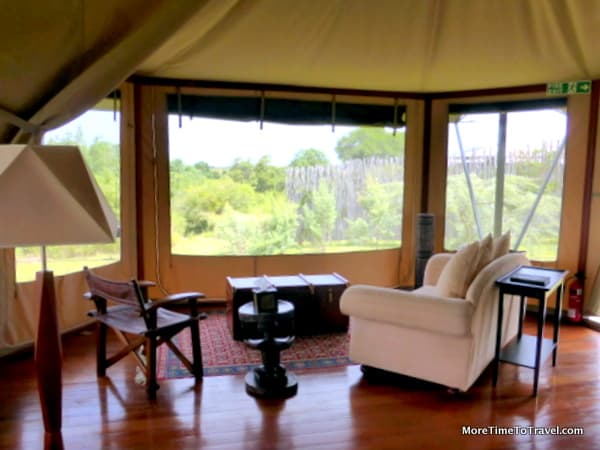 Elevated from the ground on a platform, French doors allowed in natural light. They opened to a wraparound wooden deck where guests can catch a ray of sunshine on lounges and commune with wildlife. A spacious ensuite bathroom had a double-sink, clawfoot bathtub, and separate shower and toilet closet.
Without fences or barriers (except for the nearby Ntiakitiak River), we were close to nature but safely protected. The wakeup call was a greeting outside our tent at dawn by someone from the camp announcing the delivery of a steamy pot of freshly brewed Kenyan coffee. Elegant meals were served three times a day in the communal dining room where we swapped stories with fellow guests about spying at least four of the Big Five. The food was a mix of international cuisine and Kenyan specialties like ugali (a polenta-like dish). Delicious beets, greens and other vegetables came from the camp's organic garden, the largest in the preserve.
At dawn and at dusk, we set out on bush drives in Land Cruisers that bounced up and down the unpaved, dirt roads. Elephants, giraffes, wildebeests, zebras, lions, hippopotamuses, antelopes and other wild animals roamed freely, having found a way to co-exist and share the bounty of the land. Our guide had an uncanny ability to see and hear the animals and birds camouflaged in the tall grasses or behind trees. Elephants are easy prey for safari virgins but soon our eyes and ears accommodated and we proudly spotted harder-to-view animals like a hyena on our own.
Each exhilarating day was filled with surprise: spotting lion cubs playing beside their mother; tasting a mandazi (Kenyan donut) at a bush breakfast; watching noisy hippos roll in the muddy hippo pool; waiting for a parade of zebras to cross the road, each one seeming to pause to look at our vehicle; or savoring an East African Tusker beer or a Swahili Dawa cocktail (made with vodka, lime and honey) by the bon-fire after a long, exhausting day.
After dark, a Masai tribesman armed with a spear accompanied us from the main building to our tent and zipped us in for the night. Exhausted from a full day, we listened to the hippos playing in the nearby river or watched baboons swinging through the brush, we felt as if we, too, were part of the animal kingdom.
A sense of place
Visitors from all over the world travel long distances to visit this savannah, a wildlife haven virtually unscathed by time and development. We felt privileged to witness the different animal species moving together en masse, resting in the bush, and pausing to look at us.
Yet we felt pampered and watched over by the Masai tribesmen and our camp hosts. With solar power filling 70 percent of the camp's energy needs, we are hopeful that we have had only a minimal impact on the delicate ecosystem. Our knowledgeable guides have taught us so much–not only about the birds, plants and animals–but also about the importance of preserving the bush for future generations.
Disclosure: Our visit was hosted by Micato Safaris and Olare Mra Kempinski but any opinions expressed in this post are our own.
---
Olare Orok Conservancy, Talek, Kenya
15 West 26th Street, NYC, 1-800-MICATO-1
---
Also on More Time To Travel: