Pasta Etiquette in Italy: What You Need to Know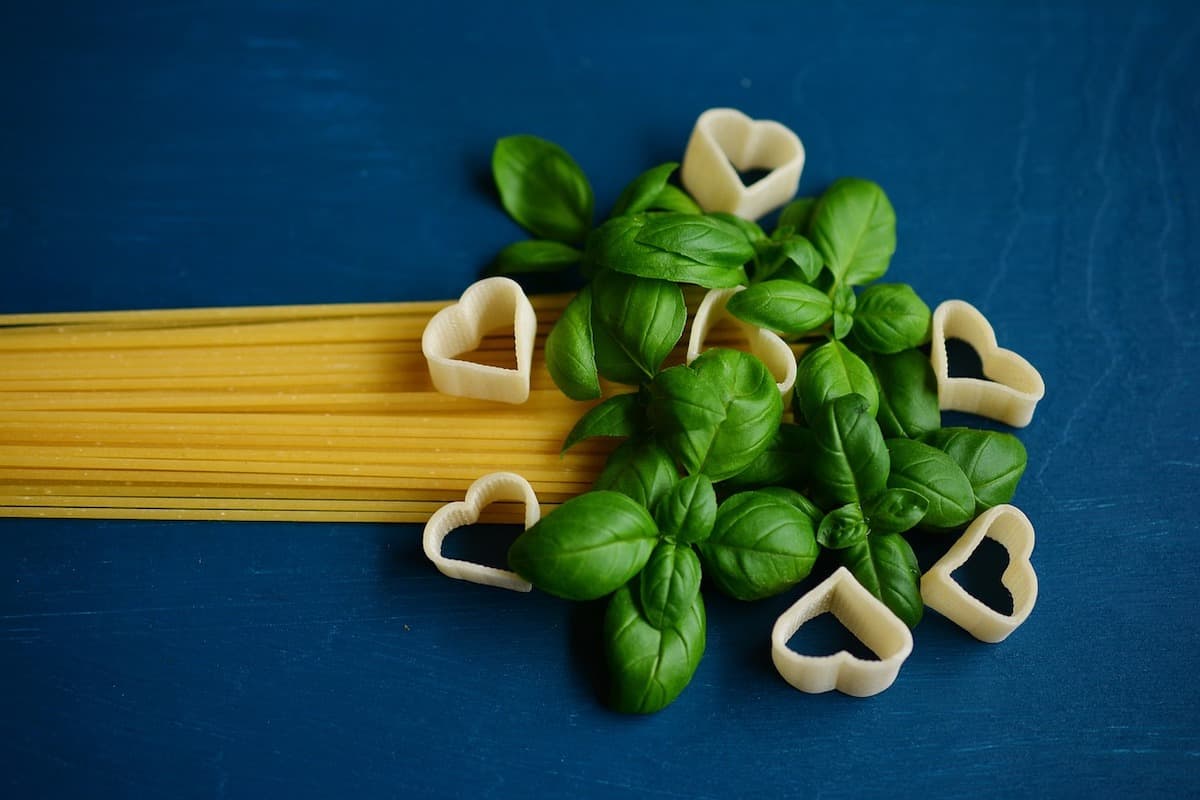 I met blogger and journalist Flora Pinotti Sano during one of our trips to Emilia Romagna. In this guest post, Flora shared what she had learned about "pasta etiquette" as an ex-pat living in Bologna, Italy. The post has been updated to inlude some additional factoids I've gathered about eating pasta in Italy.
When it comes to certain occasions, especially dining, it's always good to know what others expect you to do (or not to do). This becomes even more crucial when you're away from home in a foreign country.
Here in Italy, the number one rule of table manners is to have fun. Families, friends and strangers meet around food to relax and celebrate pleasant moments. But there are some generally accepted etiquette rules to be observed—particularly when it comes to one of the most serious issues of this country: eating pasta.
That said, here is a little list with suggested dining etiquette for those who face a pasta dish. I swear, it's not a matter of being fussy; the results will improve the taste as well as the experience!
On the plate
When it comes to long shaped pastas (including fresh ones like tagliatelle or papardelle, etc.), two bits of advice:
DO NOT CUT THE PASTA WITH A KNIFE, EVER.
Of course, it's much easier to grab little pieces of cut pasta with a fork than to roll them around it, but here in Italy, that is one of the most horrible things someone can do at a table. It is such a culinary sin that some people ask if it is illegal to cut pasta. The answer is no but it isn't good etiquette.
DO NOT COMPLICATE THINGS BY USING A SPOON WITH PASTA
In Italy, it is very common to use the spoon to taste a lot of dishes (e.g. pretty much anything that is creamy or a contains a lot of sauce). However, it's not acceptable to use a spoon to help you roll the pasta around the fork in a restaurant. The correct way to roll it on the fork is by using your plate to do so.
On adding grated cheese
Here we're entering even more dangerous territory. There are some clear rules, but also many controversies when it comes to the relationship between pasta and grated cheese.
The only golden rule is that if a pasta sauce contains fish or seafood, topping it with any kind of cheese is forbidden (at least 99% of the time).
In some places, particularly in the south of Italy, breadcrumbs sautéed with a little bit of olive oil are used to garnish the dish.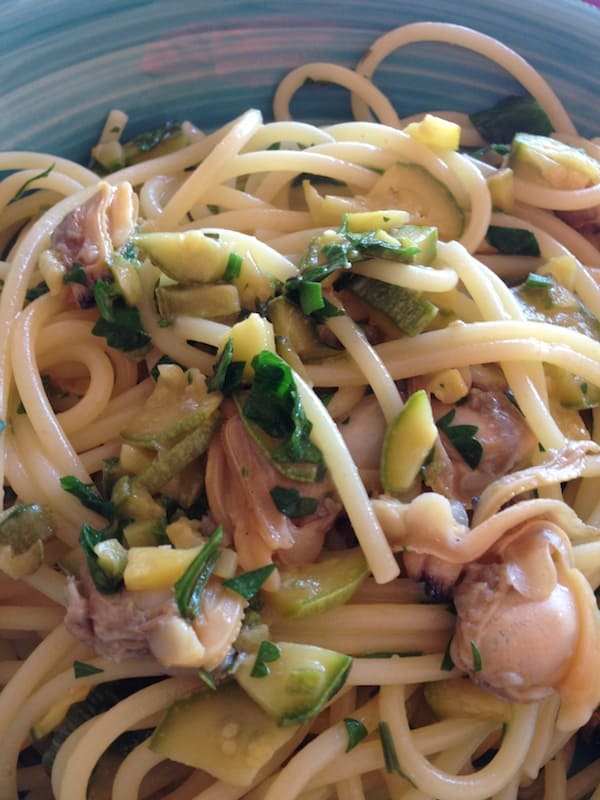 If the sauce already contains cheese, especially fresh ones such as mozzarella di bufala, avoid adding more.
Also, pay attention to the kind of cheese you add to your plate. Although cheeses vary from region to region, the most common ones are:
Parmigiano Reggiano and Grana Padano
These are both aged for at least six months and with very strong tastes. (In fact, these two are actually the original versions of what is called "parmesan cheese" outside of Italy.) Both cheeses are usually served with sauces that contain meat (e.g. "Bolognese sauce") or with pesto, mushroom, butter and sage, or white sauces (e.g. béchamel). But, trust me, not much more than that.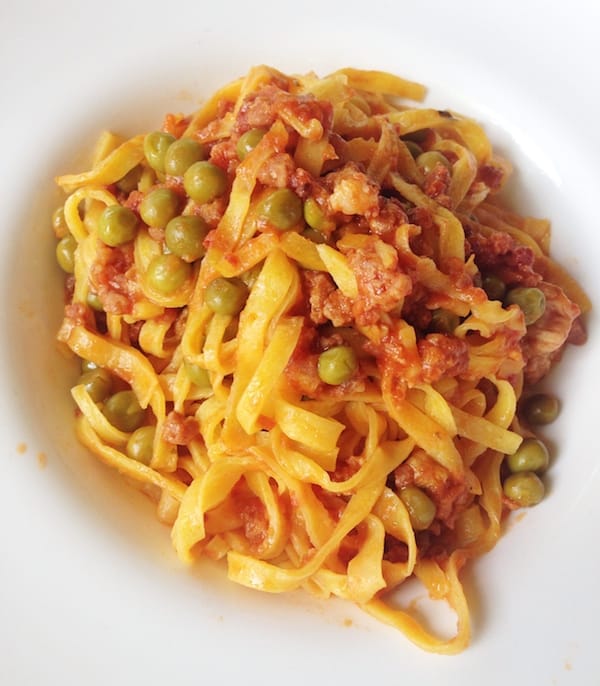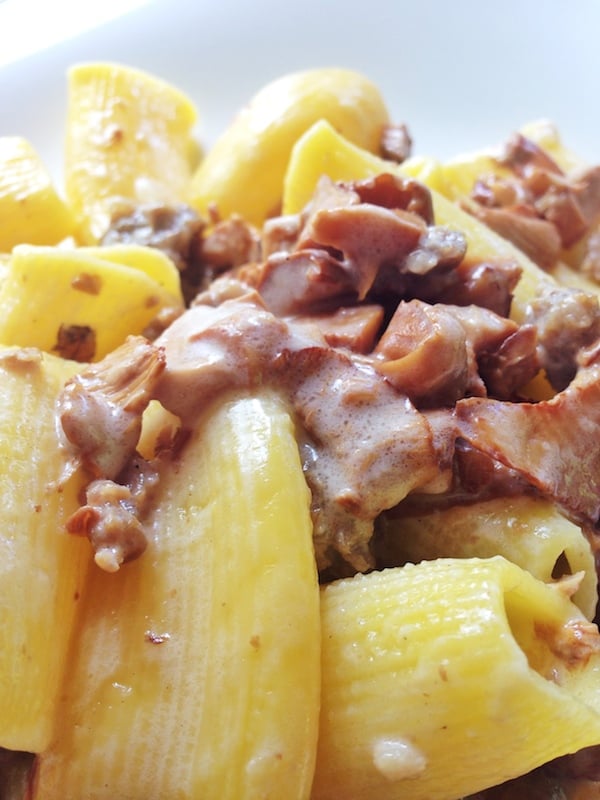 Pecorino
This hard cheese, made from sheep's milk, can be "sweeter" or saltier. Pecorino works well with sauces without tomatoes (in bianco), particularly those containing vegetables or meats other than red ones, like pork (including sausages) or rabbit, etc.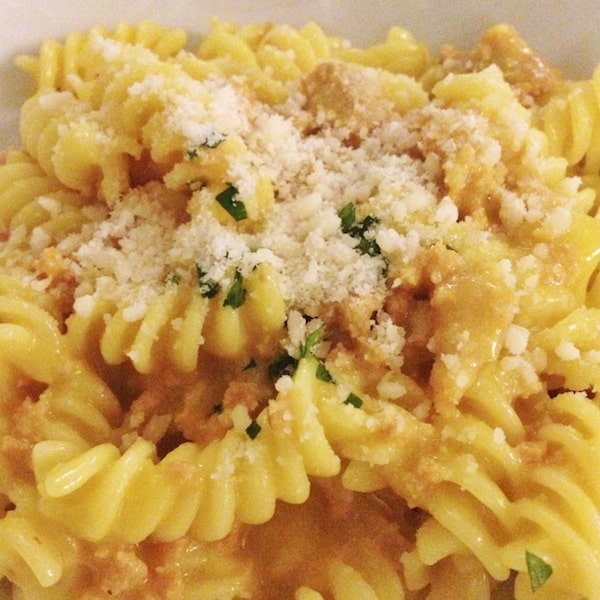 Pecorino cheese is more a gender than a species, available in an incredible variety of flavors and intensities, so it can potentially be a good match with pretty much any ingredient. Also, choosing pecorino is sometimes just a matter of the region where you are dining, since in some places sheep's milk is much more common that the cow's one.
Ricotta salata
Ricotta salata is a dry and almost salty ricotta that works well with fresh and delicate sauces, particularly ones with tomatoes and vegetables. A classic example is the Sicilian pasta alla norma, with tomatoes, eggplant, garlic, basil and sometimes mint. If you've never had it before, try the combination of tomatoes, basil and ricotta salata.
The most popular pasta sauce in Italy and, perhaps, all over the world is the classic tomato sauce. In general, any kind of cheese works with that.
Among other classic Italian sauces are the typical Roman ones like alla carbonara (guanciale [pork cheek] and egg), caccio e pepe (that is already made with pecorino cheese and pepper, but it's okay to add some more!) and all'amatriciana (with guanciale and tomatoes).
On the stove
Not all pasta is consumed in Italy, of course. When you're cooking long, dry pastas at home (e.g. spaghetti and linguine), NEVER break them in order to make them fit more easily into the pot.
A secret is to "twist" the amount to be cooked with both hands and drop it into the boiling water. In this way, the pasta spreads uniformly around the edges without forming clumps.
After that, you just have to be a little patient to push the few remaining ends out of the water inside – you can do this with a fork or with your hands.
Do you rinse pasta after boiling?
Simply Recipes asked a number of chefs. Their consensus: Do not rinse pasta after it's boiled. You'll waste the rich starch that's left behind, which will help thicken your sauce and help bind it to the pasta?
The exception: It's appropriate to rinse pasta if you are using it in a cold salad.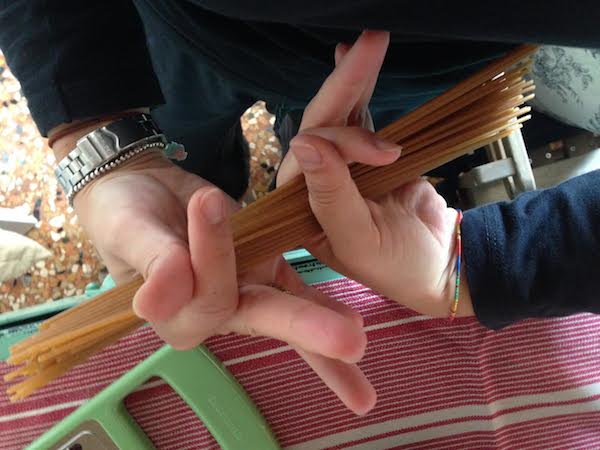 At the end of the day, it's always good to remember that nothing in the Italian kitchen is taken too seriously and Italian food rules are always broken. It all depends on each person's taste and on how much someone cares about people twisting their noses at you.
In fact, when it comes to cheese, if you don't want to make una brutta figura (a bad impression) in a restaurant, the best advice is to simply ask the waiter whether you should add cheese or not. In this way, you'll be able to taste the dish exactly how the chef imagined it and the chances of success can only increase!
I'm gonna stop now because the water of my pasta is boiling…
---
About the author: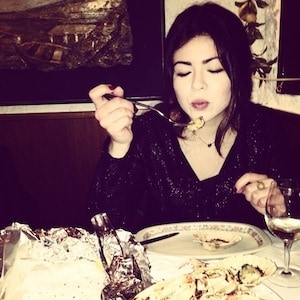 Mezzo Italian, mezzo Japanese and born in Brazil, Flora Pinotti Sano graduated with a law degree but decided to run away to Bologna to eat well and to live life even better. "I realized that good wine doesn't make you fat and that the Italian accent makes any dish even more delicious," says Flora. "Not being in my hometown, however, makes me want to share everything with my dear ones – and, why not, also with the rest of the world," she adds.
Flora speaks English, Italian and Portuguese and blogs in Portuguese at FloCIBO.
---
Other Things To Know About Pasta in Italy
The types of pasta eaten across Italy vary from region to region, and can even vary from town to town. Different shapes and types of pasta reflect the unique geography, history and culture of a particular place.
Pasta can be served fresh (

fresca

) or dry (

secco

); the latter may be made by hand or machine. Dried pasta (which is more economical) tends to be more common in the south. Depending on where you eat, pastas can be made with different types of flour; with and without eggs; and can be simple (like spaghetti or fettucini) or stuffed (like ravioli or tortelloni).
Italians pay great attention to

pairing the right sauce with the right shape pasta

because each type of pasta absorbs sauce differently. Thicker types of pasta generally are paired with heavier sauces; thinner types with lighter ones. Pasta shapes with nook and crannies usually call for sauces made with chopped ingredients (like sausage). Very small pasta shapes are often used in soups.
Pasta is generally served as a first course (

primo)

, not a main dish or side, and it's usually served at lunch. Italian meals generally include multiple courses and lunch is considered the heartiest meal of the day (Risotto and soup are also common

primos

).
Pasta is served

al dente

(to the tooth). It shouldn't be overcooked. Rather, it should be firm (but not hard) in the middle when eaten.
The tradition of the

scarpetta

(

fare la scapetta

) encourages diners at home (or eating an informal meal out—but never in a fine restaurant) to use a piece of bread to wipe clean the remaining sauce from their plate to show their appreciation of the dish.
---
Three noteworthy books for pasta lovers:
These are three books in my library that I return to over and over:
Eat Italy: The Complete Companion to Italy's Cuisine and Food Culture (Lonely Planet Food):
Practical and easily digestible information about how and what to eat in Italy, including an excellent chapter on pasta.
---
Tasting Italy: A Culinary Journey (National Geographic/America's Test Kitchen)
This book with beautiful photography takes readers and home cooks on a culinary journey through Italy, with plenty of recipes for regional pasta/sauce pairings. Each recipe includes some background on the
---
Pasta Grannies: The Secrets of Italy's Best Home Cooks (Hardie Grant) celebrates 75 women who still make authentic regional pasta from scratch—from pici (a thick spaghetti that originated in Tuscany) to tortelli d'erbetta (a pasta filled with ricotta, Parmigiano Reggiano and Swiss chard that is a specialty of Parma, in the Emilia Romagna region). It is an off-shoot of a popular YouTube series.
(Disclosure: If you purchase one using the links to Amazon, I make a small amount to cover the costs of this site, at no additional cost to you.)
---
No, it is not ILLEGAL to break pasta in Italy before you put it in the pot but you better not do it in front of an Italian. Check out what happened on TikTok:
---
Previously on MoreTimeToTravel.com
---
Save to Pinterest!!
---