Rosewood Beijing Hotel: Where five-star luxury is an understatement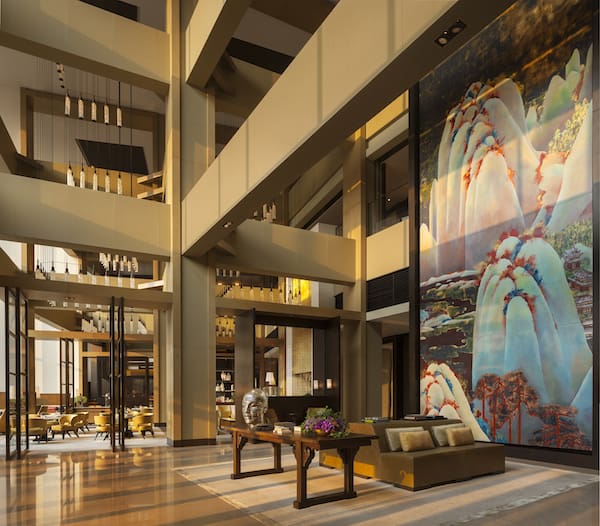 A stay at the Rosewood Beijing Hotel convinces us of the inadequacy of the five-star hotel rating system.
Occasionally, you find a hotel so luxurious and comfortable that you feel as if you don't ever want to leave. That's what happened from the moment we checked into the five-star, 238-room Rosewood Beijing Hotel, which opened last October (2014).
When Rosewood took over the management of this new property (its first in China), they totally gutted the interior of an old hotel that formerly occupied the same footprint, and resurfaced its exterior with dramatic slate-colored stone. In doing so, they created a building that looks new but feels anchored in this corner of Beijing's central business district (CBD).
When we first set foot in the door, we were warmly welcomed by the hotel staff and our charming English-speaking butler, Jasmine, who led us to the Manor Club on the seventh floor for an expeditious and discreet check-in. This very private executive lounge, with concierges on duty 24/7, is ordinarily available only to guests staying in the hotel's suites but we were invited to experience this special amenity.
Throughout the day, various foods are displayed on a buffet table that seems to go on forever. The seating space nearby is separated into different sun-filled areas, perfect for conducting business or relaxing over a drink or cup of tea.
Our room
Because we had arrived at the Rosewood Beijing towards the end of our stay in the city, we had already hit most of the major tourist attractions. Once we saw our Premier Room (Room 1104) on the eleventh floor, we questioned whether it was foolhardy to ever leave it for the bustling streets of the city.
In terms of both its spaciousness and tasteful décor (blending contemporary and Asian design elements), our room felt like a swanky apartment on Sutton Place rather than a cookie-cutter hotel room. Tasteful one-of-a-kind art adorned the walls and carefully curated stacks of books and objets d'art on shelves and counters made us feel as if we could cocoon here for weeks without getting bored.
Walls, carpeting and fabrics were in soothing neutral colors. The room was separated into three discrete areas: The sleeping alcove had the most comfortable bed imaginable, with a chaise lounge strategically placed on the opposite window wall that optimized the expansive city views (with four contiguous windows) for the lucky inhabitant of that perch.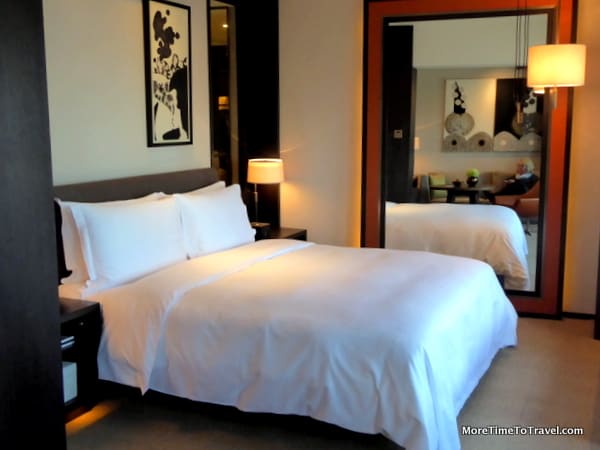 The living area had a sofa, round table with swivel chair, and fully stocked minibar with a coffeemaker and teapot. When we arrived, a small bowl of fragrant mandarin oranges had been placed atop the table; the fresh fruits were replaced daily.
The working area was perfect for a writer (or anyone else who needs a convenient space from which to work). Four large windows lined the exterior wall of the room affording distracting views of the iconic CCTV Tower (called "The Pants" by locals because of its unusual shape).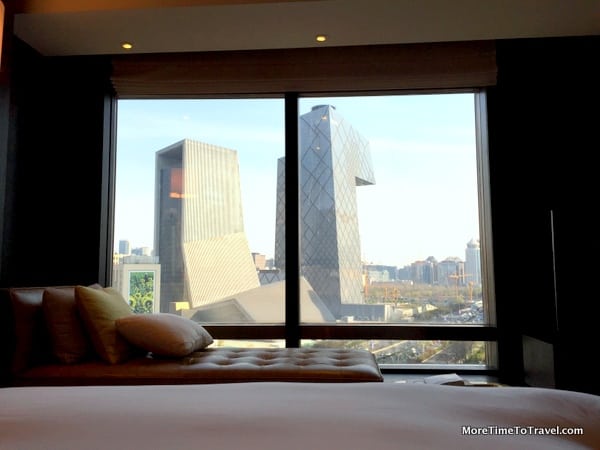 Everything in the state-of-the-art high-tech room was electronic. You could operate the dimmer lights and shades from a keypad beside the bed. The LCD smart TV automatically displayed the weather and air quality index as soon as you turned it on. The free, high-speed wireless connection worked flawlessly in our room and throughout the hotel. Dual voltage outlets made it effortless to use appliances you brought from home.
The walk-in closet offered ample drawer space and a dressing table where you could conveniently sit down to blow dry your hair and put on makeup. Generally, one of my big pet peeves in hotels is the difficulty in finding electrical outlets near mirrors for blow-drying.
The bath
The spacious, well-appointed bathroom had a separate water closet, shower with big rainforest showerhead and oversized bathtub, both with handhelds. Both were enclosed in a floor-to-ceiling area that functioned much like a sauna. Another television was embedded in the bathroom mirror. The walls of the bathroom were covered with a beautiful taupe-colored marble.
Bath linens were ultra-plush with bath sheets so large you could wrap them around you several times.
Public spaces
At the time of our visit, not all of the six restaurants and lounges were fully operational. We did get to experience Country Kitchen and Bistro B. Both are casual settings with huge open kitchens where the chefs are continually preparing and plating tempting dishes before your eyes.
While Country Kitchen's dining room is contemporary, the menu specializes in northern Chinese "comfort fare" including some "lost recipes" enjoyed by wealthy Beijingers in the 1950s, which have since faded in popularity.
A resident noodle master chef produced fresh hand-cut, pulled, knife-cut and rolled noodles from scratch. We especially enjoyed the Qing Dynasty roasted pork belly served with braised cabbage, and the Beijing roast duck that was moist, cooked to perfection with a sugar coating, and sliced tableside. The side of stir-fried string beans was a perfect complement.
Chef Jarrod Verbiak, a protégé of celebrity chef Daniel Boulud, oversees the kitchen at Bistro B, which is open for breakfast, lunch and dinner. At breakfast, we had a choice of Chinese, French and other continental favorites. I had fallen in love with congee on this trip but the one served at Bistro B made my other tastings pale in comparison.
We also got to tour the incredible wellness area, which includes a spa; gym/fitness area; yoga studio; heated, indoor pool with a retractable, domed-glass roof; and five spa suites for overnight stays.
Bottom Line
Not surprisingly, Rosewood Beijing is rated #1 on TripAdvisor of more than 5000 hotels listed in the city. But an exceptional hotel is distinguished by its service and this is where the Rosewood Beijing always exceeded our expectations. Of the 600 employees on board, every one we met was well-trained, helpful and gracious. All were English-speaking and many were multi-lingual.
When I told Jasmine (our butler) that I might be going to the Silk Market alone, she offered to accompany me in the taxi and help me shop. She was not only pleasant company but an artful negotiator.
When we were shuttled back to the airport (another courtesy of the hotel), a Rosewood employee stationed at the airport met us at the car to help us maneuver our bodies and luggage through check-in. Then he walked us to the gate and wished us well on our journey.
Our one regret was that RED BOWL, a contemporary take on the traditional hot pot restaurant, wasn't yet open. Hopefully, that will be the compelling excuse we need to return.
Rosewood Beijing is the first of the company's ultra-luxury properties to open in Asia. Seven additional ones in the pipeline are expected to open within the next three years.
---
IF YOU GO
Jing Guang Centre, Hujialou, Chaoyang District
Rooms start at $300 per night
*Through August 15, 2015, the hotel is offering several grand opening packages.
Disclosure: Our stay at the Rosewood Beijing Hotel was hosted by the property but any opinions expressed in this post are our own.