Upscale hotel toiletries too good to leave behind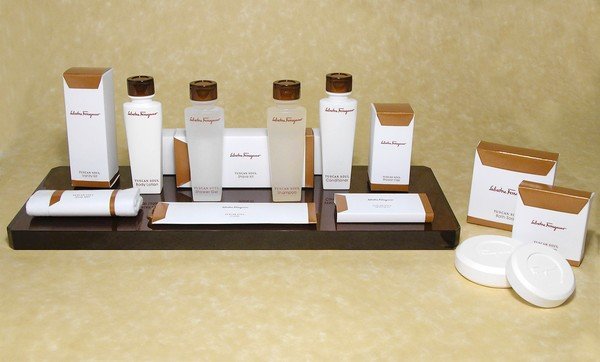 Some of the miniature upscale hotel toiletries at hotels and resorts are so beautifully bottled, fabulously scented and downright seductive they seem to dare guests: Try me. See if you can resist taking me home!
Hotel partnerships
Waldorf Astoria Hotels & Resorts partnered with Salvatore Ferragamo Parfums to place an exclusive line of Tuscan Soul amenity products in 22 of its hotels worldwide this year.
Mandarin Oriental Hotels in Boston, New York, Barcelona and Munich feature Red Flower organic products, known for their fresh scent as well as the company's commitment to health and the environment. The popularity of Red Flower soared after it was initially launched at trendy Barney's in New York.
Legendary Hermes was founded in Paris in 1837. Guests at any of the 10 Hotels Barriere properties in France (and one in Marrakech) receive a half-ounce gift bottle of the elegant Hermes fragrance, Un Jardin sur le Nil.
A complete personal travel kit awaits guests in W Hotels, with samples of Bliss signature lemon and sage products, such as Body Butter, Soapy Suds Body Wash, Body Bar, Fabulous Foaming Face, and a shampoo and conditioner duo. In the Fort Lauderdale W Hotel, a full-service Bliss spa and store are just off the lobby so guests can sample and purchase other products.
Some hotels, such as Rosewood Hotels & Resorts, select individual product lines for different properties. Owner Ty Warner personally selected Bulgari green tea toiletries for Rosewood's Las Ventanas al Paraiso in Los Cabos, Mexico. The 2.5-ounce plastic bottles of hair and body products conveniently conform to airline carry-on size regulations.
Upscale hotel toiletries: A win-win-win for hotels
How does all this luxury play out? A USA Today poll of more than 2,500 travelers found that 56 percent said they take toiletries home. And that's a win-win-win for hotels, fragrance brands wanting notice, and travelers.
---
[This article was previously published in The Chicago Tribune.]