Rimini: Italy's duoMo hotel is fit for Fellini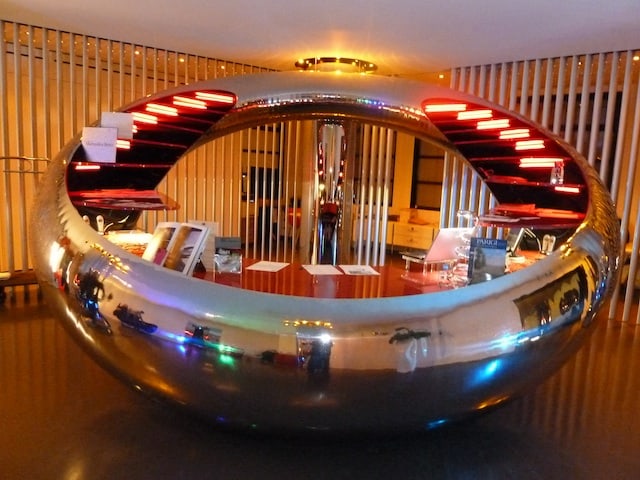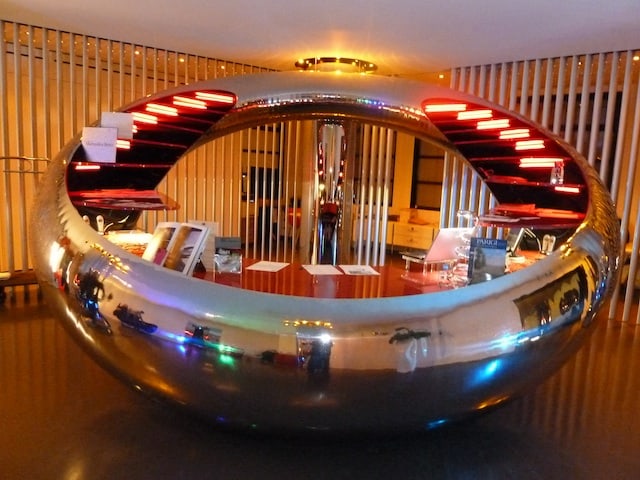 Even its irreverent name, an odd mix of upper and lower case letters, suggests the whimsy of the duoMo hotel. Noted industrial architect Ron Arad headed the design team for this futuristic hotel nestled in Rimini, the hometown of Italian film director Federico Fellini. Rimini served as the backdrop for so many Fellini classics that first-time visitors often feel a sense of déjà vu.
In every sense, duoMo (cathedral, in English) is Felliniesque. The hotel sits on a narrow street, barely passable by a single car, but perfectly positioned in Centro Storico near monuments, ruins, and trendy shops. Guests enter through oversized, lacquered red doors that spring open like the levers of a pinball machine to see the reception desk, a huge stainless steel ring attached to a polished steel column.
Opened in 2006, the 34 guest rooms and 9 suites are minimalist in style and extremely inviting. The décor includes platform beds, white walls, a soft white padded floor, and avocado floor-to-ceiling sliding doors covering the windows. A curved loveseat, upholstered in black in the shape of a figure eight, is paired with a glass cocktail table with a concave top forming a bowl for fresh kiwis, apples, strawberries, and chocolate spread.
Oversized pod bathrooms have white Corian walls and slatted teak floors, an egg-shaped Alessi lavatory and bidet, an illuminating rain shower that drains into the floor, and a window overlooking the bed. All rooms offer wireless phones, high-speed WiFi, flat-screen TVs, and neon colored fluorescent lights on dimmers. A stocked honesty bar is located on each floor beside the elevator.
Rimini in summer is something like the Jersey shore; young people flock here to sunbathe on the beach by day and party by night. The noMi club at the front of the hotel is a place where upscale yuppies congregate on Sunday evenings when aperitivos are free and the retractable glass wall allows the crowd to spill onto the street. By morning, the space is transformed into a sedate breakfast room; the bar morphs into an island holding delicious baked goods, fresh fruits and yogurts, meats, cheeses, and cereals. With every comfort and impeccable service, duoMo is an experience to remember, perfect for business or pleasure.
---
IF YOU GO

via Giordano Bruno 28, Rimini
+39 0541 24215/24216
[Previously published in the Chicago Tribune – October 18, 2011]
---
OUR PHOTO GALLERY
[nggallery id=5 template=caption]
---
Rimini is located in the far southwest corner of Emilia-Romagna, where the Po River empties in to the Adriatic Sea. For further information about Rimini, visit Emilia Romagna Tourism.