Pasteis de Belem: Unraveling the Mystique of Lisbon's World-Famous Tart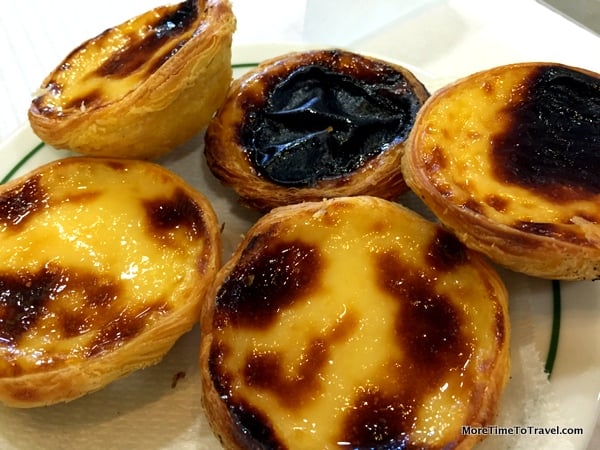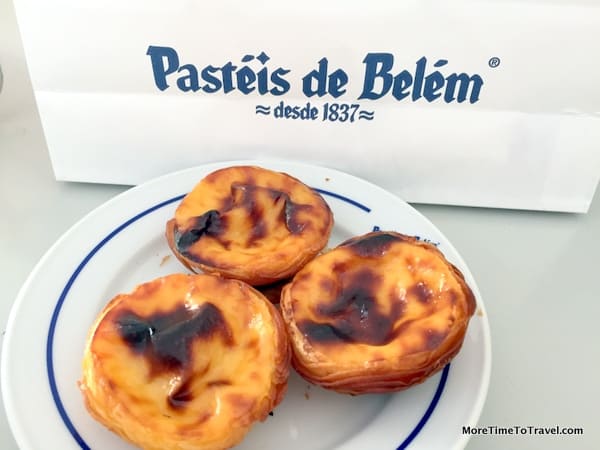 There is only one place in the world where lovers of egg tarts can savor authentic Pasteis de Belem.
Custard-filled egg tarts are such a popular dessert that they have become a staple in most Chinese bakeries and dim sum restaurants across the U.S., Canada and many parts of Asia. They also made their way to Mainland China and Hong Kong after being introduced in Macau, once a Portuguese territory.
However, there is only one place in the world where lovers of egg tarts can savor authentic Pasteis de Belem, the ones from Portugal whose name is trademarked because they are prepared using a secret recipe invented more than 200 years ago at the Jeronimos Monastery (Mosteiro dos Jeronimos) in Lisbon.
Located in the Belem district of the city near the mouth of the Tagus River, Antiga Confeitaria de Belem has become a tourist destination by virtue of baking and selling these delectable tarts.
Visiting Belem
"The bakery is the attraction that no one wants to miss when visiting Lisbon," says Celia Pedroso, co-author (with Lucy Pepper) of Eat Portugal: The Essential Guide to Portuguese Food. You can tell by looking at the lines outside in the street."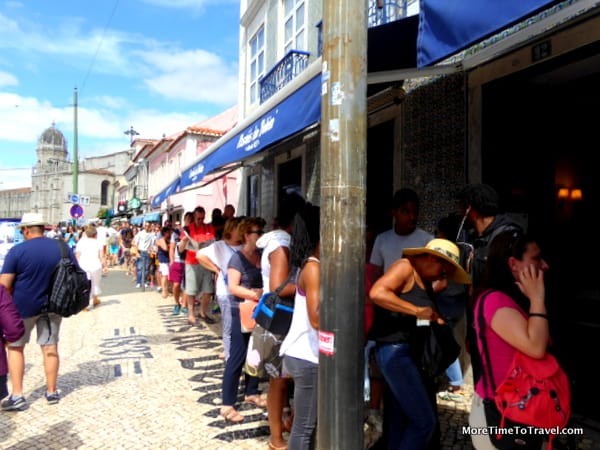 Arriving by foot, tram and taxi, pilgrims wait under the long navy blue awning outside. A guard is positioned inside the door for traffic management rather than security.
Upon entering, customers place takeout orders at an antique counter whose glass shelves are continually replenished with freshly baked tarts and other appealing pastries. Some wait to be seated at tables in one of four beautifully restored dining rooms (seating up to 400 people).
Blue and white tiles (azulejos) cover the walls from when the building housed a sugar refinery and small general store. The bakery had fits and starts over the years but experienced rapid growth after the Portuguese Revolution of 1974 (which accelerated tourism) and Portugal's acceptance into the European Union in 1986.
To meet the seemingly insatiable demand, the bakery (open every day of the year) now produces some 20,000 Pasteis de Belem each day, peaking at up to 30-40,000 tarts daily during the summer tourist season.
Savvy locals arrive just after it opens to beat the crowds. On average, visitors order two or three tarts per person. Legendary is the visitor spotted consuming three dozen at a single sitting. Like potato chips, it's tough to eat only one.
Cutting the dough for Pasteis de Belem – on YouTube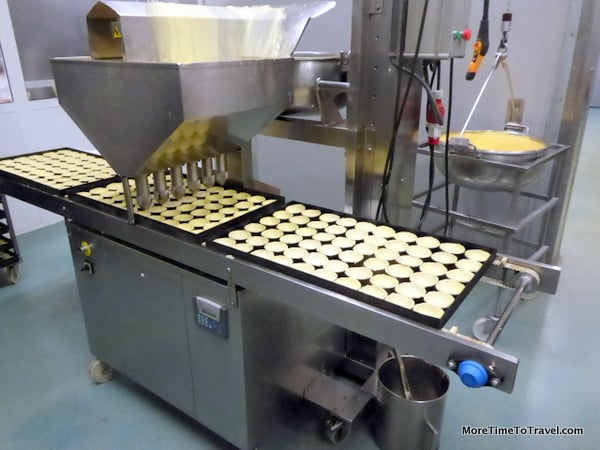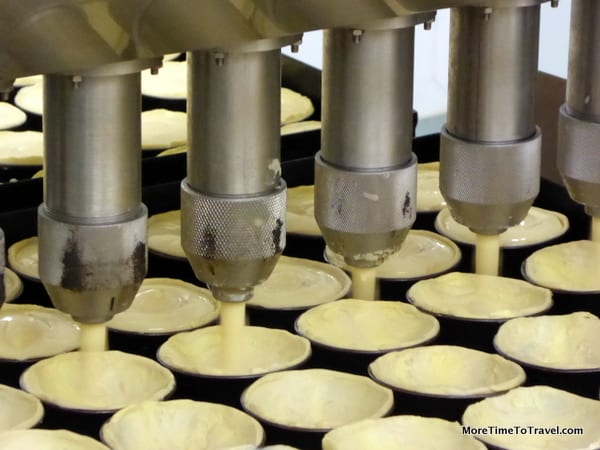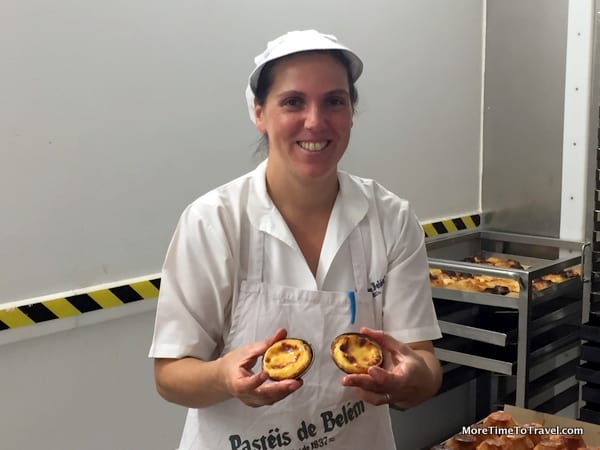 Fresh out of the oven, the tarts are served slightly warm; each table has canisters of powdered sugar and cinnamon to sprinkle on top. Many customers order them with a cup of Portuguese espresso (called Bica), a latte-like coffee drink made with espresso and foamed milk (called Galao) or a glass of Port wine (after all, this is Portugal).
Belem is one of the most interesting areas of Lisbon, both historically and architecturally.
In addition to housing the ornate, neo-Manueline style Jeronimos monastery (from which explorer Vasco da Gama set forth to discover India and where his tomb and that of poet Luis de Camoes reside), the iconic Belem Tower is also nearby. In 1983, the complex embracing these two monuments was declared a UNESCO World Heritage Site. Sampling a Pasteis de Belem one block away from the monastery where the delicacy was created is a perfect trifecta for the half-day tourist.
The same but different
Pasteis de nata (the generic name for these often-imitated but never replicated tarts) are ubiquitous throughout Portugal, where they are eaten throughout the day for breakfast, mid-morning, dessert or a snack. But the recipe for making those branded as Pasteis de Belem has been a closely guarded secret, known only by six people at a time.
"The bakery in Belem has been in our family since the turn of the 20th century," says Miguel Clarinha, a fifth-generation family member who now oversees the operation of the business with his cousin, Penelope.
In addition to both of them, his father Pedro (the principal owner) and three master pastry chefs are privy to the recipe. Each has signed a confidentiality agreement.
The tarts were first produced in a building adjoining the refinery in 1837. Previously, monks at the nearby monastery had found themselves with an abundance of yolks after using egg whites to starch their cassocks. After the monastery was secularized and the monks expelled, a businessman named Domingo Rafael Alves purchased the recipe from a monk and eventually passed it on to an elder in the Clarinha family.
"Many classic pastry recipes originated in Catholic monasteries where nuns and monks used the products available to them," says Chef Joseba Encabo, an associate professor at the Culinary Institute of America (CIA) in Hyde Park, New York.
"Pasteis de nata are small tarts with a crisp, puffed pastry crust filled with a creamy mixture of eggs, sugar, vanilla and milk," explains Chef Encabo. "The custard filling is almost like an upside-down flan but it is denser and less wobbly. The browned patches on top are a result of the baking process," he says.
Pedroso, who also leads culinary and walking tours in Lisbon, acknowledges there are formidable competitors in the city (e.g., pastry shops like Aloma and Manteigaria) but Pasteis de Belém is still considered the gold standard. "The pastry is flaky and the custard is light but not overly sweet," she says. "They're at their best when eaten warm at the café."
Behind the scenes
On my visit to Lisbon, Clarinha invited me behind the scenes to see the tarts being made. The scale of production was mind-boggling.
While technological innovations have speeded up the process (e.g., special filling machines that automatically pour the perfect amount of custard into the pastry shells and efficient 900-degree industrial ovens that simultaneously bake 2700 tarts), but they are still largely handmade. The business employs 150 people, 45 of them baking at a time.
Although trained in marketing and advertising, Clarinha has no desire to take advantage of business offers to distribute the tarts more widely. "The Pasteis are too perishable," he says. "We want to preserve the recipe and choose quality over quantity." He can't imagine them being produced any place but here.
We stop at the door with a sign reading, Oficina do Segredo (The Secret Workshop). "Miguel, is there really a written recipe?" I ask. He assures me there is "but the 'magic' cannot be explained through writing, it has to be learned through practice," he says.
Afterward, I sit down at a table to finally taste what inarguably has to be one of the best custard egg tarts ever.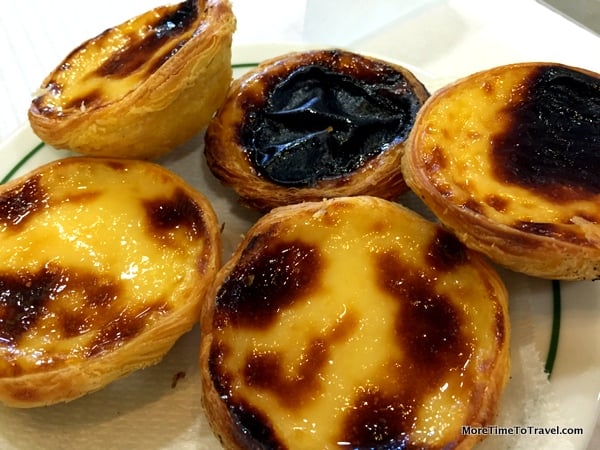 When I returned home, I called Chef Encabo to see if he could shed any light on the mystical experience. "What does this one bakery do differently to attract so many devotees and copycats?" I asked.
"It's the ambiance, the whole experience," he explains. "Much like terroir is to wine, the perfect execution of this deceptively simple recipe depends on more than the type of sugar and eggs used—it's enjoying the food in the context of the people, language and culture where it was born."
---
IF YOU GO
---
[This article by Irene S. Levine appeared in the Sunday Travel Section of the Chicago Tribune on January 17, 2016.]