House of Camus: A Living Museum in Cognac, France
A visit to the House of Camus in Cognac France affords a one-of-a-kind experience.
With its rich history, scenic beauty, and incredible food and wine traditions, it's not surprising that Bordeaux, France is becoming an increasingly popular tourist destination.
On our recent Viking River Cruise through the Bordeaux region, in addition to visiting vineyards and wineries, we took advantage of an optional port excursion to visit the town of Cognac France, the only place in the world allowed to produce the type of brandy that bears the same name as the town. This area is second only to the Cote d'Azur in the number of sunny days each year.
Along with a group of about 30 fellow passengers, we signed up for a Master Blender workshop at the House of Camus, a venerable cognac producer. The company has been in operation for five generations since 1863 and is the only remaining distillery that is family-owned and independently operated.
Upon arriving, our guide Jeanne-Marie told us about the history of the maker and the appellation. The Camus family is the largest landowner in the Cognac Borderies appellation, the smallest of the Grand Crus growing areas. She also explained the process of making cognac, from harvesting to distillation to aging. Then we passed through a series of strikingly attractive museum-like exhibits filling in more details.
From there, we were led to a large barrel room with a long table set up on both sides for learning, tasting and blending our own bottle to take home. Measuring cylinders, mixing flasks, funnels and glasses were placed at each setting along with notepads to record our experiences. Our master-blending workshop was led by a very entertaining Master Blender, Frederic Dezauzier, who is also a global ambassador for the brand.
Differences between cognac and other brandies
There are notable differences between cognac and other brandies:
Brandies can come from any part of the world but cognac can only be produced in a specific appellation in Cognac.
Also, brandy can be made from any type and color of grapes; cognac is only made from three types of white grapes.
Distillation is different, too: Brandy can be distilled in different ways; cognac must be distilled twice in a copper pot still.
Finally, brandy is aged for at least six months; cognac is aged for at least two years in an oak cask where it achieves its golden color.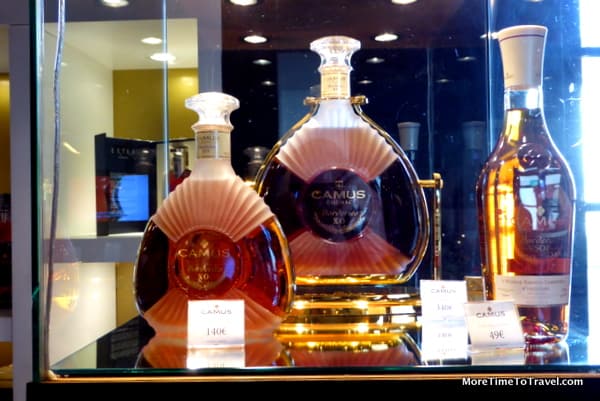 There are three grades of cognac:
V.S. (very special), which has been stored for at least two years in an oak cask;
V.S.O.P. (very superior old pale), which has been stored for at least four years; and
XO (extra old), which has been stored at least six years. All of them are blends, whose designation is determined by the age of the youngest cognac.
Blending cognac
A cognac blend, DeZauzier explained, is like a fingerprint. He introduced us to four types of cognac ranging in age from 6-38 years and led us through a tasting that described some of the characteristic tastes, aromas and food pairings. By then, a few members of our group were very happy. Then he left all of us to our own devices to mix a unique blend of cognac that would appeal to our own noses and palates.
With little difficulty, my husband found a "perfect blend" that he hopes to sip after dinner (neat). I've never enjoyed cognac and this experience, while fascinating and informative, wasn't long enough for me to develop an "acquired taste" for this luxury libation.
We carefully personalized the labels on our 50 cl. XO bottles and recorded the blend in the Camus ledger in case we wanted to re-order it. Each bottle was carefully sealed by an employee in the retail store and packaged in a wooden case to survive the trip home.
We were instructed to let the blend sit for at least two months before tasting it. In the meantime, I'm searching for cocktail recipes that will make the taste of mine more enjoyable.
---
A take-home cocktail recipe for cognac lovers from the Camus Workshop: Le Parisien
Ingredients:
1.5 oz Camus VS Elegance Cognac
¾ oz Elderflower liqueur
½ oz Passion fruit juice
½ oz Lemon juice
Dash of simple syrup
Directions:
Shake ingredients together and pour over crushed ice. Garnish with lemon peel.
---
About the Camus Master Blender Workshop on YouTube
---
IF YOU GO
21, rue de Cagouillet, Cognac France
Information on 2016 Viking River Cruises in Bordeaux
---
Disclosure: Our Bordeaux cruise, which included the excursion to Cognac France, was hosted by Viking River Cruises but any opinions expressed in this post are our own.
---
Also on MoreTimeToTravel.com: Only on Sundays: Marche des Quai
On Afar: France's overlooked region for fancy booze and relaxation