Guest contributor Laura Kelly writes about her visit to the Ojai Valley Inn & Spa, a dreamy destination along many dimensions.
Southern California's Ojai Valley was recently described in The New York Times as a bohemian idyll, noting the valley's vaunted healing vortex (first celebrated by ancient Native Americans) and the recent influx of hippie-chic millennials into the valley's towns.
So I wasn't sure what to expect when my husband was asked to speak at a conference at the Ojai Valley Inn & Spa, with me tagging along. Would the resort hand out hemp robes for us all to wear and only serve organic foods? Would my chakras be transformed by the vortex?
No doubt these things are happening somewhere in Ojai but not at this swanky, Spanish-flavored 5-star golf resort and spa, located 90 minutes northeast of Los Angeles. This picture-perfect deluxe mountain getaway dates back to the 1920s when it became well known for its world-class golf course, enjoyed by many old-time and modern Hollywood stars such as Bob Hope, Bing Crosby, Kevin Costner, and Michael Douglas, who holds a celebrity golf tournament there every year.
Now with 303 hotel rooms and suites set on 200 rolling green acres, the award-winning resort ("Inn" seems an inadequate term for this property) has continued to up its game over the past 94 years, with continuous enhancements of its already stellar offerings—most recently its resituated Olympic-size Indigo Pool (one of four pools on the property); its expanded multilevel, full-service spa and fitness center; and refreshed landscaping and walkways. According to the resort's press page, it's paying off in accolades from every travel publication out there.
This slideshow requires JavaScript.
Making the most of a perfect Mediterranean climate
Color was my first impression of the sun-drenched resort: blinding blues (sky), greens (golf course), and whites and reds (the colonial Spanish architecture). The dry mountain air renders everything crystal clear and it seemed like I could reach out and touch the rugged Topatopa mountain bluffs of the Los Padres National Forest surrounding the property.
The resort has striking Mediterranean landscaping throughout, with a beauteous mix of citrus, desert, and herbal plants and trees I hadn't seen before. I wasn't the only one breathing in the delectable fragrances of sage, lavender, and sweet orange—there were hummingbirds and butterflies everywhere.
This slideshow requires JavaScript.
Ojai Valley Inn & Spa is a stroller's delight, with picturesque Spanish/Moorish courtyards, statuary and vignettes around every curve.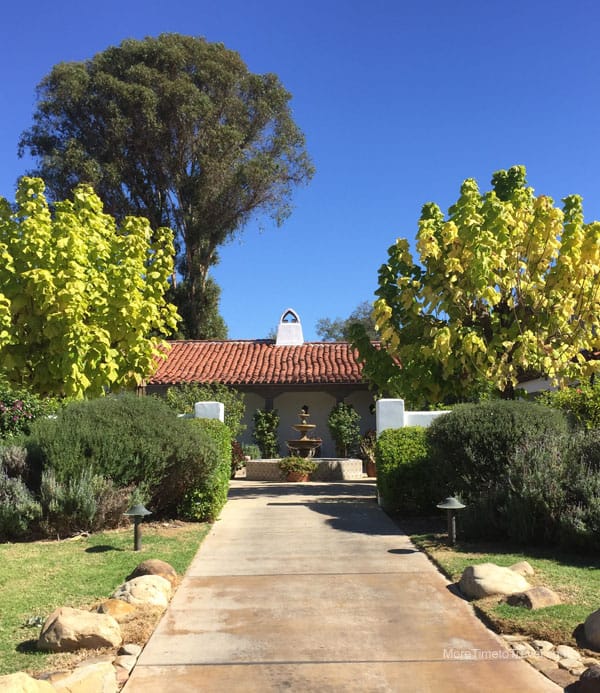 The resort also offers guided canyon group hikes, but in case walking isn't your thing, there are numerous white jitneys and club cars constantly shuttling through its winding paths to pick you up and put you down wherever you want to go.
Brand-new mountain bikes are also on hand for riding into the nearby low-key "hippie" towns of Ojai or Meiners Oaks, or along other winding paths. If you want something more structured, the well-equipped fitness center has a daily array of mind & body classes, or you could hit balls at the resort's gleaming tennis center.
Some people may be tempted never to leave their room!
My husband and I shared a large king room in the golf-side Villa Los Padres, with an adobe-style gas fireplace, private patio/balcony overlooking a fountain courtyard, and a huge bathroom with double sinks (yay).
This slideshow requires JavaScript.
The feathery pillows and bed with its luxurious 300-count Egyptian cotton bedding was perfection and almost impossible to leave in the morning. Luckily the resort offers an extensive and delicious room-service menu for dining in, if that strikes your fancy.
This slideshow requires JavaScript.
If you'd rather dine out, the culinary offerings at Ojai Valley Inn range from several casual (and healthy) pool cafés and juice bars to Libbey's Market (ready-to-go sandwiches and picnic fixings) and cocktail-proud Jimmy's Pub, all the way up to the expansive al fresco The Oak restaurant (situated near a lantern-trimmed monumental oak tree) and the fine Italian restaurant Olivella and Vine. According to the 8-page 2016 Autumn in Ojai hotel brochure, the above eateries often feature special-event dining, such as wine dinners, live music, and outdoor activities on weekends.
What's outside the resort's boundaries?
On our second day, curious about the surrounding area, we researched a good local restaurant, and drove about ten minutes to The Farmer and the Cook, a noted Mexican-flavored organic eatery and produce market. The offerings at this quirky rustic place were unusual (I had a swiss-chard enchilada with pumpkin seed sauce, my husband had the goat cheese and veggie tacos), but as promised, they were delicious, and since they were vegetarian, we felt very virtuous after our meal—or maybe we were just feeling the Ojai vortex.
We next headed to another Ojai landmark, Bart's Books "The World's Greatest Outdoor Bookstore," indeed one of the most unusual and wonderful used bookstores I've come across. Beautifully curated and rambling, this comfy fresh-air bookstore was a place you could see yourself visiting every day to curl up with a new discovery. After immediately finding three great used books I just had to buy, I had to stop myself since my bags were already too full for the plane ride home the next day.
I'm not a golfer, so let me talk about the spa
When I got back to the property, it was time for my spa appointment. But first I'd be remiss not to mention the resort's Artist Cottage next door to the spa, which hosts art and apothecary classes. When I walked by this cute cottage, a group of women were setting out their paintings in the sun to dry. "Did you use salt on that one?" exclaimed one. "It really works!" I couldn't get a close-up look at the class results, but the painting party sounded fun. Apothecary classes consist of activities like aroma custom blending and creating body blends.
This slideshow requires JavaScript.
I walked on to the full-service spa—a brand-new multi-level "no phones" refuge with its own pool and private cabanas—where I had earlier made an appointment for their classic pedicure ($90).
This slideshow requires JavaScript.
I figured since it was October it was probably the last time my feet would see the light of day, so why not give them one last treat?
It was an hour-long trip to heaven, complete with soothing herbal eye mask, whispery new age music, warm towels, wafting herbal fragrances, and a bracing salt scrub massage from my knees down.
Afterwards, as I eyed my perfectly manicured toes, I asked myself the question a lot of people must ask after visiting this spa: Why don't I do this more often??
Everyone I met in the spa was lovely, full of the smiles I'd seen from all the employees throughout the resort—from the club car drivers and the proud room service steward to the assiduous gardeners and buff fitness instructors. They all were constantly extolling the beauty of their workplace to all of us guests, and no wonder why!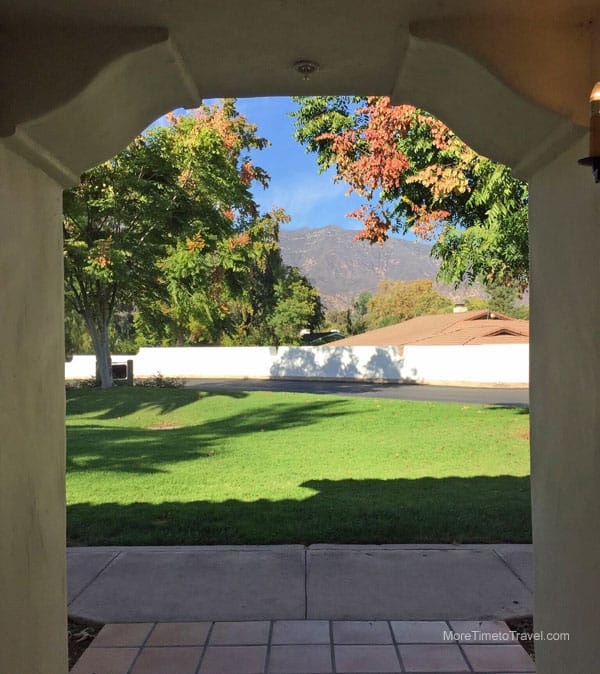 Bottom line
This is a deluxe treat with multiple aspects to it—dreamy new age spa, ambitious culinary showcase, golf and tennis mecca, corporate meeting destination, and family friendly, with Camp Ojai hosting numerous activities for kids (Note: These are happening far away from the adult-only pools, restaurants, and spa). The Inn has the virtue of feeling isolated and a world away from your daily life, but with enough going on that you could spend a week just hanging around this glorious property and not run out of things to do.
*All photographs taken by Laura Kelly unless otherwise noted.
---
IF YOU GO
Ojai Valley Inn & Spa, Ojai, California
Hotel website: https://www.ojairesort.com/
---
Tips for Guests:
Ojai Valley Inn & Resort is a ~90-minute drive northeast of downtown Los Angeles, and a 60-minute drive from Santa Barbara airport. Transportation can be arranged.
If you feel like some California surf time, it's only a 14-mile drive to coastal Ventura (a nice paved bike path can get you there, too).
Note that the resort's two parking areas are not next to most of the rooms, so you will probably need a valet club car to help with your luggage.
---
In The New York Times: