An interview with Sarah Wildman, author of Paper Love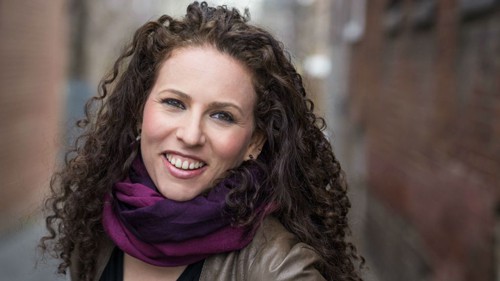 Journalist Sarah Wildman's new non-fiction book, Paper Love: Searching for the Girl My Grandfather Left Behind (Riverhead Books, 2014), is part love story, part historical analysis, and part travelogue. The sum of these skillfully interwoven parts is an extraordinary book that tells a compelling story. I just finished reading Paper Love on Kindle and loved it.
I first met Sarah Wildman several years ago at a writer's conference in Quebec and became an instant admirer. Sarah has reported across Europe and the Middle East for The New York Times, Slate, and The New Yorker, among other publications, and is a former staffer at the New Republic. She is the recipient of the Peter R. Weitz Prize from the German Marshall Fund of the United States, "for excellence and originality in reporting on Europe and the transatlantic relationship," for the series in Slate where Paper Love originated. She currently lives with her family in Washington, D.C.
Based on copious research and extensive travel on both sides of the Atlantic, Sarah's memoir will be an unforgettable read for anyone seeking to better understand the Holocaust and its ramifications for Jews and non-Jews. I recently interviewed Sarah for Kveller.com; the first part of the interview is reprinted below with permission from the publication.
How would you characterize your relationship with your grandfather as a child?
My grandfather was larger than life, the patriarch in every way we think of that word. He was incredibly warm, incredibly charismatic, and he made everyone feel that he or she was the only person in the room. He used to kiss my hand, like a Viennese gentleman. I was in awe of him, a bit.
How did you happen to find out about his paramour, Valy, and what drew you to learn more about her?
I first discovered that my grandfather had a lover in Vienna before he fled to the States when I was in my early 20s (my grandfather was no longer alive at that point). In my grandparents' house, I came across a photo album filled with marvelous antique photos. Among them were dozens upon dozens of pictures of one girl. And in the back of the album, there was a folded note of the type we all passed around in our pre-text era. In each quadrant of that note was the same girl's picture. I asked my grandmother who she was and she said that was Valerie—Valy Scheftel—my grandfather's "true love."
I called his sister Cilli, who was still alive at that time, and she said Valy was brilliant, a doctor like my grandfather. They had studied together at the University of Vienna medical school. Cilli, that week, wrote me a letter urging me to write their story—that there was a love story there, waiting to be told. It took me over a decade to realize she was right.
In conducting research for the book, where did your travels take you?
I'm glad you asked that question because the book very much became a journey through all the places Valy lived, a journey to look at what the French call lieux de memoire—places of memory—as I wanted to see all the places she had walked, and retrace her steps, so that I could give this love affair geography (they were so in love with their city, Vienna!).
Also, I wanted to see what remained of them in each place, if anything at all. So often the cities just went on, as cities do, and I wanted to see that as well, the way that a city is almost like an archaeological dig, layers upon layers of living. So to that end I spent months in Vienna and Berlin, and traveled as well to far West Germany (Bad Arolsen), through the Czech Republic, London, and Israel—as well as zigging and zagging around the United States…
To read the rest of my interview with Sarah, go to Kveller.com