Delta One Review: Business Class Between NYC and Nice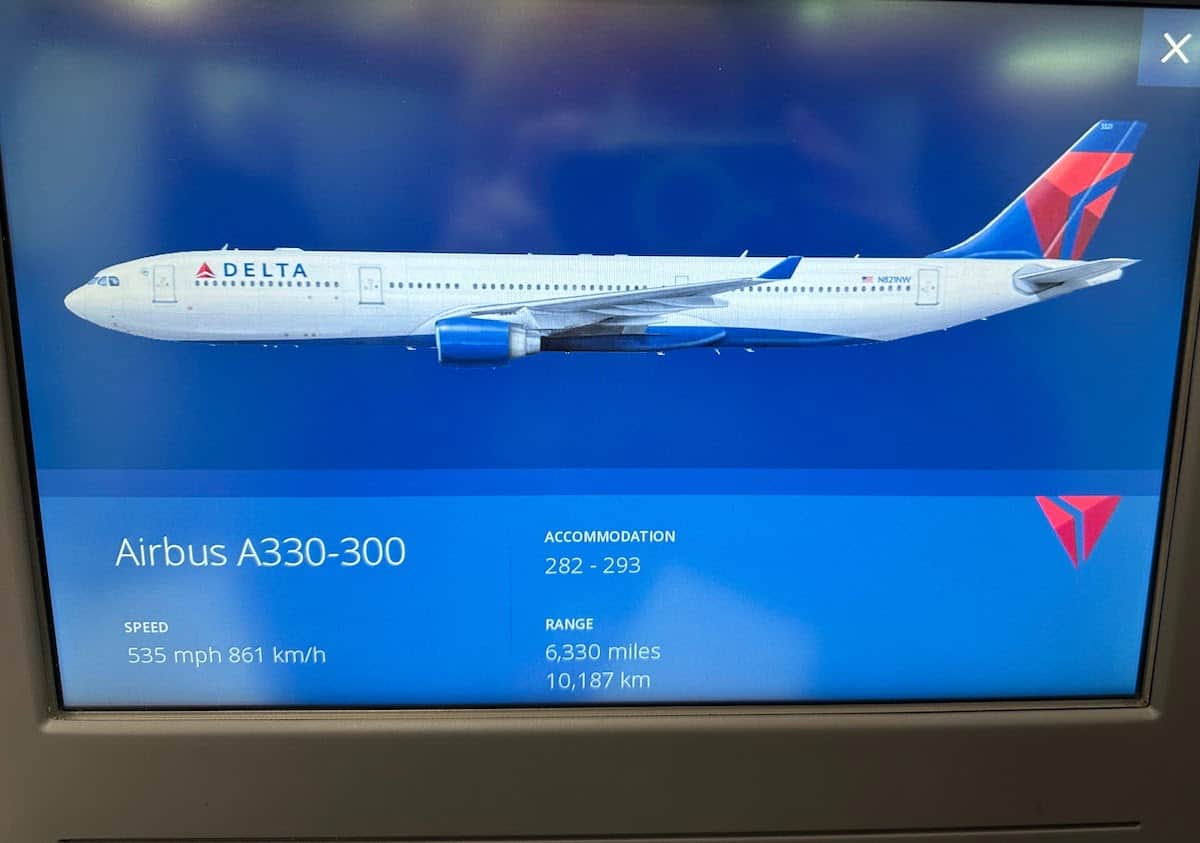 This is our Delta One review based on our recent trip to the Italian Riviera with a stay in Nice. Our roundtrip flight departed from JFK and returned from Nice to New York.
For those traveling to the south of France or the Italian Riviera (the province of Liguria), this nonstop flight is convenient although it only operates in season.
Delta is currently the only airline operating nonstop on that route. (The Nice International Airport, Aéroport de Nice, is the third busiest airport in France, only surpassed by the two airports in Paris.)
Flying Business Class is costly, but given the length of the flight (about nine hours) and the chance to sleep in a lie-flat seat, we decided to bite the bullet.
A number of Delta One perks were included such as lounge access, priority boarding, seat selection, and the option of checking two bags per passenger at no additional charge.
Since we are still COVID-avoidant, we hoped that flying Business Class would reduce the risks of contracting COVID-19 or other respiratory viruses relative to seats in Economy.
Here are some of the pros and cons we experienced flying Delta One between NYC and Nice:
Lounge Access
Delta Sky Lounge in New York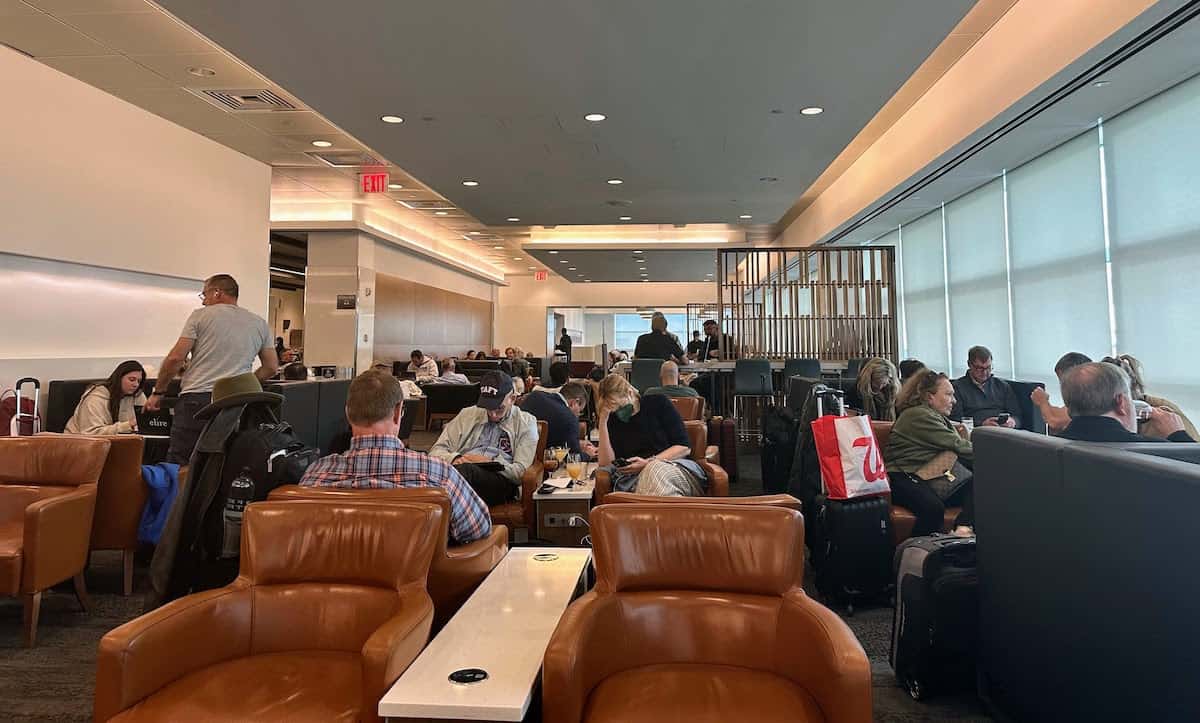 In New York, the Delta Sky Lounge was filled beyond capacity and had lines outside the door. Although the Delta One line was somewhat shorter than that for other lounge passengers, we still had to wait 10 minutes to enter.
The scale of the lounge and the crowds were unlike any experience we had in Business Class lounges in the past. It was challenging to find seats and only a pour of Champagne upon entry distinguished it from the Economy Class experience in the same lounge.
The setting had no touches of elegance. Unappealing hot dishes were available to everyone from a cafeteria-style counter. The only creativity on the menu was the cart with Nathan's hot dogs and soft pretzels.
One bright note: The staff was absolutely fastidious about cleaning up dirty plates and glasses.
Verity Lounge in Nice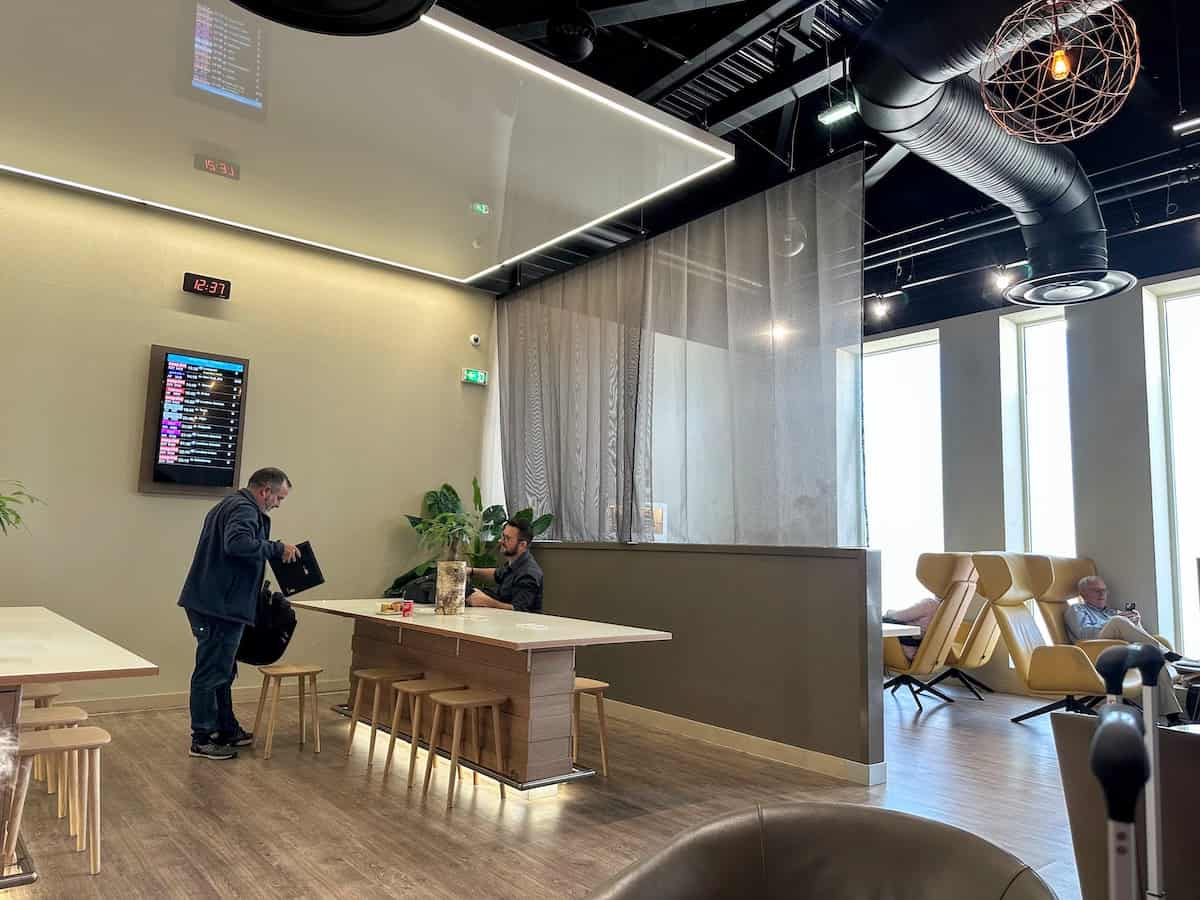 Delta One passengers are eligible to use the Verity VIP Lounge (along with a host of other airlines and those with Priority Pass).
Despite its modest size, the lounge was far less crowded than the one at JFK, and seating was more plentiful.
The lounge offered the makings for salad and warm snacks like slices of focaccia, slices of French bread, and fresh fruit. It also afforded access to a refrigerator with yogurt and other cold snacks and a serve-yourself bar with alcohol and soft drinks.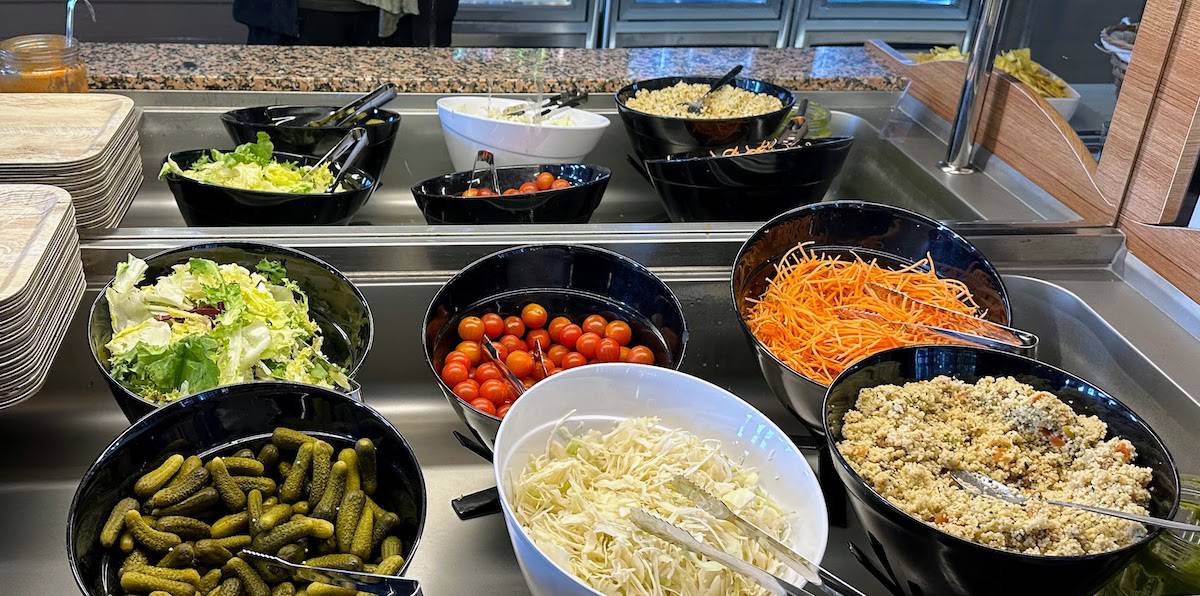 Given that most offerings were unprotected from the people breathing over them, we opted for a couple of sealed packages of French cookies (Madeleines, Palmiers, and coconut cookies) which were excellent.
Both lounges had adequate lavatory facilities.
Priority boarding
Boarding at Gate 32 at JFK was an absolute nightmare.
Reminiscent of a grade school teacher, a counter clerk yelled at passengers, telling them to get in line or she wouldn't begin boarding. The chaos and disorganization were the same whether you were a Delta One passenger or had booked any other ticket class.
There were no stanchions or marked lines on the floor, and when boarding began, everyone rushed to get on the plane.
Both check-in and boarding in Nice were far more orderly with separate lines for Delta One passengers at security, immigration, and for boarding.
"Living Room" (as it's called in the trade)
The cabin configuration of the rows in the Business Class cabin of our Airbus A330-300 was 1-2-1. Although the plane had been renovated and reconfigured, we estimate that our plane was about 18 years old and it wasn't pristine.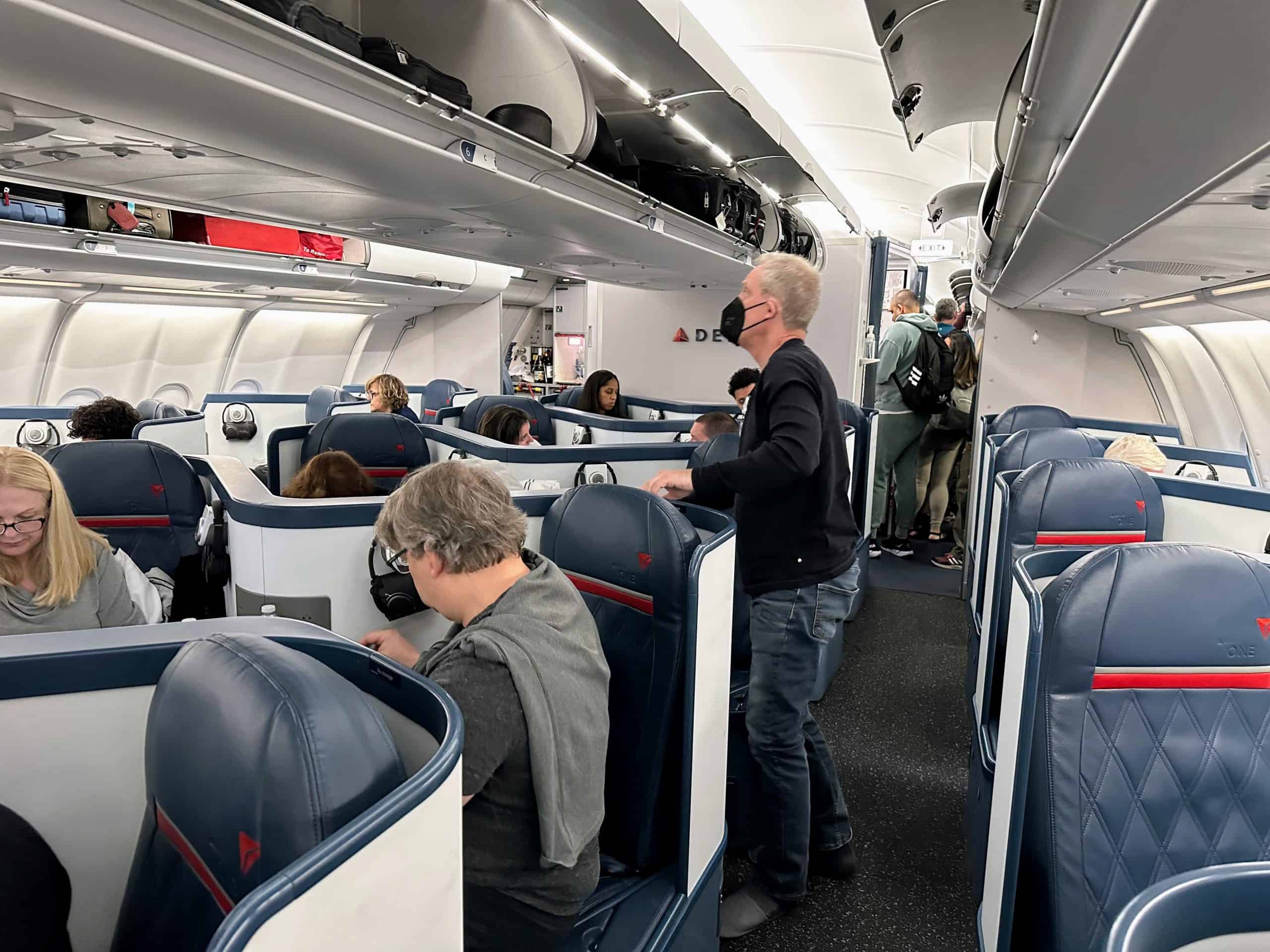 Direct Aisle Access
Every seat has direct aisle access without having to disturb or climb over another passenger or have someone climb over them and wake them when they catch some Zs.
This type of seating was once exclusively available to First Class passengers but is increasingly more common in business class.
The window seats are definitely more private and pod-like. My husband described the long narrow seats as "coffin-like" when reclined.
Although there is a low divider between the middle seats and they are angled so you are foot-to-foot with your seatmate, these seats are definitely less private. If you have a talkative or noisy neighbor, you will definitely see them moving and hear them loud and clear.
If you are traveling alone or with a companion, I would recommend selecting a window seat or two window seats, one behind the other (although it will be hard to talk to each other). But you probably booked Delta One to get some sleep during a long-haul flight!
The seats are surely a step above Premium Economy. You can fully extend your legs, the seats do lie flat, and you are given a pillow and comforter (however, neither of which are wrapped in plastic making you wonder about the cleaning process between passengers.)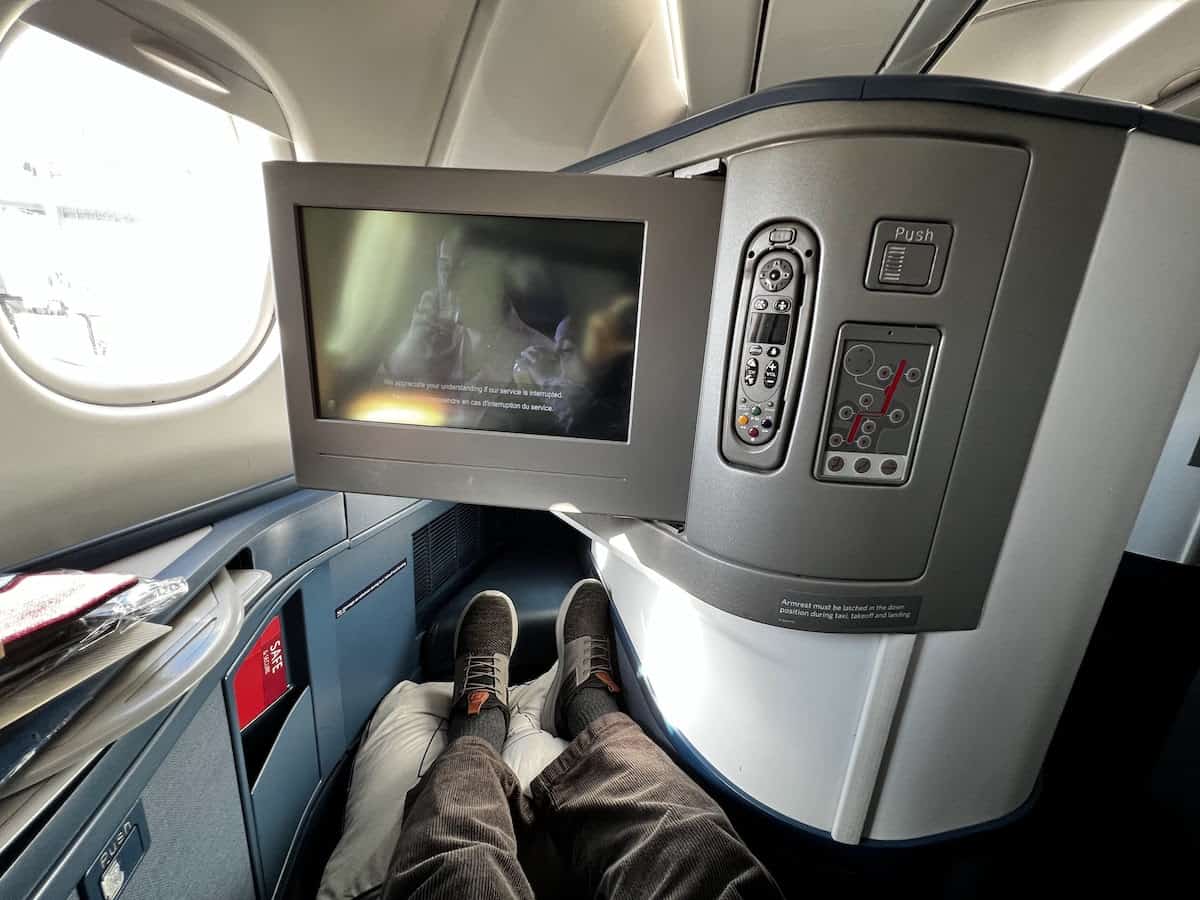 A fully retractable seat arm is another nice feature; it lets you easily get up from your seat. The seats are also easy to operate with a control panel on the passenger's seat back in front of you.
Storage space
Overhead cabins are not only sizable but also plentiful.
Our plane had more than ample room to stow carry-ons, overcoats, and bags. One big drawback, however, of the seating configuration on the plane was that there was almost no room to comfortably stow even a purse or laptop at your seat without stepping on it or getting it caught in the seat mechanism.
Upon entering the cabin, bottled water was already placed at each seat. There was also a convenient reading light (in addition to the overhead one) and USB port.
Each passenger is also given an eco-friendly artisan amenity kit (made of cloth in an envelope style with an elastic closure) containing a face mask, mini-tubes of Grown Alchemist botanical lip balm and hand lotion, and a toothbrush and toothpaste. A pair of slippers was placed at each seat.
Although functional, the amenity kit was fairly simple. Hopefully, it supported both Mexican artisans and the Breast Cancer Research Foundation.
Entertainment
A convenient TV-like screen pops out with the push of a button. But disappointingly, entertainment options are somewhat limited. The airline offers movies, TV series, games for kids, and Spotify Audio but there is no live television, and the movies, even new releases, aren't really new.
The onscreen flight tracker was helpful in allowing us to follow our flight on the plane and see how much longer we would be in the air.
A pair of headphones was convenient hung above each seat.
While Delta is rolling out free Wi-Fi on domestic flights, no Wi-Fi is currently available internationally.
Lavatory check
At the start of the flight, a crew member announces that lavatories are cleaned hourly and disinfected with Lysol. They also ask passengers to alert them if they notice the bathrooms need tidying.
Despite this, the bathrooms were messy with paper and water on the floor during our outbound flight; this wasn't the case going west.
Food and beverages
Clearly, effort has been made to step up the presentation of food and drinks. Meal service starts with warm mixed nuts and a choice of beverage, served in a china cup, atop a linen cloth. Although served on real plates with stainless steel, the food on both flights tasted institutional and was unappetizing.
Before the flight, Delta One customers can reserve one of two "special dishes" on the menu. Although different, the dishes didn't seem special and were of the same quality as those on the menu.
The meal begins with "Starters." For example, on our return flight, this included a small plate of Dill Cured Salmon, Butternut Squash Soup, Arugula, and Endive Salad, and a mini baguette.
Unless you had reserved a "special" meal, there were three lunch options: Braised Beef Short Rib, Roasted Chicken Thigh, and Confit Eggplant with Roasted Vegetables (a vegetarian option).
Desserts were better, especially the choice of an ice cream Sundae with a choice of toppings like cookie crumbs, whipped cream, cherry sauce, or chocolate syrup.
A substantial light snack was also served before landing, and snacks (candy, chips, etc.) were available at the back of the cabin throughout the flight. Then one of the crew walked around with a basket of Valrhona chocolate.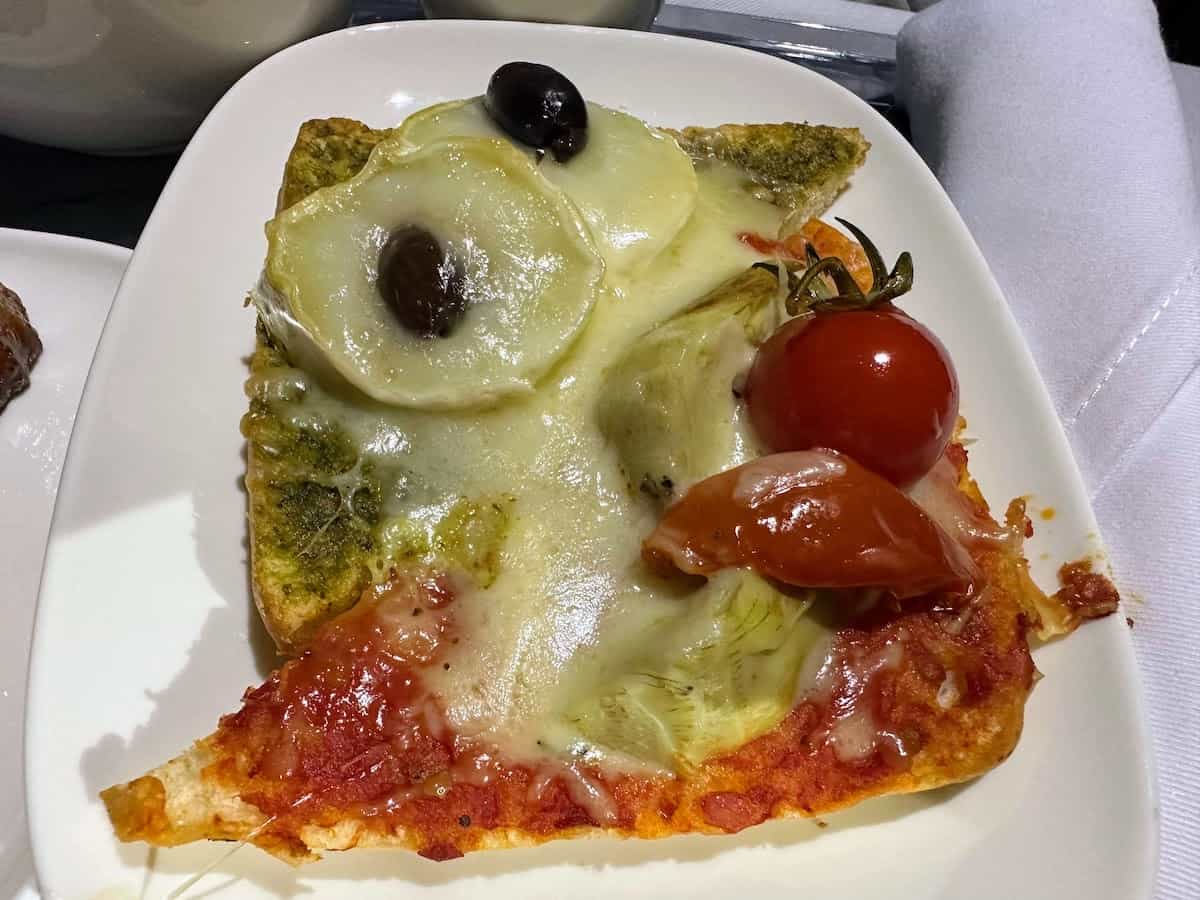 The bar menu included red, white, and rose wines as well as Champagne; hard liquor; and beer—all at no extra charge.
COVID safety
Delta, like other major U.S. airlines, has no mask requirement, either for passengers or crew. One flight attendant was wearing a mask and very few passengers were masked.
According to the airline, cleaning crews "perform extensive manual cleaning procedures to wipe down cabin surfaces including seats, consoles, seatback screens, windows, doors, lavatories and other high-touch areas of the cabin."
Read more about Delta cleaning procedures.
So is Delta One between NYC and Nice worth the cost?
If you can afford it, Delta One is definitely a big step above going "Cattle Class" in Economy. You can stretch your legs, sleep, and minimize the risk of DVTs and contracting COVID (especially if you mask up), almost a necessity for older and immunocompromised travelers.
(Read about the value of one-way masking, when no one else is doing the same.)
The crew was friendly and accommodating but juggled responsibilities for some three dozen passengers. All in all, the flights were on time without unruly passengers.
Overall, the non-stop route between NYC and Nice is a winner, but if you have the idea of an elite Business Class experience, we found that Delta One missed the mark.
---
All photo credits: Jerome Levine
---
Save to Pinterest!!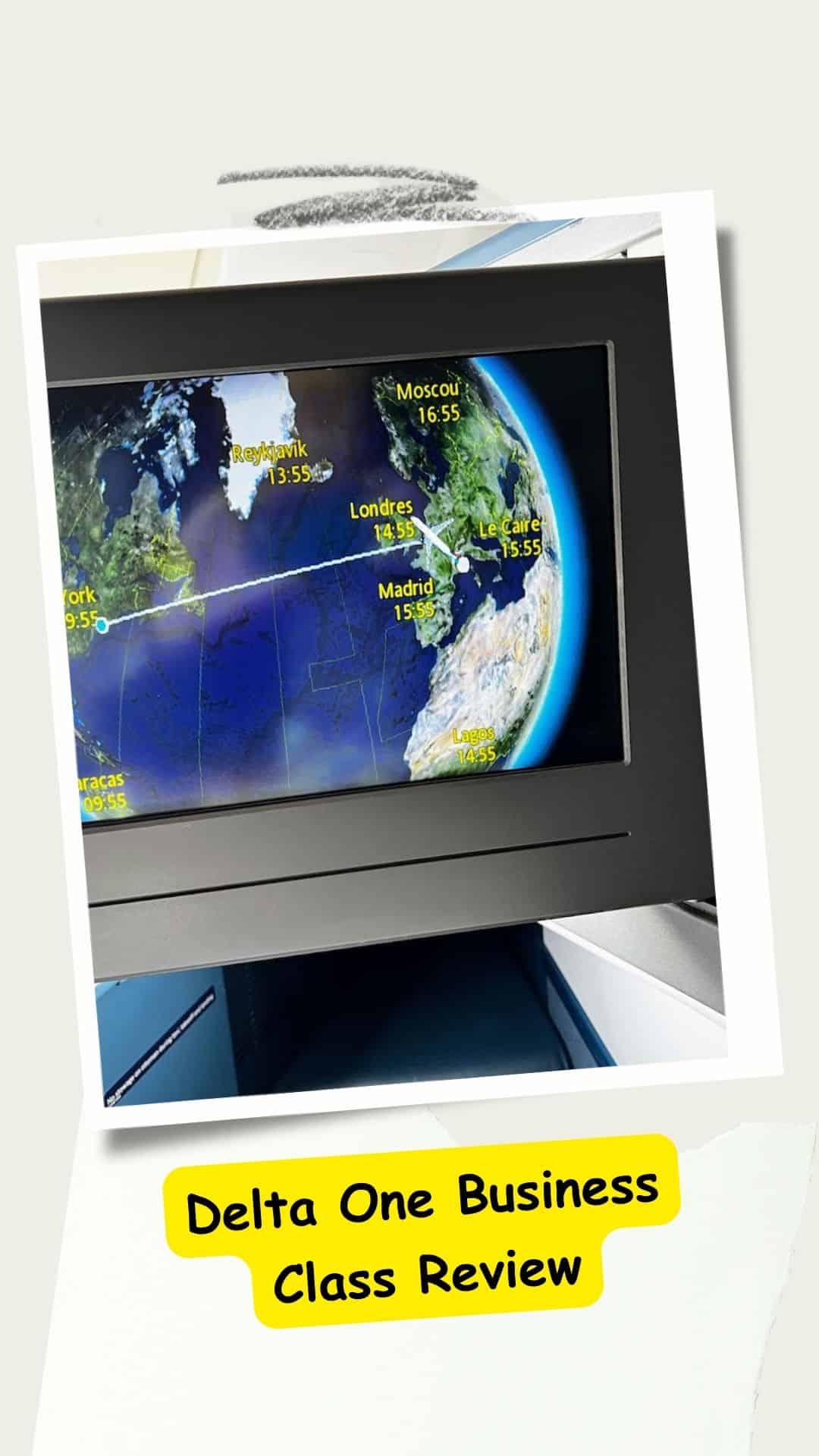 ---