Spare me the towel animals: What makes a good cabin steward?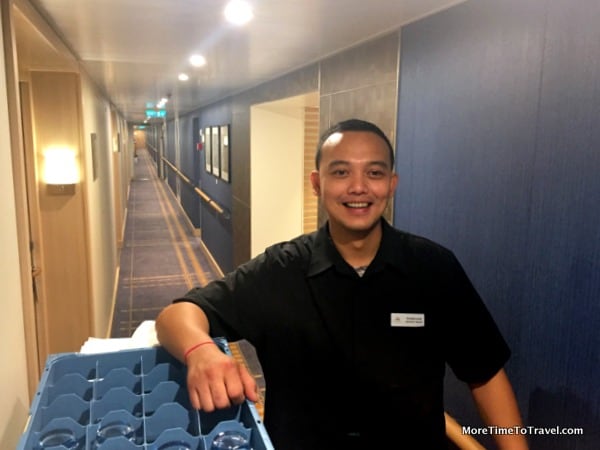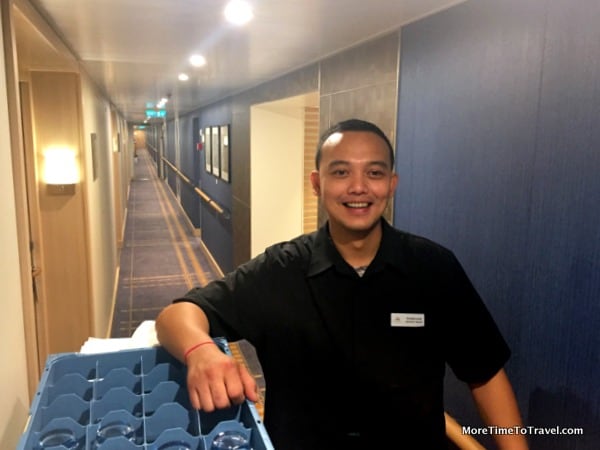 The cabin steward plays a key role in the life of any cruiser. It's likely that, at minimum, this person will be making your bed, tidying up your cabin, and changing your bath linens once or twice a day.
When you're on a cruise, it's easy to forget that cabin stewards are juggling responsibilities for the upkeep of some 20 or so cabins at once. Moreover, on the day of your arrival and disembarkation they are responsible for doing a major refresh of those cabins for the next set of arriving passengers.
In large part, we have been pleased with our cabin stewards but every once in a while someone's performance falls short of our expectations (and probably their employer's).
On our recent cruise on the Viking Star, we thought our cabin steward was top-notch. In fact, he made us consider some of the attributes that make for a great cabin steward (also called a stateroom steward on a ship) . Here are five of them:
1) A steward who is friendly
You're likely to bump into the cabin steward several times during the voyage, so it's nice if that individual knocks on the door and greets you at the beginning of the cruise. By doing so, it establishes a personal connection. (In the rare cases when this doesn't happen spontaneously, we take the initiative.)
2) A steward who doesn't abuse the knocking privilege
Your cabin is your home away from home where you expect quiet and privacy most of the time. On one cruise we had taken in the past, an over-eager cabin steward seemed to always be knocking on the door at awkward times (e.g. when we were getting ready for dinner or changing clothes between two shore excursions). A great cabin attendant understands the rhythm of the ship, respects the privacy sign on the door, and tries to clean the room when you're onshore, at the spa, or dining onboard. Some stewards are so stealthy that you never even see them or wonder if they have eyes behind their heads.
3) A steward who checks the tissue box
There are few things more annoying that sneezing and discovering you've used the last peach-colored tissue that signals the end of the box. (Well, I guess running out of toilet paper may rank higher.) A good cabin steward checks on the cabin amenities, especially in the bathroom, and makes sure things are replenished when necessary. Are there clean glasses available to take a pill? Have the grapes in the complementary fruit bowl turned into wine?
On our recent cruise on the Viking Star, an engineer knocked on the door saying he had come to repair the toilet. Although we hadn't called him or even noticed a problem, our cabin attendant had alerted him that the toilet wasn't working properly. The same cabin steward noticed we had used two of the three Q-tips from the tiny bathroom amenity box on the bathroom shelf. The next time he tidied up, he left an additional box.
4) A steward who brings extra hangers
Sometimes passengers have special requests that make their stay more comfortable. It's nice if a steward checks in with guests, especially at the beginning of the journey, to see if they need anything that isn't in the room or that may not be there in sufficient numbers (like extra towels or hangers.)
5) A steward who follows the program
It's probably safe to assume that like chambermaids in hotels, stewards have a checklist to remind them of what they need to do in each cabin. For example, if there were two washcloths in the cabin yesterday, the passenger has every reason to expect that they will be there today. Ditto for the number of towels.
The bottom line
Relationships are always a two-way street, a compact between two parties. Here are a few ways passengers can do their part to make things go smoothly for themselves and their cabin stewards:
Use the paper door hanger or electronic sign religiously to signal when you want housekeeping and when you don't want to be disturbed.
Yes, you're on vacation but make an effort to keep the cabin tidy. Most ships seem to have a place for everything. Instead of placing wet swimwear sprawled out over the bed, hang it on the clothesline in the shower.
Don't abuse the checkout hour. Remember that your cabin steward has a short turnaround time to get it shipshape for the next passenger.
At the end of your stay, unless gratuities are included, leave a tip to show appreciation for someone who probably works much harder than you do at far lower wages. Even if gratuities are prepaid, it's always nice to acknowledge particular crew who helped make your voyage a special one.
Now don't get me wrong. Towel animals, whether on a cruise ship or at a resort, are likely to bring a smile to my face. But they are the "fluff" compared to the basics.
---
OUR PHOTO GALLERY OF ANIMAL TOWELS WE'VE MET ON OUR TRAVELS
[nggallery id=64 template=caption]