Secrets The Vine: All-adult, all-inclusive, all-luxury fun in Cancun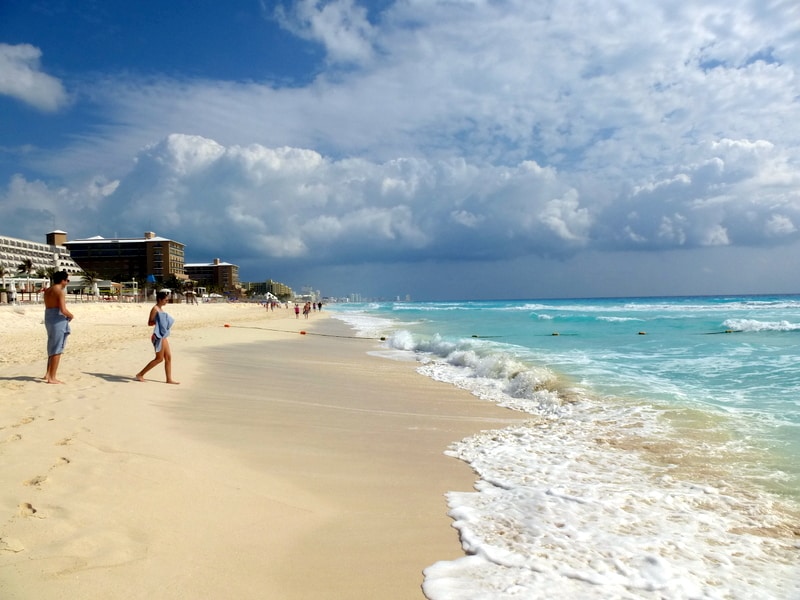 A stay at Secrets The Vine Cancun feels akin to being on board a luxury cruise ship.
As soon as you step foot inside the lobby of Secrets The Vine Cancun, you notice its design defies the stereotypes associated with most upscale resorts. The reception desk is discreetly set off to the side; you only know it is there because someone tells you. You enter a contemporary space with polished marble walls, soaring ceilings, inviting banquette seating, and a cozy fireplace and library at its center.
Your eyes will undoubtedly be distracted by the floor to ceiling glass at the rear of the lobby— with dramatic views of infinity pools, the white sandy beach, and sparkling aquamarine waters of the Caribbean. Surrounded by water, here and in your room, you can't help but wonder whether your stay will be more akin to being on a cruise than a land-based vacation.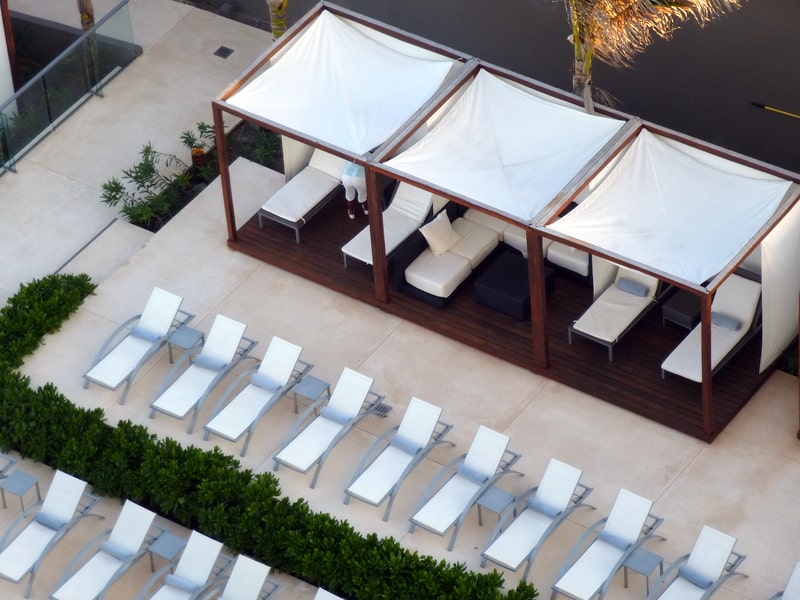 New kid on the block
This sparkling new, adult-only, all-inclusive resort opened its doors less than a year ago, in August 2012. Tucked into a chorus line of resorts on Cancun's Hotel Zone (with Sandos and Hard Rock as its neighbors), the location is about fifteen minutes from the airport and convenient to downtown. However, once settled in their rooms, many guests decide there are few reasons to leave the property.
Designed by The Rockwell Group (the same architectural group that designed W Paris-Opera, the Cosmopolitan Las Vegas, Canyon Ranch, and the new Jet Blue Terminal at JFK), the hotel has 495 spacious rooms spread over 18 floors, all with balconies or patios overlooking the Caribbean Sea and a vast inland lagoon, called Laguna Nichupte.
The guest room décor is minimalist and sophisticated, with neutral colors and rich teak and walnut woods. The twin bathroom sinks are set at different sides of the room so couples or friends don't get in each other's way. There is a separate lavatory with a privacy door, and a rain shower that is glass-enclosed on three sides.
With ample closet, surface, draw and floor space, guests can comfortably unpack and make themselves at home. The king bed, draped with an aqua coverlet and throw pillows, is so sensuous and comfortable that guests often inquire whether it is available for purchase.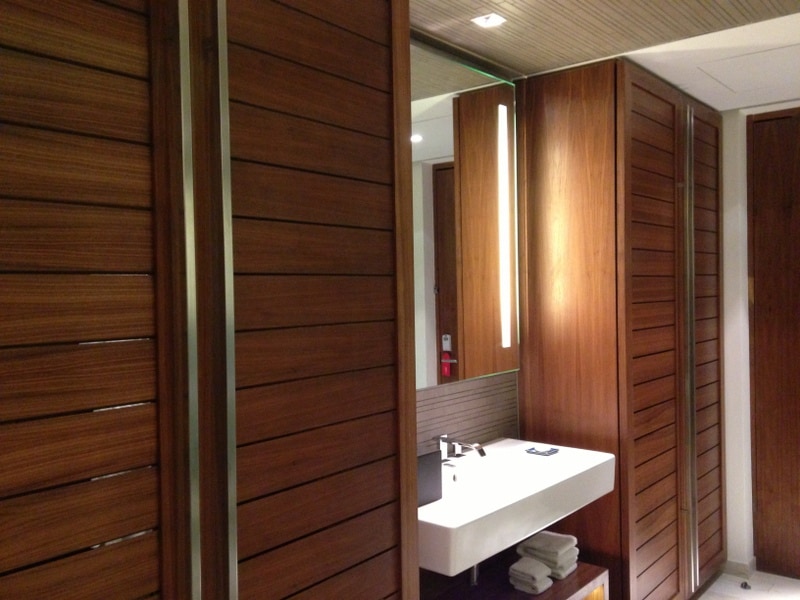 More than wine
In case you hadn't guessed, Secrets The Vine is so-named because the resort is wine-themed. Yes, there are wine-tastings, wine pairings, a wine cellar impressively stocked with 4500 bottles, and more.
Wine plays a supporting role, too, in enhancing the flavors of the resort's extensive culinary offerings. Much like the specialty restaurants popular on cruise ships, guests can choose from eight dining options, with open seating that allows them to dine when they wish. This means that they don't have to rush to get ready for a dinner reservation at a fixed time if they are in the midst of reading a book by the pool or would prefer to take an early evening swim in the Caribbean.
The restaurants and cafes include indoor and outdoor venues, featuring Peruvian, Mediterranean, Italian, Asian Fusion cuisines, as well as grilled prime steaks and seafood and a sports bar that serves pub food. No matter where a guest chooses to dine, wine by the glass is available at no extra charge.
Reminiscent of the cruise ship buffet kicked up a notch, the casual Market Café located on the Lobby level is open for breakfast, lunch and dinner. It offers an extraordinary (and remarkably high-quality) international buffet as well as made-to-order gourmet Mexican and grilled specialties (including steaks and fish). Solicitous servers bring beverages to the table.
The European-style Vine Café is open throughout the day for specialty coffees and decadent desserts. There is also 24-hour room service and a complimentary, fully stocked minibar in each room, replenished with soft drinks, water, juices, and beer daily. There are no less than seven bars and lounges, inside and near the pools, where cocktails, frozen drinks, and beers are available at no charge.
Truly inclusive
One of the nicest things about a stay at Secrets The Vine is that guests pretty much know what their vacations will cost them from the time they book their rooms and airfare. They can place their wallets in their in-room
safe until checkout. AMResorts (which operates 31 different resorts) uses the term "Unlimited Luxury®" to describe the package offered at Secrets.
While nearly two out of three hotel properties in Cancun call themselves "all-inclusive," not all can boast of the amenities and extras offered at Secrets The Vine, such as unlimited meals, snacks, and beverages (including bottled water); concierge and butler service; twice-daily housekeeping; 24-hour room service; free Wi-Fi and international phone calls; use of the fitness center; entertainments; and taxes and gratuities, and more. Similar to the pricing on many all-inclusive luxury ships, guests only need to pay upcharges when they receive services at the full-service spa (also wine-themed), at special wine-tastings, or when booking off-site trips, which can be arranged in-house at the tour desk.
A playground for adults
Every non-cruiser always asks the same question of veteran cruisers: "Don't you get bored on sea days?"
Au contraire. Anyone who has been on a cruise tends to be overwhelmed with all the options available to them, which are outlined in a daily bulletin left outside their cabin door each evening.
Similarly, at Secrets The Vine, the Sundial is the daily newsletter delivered to each room. It describes an exhaustive (and, perhaps, exhausting, depending on what you are used to) list of activities and entertainment offerings. On a typical day, singles and couples choose from yoga instruction on a grassy area beside the pool; bocce ball or beach volleyball; water aerobics or watersports; or horseshoes, bingo or board games.
Moved by the Latin, pop or rap music, some abandon their comfortable lounges to join fellow guests and the enthusiastic entertainment staff dancing on the pool deck. During evenings, there is always live music, or maybe a magician, hypnotist, karaoke, or a Mariachi band at one of the various bar venues. The Sharing Secrets program includes massage lessons, cooking lessons, kitchen tours, cocktail lessons, and coffee and tequila tastings taught by the highly trained international staff.
If guests decide they do want to "jump ship," as part of the Sip, Savor and See program, they can dine at any of five other nearby AMRResorts for the day.
---
**Over-50? Worried that an all-inclusive might only be for younger people? No! You can make your own hours, and choose what and how much you want to do. The property and activities will appeal to a broad range of age groups including empty-nesters. No children allowed.
---
IF YOU GO
Have you tried an all-inclusive vacation?
---
OUR PHOTO GALLERY – A STAY AT SECRETS THE VINE
[nggallery id=29 template=caption]