Peter Luger Steak House: Lunch at a New York legend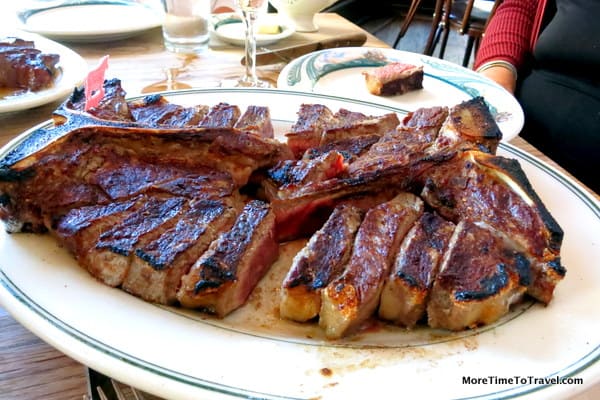 As born and bred New Yorkers, we had heard glowing praise of Peter Luger Steak House for many years. But a generous "big-birthday" gift certificate from family members lit the spark and we finally made the long trek to Brooklyn from Westchester (through the Bronx, Manhattan and Queens) to experience an institution that has been in business since 1887.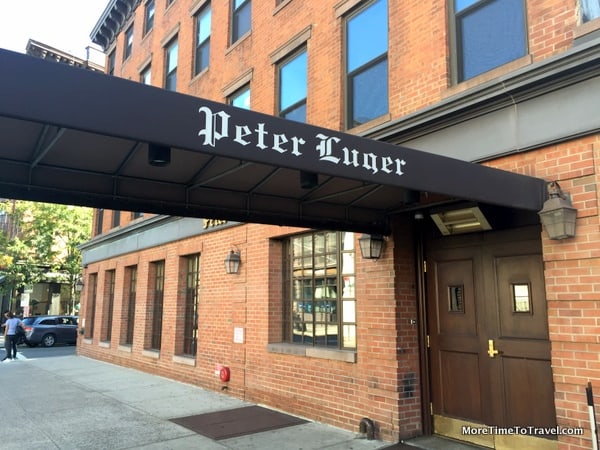 Despite it's more than 125-year longevity, it's still tough to snag dinner reservations at what has been called the "quintessential NYC steakhouse" so we reserved a table on a weekday during the also-bustling lunch hour.
The Peter Luger porterhouse is the quintessential NYC steakhouse steak. It has spawned a legion of imitators but has yet to be equaled. In fact it probably can't be equaled, Luger essentially defined the genre.

Other steakhouses may have been around longer (Old Homestead, Keens) but none have been more influential or widely acclaimed.

– Eater NY Senior Editor – Nick Solares
Setting and service at Peter Luger Steak House
Peter Luger is located in the heart of iconic Williamsburg, a neighborhood just across the Williamsburg Bridge from Manhattan's Lower East Side. Once predominantly German, the area is now culturally diverse and still remains architecturally interesting with many landmark buildings.
Williamsburg has served as the backdrop for books, movies and TV shows—from the novel A Tree Grows in Brooklyn (written in 1943) to the sitcom Two Broke Girls. In recent years, it has become a trendy alternative to Manhattan.
Our waiter, Hire, told us that the informal décor of the restaurant hasn't changed much over the years. It looks like a Bavarian beer hall with simple wooden tables (with no tablecloths), bistro chairs, dark wood paneled walls and tin ceilings.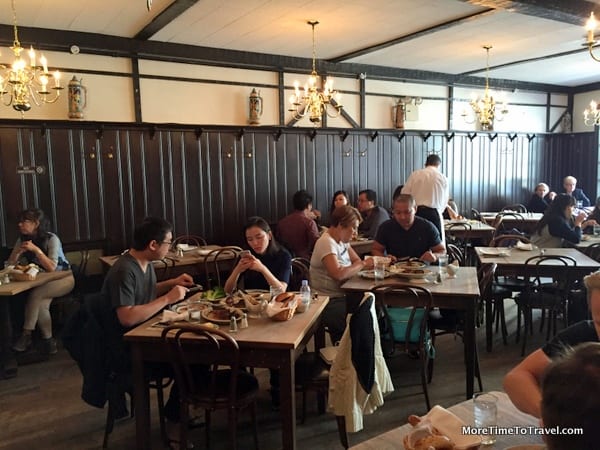 The bar, already lined three deep at lunch hour, serves as the foyer for the restaurant opening up to three dining rooms on the ground level and one upstairs, often used for larger parties.
The wall opposite the bar is filled with plaques showcasing the restaurant's consistently high and impressive Zagat ratings (When we visited, it had a 28 for food).
Service was friendly and professional rather than formal, our engaging waiter served many of the dishes tableside, family-style.
The menu at Peter Luger Steak House
One key to the success of Peter Luger is that it has stayed the course, serving traditional steakhouse favorites and resisting the temptation to hop onto fleeting culinary trends. Admittedly, the menu and recipes must have been created in the pre-cholesterol readings era.
The menu is also not burdened with over-choice: The number of offerings is limited to what have become perennial favorites.
After we gorged on the yummy onion rolls and salt sticks, we couldn't resist sampling the sizzling bacon appetizer, ordered by the slice. Any pork lover would love the thick, juicy slabs. One slice would suffice for a party of four.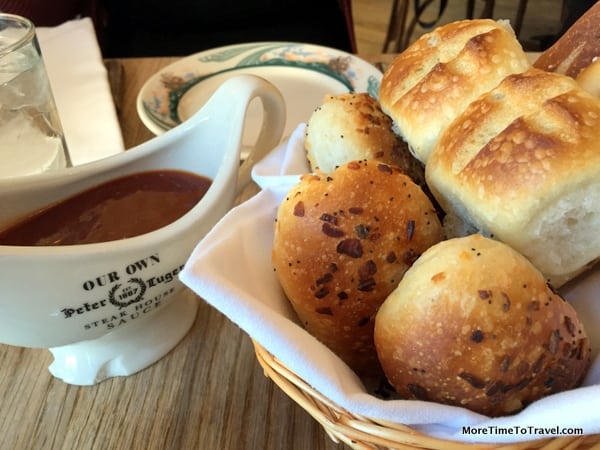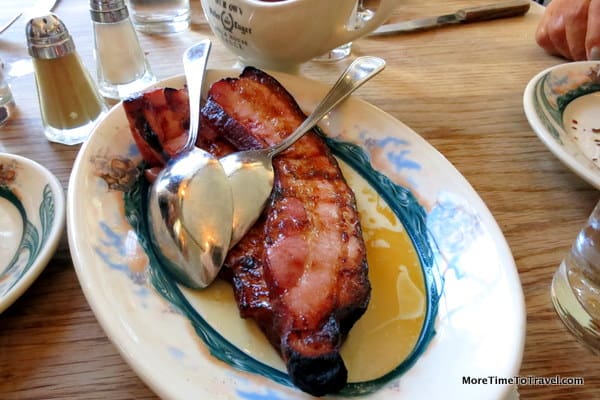 We also tried the fresh tasting iceberg salad, served with a melange of chopped tomatoes, bacon and crumbled blue cheese dressing on top.
We immediately realized by then that the only portion size at Peter Luger is humongous—but we had already ordered our steak and sides.
Of course, we were there to taste the famed, dry-aged USDA Prime Porterhouse steak we had read about, heard about and seen on various television shows.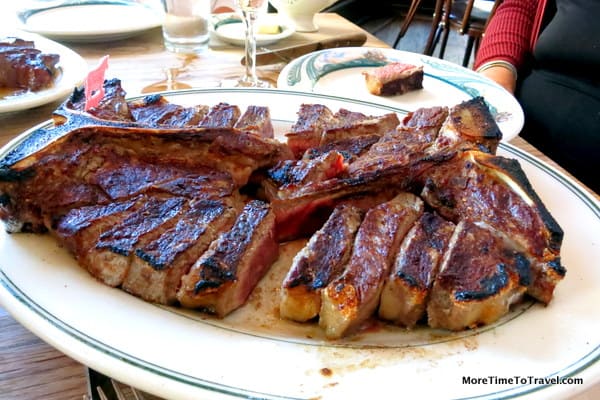 Aged for 28 days, the steak is served sliced off the bone. It was perfectly marbled, cooked to perfection and extremely tender topped with a spoonful of clarified butter. I'm reluctant to speak in superlatives but this steak set a new standard in our culinary repertoire.
It was accompanied by a gravy boat of Peter Luger's tangy branded "old-fashioned) steak sauce (which is sold at Costco and many local groceries).
Portioned for two, the massive sides are also spectacular: We tried the creamed spinach (blissfully pureed without obvious cream), the crispy (but not greasy) fried onion rings, and an oversized baked potato with a generous portion of sour cream.
Hire explained that lunch and dinner menus are virtually identical except for a couple of daily specials and hamburgers served during lunch.
I'm sure you can hardly imagine that we would have had any room or appetite for dessert—and you would be absolutely correct—but we couldn't resist the "Holy Cow Hot Fudge Sundae" served with a bowl of homemade schlag (German for whipped cream).
We had recently met a restaurant owner elsewhere whose career started as the Schlag Man at Peter Luger. He explained that it still is a full-time job held by one individual, because of the volume of business done here each day.
Before we got up from the table, we were rewarded with several gold chocolate commemorative coins—for our Herculean eating accomplishments, I guess.
One of the perks of the meal was being able to enjoy the still-huge uneaten portion of steak the next day that was packaged up for us to take home.
Bottom Line
Our indulgence was expensive (about $125 per person, pre-pandemic price escalation, including cocktails and a tip) but if you can save up for this special meal or can wrangle a gift from a generous friend or relative, Porterhouse at Peter Luger Steak House is a not-to-be-missed culinary experience.
---
November 2002 NEWS FLASH!
In the recently released ratings, Peter Luger Steak House lost its Michelin star.
Chris Crowley of Grub Street noted: "As our own former critic Adam Platt once argued, this change in rating won't matter: Peter Luger is part of the small collection of tenured New York restaurants that are more or less impervious to criticism."
Peter Luger Steak House is, indeed, a New York institution.
---
*On Eater:
The Porterhouse at Peter Luger Steak House in New York City
On YouTube
Butcher to Plate: Peter Luger's Iconic Porterhouse for Two
---
IF YOU GO
Peter Luger, 178 Broadway, Brooklyn New York
No credit cards are accepted; bring wads of bills, a personal check or debit card.
Reservations a must, by phone only.
There is also an outpost of the steakhouse giant in Great Neck, New York (Long Island) (which we have yet to try.)