Savigno: An Italian Hill Town Celebrates The Truffle With Style
We found a truffle lover's paradise in the Italian hill town of Savigno.
Most Italians agree that the Emilia Romagna region of Italy is the gastronomic capital of the country. And if you ask the best time to visit, they'll suggest the fall harvest season. That's when the crowds are gone, the air is brisk, the grapes are being harvested, and some of the region's most coveted culinary riches—notably, porcini mushrooms and white truffles—are most abundant. Mushrooms are ripe for foraging above ground and truffle hunters with specially trained dogs are unearthing precious truffles buried beneath.
When we asked an Italian friend about the best place to experience a truffle dinner, her answer was unequivocal. We soon found ourselves heading to Amerigo 1934, a trattoria in the tiny hill town of Savigno, about 40 minutes southwest of Bologna. Known for its truffle-centric menus, the informal eatery has had a Michelin star since 1998 (one of 27 awarded to restaurants in the region in 2015).
The town is so small that soon after spotting the road sign welcoming visitors to the "City of Truffles," a long funeral procession blocked the one narrow street leading in and out of town, forcing us to backtrack and approach from the opposite direction before finding the inconspicuous storefront.
Chef Alberto Bettini's grandparents, Amerigo and Agnese, opened the humble restaurant in 1934. The chef earned his culinary stripes working in the kitchen beside his grandmother and then his mother. His innovative menus reinterpret regional classics with a modern twist, attracting not only compatriots but also truffle lovers from around the world. On our visit, we met a Dutch couple that had discovered the restaurant on a road trip a couple of years before; they were so smitten with their find that they decided to return again and stay overnight. What could be better than one fantastic truffle dinner, we asked? A truffle lunch the next day, they said.
Almost all the ingredients on the menu are (and have always been) locally sourced: Eggs come from the hen house out back; vegetables and fruits from the nearby garden; and meat and game from the surrounding fields and forests. The region is known for the Mora Romagnola black pigs, huge white cows and Parmigiano-Reggiano cheese.
The sfoglia (pasta dough) is still rolled by hand and the flour for the organic bread comes from a local 18th-century gristmill. The balsamic vinegar comes from nearby Modena. Most dishes are simple and flavorful, using only two or three fresh seasonal ingredients.
The trattoria and dispensa in Savigno
Amerigo 1934 has a rustic, tavern-like feel that seems as if it hasn't changed much since the '30s. Guests enter through a passage from the adjacent dispensa (grocery) that's lined with floor-to-ceiling wooden shelves displaying jars of neatly stacked specialty food products.
The chef has developed a popular line of branded Amerigo 1934 food products—including sauces, truffle preparations and other specialty foods (all made without artificial flavors or chemical additives)—distributed to upscale food emporiums in the U.S. like Williams-Sonoma, Eataly and Dean & DeLuca. The recipes are based on the same ones guests enjoy at the trattoria so it's a test of will power to exit without taking something home.
The dining space is subdivided into a bar area and several small rooms. Tables on the ground floor are covered with red-and-white checkered cloths with white overlays, with antique mahogany furnishings that carry the patina of age. However, once you enter the larger upstairs dining room, you feel as if you've mistakenly wandered onto a stage set. Here, Italian painter and film set designer Gino Pellegrini, a friend of the family who designed sets for Hollywood blockbusters like 2001: A Space Odyssey, Mary Poppins, Fantastic Voyage and The Birds (before his death in 2014), has created fanciful wall murals depicting the four seasons.
Bettini is not only a hands-on chef but also a gracious host. Moving from table-to-table, he helps guests understand the three different menus, which can be challenging for diners who aren't fluent in Italian. When we order with some hesitation, he tells us there are no rules: "Eat whatever you prefer. Eat as much as you want. Order half portions if you like."
There are tasting menus as well as an a la carte menu featuring classic regional primi (first courses) such as tortellini en brodo, tagliatelle al ragu, and tortelli con crema di parmigiano; and secondi (second courses) that include guancia di vitella brasata (veal cheek braised in red wine), coniglio all'aceto balsamico (rabbit in balsamic vinegar) and il baccalà alla Bolognese (salt cod with garlic, parsley and lemon).
We ordered from the seasonal truffle menu, which featured aromatic white truffles with polenta, different pastas, pork or egg—shaved and priced at the table. (In 2014, the cost ranged between 2.50-2.90 euros per gram, with 10 grams recommended for a serving but the cost varies based on the abundance of the harvest.). Each dish tasted as exceptional as it looked, complemented by an excellent dark ruby red Negrettino (the local wine recommended by our server).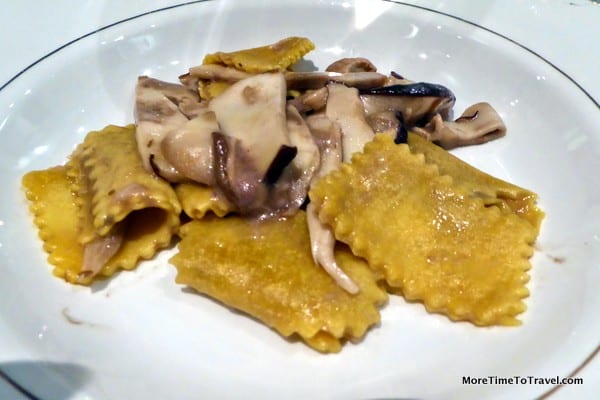 The locanda and more
Many guests come to Amerigo 1934 for more than a meal. In 2001, the family purchased one of the old stone houses in the village to create a five-room locanda (guesthouse) where visitors can stay overnight. It turns the concept of a B&B on its head: As opposed to featuring bed and breakfast, it allows diners to leisurely relax after a heavy dinner. Guests are invited to enjoy complimentary morning coffee or cappuccino at one of two bars in the town where they can mingle with locals.
Located a short walk from the restaurant, like the dining experience, the painstakingly restored property playfully blends old with new. Each cozy room has its own distinct décor and layout. The former stable on the ground floor has been transformed into a large room with a vaulted ceiling and modern bath. Four other guestrooms were once the barn woodshed, a drawing room, a bedroom and an attic. Art deco lighting and contemporary Italian furnishings and bath fixtures contrast with the vintage photographs hanging on the brick and stone walls.
At no extra charge for overnight guests, Chef Bettini arranges complimentary visits to his local suppliers of ham, cheese, wines and vinegars. Guests can also learn to make pasta in the kitchen with Giuliana, his 81-year-old mother or his 84-year old aunt, Marisa.
Before dinner, we were able to walk through the forest with two truffle hunters (a father, son-in-law and their dog named Pupa) to learn how they find truffles. We watched them unearth one they'll sell for several hundred dollars.
A visit to Amerigo 1934 offers far more than a satisfying meal. Chef Bettini's passion for the foods, local producers and traditions of the area where he was born is almost palpable. By reinventing the classic dishes he grew up with, he's developed a successful model for a "little restaurant that could."
---
IF YOU GO
Amerigo 1934, Via Marconi, 14-16, Savigno (Bologna), Italy
Reservations are suggested; call to confirm opening hours.
Open for dinner every day except Mondays; lunch on Saturdays, Sundays and holidays. A traditional 3-course meal is 35 euro or 4-course is 40 euro. The seasonal 5-course tasting menu is between 52 and 60 euros depending on the cost of ingredients.
Child and family-friendly
Room prices range from 50-100 euros per night.
During the first three Saturdays and Sunday of November (2015), visitors from Italy and abroad will flock to Savigno for its annual truffle festival.
The cost of a truffle hunting experience with locals ranges between 50-100 euro, based on the length of the hunt.
Emilia Romagna Tourism (official tourism information site)
Bologna Welcome (official tourism information site)
---
[This article by Irene S. Levine previously appeared in the Sunday travel section of the Chicago Tribune on Sunday, October 11, 2015, and in the Orlando Sentinel and the Miami Sun-Sentinel. It was also published published in Food Travel Wine Magazine, the digital magazine of the the International Food, Wine and Travel Writers Association.]
See PDF of the article in Food Wine Travel Magazine: Savigno-FTW Mag (loads slowly) or read it online .