Le Coucou: Serious French food in NYC that doesn't take itself too seriously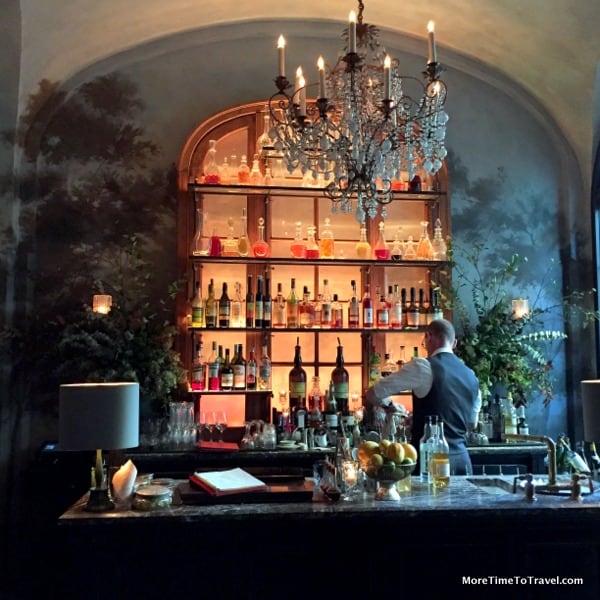 Any food lover soon realizes that beyond the omnipresent temptations—New York bagels, New York pizza, New York cheesecake and New York black and white cookies—the range of culinary options in New York City seems to be infinite.
In truth, if you count all the hole-in-the-wall delis, cafés and takeout shops spread across the five boroughs, it's estimated there are some 24,000 eating establishments in the city. As a result, visitors can indulge their appetites and sample cuisine from almost anywhere else in the world.
We recently experienced a wonderful staycation weekend at the Hampton by Hilton Manhattan-Times Square North in Hell's Kitchen. As Seekenders who love French cuisine, we decided to check out the buzz about Le Coucou, located just north of Chinatown.
Chef Daniel Rose comes to the Big Apple
The opening of Le Coucou is a collaboration between successful restaurateur Stephen Starr and Chef Daniel Rose. Chef Daniel achieved celebrity overseeing kitchens at two highly acclaimed restaurants in Paris, Spring and La Bourse et La Vie. Starr is the visionary who brought the chef's talents to New York and helped create a spectacular setting to showcase them.
After attending the American University in Paris, Chef Daniel, a native of Chicago, studied cooking while living in Lyon, France. (When we visited that city, we truly believed we had found the culinary epicenter of the world). After reading early reviews of Le Coucou and delving into news articles about the opening, our already-high expectations grew.
Then we learned that the chef trained at Lyon's Institut Bocuse cooking school. (Hands down, we considered the meal we had at the three Michelin-star Bocuse restaurant at L'Auberge du Ponte de Collonges just outside Lyon as the best we had in our lives.)
We decided to splurge on what promised to be a very expensive meal, even by New York standards, but a gastronomic experience fit for foodies. We were so happy our son Andrew could join us for this staycation, taking a few days off from his work in California, so our New York City Seekender weekend would be one we could share together.
The setting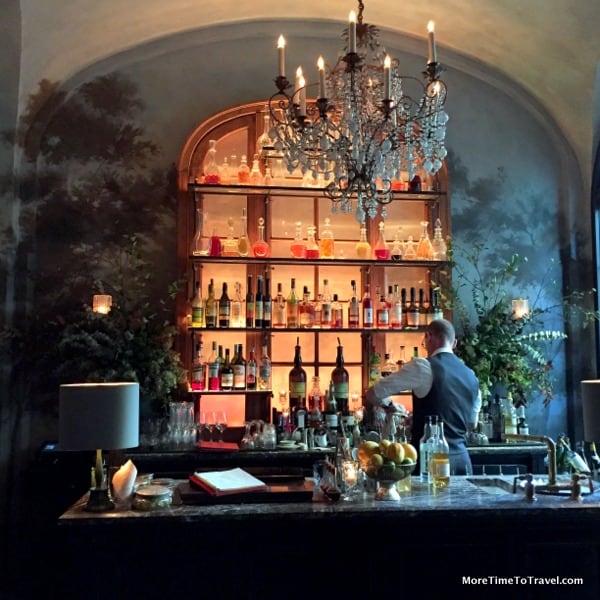 It's hard to imagine that the footprint now occupied by Le Coucou was once the lobby of a dilapidated Holiday Inn and an adjacent Chinese bakery. From the moment we entered, we felt like we'd been transported to an elegant Parisian brasserie.
The two cavernous dining rooms are aligned in an L-shape: Large floor-to-ceiling windows in the front room overlook the busy street; the back room offers views of the bustling open kitchen. Tables are well spaced throughout making it easy to forget anyone else is around except for the servers.
The extraordinarily high ceilings are covered with oversized chandeliers forged of dark metal with dozens of candle-like lights circling each one. Except for their uniformity, they look as if they might have been repurposed from an old French palace. Tables are draped with white tablecloths and the walls are covered in washed brick adding a warm patina of age. Despite the grandeur of the space, it feels comfortable and relaxed. The knowledgeable, well-trained, and approachable waitstaff help create this ambiance.
A disarming sense of levity and whimsy pervades Le Coucou—starting with its name. In an article in the New York Times, the Chef explained that the term "Le Coucou" refers to someone who is "sweetly crazy." One example of the unexpected: When you head to the washroom, there's a long scribbled paint line along the walls of the dimly lit hallway that leads to the unisex Toilettes.
The menu: Non-daunting Classic French
The dinner menu at Le Coucou is divided into three sections:
Hors D'Oeuvres;
Gourmandises (more hearty appetizers), and
Main courses that include Poissons (fish) and Viandes (meat).
The menu is classic French with a nouvelle twist; each of the dishes relies on fresh, very high-quality ingredients. Plating approaches a picture-worthy art. Since we are more food lovers than food writers, we'll present a few of our favorites: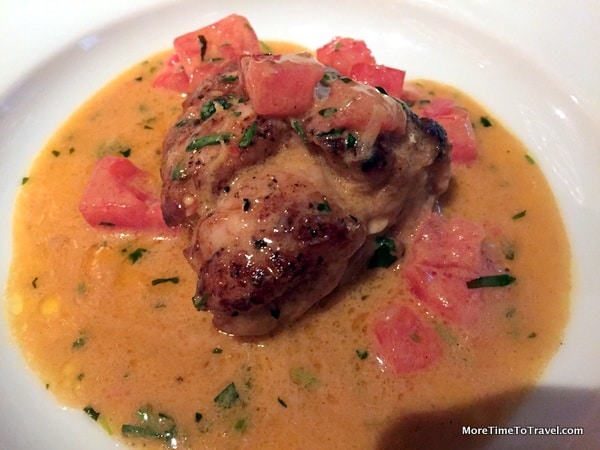 Bottom line
Le Coucou lives up to the hype. It's the next best thing to a trip to Lyon. It's worthwhile to scrimp, save and eat at home for a few weeks (or months) to savor a memorable meal like this one.
---
IF YOU GO
Le Coucou, 139 Lafayette Street, NYC, just north of Chinatown

TIP: Reservations are available through OpenTable but are tough to snag, especially on weekends. If you are lucky enough (as we were) to be staying in New York City, you may be able to obtain last-minute reservations at off-hours. (There is no dining at the bar).
---
Disclosure: As a member of the Seekender team, our weekend getaway to Hell's Kitchen in Manhattan was sponsored by Hampton by Hilton but we paid for our dinner at Le Coucou and all opinions expressed in this post are our own.
Given its convenient location, Hampton by Hilton Manhattan-Times Square North is an excellent value if you are planning a trip to NYC.
---
Read about Chef Daniel Rose's bespoke dinner for two at the Frick Collection on Grub Street.