How Thalassotherapy Rescued My Rainy Vacation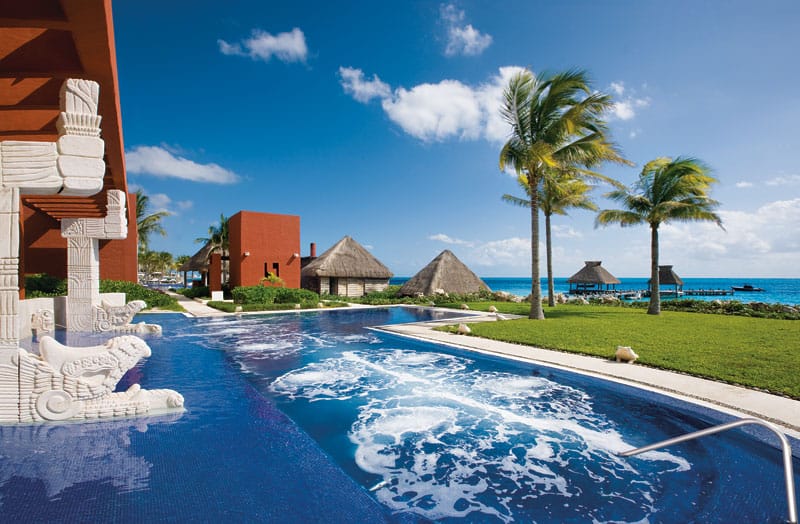 I packed everything I could possibly need for a much-anticipated beach vacation at Zoetry Paraiso de la Bonita, a luxury boutique resort set on 14 acres in Riviera Maya, Mexico. Sunscreen. A sizable hat. Bathing suits. Flip flops. Tropical prints. Plenty of reading material. Anything a serious beachgoer could ever need.
Of course, I anticipated an abundance of sun. During the region's "dry season," from November through April, the average temperature hovers around 75 degrees with 7-9 hours of sunlight each day.
After a six-hour weather-related delay in New York, we arrived at the airport in Cancun. Our flight was the last to get out before Jet Blue would shut down for the next 17 hours. But Mexico wasn't spared from the pesky, erratic and irksome weather systems plaguing the U.S. We arrived in rain that persisted for days.
While some people chose to drown their sorrows in food and drink, others preferred naps or getting lost in a book (or two). But for me, it was time to consider a safer and more satisfying alternative to public drunkenness, looming weight gain or constant crankiness.
After all, I was on vacation!
Finding comfort at the spa
Although I'm a spa lover, on a beach vacation I usually want to be on…the beach. And although I hadn't planned to spend time inside a spa, now was my opportunity to do it.
I found comfort in Zoetry's soothing Thalassotherapy Spa. If the ocean couldn't come to me, I was going to the ocean, dammit!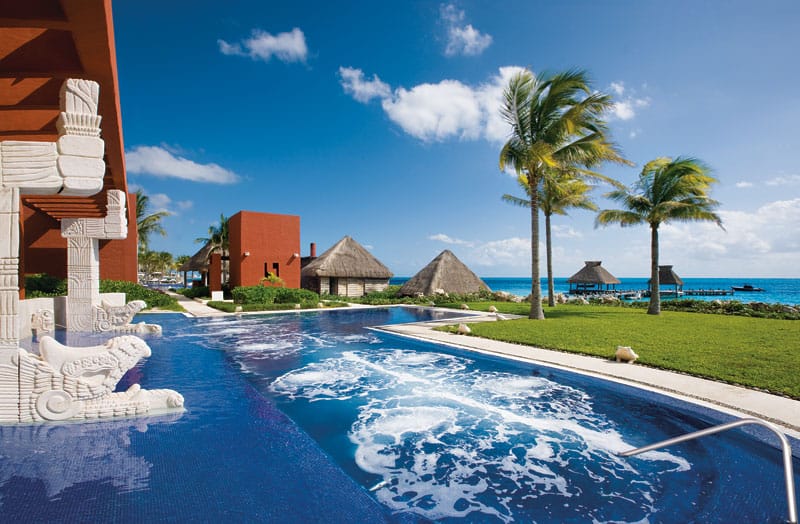 Thalassotherapy, which comes from the Greek word for "sea," is a therapeutic and healing therapy using various aspects of the ocean – the water, seaweed, mud and other substances. It received official recognition by the French Ministry of Health in 1997, after being widely used for thousands of years by many ancient Mediterranean civilizations. Most spas offering this therapy are located in France or on the Mediterranean Sea so I was fortunate to have this opportunity in Mexico.
For 90 minutes, I was transported, coddled, indulged and pampered.
First, a 20-minute soak in an indoor tub-for-one filled with warm, filtered water from the sea outside. The 72 (!) powerful jets alternated their magic on my body, from head to toe, delivering a soothing massage. The warmth of the water helps open the pores of the skin, so the seaweed and other minerals can penetrate and detoxify. Relaxation entered while all my tension dispersed into the water in tiny little droplets, one at a time. It felt as if I were floating on a gentle surf.
Massage and more
From there, my therapist directed me into a darkened room with soft piano and guitar music piped in, where, on a cushioned table, my body was treated to a slow and gentle body exfoliation. After that, I somehow got into the shower (when you're that relaxed, who can remember?), where I washed off the remains of the lovely particles.
A 25-minute massage followed by a facial capped off my treatment.
By the time I drifted out of the spa, the rain had ceased and darkness surrounded me. I walked back to my room, taking slow, measured steps so as not to break the spell. And as I glanced upwards, I saw the slightest hint of light peeking out from the persistent cloud cover that had plagued us since our arrival. Had the thalassotherapy worked its magic on the weather, as well as my body?
Tomorrow, the sun would shine, and I would return to the ocean, but this time, in its vast, majestic and full glory.
---
IF YOU GO
Besides its 22,000 square foot Thalassotherapy spa, the first certified facility of its kind in North America, Zoetry offers a host of other health & wellness services, among them body wraps, massages, facials, yoga, acupuncture, reiki, music therapy, and Temazcal, a pre-Hispanic sauna ritual to cleanse the body and spirit, conducted by an authentic Shaman.
---
Disclosure: During my vacation at Zoetry Paraiso de la Bonita, some of my spa treatments were graciously hosted by the property but any opinions expressed in this post are my own.