Crystal Serenity: New Owners. New Look. Same Ultra-Luxury Cruising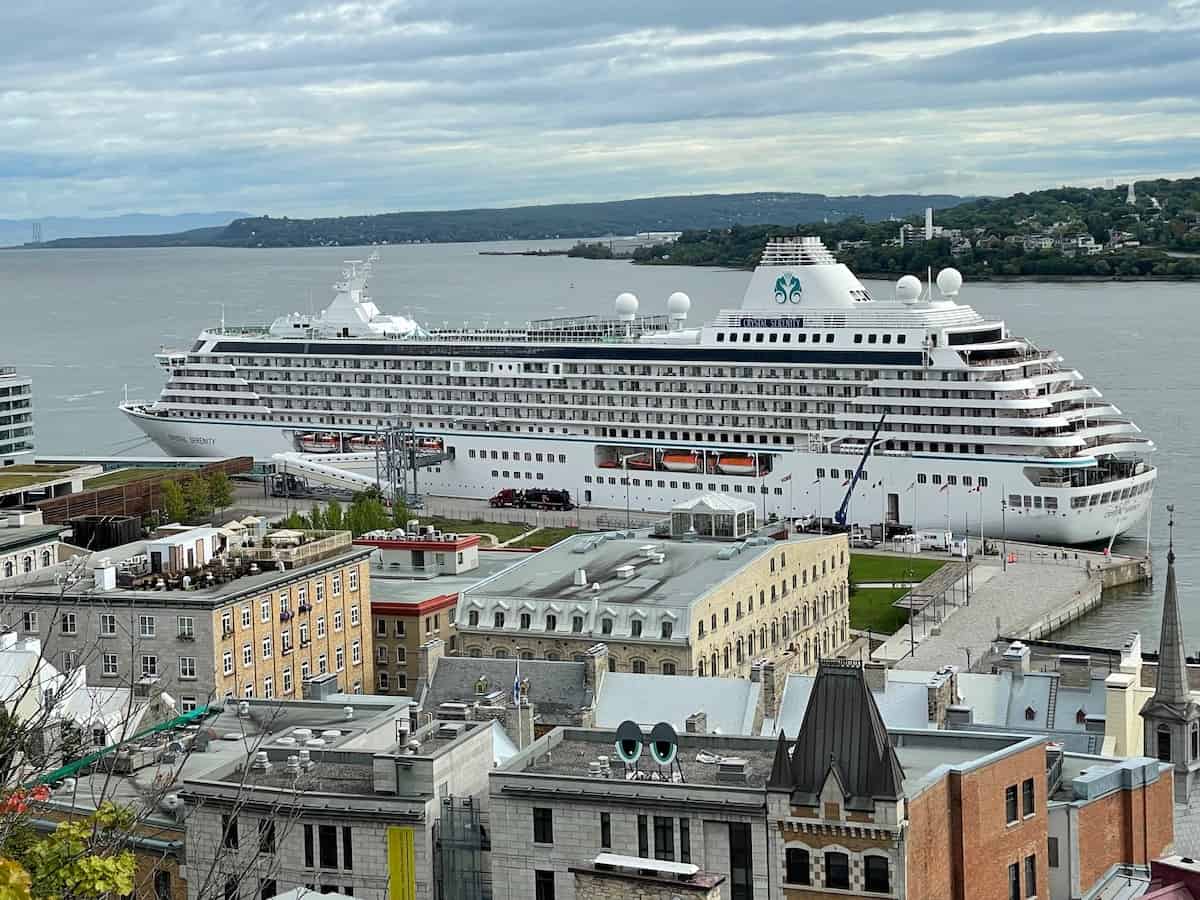 Contributing writers John and Sandra Nowlan offer a first look at the rebirth of Crystal Serenity, a beloved cruise line with new owners.
We had just boarded Crystal Serenity in Quebec City, one of two Crystal cruise ships that had endured bankruptcy and significant legal problems. Then, they were bought at auction and put into the capable hands of the Abercrombie and Kent Group (A&K).
We were heading for Nova Scotia and New York on Crystal Serenity's first North American voyage since its dramatic fall and financial rescue.
A&K spent about $150 million at an Italian shipyard earlier this year for a top-to-bottom refurbishment of the ship and its older sister ship, Crystal Symphony. Millions more than they paid to acquire both ultra-luxury ships.
Our Veranda Suite on Crystal Serenity
Our room on Crystal Serenity was one of 116 Sapphire Veranda Suites on Decks 8 and 9, each at an impressive 537 square feet, including a double-width balcony.
Every room on those two decks was gutted and stripped to bare steel, then replaced by fewer, larger, and more elegant suites. In fact, with the refit, passenger capacity dropped from 970 to 740. With a crew of 655, 80% of whom returned to the ship after layoffs, service levels were, as expected, remarkably good.
Our living room in the suite had a large sofa, a marble-top work desk, a table for meals and snacks, and four comfortable chairs. It included a large, walk-in closet, a Nespresso coffee maker, and a fridge stocked with complimentary champagne, wine, and beer.
Every room on Serenity includes the services of a well-trained butler. He or she can also provide spirits (vodka, rum, gin, or whisky from the complimentary list) or non-alcoholic wine or beer. The butler also brings hors d'oeuvres every afternoon, fresh fruit daily and can look after all needs including laundry and pressing or specialty dining reservations.
Instead of paper, every room has a tablet with daily programs, restaurant menus, and even full copies of daily newspapers worldwide. If requested, a printed daily schedule is available.
There's a curtain between the living room and the bedroom where guests enjoy a comfortable, king-size bed with luxury Italian linens, the most luxurious we've ever experienced at sea. On each side of the bed is a marble table, reading lights, USB ports, and electric plugs for both North American and European devices.
Both rooms include 50-inch, high-resolution TVs with a wide selection of movies and TV channels from the US and abroad. The whole ship, including each suite, is wired for complimentary Wi-Fi with a signal equal to the best at sea.
The bathroom in our suite included two, well-spaced sinks along a marble counter, both liquid and bar soap, toiletries from upscale Ortigia Sicilia, and a huge shower, big enough for three people, with four separate nozzles.
Gambling on no gambling
One significant difference in the refurbished Crystal Serenity is the absence of a casino.
"Crystal is not in the casino business like the previous owners were," Hotel Director Scott Peterson told us. "But a casino is especially important in the Asian market, so we're looking at the possibility of a smaller venue for gambling."
Standout dining options
Outstanding cuisine has always been a hallmark of the Crystal experience and the new owners intend to build on and enhance that reputation. Many of the restaurants have been refreshed and upgraded, including the Marketplace Buffet, Trident Grill and Tastes Kitchen, all on Deck 12, and the main Waterside restaurant on Deck 5.
Seeing fresh squeezed orange juice and real maple syrup at breakfast was a treat. We asked a pastry chef about getting almond croissants, our favorite, a style not normally available. Sure enough, they were there at breakfast the next day.
Really significant dining changes are evident in the two specialty restaurants on Deck 7. Each guest is allowed one complimentary visit for each seven-day cruise. Umi Uma (Sea Horse), known as Silk Road prior to 2018, is Master Chef Nobu Matsuhisa's only restaurant at sea.
It was gutted and refurbished earlier this year and is now much brighter and more modern with changed color schemes, tables and fixtures. The popular sushi bar remains, and table guests can enjoy Nobu's award-winning Japanese-Peruvian specialties like Lobster with Truffle Yuzu, Sashimi Salad and Miso Glazed Black Cod.
Prego, the Italian specialty restaurant on Deck 7, has been renamed and enhanced. It is now known as Osteria d'Ovidio to honour Manfredi Lefebvre d'Ovidio, former owner of Silversea Cruises and now Executive Chairman of the Abercrombie & Kent Travel Group.
He clearly influenced the Italian menu. Our favorite dishes included Lobster in Aqua Sale, Salt Baked Sea Bass, Tortello Pasta with braised beef and Risotto with Scampi.
The elegant Palm Court, on Deck 12 with its wrap-around ocean views, has always been the relaxation and reception center on Crystal Serenity. It has stayed much the same with daily trivia and formal afternoon tea as regular events.
The popular Mozart Tea, presented once each cruise with waiters in late 18th-century attire, has been dropped by the new owners. In its place, a Chocolate Tea will be featured.
Entertainment, enrichment, and more
Unlike many cruise lines, Crystal has not cut back on the quality of its entertainment or the number of performers hired. We were delighted with the talent of the seven-piece Galaxy Show Band and the ten singers and dancers in the ensemble.
Enrichment lectures with top international speakers plus golf, bridge, art and Computer University at Sea instruction are available daily. Serenity has a large library, an extensive spa and numerous bars with skillful mixologists.
Excursions, tours and comparisons
Our eight-day cruise from Quebec City to New York made stops in Gaspé, Quebec, Sydney, Nova Scotia and Halifax. They were all interesting, particularly "The Spirit of the Fiddle" excursion in Sydney.
Cape Breton Island respects and honors its Celtic heritage. Fiddle music, often accompanied by piano and guitar, is an important part of that culture.
The tours were fun but, like us, the prime motivation for many guests was to see if this ultra-luxury, all-inclusive cruise ship was as good as it used to be. Hotel Director Peterson, himself a 20-year Crystal veteran, was delighted that Abercrombie and Kent acquired the ship.
"They had their eye on Serenity for many years" noted Peterson. "Until the bankruptcy, Crystal was the number one cruise line in the world. Our goal is to return to that status and to be exceptional."
---
All photo credits: John and Sandra Nowlan
---
Disclosure: The Nowlans were guests of Crystal Cruises but any opinions expressed in this post are their own.
---
READ MORE
---
Save to Pinterest!!
---