Celebrating National Margarita Day on February 22 – Salud!
National Margarita Day is celebrated each year on February 22. This year, it falls on a Monday so unless you are lucky enough to be somewhere in Mexico, it's a festive time to visit a Mexican restaurant or make a margarita at home.
When it comes to margaritas, there are many variations on the theme. Recipes often depend on the specific location where the cocktail is being made and the creativity of the mixologist making the drink. But the basic ingredients remain the same: a mix of tequila, Triple sec or Cointreau, and lime or lemon juice.
---
---
---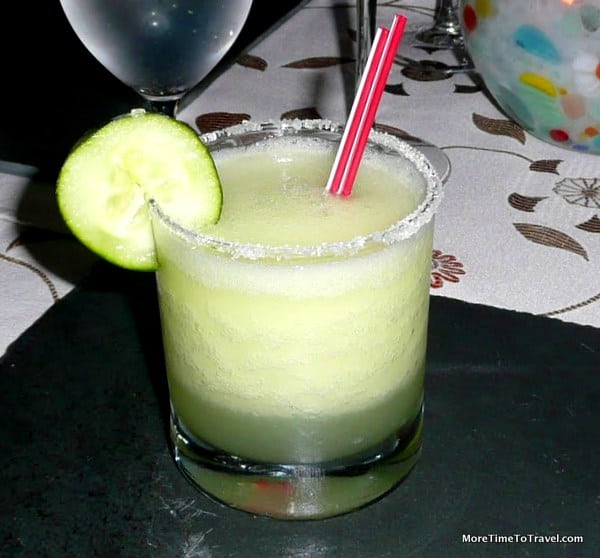 ---
---
---
Although especially refreshing when consumed poolside, preferably with an ocean view, margaritas are considered a four-season cocktail. They can be served on the rocks, frozen or straight up—with or without salt on the rim of a class. More often than not, margaritas are served in a cocktail glass that looks like an inverted sombrero.
When we travel to Los Cabos to conduct margarita research, it is also an opportunity to overindulge in the cocktail's natural pairing: freshly made tortilla chips with salsa or guacamole.
This year, we were introduced to a new margarita, which is one of the most popular and delicious libations at The Resort at Pedregal in Los Cabos. Head bartender David Hernandez graciously, shared his wonderful recipe for the Pedregal Reyes Margarita (below).
---
---
Must-try recipe for the Pedregal Reyes Margarita
Served at The Resort at Pedregal
Ingredients:
2 Oz. Tequila Reposado
1 Oz. Ancho Reyes Liquor
1 Oz. Fresh Orange Juice
1 Oz. Fresh Grapefruit Juice
1 Oz. Fresh Lime Juice
1 Oz. Pasilla Pepper Syrup
Splash Fresh Pomegranate Juice Preparation
Method:
Add all the ingredients to a shaker and strain into a tumbler glass with the salt in the half rim and full of ice.
Garnish with Grapefruit and Pepper Tuile.
---
A Few Facts about Margaritas
The origins of this famous drink are uncertain. Some claim it was borne in Mexico, others say Texas, somewhere between 1930 and 1940. But a similar drink called a "mezcal brandy" won an award at the Chicago World's Fair in 1893, according to The Complete Book of Spirits, by Anthony Dias Blue.
Esquire Magazine is said to have published the first recipe for a margarita in its December 1953 issue.
Freshly squeezed limed juice is considered key to making a good Margarita.
Margaritas can be made with any type of tequila—blanco, reposado or anejo; each changes the character of the drink.
Perhaps one of the most expensive margaritas is called the "Cadillac" because the ingredients include Grand Marnier and reposado instead of blanco tequila.
Contrary to what you may guess, the Margarita is not the most popular tequila-based cocktail in Mexico. It's the Paloma (made either with tequila and grapefruit-flavored soda or with grapefruit juice and club soda, both with lime juice).
---
For more information about Margaritas:
Official National Margarita Day Website
Twenty-seven Best Margarita Recipes
Salud! Do you have a favorite margarita?