What Is A Lyonnaise Bouchon?
If you visit Lyon, be sure to eat lunch at an authentic Lyonnaise bouchon, one of the city's small, family-run bistros that serve hearty meals.
---
Bouchon: What's in a name?
Before visiting the city of Lyon, I had never heard the French word, bouchon—except as part of the name of Bouchon Bakery, Thomas Keller's celebrated French bistro in Napa Valley, California. But I learned that in Lyon, the word is used widely and has several different meanings.
In a French dictionary, "cork" is the most common English translation of the word (although it is also used colloquially to describe a traffic jam).
But when you walk through the old cobblestone streets of Lyon, France's third-largest city, another usage of the term will keep popping up in conversation and on restaurant signage.
What is a Lyonnaise Bouchon and how did it get its name?
Lyon is considered by many to be the gastronomic capital of France. It is here that Chef Paul Bocuse began the trend toward nouvelle cuisine, a style of cooking that reverberated with chefs and diners around the world.
However, Lyon has a special place in the world of French gastronomy because it is the city where a unique type of restaurant was born and still survives: The Lyonnais Bouchon.
A Lyonnaise bouchon is typically a small, family-run bistro that serves hearty meals with wine by the pitcher.
The forbearers of these bouchons were the taverns or inns where silk merchants stopped in the 17th and 18th centuries to have a meal, clean their horses, and, perhaps, rest overnight. They derived their name because the same term was then used to describe the twisted straw brushes used to clean the horses.
What kinds of meals can you expect to eat at a bouchon?
Each of these informal restaurants typically served only one main plate, such as roast pork, cheese with herbs, sausages, or duck pate. Now the eateries, which abound throughout the city, have menus that offer many of the traditional dishes that were served years ago. Most of the produce comes from the local covered market. Compared to nouvelle menus in the same city, bouchons are relatively inexpensive, especially given the large portions of meat that are on the menu.
The Rue des Marronniers (the word for 'chestnut" trees in French), just off Place Bellecour (the largest square in Lyon), is one of several streets in Lyon lined with bouchons on both sides of the block. We had a wonderful lunch at Chabert & Fils, where we were able to choose a very affordably priced, fixed-price meal from an extensive menu.
We started the meal off with a kir cocktail (the traditional aperitif made with creme de cassis and white wine) served with fried pork rind and sausage. For my appetizer, I had tiny raviolis baked in a mild creamy blue cheese sauce that rivaled any pasta dish I had eaten in Italy; my husband had an excellent terrine of duck pate with an orange, roasted hazelnut salad.
My main course was veal head and tongue, a delicacy I have loved since childhood, boiled in a casserole with potatoes, carrots and fresh herbs; my husband opted for the pork sausage with pistachio nuts and potatoes. For dessert, we enjoyed the typical fire-engine red praline tart of Lyon (tarte aux pralines).
On a subsequent trip, we fell in love with Le Bistro D'Abel, so much so that we dined there three nights in a row.
Bistro Abel is the oldest and most authentic bistro in town. Also, an official Bouchon Lyonnaise, the paneled dining room exudes old-world charm and a bit of quirkiness: It has entrances on both sides of the street and you walk through a kitchen to get from one room to another. Each dish is cooked to perfection.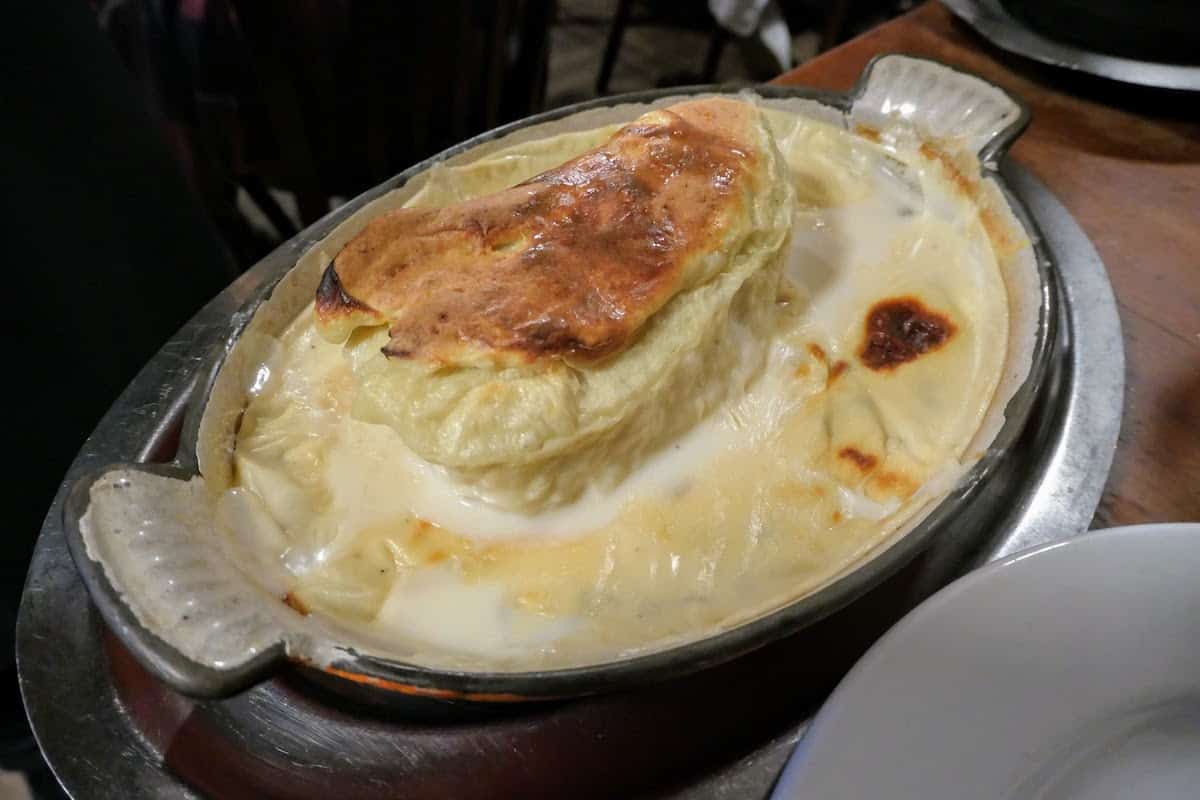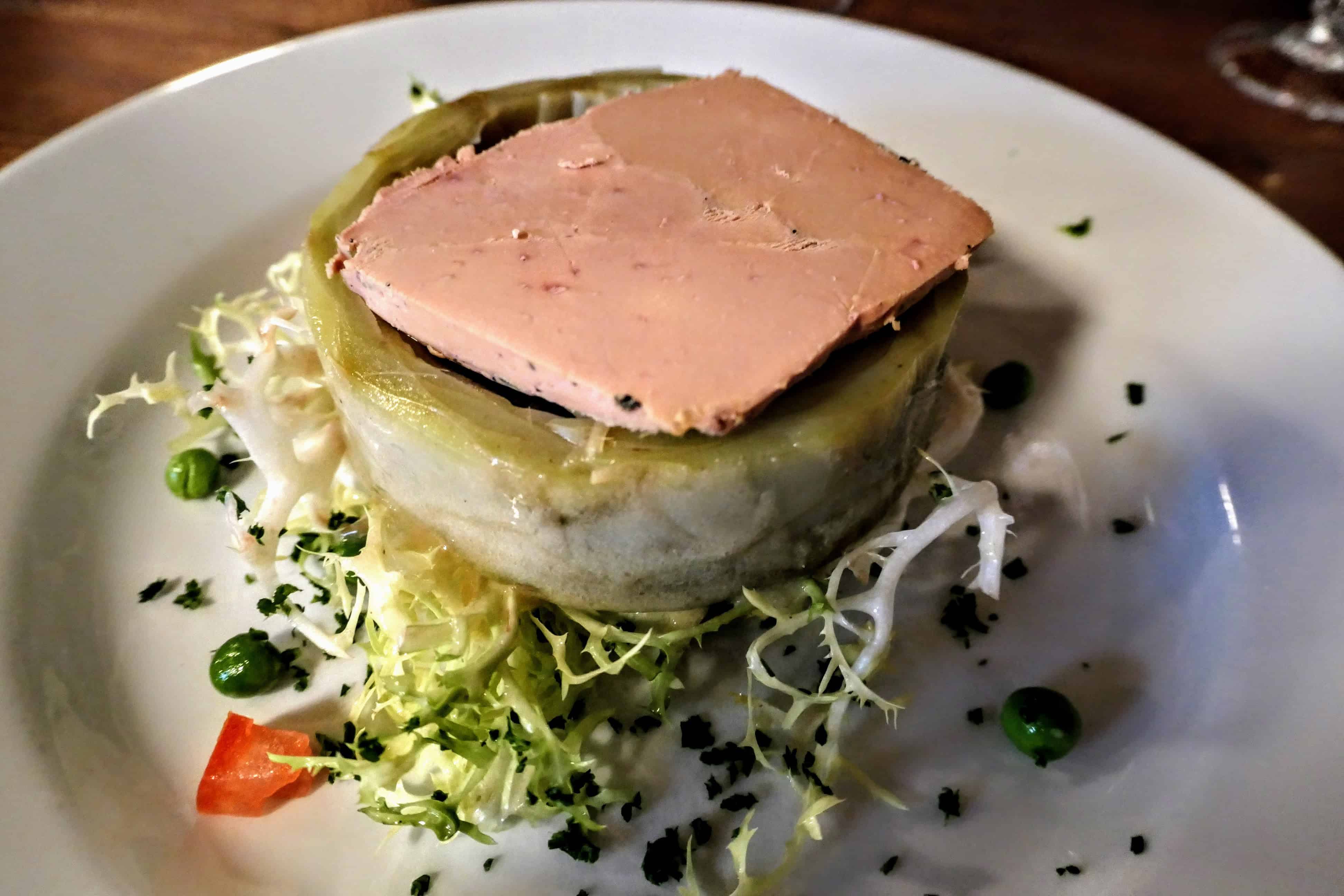 Bouchons: Separating the Wheat From the Chaff
Not all bouchons, even in Lyon, are the real deal.
Each year, L'Association de defense des Bouchons Lyonnais certifies those bouchons that meet its standards. The restaurants proudly display a label on their windows, created by the Lyon Chamber of Commerce and Industry in partnership with Lyon's "bouchons" (traditional restaurant/taverns). This certification guarantees diners an authentic, high-quality culinary experience.
In an effort to describe the recipe for the success of these eateries, the Association has distilled four essential characteristics of a bouchon:
Setting: a restaurant with a counter, picturesque and warm décor: tables close together, red and white checked tablecloth, wooden furniture, pans hanging from the ceiling, Guignol, Gnafron puppets… in other words, a place preserved in time
Conviviality: a larger-than-life owner
Dishes: Tasty, simple typical homemade dishes based on fresh, local produce, lovingly prepared on-site
Wines: Washed down with the required pot lyonnais (carafe) of Beaujolais or Côtes du Rhône wine
The Association maintains an updated list of all the certified bouchons in Lyon; which currently number 22. Even in the midst of health-conscious dining trends, bouchons have maintained their popularity with visitors and locals who enjoy good food. They are a not-to-be-missed experience in Lyon!
---
READ MORE
RW Apple's classic 2002 story, The Bouchons of Lyon, in Saveur
---
All photos: Jerome Levine, unless otherwise noted
Save to Pinterest!!
---