Saturday Morning at the Pleasantville Farmers Market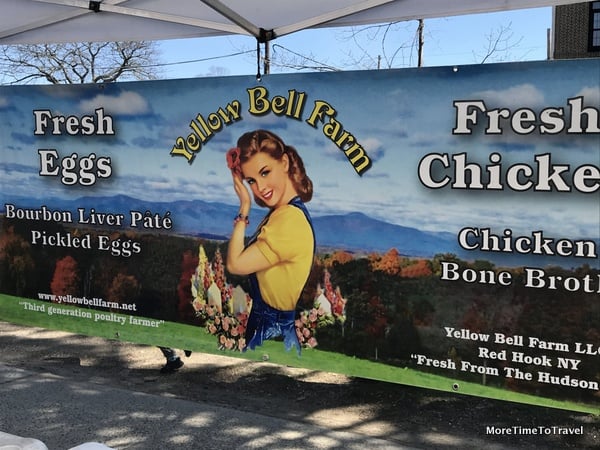 It was a sunny Saturday morning when we visited the Pleasantville Farmers Market, an indoor/outdoor, rain-or-shine, all-year, and non-profit public market. After a bitter winter on the East Coast, it felt like one of the first harbingers of spring.
The backstory: Changing places
Our recent move from Chappaqua to Pleasantville, (Westchester County) New York was definitely a "big move"—although we only moved a couple of miles away to the next dot on the map. Big, because it entailed painful downsizing, decluttering and decathecting from a home filled with memories, where we had lived for more than 20 years.
After our boxes (or at least most of them) were finally unpacked, we began to enjoy our new digs and explore our walkable little village, whose history dates back to 1695. Pleasantville's growth was spurred by the arrival of one of the first street railways in the U.S., connecting New York City to the Hudson Valley. Now part of Metro-North, the railroad spurred the growth of this bedroom-community with approximately 7,150 residents.
The farmers market, which began some twenty years ago, was another effort to draw people to the village and breathe life into the downtown area. The village, especially its restaurants, got another commercial boost with the opening of the Jacob Burns Film Center in a landmarked building that once housed an old movie theater.
The center shows independent films, documentaries and sponsors creative talks with moviemakers, producers and artists.
What's at the Pleasantville Farmers Market?
We are huge fans of farmers markets both here and abroad. With more than 60 vendors, the Pleasantville Farmers Market is the largest and one of the oldest in Westchester County.
Most of the vendors (including winemakers) arrive here from other parts of the agriculture-rich Hudson Valley that stretches from New York City to Albany. A fusion of aromas wafts through the air whetting your appetite to sample and shop.
We passed tables manned by pickle vendors, fishmongers, farmers, florists and bakers.
This farmers market, like many others around the world, offers shoppers not only an opportunity to mingle with neighbors but also to sample new foods before they buy.
Because most of the foods are local, you know from where they came. This visit was in the midst of a 16-state E-coli outbreak that urged people to avoid any Romaine lettuce but we had no fear in buying greens at the market.
This slideshow requires JavaScript.
The outdoor market is held on Memorial Plaza, beside the Metro-North railroad station, between April and November; the rest of the year it's held at the nearby middle school.
---
IF YOU GO
Pleasantville Farmer's Market Official Website. You can see all the vendors and check out any special events.
The market is about a 40-minute ride from Manhattan to Pleasantville on Metro North; the train station is adjacent to the market. If you arrive by car, there are many municipal lots nearby.
---
Some tips for visiting this (and other) farmers markets:
Always check opening hours and locations (which may change seasonally or due to weather).
Try to arrive close to the opening time when there is more stock available and fewer crowds.
Remember: Some vendors rotate and may not necessarily be there every week. For example, the Knife Sharpener only comes some weeks.
Don't forget to bring your reusable shopping bags with you.
Before you buy, take a whirl around the entire market. Multiple vendors often sell similar products and you may prefer one to another.
Bring cash. Some vendors may accept credit cards but many do not.
Remember that the costs of products (many of which are organic, locally-produced and higher quality) are usually greater at farmers markets than at supermarkets.
---