Kristalbelli: Korean BBQ lunch with a twist in Midtown Manhattan
If you're near the Empire State Building, don't miss the Korean BBQ lunch at Kristalbelli.
When you escape the hectic streets of Midtown Manhattan and walk through the heavy, oversized, wooden entrance door at Kristalbelli on 36th Street off Fifth Avenue, you enter a long narrow space that makes you feel as if you've suddenly been transported someplace else.
Just beyond the contemporary glass wall-of-wines on the left side of the restaurant is a long line of banquettes. The marble tables have smoke-free crystal barbecue grills at their centers, each with the whimsical shape of a Buddha's belly as its cooking surface. (The grills are rumored to cost $30,000 apiece.)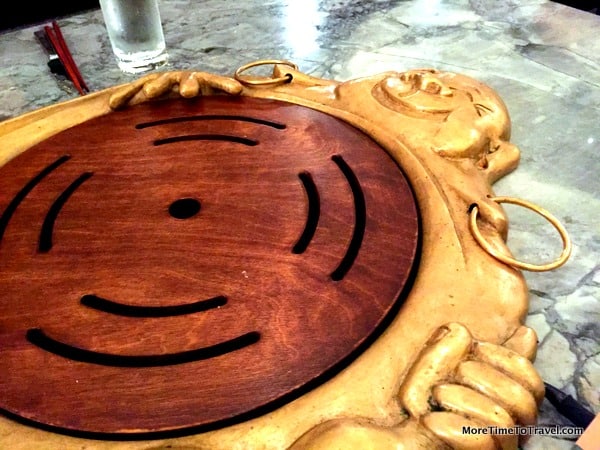 Although located only one block north of Koreatown, the ambiance here is decidedly more upscale that many of the other wonderful nearby eateries. In fact, Kristalbelli tops Zagat's list for New York City's Best for Korean BBQ. Because it is located within walking distance of both Grand Central Station and the Port Authority, it seemed like a perfect lunch spot to meet a friend from New Jersey. We came away wowed.
The dish
For an amuse-bouche, our waiter served each of us a single taro chip with a paper-thin slice of saucisson topped with a dollop of blue cheese vinaigrette. The tastes and textures were a great start.
The extensive lunch menu offered cold and hot appetizers, noodles and rice dishes, soups and barbecue entrees. Although we had read about the wonderful pork dumplings, there were none to be had at lunchtime. The waiter told us that the place had been extremely busy the night before and they completely sold out.
Instead we shared an appetizer of haemool-pajeon, mixed seafood scallion pancakes, grilled to perfection and served with a tangy Ponzu sauce.
For entrees, we chose from the Bab Sang lunch box menu (all priced under $20), a combination plate that was served much like a traditional Japanese Bento Box dish. My friend ordered the pan-seared, soy-glazed red snapper dupbap, seared in a sizzling hot stone pot with rice and vegetables. I ordered the tender Wagyu ribeye dupbap, served medium rare (just as ordered.)
Both boxes included miso soup, housemade kimchi, beansprouts and pickled seawood salad. Everything we tasted was fresh and delicious. Service was attentive and the dishes (and boxes) were beautifully presented. The portions were so ample that there was plenty leftover to take home for not-so-lucky spouses.
Kristalbelli is owned by the JYP Entertainment group, a large entertainment conglomerate based in Seoul. The creative menu of this concept restaurant is described as Korean Fusion, a modern twist on the traditional. Chef Kay Hyun, a graduate of the French Culinary Institute, does a terrific job in its execution.
Bottom line
I'll definitely return for three reasons:
1) The meal was interesting, delicious, and reasonably priced given its quality.
2) I still want to taste the dumplings and legendary popcorn ice cream.
3) I would love to try the three-course prix fix dinner (at $45 per person) and get to taste meat grilled on the Buddha's belly.
BTW, it's a great choice for tourists visiting the Empire State Building just around the corner.
---
IF YOU GO
Kristalbelli
8 West 36th Street (between Fifth and Sixth Avenues)

This post is part of a linkup with Budget Travelers Sandbox.