Baggallini, the essential travel purse for women over-50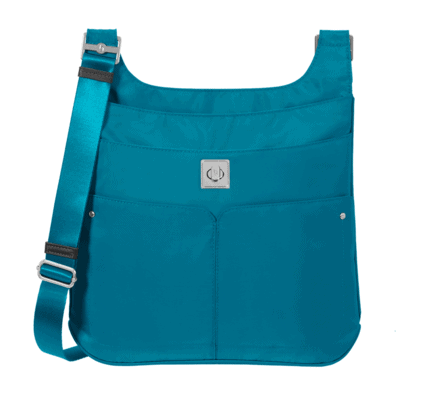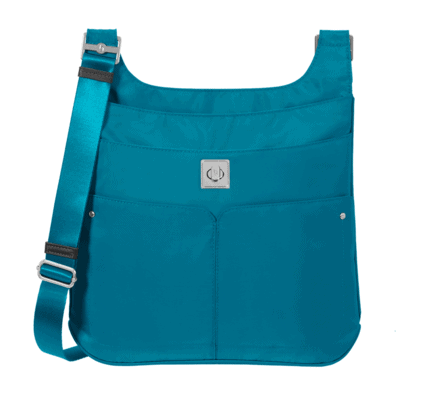 Congratulations to Ashley C., the winner of the Baggallini Lift.

Thanks all for entering.
My new Baggallini purse, called The Lift, is the perfect travel purse for women over-50, especially on walking tours (one of my favorite ways to explore cities). Here are five reasons why:
1) The purse is attractive but doesn't attract unwanted attention.
As much as they think of themselves as forever young, women of a certain age are more vulnerable targets for pickpockets than burly young men. Thus, it isn't prudent for them to carry designer purses that advertise what might be inside. The Lift is sophisticated without being showy. The fabric is durable and water-resistant so it still looks new after multiple uses. Depending on the color, in a pinch, this purse can easily transition from daywear to nightwear.
2) It's lightweight.
I hate "shouldering the burden" of a heavy purse. Even the lightest purse can get heavy quickly when filled with travel essentials. At least, this one starts out light!
3) It's accessible.
It's roomy enough but not too deep so that objects get forever lost at the bottom. The zipper on the top allows easy access (as compared to purses with flap overs or drawstrings). The risks of a purse with an open top are simply too great for a tourist. The bright fabric lining also prevents items from getting lost in a sea of blackness.
4) It has plenty of pockets, both inside and out.
When I travel, I tend to take some necessities wherever I go: a smartphone, a small wallet, camera and notepad and pen. If I'm lucky enough to be somewhere sunny, I also want my sunglasses. The Lift's convenient outside pocket is a perfect size for a smartphone; it even has a pull-through hole for headphones. Other outside pockets are great for stashing items you want to grab at a moment's notice. (Have you ever missed a Kodak moment because you couldn't get your camera out quickly?) And there is more pocket space inside to store your hotel key and the business card of the address or the restaurant you're looking for, and much more.
5) It's comfortable.
It's made of a flexible fabric with an adjustable strap, which can be worn on my shoulder or if I'm concerned about security, the bag can also be worn as a crossbody.
Bottom line
This isn't my first Baggallini. I also took a smaller one with me when we went on safari in Africa. But I'm always amazed about the smart design of the line—although it shouldn't be surprising. Two flight attendants founded the company!
When I was thinking about perfect purses for the over-50 traveler, I realized that on most long trips, I take along three purses: a zipper top tote bag for flying (I usually use a Longchamps bag); a small lightweight (usually cloth or nylong) wristlet or clutch for evenings, and a cross-body bag like The Lift for walking tours and day trips. I like the zippered tote for traveling because it has ample space for extras on the way home and I don't have to worry that its contents will fall out when it's stashed under the seat in front of me on the plane. A small wristlet or clutch in a neutral color always feels elegant for dress-up.
For sure, this Baggallini will be my go-to purse for cruises and city tours!
---
THE GIVEAWAY
The makers of Baggallini have agreed to provide The Lift to one randomly selected reader of More Time To Travel.
The bag comes in six colors (Mine is pewter gray with a raspberry interior.) To enter the contest, choose one of the colors from those shown on the Baggallini website and write the color of the bag you would like to win in the comment section below on or before midnight, EST, April 24, 2016. Sorry, limited to addresses in U.S. or Canada only.
The winner will be announced here.
Disclosure: We received a Baggallini Lift for review but any opinions expressed in this post are our own. When travel products don't meet our satisfaction, we never post positive reviews.