Oyster House on Market: Casual dining in Charleston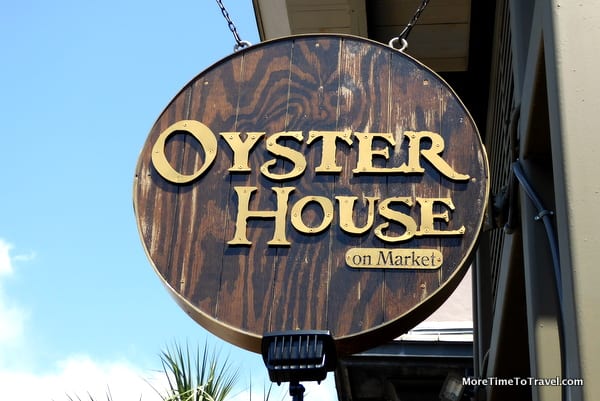 Oyster House on Market is a good choice for a savory meal or snack in Charleston's downtown historic district.
Because of its coastal location, seafood and shellfish are on many restaurant menus, both in downtown Charleston, South Carolina, and surrounding areas like James Island, Folly Beach and Johns Island. Each time we visit, we try to find a bucket of tasty steamed oysters or a fried oyster platter because we seldom get to eat oysters at home.
Last year, a guide pointed out A.W. Shucks, a mainstay on State Street, telling us it was one of his favorite spots for fresh oysters. With no time to visit, we had been thinking about it ever since.
The restaurant had been at the same location in the French Quarter for 37 years, located just across the street from the historic Charleston City Market. However, when we finally showed up about six months later, we noticed that the name and signage outside had changed.
We learned that only a few months earlier, the owner of the Charleston Crab House on the adjacent corner had purchased A.W. Shucks, remodeled the restaurant, and rebranded it as Oyster House on Market. We decided to give the new place a try.
The setting
The two-story Oyster House on Market has two entrances, one on State Street and another on Market Street (the two streets are perpendicular to each other). No matter which way you enter, you walk through a maze of rooms that wind behind the walls of the Crab House on the corner, eventually ending up at the other entrance. There is also a lovely covered patio on Market Street where diners can eat outdoors cooled by breezes coming of the water.
One whimsical sign above the raw bar reads:

Eating a raw oyster is like French-kissing a mermaid.
Once an old seafood warehouse, the place is attractive but earthy. There are high ceilings paneled in wood planks, copper light fixtures, vintage photographs on the walls, and exposed brick walls—as well as a number of wide-screen TVs.
Light filled windows overlook the downstairs side on State Street, which is more intimate, and also houses a raw bar (called O-Bar) that opens at 4PM. Dishcloth napkins are always practical when eating seafood.
The food
The extensive menu was appealing with an interesting range of choices that included fish, shellfish and low-country dishes such as She-crab soup, hushpuppies, fried green tomatoes, and cheese fritters. There were also salads, handhelds (burgers, lobster rolls, shrimp and lobster Po-boys, etc., served on toasted brioche buns); other small plates; and more ample entrees like seafood casserole or shrimp with grits. In addition to the regular menu, there were more moderately priced lunch specials (although fresh seafood is never inexpensive).
We stopped in for a mid-day snack, knowing we were having a large dinner later that day. We ordered a $15 fried oyster plate to share that came with a choice of sides. The service was friendly and efficient. Our server, Brittany, even had the dish split for two in the kitchen before bringing it out. The plump oysters were delicious, served piping hot; the coleslaw was fresh and tasty.
Bottom line
One of the drawbacks of visiting any new opening is that you won't find many reviews on restaurant apps. So we were pleasantly surprised to discover that the Oyster House on Market did offer a great mix of good, food, warm and efficient service, and a relaxed, unhurried ambiance—right in the heart of the tourist district. We'll definitely return again for oysters on the half shell, drinks and a meal.
Visitors to downtown Charleston should have no trouble finding the Oyster House on Market because it's centrally located right beside the Charleston City Market and has two ways to enter.
---
IF YOU GO
Oyster House on Market
35 South Market Street, Charleston SC
Open daily from 11AM-until the place closes
For more information, see the website.