Not That Jewish: A Very Moving Off-Broadway Comedy
The poignant themes of the Off-Broadway production "Not That Jewish" will resonate with a wide audience of theatergoers. We loved it!
Visitors to New York City are eager to take advantage of live professional Broadway theater, the likes of which aren't found anywhere else around the world (except London, perhaps).
However, locals are just as eager to snag last-minute tickets for superb Off-Broadway productions, often at a fraction of the cost of Broadway ones. By definition, Off-Broadway venues are designed on a smaller scale (with fewer than 499 seats) making for a more intimate theater-going experience. We recently were invited to see "Not That Jewish," an Off-Broadway show playing at the five-stage New World Stages Theater, on 50th Street between Eighth and Ninth Avenues.
Whether you are "that Jewish" or not, this energetic one-woman autobiographical show is one that can be enjoyed by all. It was written by and stars comedian, actress and writer Monica Piper (nee May Lee Davis), a native of the Bronx who now makes her home in Los Angeles. "I've lived in California for 25 years, but am still, and always will be a New Yorker," she writes in Playbill.
In the same vein as Billy Crystal's 700 Sundays, the diminutive (5'1" tall) powerhouse uses her brilliant comedic and storyteller talents to recount growing up as a secular Jew in New York and the major milestones that took place on her way to a successful career in entertainment.
Piper's deeply personal story, filled with memorable one-liners, simultaneously evokes laughter and tears from the audience as she describes significant life events, infusing all of them (even some very sad moments) with a mix of cerebral and physical humor. She recounts growing up poor; recovering from failed marriages; struggling as a single, working parent; the tribulations of raising an adolescent son; experiencing the deaths of her parents; and being diagnosed with breast cancer.
Before this production, Piper mainly worked as a standup comedian and behind the scenes helping write scripts for hit TV sitcoms, like Roseanne, Mad About You and the animated Rugrats. Now she has finally seized her rightful place, center-stage. Piper first performed this show (originally commissioned by Jewish Women's Theater) in Los Angeles for 16 months where it won her a Drama Critic's nomination for Best Solo Performance before moving to New York last October.
The clever set design by Michael Carnahan divides the stage into three arenas.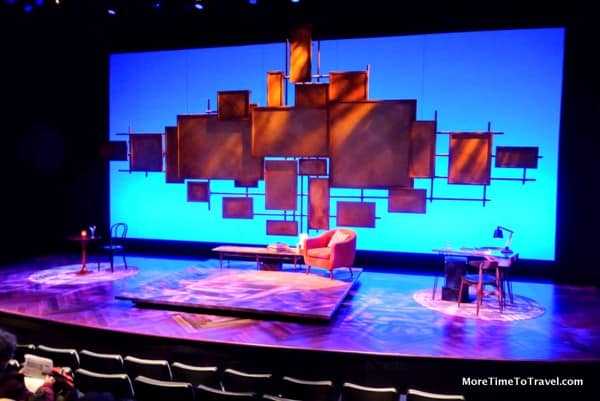 One is a café table where Piper describes her standup comedy experiences and liaisons with men as a single woman. Another is decorated as a mid-century modern living room representing her home, both the one she lived in with her parents and the one where she now lives with her son. The last is an office, where she encounters several challenges with remarkable resilience, including multiple divorces and her cancer diagnosis. Skillful lighting design by Julie Duro enriches the set as Piper moves deftly between spaces. The play is directed by Michael Waldrop, who has worked on Broadway; Off-Broadway, and in concert and cabaret venues.
Although Monica Piper grew up in a secular home, she creatively mines her cultural upbringing to portray the universal search for identity and meaning, and conveys the vital importance humor and heart can play in our lives and relationships. This rich 90-minute production moves quickly and will likely resonate with audiences of all cultures and religions.
Take a peek at the Sizzle Reel for "Not That Jewish"on YouTube.
---
IF YOU GO
Click here for ticket information for Not That Jewish.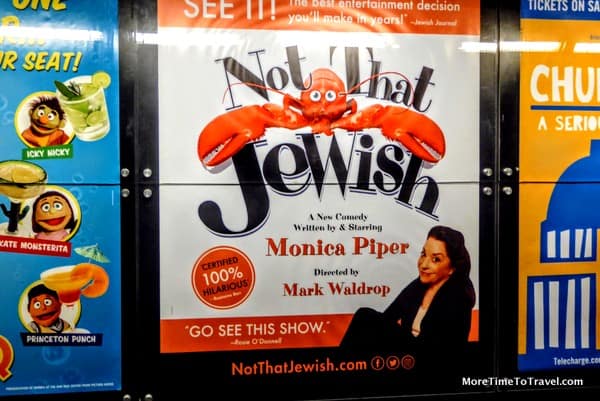 ---
*If you want to make your destination "Off-Broadway," Time Out New York catalogs the dozens of Off-Broadways shows along with reviews and ticketing information.
Disclosure: Although we were invited guests of "Not That Jewish," any opinions expressed in this post are our own.