Market Visit – Mercado 23 in Cancun
For an authentic feel of Mexican culture, visit Mercado 23 in Cancun, Mexico.
Cancun is a vacation paradise—beautiful beaches, sparkling waters, temperate weather with sunny skies, and an estimated 30,000 hotel rooms offering enough options to satisfy every taste and pocketbook.
But this popular tourist destination might be considered a victim of its own success. With English spoken everywhere, sophisticated continental menus, and large American-style shopping centers, some visitors complain this part of Mexico isn't Mexican enough.
We were on our way to the Mercado 23, the first public market in Cancun, when our guide Eduardo joked: "What's the difference between Miami and Cancun?"
"We speak English," he said, and we all laughed forming a fast friendship.
Cancun's first public market
Mercado 23 is the oldest of a series of markets in the city. Removed from the manicured hotel zone, it's immersed in the middle of a vibrant neighborhood inhabited by workers and their families. Eduardo promised it as the "real deal" and it was. He grew up a few blocks from the market and this is where his parents shopped when he was a kid. Now he takes his own children here to shop and eat, and immerse them in his heritage.
"We're losing the feeling of Mexico," he said with more seriousness.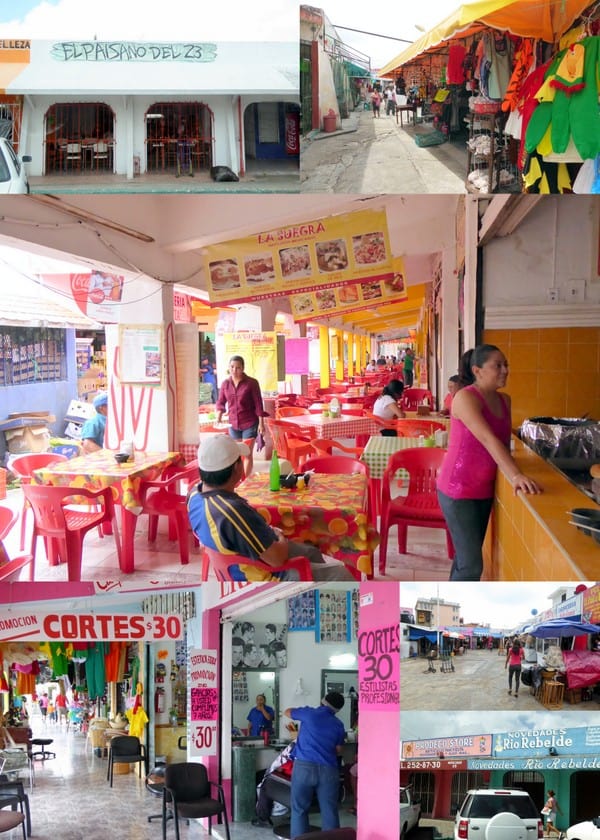 Mercado 23 looks like it hasn't changed since its inception in the 70s.
It resembles a large open-air flea market with vendors operating out of a series of stalls (both interior and along the outside perimeter) that sell home goods like mops and detergents; school supplies; piñatas, candy and party goods; pet food; grains; pottery and crafts; fresh flowers and herbs; and still-fragrant local vegetables and fruits that aren't waxed over like those in our supermarkets. It looks like the ancestor of a megamall coupled with a food court.
The shops are open seven days a week from 7AM until dusk. Locals also come for haircuts and to get their tires repaired. There's a stand that sells herbal products (botanicas) to cure any malady (perhaps a progenitor to GMC) and shoe shops for every sized foot.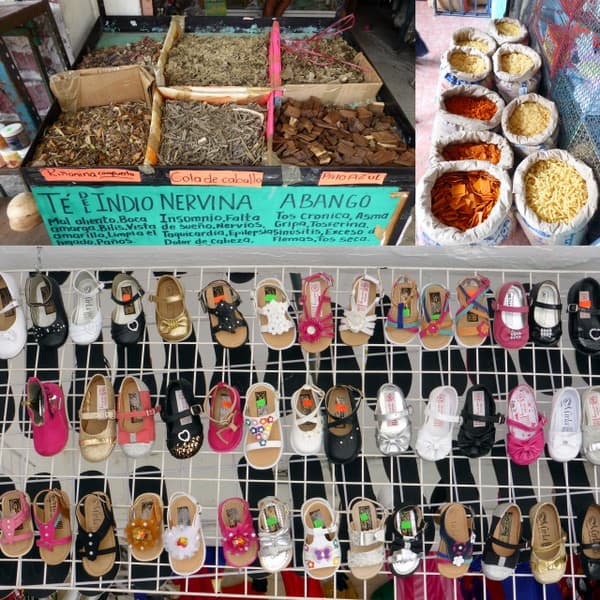 Religion is still dominant in much of Mexico and at this market, like many others there is a small capilla in its center with Our Lady of in Guadalupe, patron saint of Mexico, at the altar. The market also sells both religious and spiritual products.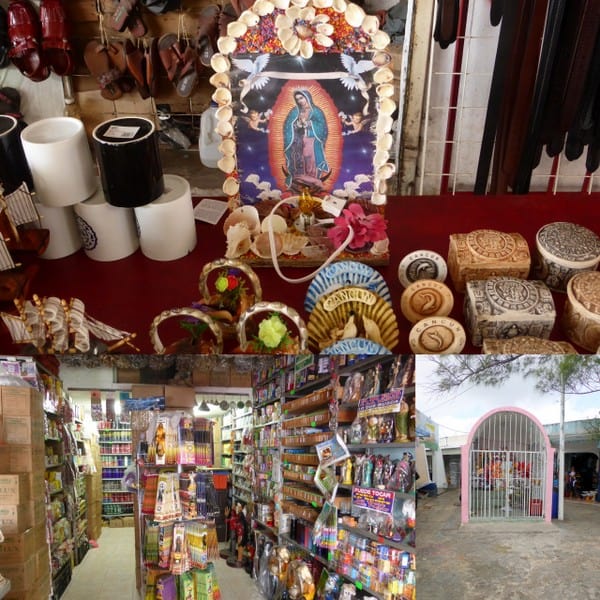 One of the biggest draws of the market, certainly for any foodie, are the wonderful cooked dishes prepared by vendors who have come to live and work here in Cancun from many different regions of Mexico bringing recipes from their respective regions and states.
On the top left is a picture are the lomitas we tasted, freshly made corn tortillas topped with pork, egg and onions. On the top right is tacos de pierna, made from pork leg. On the bottom left is chicharra, decadently unhealthy but delicious pork crackling. The picture at the center is morcilla con carne higadilla (made with blood sausages, onions and habanero peppers).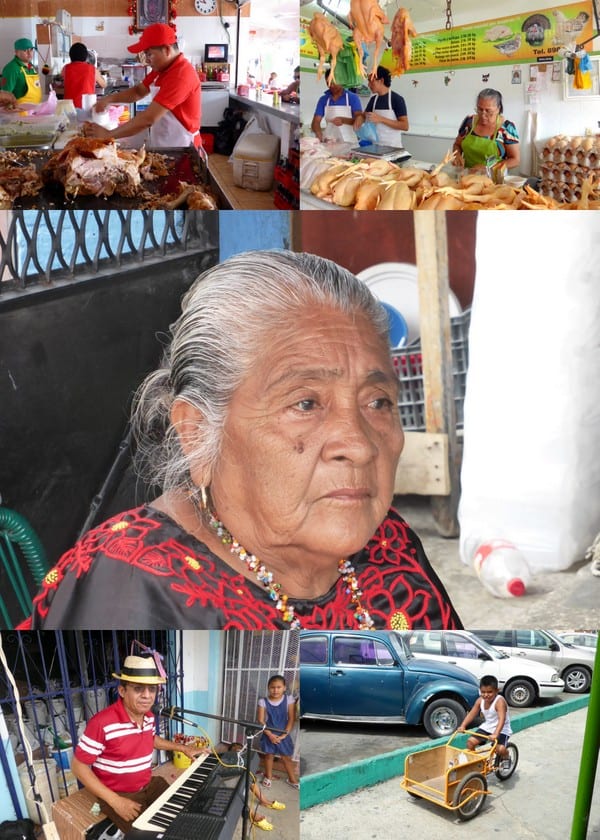 Of course, the nicest part of our visit was getting to interact with locals, both vendors and other customers. Not quite sure why the lady came to eat made up like a clown but she brought a smile to our face. The larger-than-life size fish was a locally caught grouper for sale by a fishmonger at the market.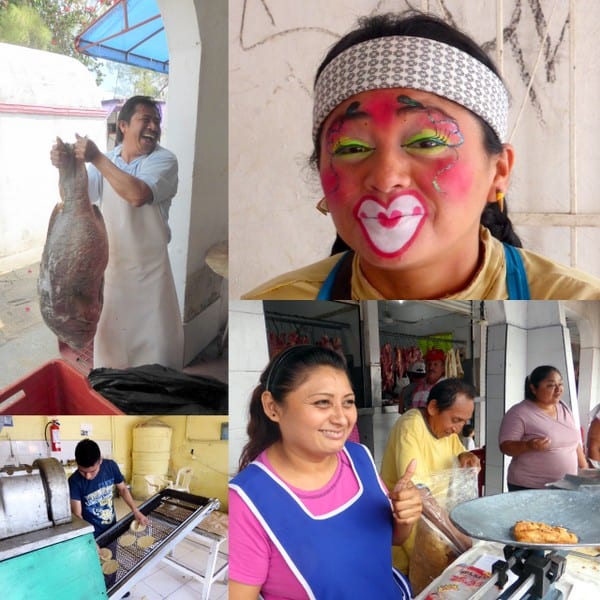 Not too many gringos visit this market. But in perfect English, the musician in the red shirt and hat asked where we were from. When we told him we were from New York, he began playing New York, New York and proudly told us about his half-Irish brother, a cop in Brooklyn whom he hoped to one day visit.
IF YOU GO:
While the market looks perfectly safe during the day, some say it's dangerous to hang around after dark and that's why the stalls close up.
Unless you are proficient in Spanish, it's best to visit with a Spanish-speaking friend or taxi driver.
It's best to visit early in the morning–all the foods are at their freshest and are most plentiful.
Bring cash; this isn't a place where plastic is accepted. Even better, bring pesos.
While the vendors expect you to haggle, you'll probably have a hard time haggling with people who are so warm and kind, and work so hard for a living.
Located west of Avenida Tulum, it's accessible by taxi or the Ruta 1 bus from the Hotel Zone.
---
Also on MoreTimeToTravel.com